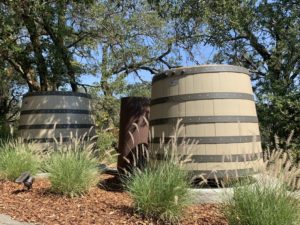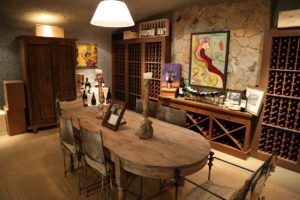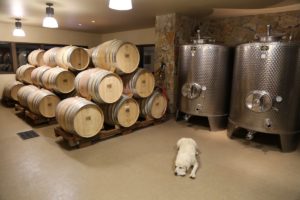 Sabina Vineyards is one of the nicest "garagist" wineries we have seen out of visiting and tasting with 1000+ Napa producers to date. This winery is the vision of David & his wife Susan Sabin (who both spent many years in Chicago) and was built based on the types of small Burgundian wineries they often visited during their travels to this region. In what is a very unusual setup for a physical Napa Valley winery space, the Sabins actually live above their winery. The design implementation came from David DeSante. David is one of the top winemakers in Napa today and the winery was created with the entire property in mind. David has significant winemaking experience at a variety of wineries (Robert Mondavi, S. Anderson – now Cliff Lede) and within several wine regions. Drawing upon a range of boutique wineries that he has visited and or worked for, he blended function and aesthetics seamlessly in a rather small location.
The name Sabina was chosen to honor David's mother Sabina Sabin.
Three acres are planted on site, mostly to Cabernet Sauvignon with smaller amounts of Cabernet Franc. The winery was designed around these three acres, with extremely small steel fermentation tanks as well as small open top wood fermentation barrels. This is the site of an old Sauvignon Blanc vineyard which originally dated back to the late 1870's. And it was the property that Macauley Vineyard was founded on – one of the previous owners Ann Macauley hired winemaker Ric Forman and they produced several vintages of a Sauternes-style dessert wine from Sauvignon Blanc grapes that were growing here at the time.
When David and Susan purchased the property there was still evidence of some of the older vines. As a result of the existing vineyard footprint they did not have to clear much forest land. The Sabin's moved here in 2002 and planted vines a year later using cuttings from from neighbors Dick and Ann Grace's vineyard (known around the valley as the Grace clone). Their first commercial release from their estate vineyard was the 2006 Cabernet Sauvignon.
Their vineyard sits in an interesting location, it is in the "hourglass" of the Napa Valley – an area north of St. Helena where the valley narrows down into a small strip before opening up again into the northern part of the valley.
The vineyard is perched on the eastern facing slopes of the Mayacamas mountains just below Stony Hill's vineyards. This is one of those unique high end hillside vineyard neighborhoods that one finds in select parts of the Napa Valley. Vineyard and winery neighbors include Colgin's Tychson Hill, Vineyard 29 and Grace Family. Sabina's own vineyards are farmed organically. A number of mature olive trees grow on the property. These trees shade an old road that was used to access the nearby Bale Grist Mill (a California State Park) for hauling ground flour and other grains.
Because the winery is on site and the planted acreage small they can pick and choose when to harvest individual blocks or even rows. As a result rather than picking all the vineyard at once they pick only the areas that have reached physiological maturity. This is critical as the edges of their vineyard receive more shade from the nearby forest.
Refreshingly, here is a Napa producer who has gone against the grain of picking at extremely high brix levels; all of the wines we tasted were in the low to mid 13 percent alcohol range. David and Susan enjoy drinking lower alcohol wines and these are the wines they produce. A key decision is made when harvesting; their fruit is picked at its ripeness but not at its over ripeness. All French Oak is used ranging from normal sized barrels to larger Puncheons. Fermentation is started with indigenous yeast.
David also makes wine from non estate fruit and sources from areas that are producing wines he enjoys drinking. Case in point is his Pinot Noir – Napa producers often source from Carneros and or AVA's in neighboring Sonoma County but his Pinot Noir comes from the Eola Hills in the heart of the Willamette Valley of Oregon (about an hours drive southwest of the city of Portland). He's not the first Napa producer that has gone farther to source grapes from this Pinot Noir rich region. Sabina has experimented with several vineyards over the past two years and has decided on a single vineyard which will continue to be the source for their Pinot Noir fruit.
Select Wines

The 2007 Pinot Noir from the Roserock Vineyard is built with finesse; it is light to medium ruby in color and exhibits a beautiful softness and smoothness throughout. Earth tones show on both the bouquet (not too much spice) and the mid palate displays raspberry, strawberry and red currant. The finish lingers delicately. This wine is about balanced fruit; it is so silky and delicate from start to finish, a joy to drink.
For the past several years Sabina has produced a 100% varietal Cabernet Sauvignon from Oakville. The 2006 Sabin Vineyards Cabernet Sauvignon despite the lower alcohol is a big wine showing rich ripe fruit. The nose is a wide mix of aromas showing black licorice, black cherry, crushed rock and cedar. The black fruit carries onto the palate where it picks up just a hint of mocha. Broad structured tannins anchor the wine. Good fruit, acidity, and lower alcohol make this a wine that should age very well.
The Estate Cabernet is their bread and butter wine. The 2007 Sabin Vineyards Estate Cabernet Sauvignon is 13.1% alcohol, is well extracted and is inky dark in the glass; it was also slightly blended with estate Cabernet Franc. The nose is more elegant than their Oakville Cabernet yet shows an abundance of dark black fruit including black berry and black currant. It has a rounded rich entry and is a wine that tastes like their terroir. Notes of cedar, forest floor and black fruit run the length of the palate. The fruit is carried by broad shouldered tannins; there is good structure here and it is not out of balance. This is a wine also built to age but is drinking oh so beautifully while young.
—
David has been involved in a number of business over his career including as Chairman of Salton Inc (a small electronics company) and more recently as owner and CEO of the the 100+ year old Fuller Brush Company (he moved the company headquarters to the city of Napa for a few years and also created another line of products during his ownership but has since sold the company).
He also runs Elevation Wine Fund ( www.elevationwinefund.com), an investment group of collectors who buy and sell mostly cult wines, including both Napa Valley and French wines. For serious collectors looking for the big name wines, (and big bottles) this is an excellent resource. They have an impressive selection of First Growths as well as the most well known of the hard to find Napa cult brands. Their collection is well represented with wines from the 1990's through the present.
Visits to the winery are typically for collectors, serious wine enthusiasts and guests of select concierges. A visit and tasting is often built around a private lunch. David and Susan are art collectors and a variety of international pieces grace their property. The best way to acquire the wine is directly through their website although they do have select distribution in Southern California. For more information or to join their mailing list or wine club, visit: www.sabinavineyards.com