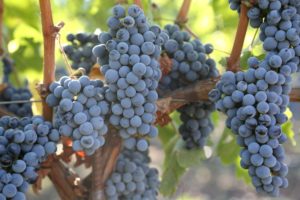 S.R. Tonella Cellars was founded by Napa Valley native Steve Tonella and his wife Ariadna with a focus entirely on wines from Rutherford. Steve is fourth generation Napan – with his father, grandfather and great uncle all involved in the wine industry in some way – from growing grapes to making wine. Steve's great uncle Joseph Ponti immigrated to San Francisco from Italy because he heard there were numerous jobs there (he spotted an ad paid for by the city of San Francisco in the Italian newspaper Il Corriere di Milano). And the reason for all these jobs was a devastating earthquake shook the San Francisco Bay Area (epicenter merely 2 miles off the coast of San Francisco) and both the earthquake and ensuing fires devastated much of the city. The ad advertised excellent pay to those who wanted to help rebuild.
Ponti made his way to San Francisco, arriving in early 1907. His uncle Joseph Balconi had already settled in the Napa Valley and was working on property that would eventually become home to Spring Mountain Vineyard. Spending only a few days in San Francisco, Ponti soon headed up to the Napa Valley to meet his uncle – who then introduced him to the foreman at Beaulieu Vineyard.
That introduction would settle the course of the rest of Ponti's career in the Napa Valley. He soon became the superintendent and and oversaw the initial winemaking/cellaring at Beaulieu Vineyard (well before André Tchelistcheff arrived and Beaulieu Vineyard became one of the iconic wineries of the Napa Valley). He spent nearly all his career at Beaulieu Vineyard – some 40+ years and was an integral part of their early years. Later Steve's grandfather, Louis Tonella, Ponti's nephew worked at Beaulieu Vineyard for several years, starting at age 17 in 1929 on the bottling line.
Several years later, Louis and his business partner started Caiocca & Tonella Store in Rutherford (next to the intersection of Highway 29 and Rutherford Cross Road) – an all purpose general and hardware store and place for the community to hang out. They operated this from 1935 through 1950. Louis then operated a vineyard management company for many years following his time running the store. He died in 2008 at age 95.
Fast forward decades: Steve graduated from Cal Poly San Luis Obispo with a degree in Business Administration (just before Cal Poly introduced a wine and viticulture program). Following college Steve lived an international lifestyle with sales positions that took him around the globe including time spent living in parts of Europe and also Japan.
Steve has built his wine label literally from the ground up. He manages a just under one-acre vineyard in the heart of the Rutherford sub appellation on land owned by his family. He grew up in Rutherford remembering when there were fewer vineyards planted here than there are today – pointing out where an old baseball field used to be and other land that wasn't originally planted to vines.
His vines are planted to two Bordeaux clones of Cabernet Sauvignon. He chose these particular clones for a number of reasons including a high skin to juice ratio (small berries), clones that make a balanced wine and for fruit that generally produces well rounded tannins. Each vine in the vineyard was trained with a wooden stake – the vines are not trellised but rather are head pruned. This is a nod to an older way of growing grapes and his family's heritage in the valley. Steve remembers at age six first helping out in his family's vineyards – suckering and general canopy management.
The soils here are gravelly loam and are well drained. Everything is very much done by hand in the vineyard – with nearly all of the work done by Steve. Due to the small size of the vineyard Steve only sources two tons or less each year. Fortunately one of his neighbors owns the well-regarded Morisoli Vineyard (a number of vintners purchase fruit form this vineyard each year – Steve included).
There is plenty of thought and effort that goes into growing grapes, making the wine and selling it. Steve refers to this as the details of the business – but really enjoys what he calls the "bookends of the business" – referring to the two primary components of wine-making – his time spent in the vineyard managing the vines and his time spent in front of people selling his wine. He is blessed to be able to enjoy both aspects of the business.
Select Wines
The first vintage of S.R. Tonella Cellars was a 2010 Cabernet Sauvignon. This wine is refreshingly under 14% alcohol and is blended with 6% Merlot. The nose is immediately inviting showing higher toned fruit aromas – red fruit, cherry and currant. The palate is lively with good flavor offering some red licorice notes from the mid palate through to the finish. The wine has mouth watering acidity – noticeable on the finish with well integrated tannins – more fruit tannins than oak tannins. This is a very balanced wine.
The 2012 S.R. Tonella Cellars Cabernet Sauvignon is from the same vineyard sources and was essentially made the same as the 2010 vintage. There are some vintage variations that show both on the bouquet and palate – all the while taking into consideration that this wine is two years younger. It had only been bottled 6 months at the time of our tasting (and not yet released) – initially the bouquet was a bit closed but opened quickly as the wine had time to breath. It shows spicy and some earthy notes including white pepper – and then reveals both red and black fruit aromas tending more towards the black fruit profile. The tannins are dusty showing more influence of oak then the 2010.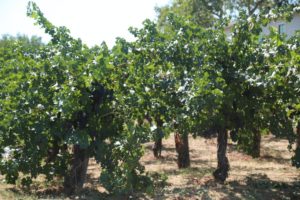 Both of these wines have very good ageability with good fruit, acidity and structure – but especially the 2010 vintage.
—
Most of their wine is sold direct through their mailing list – but one can find the wine locally at several retails spaces in St. Helena including Sunshine Market and at Cook Restaurant. Beginning in 2014, Steve started producing a 100% Rutherford Sauvignon Blanc – and also produces a reserve wine from this variety.
For more information and to join their mailing list, visit: www.srtonellacellars.com