S.R. Tonella Cellars was founded by Napa Valley native Steve Tonella and his wife Ariadna with a focus entirely on wines from Rutherford. Steve is fourth generation Napan – with his father, grandfather and great uncle all involved in the wine industry in some way – from growing grapes to making wine. Steve's great uncle Joseph Ponti immigrated to San Francisco from Italy because he heard there were numerous jobs there (he spotted an ad paid for by the city of San Francisco in the Italian newspaper Il Corriere di Milano). And the reason for all these jobs was a devastating earthquake shook the San Francisco Bay Area (epicenter merely 2 miles off the coast of San Francisco) and both the earthquake and ensuing fires devastated much of the city. The ad advertised excellent pay to those who wanted to help rebuild.
Ponti made his way to San Francisco, arriving in early 1907. His uncle Joseph Balconi had already settled in the Napa Valley and was working on property that would eventually become home to Spring Mountain Vineyard. Spending only a few days in San Francisco, Ponti soon headed up to the Napa Valley to meet his uncle – who then introduced him to the foreman at Beaulieu Vineyard.
That introduction would settle the course of the rest of Ponti's career in the Napa Valley and in particular, Rutherford. He soon became the superintendent and oversaw the initial winemaking/cellaring at Beaulieu Vineyard (well before André Tchelistcheff arrived and Beaulieu Vineyard became one of the iconic wineries of the Napa Valley). He spent nearly all his career at Beaulieu Vineyard – some 40+ years and was an integral part of their early years. Later Steve's grandfather, Louis Tonella, Ponti's nephew worked at Beaulieu Vineyard for several years, starting at age 17 in 1929 on the bottling line.
Several years later, Louis and his business partner started Caiocca & Tonella Store in Rutherford (next to the intersection of Highway 29 and Rutherford Cross Road) – an all-purpose general and hardware store and place for the community to hang out. They operated this from 1935 through 1950. Louis then operated a vineyard management company for many years following his time running the store. He died in 2008 at age 95.
Fast forward decades: Steve graduated from Cal Poly San Luis Obispo with a degree in Business Administration (just before Cal Poly introduced a wine and viticulture program). Following college Steve lived an international lifestyle with sales positions that took him around the globe including time spent living in parts of Europe and also Japan.
Steve has built his wine label literally from the ground up. He manages a just under one-acre vineyard named J.J. Ponti-Tonella in the heart of the Rutherford sub appellation on land owned by his family. He grew up in Rutherford working in the vineyards with his father and grandfather and remembers when there were fewer vineyards planted here than today; during our visit he pointed out where an old baseball field used to be and other land that wasn't originally planted to vines.
His vines are planted to two Bordeaux clones of Cabernet Sauvignon, clone 412 and 685. He chose these particular clones for a number of reasons including a high skin to juice ratio (small berries) and that fact that these clones produce balanced wines with well-rounded finer grained tannins. Each vine in the vineyard was trained with a wooden stake – the vines are not trellised but rather are head pruned. This is a nod to an older way of growing grapes and his family's heritage in the valley. Steve remembers at age six first helping out in his family's vineyards – suckering and general canopy management.
The soils here are gravelly loam and are well drained. Everything is very much done by hand in the vineyard – with nearly all of the work done by Steve. Due to the small size of the vineyard Steve only sources two tons or less each year. Fortunately, one of his neighbors owns the well-regarded Morisoli Vineyard (a number of vintners purchase fruit form this vineyard each year – Steve included).
There is plenty of thought and effort that goes into growing grapes, making the wine and selling it. Steve refers to this as the details of the business – but really enjoys what he calls the "bookends of the business" – referring to the two primary components of wine-making – his time spent in the vineyard managing the vines and his time spent in front of people selling his wine. He is blessed to be able to truly enjoy both aspects of the business.
Select Wines
Staying true to appellation, both the S.R. Tonella Cellars white and red wines are primarily grown in Rutherford. A judicious use of oak is an integral part of their cellar operations – preferring lighter toast levels to complement rather than dominate the wines. And this is clearly evident in any bottle of S.R. Tonella Cellars. And equally as important are decisions made in the vineyard and in the cellar, resulting in very balanced wines.
The first vintage of S.R. Tonella Cellars was a 2010 Cabernet Sauvignon. This wine is refreshingly under 14% alcohol and is blended with 6% Merlot. The nose is immediately inviting showing higher toned fruit aromas – red fruit, cherry and currant. The palate is lively with good flavor offering some red licorice notes from the mid palate through to the finish. The wine has mouthwatering acidity – noticeable on the finish with well-integrated tannins – more fruit tannins than oak tannins. This is a very balanced wine.
The 2012 S.R. Tonella Cellars Cabernet Sauvignon is from the same vineyard sources and was essentially made the same as the 2010 vintage. There are some vintage variations that show both on the bouquet and palate – all the while taking into consideration that this wine is two years younger. It had only been bottled 6 months at the time of our tasting (and not yet released) – initially the bouquet was a bit closed but opened quickly as the wine had time to breath. It shows spicy and some earthy notes including white pepper – and then reveals both red and black fruit aromas tending more towards the black fruit profile. The tannins are dusty showing more influence of oak then the 2010.
The 2018 S.R. Tonella Cellars Estate Cabernet Sauvignon is dark ruby in color. The bouquet smells elegant – it smells like the variety rather than a ripe version of Cabernet Sauvignon. And that is refreshing. Shows primarily red fruits, with notes of menthol, a hint of mint, herbs, sage, dried tobacco leaf and a floral note (violets). Supple across the palate, lingers with firm but fine-grained tannins. And there is a noticeable fruit finish beyond the texture, one that features a brightness of red fruits including an assortment of berries.
The inception of S.R. Tonella's Bordeaux styled blend, remarkably evolved over eight vintages and encompassed some 30+ estate vineyards before it was ever bottled and released. Over this time, Steve isolated premium parts of certain vineyards – the fruit from these sections goes into this wine. He also oversees the management of these sites including critical farming decisions. The BDX is always a blend of several Bordeaux red varieties.
The 2017 BDX includes Cabernet Sauvignon from the Rutherford Bench, Cabernet Franc from the western Oakville bench, Malbec from the Stags Leap District and a tiny kiss of Petit Verdot from Steve's estate vineyard in Rutherford. Offers pretty aromatics including red cherry, currant and blackberry. The fruit shows very well – tending to strike a nice balance between red and darker fruits. Also, a little bit briary with some hint of cedar which are more in the background. Very layered across the palate, this is certainly a bigger showing than the Estate Cabernet Sauvignon – but it still retains its balance. The tannins are persistent but are well integrated. No angular edges here. Drinks great in its youth but has plenty of character, backbone and acidity to hold for many years.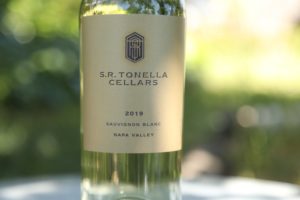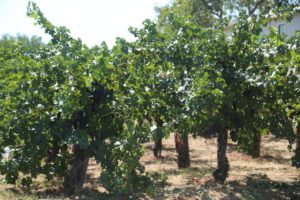 Both of these wines have very good ageability with good fruit, acidity and structure – but especially the 2010 vintage.
The 2019 S.R. Tonella Cellars Napa Valley Sauvignon Blanc was sourced mainly from the western benchlands of Rutherford and was fermented 80% in stainless steel tanks and 20% in French oak barrels. Aged separately from each other for 6 months sur lie and then blended together before bottling. Pale yellow in color offers aromas of springtime and summer – freshly mowed grass, honeydew melon, pomelo and dried straw. As the wine breathes, reveals a nice aromatic mix of both pear and apple. Superbly balanced across the palate both in texture, flavor and acidity. Beautifully grown and crafted. Has a slight creaminess which runs the length of the palate. This wine is very flavorful showing notes of citrus, melon, and lime. Lingers with a secondary sweetness of fruit, albeit with a brightness and perhaps a touch of vanilla imparted from the lots fermented and aged in oak. Certainly, mature fruit – a Napa ripeness if you will, but complemented nicely with the vibrant acidity.
The 2018 S.R. Tonella Cellars Reserve Sémillon is medium gold in color; offers a richness and plenty of layers to the aromatics including ripe melon, pineapple, jasmine, and golden delicious apple. Also, a little aromatic oak infused sweetness on the bouquet. Offers a noticeable viscosity from start to finish – almost a brininess but not saline – a noticeable weight but not heavy. Full flavored – this is a hedonistic offering for those who enjoy richer white wines. Offers flavors of lemon, passion fruit and kiwi. The brightness of acidity combined by the richness of fruit leaves an intriguing finish along with a subtle note of vanilla. Aged for 9 months in French oak (a very light toast). And certainly, a rare 100% varietal Napa Valley Sémillon.
The Tonella Reserve Sauvignon Blanc is not a barrel selection but rather is made entirely separate from the non-reserve Sauvignon Blanc. The 2018 S.R. Tonella Cellars is medium yellow in color showing an immediate diversity of aromatics including guava, honeysuckle, lychee and as the wine opens further, notes of pear, citrus blossom and some minerality nuances. Completely balanced across the palate with flavors of pear, red apple and lemon. The wine is refreshing and bright but without any bracing acidity or tartness. Steve is very careful when choosing the harvest date for these grapes – preferring to pick before the grapes start to show overly tropical characteristics while avoiding any green notes.
In addition to aging in French oak barrels, one of the barrels was made from French oak staves while the heads of the barrel were made from Acacia wood. Steve likes the influence from this particular barrel in that the Acacia wood is very tight grained and imparts fewer oak tannins.
In 2019 Steve bottled a Cabernet Franc from the Bennett Vineyard in Coombsville (a vineyard not to be confused with Bennett Lane Winery in Calistoga or the Bennett Valley AVA in neighboring Sonoma County).
Originally Steve bottled his Sauvignon Blanc using a screw cap, but this wine has since evolved to being bottled with a cork. All the S.R. Tonella wines are bottled with a cork-TCA free guarantee from Sonoma based Ganau America, Inc who use a variety of modern technology to ensure the cleanliness of their corks. Ganau's cork is sourced not from Portugal, but rather from the island of Sardinia in Italy.
—
In 2018 Steve began another label called Sky & Vine, focusing on a single 100% varietal Napa Valley Cabernet Sauvignon (with select vineyard sources from Calistoga to Oak Knoll). This wine is available at a different price point than the S.R. Tonella Cabernet Sauvignon, its production is larger, and it is a wine meant to be consumed early.
In 2021 Steve moved his production operations into The Caves at Soda Canyon, a premium underground winery that offers both production and hospitality space for a limited number of small wineries. This winery offers a luxurious and well lighted interior alcove for tastings as well as a beautiful space on an outdoor terrace overlooking much of the central to southern part of the valley. When his schedule permits, Steve often hosts very personalized tastings for members, collectors and serious wine enthusiasts.
And special visits can be arranged at Charter Oak Restaurant in St. Helena or golf at the private Napa Valley Country Club followed by a tasting of the S.R. Tonella wines.
Most of the wine is sold direct through their membership list, but one can sometimes find the wine locally at several retail spaces in St. Helena including Sunshine Market and Cook Restaurant. Select Michelin star restaurants also carry some of the wines.
For more information and to join one of two membership list options, visit: www.srtonellacellars.com