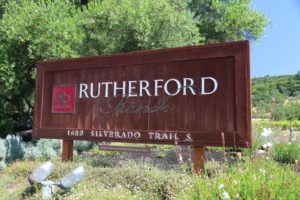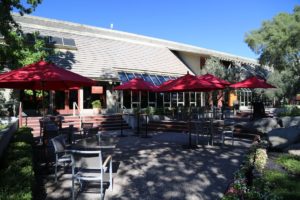 Rutherford Ranch Winery was founded in 1978 by husband and wife Ernie and Virginia Van Asperen and their business partner Charlie Abela (all since deceased). Ernie was a WWII pilot who flew B-24 bombers from Italy and long enjoyed aviation (at one point he donated a small plane for use at the tiny airport at Pacific Union College in Angwin on Howell Mountain – but this plane has long since been traded away and is no longer used at the airport). He was also a very successful businessman having founded Ernie's Wine and Liquor in 1938 which eventually grew into more then 80 stores in the San Francisco Bay Area by the 1960s. Ernie and Virginia opened Ernie's St. Helena (later known as St. Helena Wine Merchants) in 1973, a wine shop that was located just south of St. Helena. They eventually sold this shop in 1983 to Alden Yates (part of the same family that owns vineyard land and Yates Family Winery on Mt. Veeder). The shop continued under Yates family ownership until 2011 when it was sold; later it was the tasting room for Vine Cliff Winery and as of our latest update to this review, now houses the tasting space for Ink Grade Cellars. And old timers will also remember an Ernie's in Napa at 1220 Trancas Street in the early 1980s.
For many years, Ernie used to bottle wine as a negociant under several labels including as Ernie's and Round Hill and would sell this wine in his stores. While no longer owned by the Van Asperen family, by our last count there are still seven Ernie's Wine and Liquor stores in the San Jose Bay Area and 4 stores scattered around the rest of California. Today all are independently owned and sell a variety of convenience store items, cheaper wines and other alcohol. Primarily they are located in single story shopping centers – all in similar looking buildings.
We have visited seven of the seven stores (see our photos below), the one in Palo Alto near Stanford University dates back to the 1950s and the one in East San Jose is known locally as being the store that sold a $543 million dollar winning lottery ticket in 2018. During our visit to this store, we also purchased some lottery tickets hoping to capitalize on the store's history of big winnings but had no such luck.
The Van Asperen's also used to own two restaurants in Marin County, the Dock on Main Street in Tiburon (now site of the Water's Edge Hotel) and Windjammer. Ernie and Virginia moved to the Napa Valley in 1968 from Marin County and purchased 200+ acres of land off of White Sulphur Springs Road in the hills just east of St. Helena. Their primary residence was on top of a knoll they called Round Hill. Incidentally, today this site is owned by Kathryn Green (the Green Vineyard) – Kathryn also owns Napa Valley's iconic Grace Family Vineyards.
Ernie's Wine and Liquor, San Jose Bay Area

Ernie's Wine and Liquor, California

Round Hill wines were initially produced in 1978 at what was originally the York Winery founded in 1880 by Eli McLane York on Lodi Lane (just north of St. Helena). This winery was abandoned at the time Ernie began making wine here – the building has an interesting history – at one time the upper floor was used by York's grandchildren as a skating rink. At one point the property also was used for housing eggs – picked up and delivered by train. Severely damaged in the Loma Prieta earthquake in 1989, it was extensively restored and today is a private residence.
Round Hill winemaker at the time, Tom Rinaldi told us of a lunch he had with Phil Baxter and Ernie which place in the space that is now Rutherford Grill but was previously another restaurant. Ernie brought a wine concealed in brown paper bag. He wanted Tom to try it. Tom did and recognized it as a 1972 Silver Oak Cabernet Sauvignon – Silver Oak's inaugural vintage. Ernie was duly impressed and even wondered if Tom had somehow paid off one of the waiters. But in fact, Tom had tried this wine previously and recognized that it had some Brettanomyces influence and picked that out as he was tasting it. Based on that impressive showing, Ernie hired him on the spot; Tom made the Round Hill wines in 1977 and 1978 before transitioning into becoming the founding winemaker at Duckhorn Vineyards.
Rutherford Ranch was a label within their overall wine portfolio. In 1986 the Van Asperen's purchased 5 acres on the Silverado Trail and built a winery which opened in 1988 (this is the site of Rutherford Ranch Winery). A huge part of their early production was private-label wines – selling to restaurants, country clubs and others.
Zaninovich family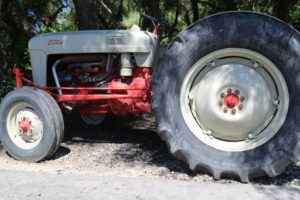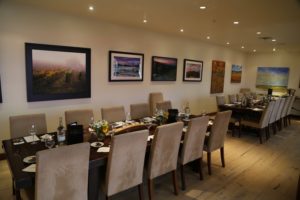 The Van Asperen's retired in 2000 and sold their interest in the winery to husband and wife, Marko and Theo Zaninovich who at the time were long time shareholders. The Zaninovich's are multi-generational farmers with Croatian heritage from California's Central Valley. Three bothers came to Kern County in 1933 (Anton, Marko, and Vincent) and became involved in the grape business in the 1930s.
Today their family wine business is extensive; they operate Sunview Marketing International based near tiny McFarland about 30 minutes north of Bakersfield and Sunview Vineyards based near Delano. Their business focuses on growing numerous varieties of table grapes, grapes for making raisins, persimmons, pomegranates and olives for olive oil as well as offering cold storage facilities. At the same property in McFarland, they also operate Casa Cristal Nursery (founded 1990) – propagating and selling a variety of rootstock and scions to the wine and table grape industries. Part of the nursery's services include soil mapping, custom planting vineyard sites and follow up vineyard assistance.
ASV Wines (founded 1981) is a major wine producer with physical locations in McFarland (San Joaquin Valley) and San Martin (central coast) – sourcing grapes from select parts of California including Arroyo Seco, Monterey County, Paso Robles, Lodi and California's Central Valley. ASV Wines produces a number of mostly California appellation wines bottled under various labels and does a significant amount of private label product for retailers and wholesalers both domestically and internationally.
And other members of the extended Zaninovich family are involved in additional grape growing business in the central valley including Jasmine Vineyards founded in 1947 (a producer of table grapes) and VBZ Grapes. In addition, Tlo Wines operates a tasting room in downtown Bakersfield (the first ever winery tasting room in downtown).
Sunview Marketing/ASV Wines/Cold Storage/Cristal Nursery, McFarland

Sunview Vineyards, Delano

Tlo Wines, Bakersfield

ASV Wines, San Martin

—
Rutherford Ranch uses grapes sourced exclusively from the Napa Valley – both from their two estate vineyards and from non-owned premium vineyards. They produce a number of other labels – featuring wines made from grapes grown in select parts of California. Scott Family Estate wines are Chardonnay and Pinot Noir from family vineyards in the Arroyo Seco appellation in Monterey County. Note that wines from their other labels may not be available at the tasting room.
Rutherford Ranch produces some of the more affordable priced wines in all of Napa Valley, especially from their Round Hill label. Well-known wine writer, Robert Parker has highlighted their wines as being one of the best values coming from a California Cabernet Sauvignon producer.
And Torcia is a premium wine brand made at Rutherford Ranch Winery, focusing on Chardonnay and Cabernet Sauvignon sourced from premiere vineyards sites in the Napa Valley. These wines can be tasted by appointment only in the Torcia lounge.
In 2023 Rutherford Wine Company launched California Sessions, another wine brand but this one focuses on low alcohol bottlings. The release included two wines a Chardonnay and a Cabernet Sauvignon, both at 10.5% alcohol.
Some Cabernet Sauvignon is planted on site just behind the winery at the base of the hills and they source the rest of the grapes for their Rutherford Ranch wines from select Napa vineyards. Rutherford Ranch is located on the east side of Silverado Trail among old oak and 100+ year old olive trees. With tables and chairs in front of the tasting room, weather permitting, this is a fine place to relax while sipping their very food friendly wines.
While the hospitality center is fairly small with the winery 'hidden' towards the back of the property – their production is anything but tiny. A number of their wines are well distributed nationally and people who know of Rutherford Ranch often try their wines at restaurants for the first time.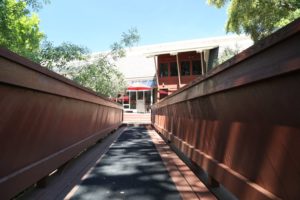 For many years the winery has partnered with a chocolatier based in the city of Napa and chocolate pairings can be enjoyed with the wines on site. A portable sign advertising their wine + chocolate pairings is often placed next to their driveway, easily visible from the Silverado Trail.
As of the time of our latest update to this review, they offer a variety of tasting flights including a Reserve Tasting, a Cabernet Sauvignon only tasting, a white wine only tasting and a wine and charcuterie experience. Private tastings can also be arranged.
For more in depth visits, the winery offers some fun experiences including a vineyard tour paired with a box lunch, a sensory analysis seminar and a blending seminar.
Select Wines
The 2021 Rutherford Ranch Proprietor's Selection, Napa Valley Sauvignon Blanc is medium straw in color. The attractive and elegant bouquet is sweetly fruited and simultaneously floral including a note of jasmine. There is absolutely no green nor grassiness here. It offers a variety of stone fruited scents including of apricot, yellow nectarine, peach in light syrup along with pineapple. The mouth feel is rounded and slightly creamy. The bouquet smells riper while the palate shows the inherent varietal characteristics. The mouth feel is rounded and slightly creamy with flavors of pomelo, grapefruit, honeydew melon and green apple. Medium acidity.
The 2020 Rutherford Ranch Reserve, Napa Valley Chardonnay is medium gold in color. The bouquet offers aromas of crème Brule, vanilla, melon, toasted oak, honeycomb + honeysuckle and a pronounced note of popcorn butter which becomes more noticeable as the wine evolves in the glass. Its texture is lightly rounded which is complemented nicely by both its fruit and acidity. It offers flavors of pineapple, pear, red apple, honeydew melon and warm butter. The finish lingers with a note of toasted oak.
The 2017 Rutherford Ranch Proprietor's Selection, Napa Valley Cabernet Sauvignon is deep ruby in color. Initially darker baking spices dominate the aromatics including of cardamom and cloves. There is also a note of dried sage and grilled meats present. As the wine opens, the scents transition into a dark fruited sweetness including of plum, prune and chocolate. The bouquet does not immediately hint of the savory character on the palate. This wine reveals flavors of dark cherry, plum, blackberry, chocolate, toasted oak, pepper, dried tobacco leaf and dried herbs. The tannins feel chalky and are balanced with the rest of the wine's chacteristics. A light dustiness creeps into the finish and lingers with both a woodsy spice and dried tobacco leaf.
The 2019 Rutherford Ranch ABELA, Napa Valley Cabernet Sauvignon is deep ruby with purplish tinges on the rim of the glass. The bouquet offers aromas of licorice, violets, dark cherry, cassis, blackberry and dark plum. There is also a savory component at work here including a light woodsy spice along with roasted meats. It offers flavors of plum and dark cherry. This wine is balanced across the palate with tannins which are broadly distributed and well integrated, offering a rounded and comfortable texture profile. This wine lingers with notes of dark pepper and toasted oak spices. Savory.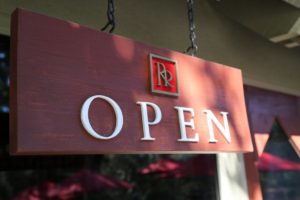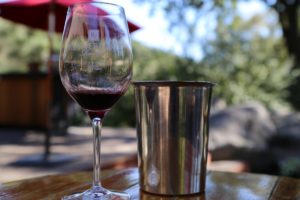 The 2013 Rutherford Ranch Merlot shows pink, purple in the glass with floral notes on the bouquet (dried rose petal), raspberry and freshly squeezed red cherries. These are tender aromas that tend towards lighter red fruits rather than darker fruits. Texturally the wine is soft in the mouth (medium bodied) and presents decent acidity. Fine grained and slightly chalky tannins linger delicately. This is a versatile wine that should pair well with a number of lighter styled dishes.
The 2012 Rutherford Ranch Reserve Cabernet Sauvignon is not distributed, rather it is only available to wine club members and for visitors at the winery. On the bouquet it shows some baking spice, red cherry, blackberry and some noticeable dustiness. The fruit is focused, very balanced on the palate with a red cherry and red currant tartness that lingers. The tannins are slightly dusty and frames the fruit on the finish very well.
The 2005 Rutherford Ranch Moscato Muscato di Amore is delicious because it is fairly light in its palate presentation; wines like this can sometimes be overly sweet, syrupy and high in alcohol but this wine is not like this. Unfortunately, this was only a limited time production.
The 2005 Rutherford Ranch Rouge Zinfandel Port on the other hand, is a very rich full-bodied wine with delicious, sweet cherry fruit flavors especially on the mid palate. Pair a cigar with this wine or enjoy with chocolate. Their Rouge port-styled wine was popular; our first introduction to this wine was while tasting at their counter – someone arrived with the singular intent to buy a case of this particular wine.
—
Rutherford Ranch has long been associated with producing private label wines for numerous clients including restaurants. In fact, their closest client can be seen from Rutherford Ranch's driveway – the storybook looking Auberge du Soleil Resort located in the nearby foothills.
For additional information about the winery or to sign up for one of their wine clubs, visit: www.rutherfordranch.com
Rutherford Ranch Winery

RIP Josh Farrell 2023, he will be sorely missed.