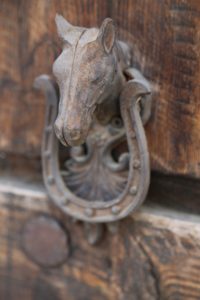 RustRidge Winery is one Napa Valley's furthest east located wineries. While their address is listed as in the town of St. Helena, in reality the winery is located about 40 minutes from town. While their location feels remote, in reality it is less then a 20 minute drive from the Silverado Trail and the valley floor.
Because Rustridge is located in rural Napa County, people don't just usually "stumble" on this winery – rather it is a destination. A visit here is uniquely refreshing – visitors will typically meet one of the owners, husband and wife, Susan Meyer and Jim Fresquez.

A visit does not come with the "polish and shine" that has become so common at a number of wineries along both Highway 29 and the Silverado Trail on the valley floor. Driving into the ranch is like driving back in time to how the Napa Valley must have been many years ago with dirt roads, pastures and horses. It is rare to find a winery in the Napa Valley that still has a rustic and country feel to nurture.
The winery is located in Chiles Valley at an elevation of about 1,000 feet (a small valley east of the main Napa Valley floor); their dirt driveway connects to Lower Chiles Valley Road. The roads in this part of Napa County typically have few cars on them. When we need a short break from traffic and the city we come to this part of Napa for a few hours – just to enjoy a relaxing country drive.
The winery site was originally a working ranch dating from the 1950's created for raising thoroughbred racehorses; a number of horses still live on the 560+ acre property. Grapes were originally planted in the 1970s including Chardonnay, Riesling, Sauvignon Blanc, Cabernet Sauvignon and Zinfandel. Susan's family purchased the property in 1972 and the first vintage of Rustridge was from 1985, founded by her brothers Stan and Grant Meyer and their late father Herbert & his wife Lucille. Susan and Jim later took over the operations in 1990.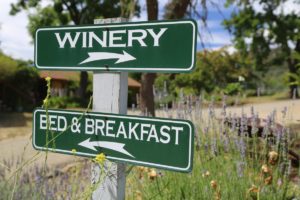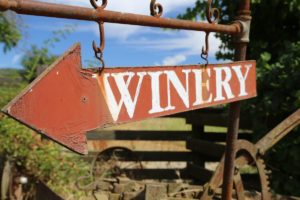 A lovely south western style Bed & Breakfast complete with a pool and a tennis court is located within walking distance of the winery (contains 4 rooms). Guests will find plenty of things to stay busy with including bird watching (35 different species have been identified on the property), hiking or if the weather is decent, simply lounging around the pool relaxing and with a good book in hand. And within a 30 minute drive is Lake Berryessa (popular with boaters and fisherman) and a very short drive – Lake Hennessey (backup water supply for the city of Napa – fishing is allowed, no gas boats) or Napa County's newest park – Moore Creek. Or if you happen to be here for harvest, Jim and Susan might even put you to work!
Susan is the winemaker and Jim runs the day to day operations; he was a former horse racer who grew up in Hollywood and was in the film industry for many years. In addition he worked with a trainer that was part of famed racing horse Seabiscuit's team. When this trainer died, Jim inherited a number of Seabiscuit's riding items (saddle, helmet, twitch and whip), which are now on display at their Bed & Breakfast. Jim continues to work closely with the horses on the ranch and still makes the racing circuit, visiting the Sonoma County Fairgrounds and Golden Gate fields among other race tracks in Northern California.
The winery is nestled against the hills on the back of the property; a separate building contains their tasting room. Pricing is very reasonable by Napa standards and unlike many Napa wineries, they often have older vintages available for sale. The focus of their wines are on three different brands, the Rustridge wines, Racehorse (both red and white wines) and Animated. All their wines are estate grown.
Some of our favorites are the 2005 Rustridge Estate Chardonnay, the Sauvignon Blanc and the Cabernet Sauvignon. The Chardonnay is aged surlee which provides decent structure on the palate – offering a rounded creamy feel. Susan uses multiple yeasts in each barrel bringing further complexity to this wine. All grapes for this wine are dry farmed.
The 2006 Sauvignon Blanc shows tropical aromas which also carry onto the palate.
Kent Rosenblum founder of the well-known Rosenblum Cellars in 1978 (based in Alameda/Oakland) had part ownership in Rustridge and was their consulting winemaker for many years; unfortunately Kent died a bit prematurely in September 2018. Zinfandel is by far Rosenblum's most produced variety – as one would expect RustRidge also produces a Zinfandel (these vines date from the mid 1970s). Their Zinfandel has even made several appearances in Hollywood movies (ask Susan for more details).
In the past, Rustridge in conjunction with Napa Valley Adventure Tours offered mountain bike tours for 6-10 people per outing. The ride took place on the ranch, typically in the morning and then returned to the winery for a lunch combined with wine tasting. As of our latest update to this review, this experience is no longer offered, but guests can inquire about bringing their own mountain bikes with them – the nearby roads are ideal for bike riding.
Weekday tastings are held daily at 3pm by appointment and weekend tastings are scheduled for 11am, 1pm or 3pm. For more information, to join their wine club, or to schedule a tasting, visit: www.rustridge.com
Ranch

Winery/Tasting Room