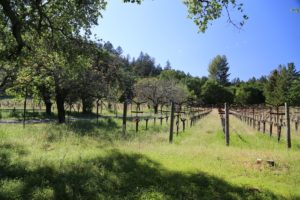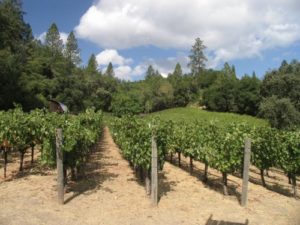 Ruston Family Vineyards is located on the western fringes of the town of St. Helena. It is run by the Ruston Family who have a long history of farming in the Napa Valley (since the early 1940's). What is now grapevines used to be prune and walnut orchards until the 1970's. After the site was planted with vineyards (4 acres), the Ruston's sold grapes to local wineries such as Merryvale and Havens Wine Cellars. John and his wife Janet quit their "day jobs" in the late 1990's to start this winery and now it is a full time business for both of them. The wines are made off site.
A tasting in good weather is usually with John under a trellis overlooking the actual vineyards (the house is used during bad weather). This is as low key of a tasting you will find in Napa and a visit here is for serious wine enthusiasts. John's mom was instrumental in securing excellent rootstock from some of the most famous vineyards in Napa through her connections as a local Napa grower. Ruston has several Bordeaux varietals planted on site and they also source fruit from other growers. Their winemakers have included the well-known Philippe Melka, Pamela Starr and Josh Krupp. Their current winemaker is Julien Fayard who is assistant to some of Melka's projects. We've met Julien at a harvest party before, he has trained with some of the best and really knows his viticulture.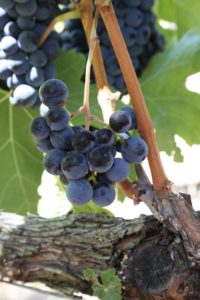 What separates Ruston from some of the other high end Napa wineries is that while their actual wines are completely hand crafted in small quantities they have been able to keep their prices quite reasonable by Napa standards. We enjoyed La Maestra which is named after John's mom who is fluent in Spanish and is called the Maestra by the vineyard workers. This rich wine is predominately a Cabernet Sauvignon / Merlot blend with small percentages of other varietals which are all from the certified organic vineyards on the estate. It shows wonderful fruit with a nice mix of blackberry and blueberry combined with other red fruit flavors. All other wines produced are sourced from select high end area vineyards.
Additionally Ruston makes a wonderful Cabernet Sauvignon from the Stagecoach Vineyards; these vineyards are quickly growing in popularity as a world-class Cabernet source. Just a side note regarding these vineyards; we met with the owner of Stagecoach, Jan Krupp who told us how when he originally planted the vineyards he had to make 40-50 cold calls to even find a winery to purchase the grapes. Wow, amazing how fast this vineyard has come to fruition and is now producing extremely high quality fruit for a variety of wineries. Look for Ruston's wine in many national high end restaurants and especially in the Bay Area, LA and New York markets. Visit: www.rustonvines.com
NOTE: this review has been identified as needing a major update.