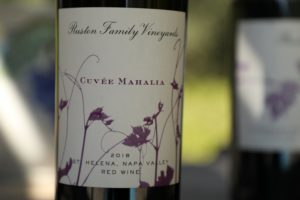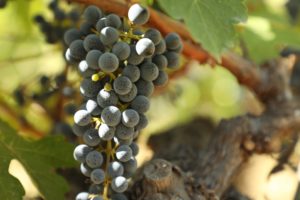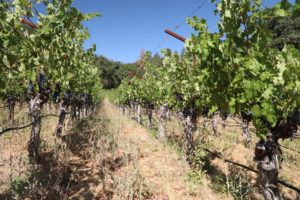 Ruston Family Vineyards is located on the western edge of St. Helena as the base of the Mayacamas mountains. In 1941 Fred Carpenter and his wife Lana purchased 40 acres here for a total of $4,000 with the intent to use the property for weekends and summers. Both lived in Berkeley at the time and wanted a place to escape the incessant fog which often blankets the San Francisco Bay in the summer. It was also just the right distance from Berkeley to drive using their World War II gasoline rations. Fred was one of the inventors of the jet pump. While living in Berkeley he operated a pump business called Advance Pump Company. Fred and some of his friends built a home against the side of the hill, choosing to build underneath oak trees for their shade. This home is still standing. So, to are the old and stately oak trees. This was not the first home on the property; a previous house burned down as a result of the magnitude 7.9 1906 earthquake centered 2 miles west of San Francisco in the Pacific Ocean.
Fred was an aviation enthusiast and for many years maintained a small strip on the flat part of their property.
A sizable part of the property was sold off in 1975 and was developed as housing. Today this 14-acre property is still owned by the Ruston family. What are now grapevines used to be prune and walnut orchards until the 1970s. Fred and Lana's daughter, Lorraine moved back to the property in the 1980s and in 1986/1987 planted Merlot. After the site was planted with vineyards (3.6 acres), the Ruston's sold grapes to local wineries including Merryvale and Havens Wine Cellars. Lorraine's son, John and his wife Janet (passed in 2021) quit their "day jobs" in the late 1990s to start the Ruston wine brand.
This is very much a small family run operation. Lorraine is in her late 80s now and still puts in time every day in the vineyard. John spent 13 years in New York working for the Environment Defense Fund, a nonprofit environmental advocacy group. He also is co-author of the book, Recycling and Incineration, Evaluating the Choices. He is very involved in the management of the vineyard including helping prune the vines. Their vineyards are organically farmed. Nearby vineyard neighbors include several David Abreu owned properties, Spottswoode Winery and several Beckstoffer owned vineyards.
Lorraine was instrumental in securing rootstock from some of the most famous vineyards in Napa Valley through her connections as a local Napa grower. Ruston currently grows the following varieties: Cabernet Sauvignon, Merlot, Cabernet Franc and Petit Verdot. Despite a relatively small property, the site features a diversity of exposures and soil types including rhyolite (volcanic origins), heavy clay and alluvial despots from former creeks. When Crop Care (an independent agricultural technology consulting firm) dug seven soil pits on the property, they discovered seven distinctive soils. This tends to be a cooler site with their grapes typically picked after their neighbors in part because of the site's exposure located below the nearby forest which grows right to the edge of parts of the vineyard (shaded by the late afternoon during the summer). And in the afternoons, it is common for a consistent breeze to blow which also provides cooling influences.
Their winemakers have included Philippe Melka (Ruston was one of his very early clients along with Seavey and Lail Vineyards), Julien Fayard, Pam Starr (who suggested the family use their own name for the wine brand), Jeff Ames, Josh Krupp, Aaron Pott and since 2014, Robbie Meyer. A number of the Ruston winemakers were hired earlier in their careers before they became more well-known and sought after for their consulting winemaking services.
Ruston produces hand crafted wines in small quantities from both their estate vineyard and premium sites in Napa Valley and neighboring Sonoma County. Their first vintage was in 1997. Despite more than 25 harvests, they continue to maintain a low profile while producing excellent quality to price point wines.
Due to the resulting smoke from the Glass Fire, Ruston produce no wines in 2020. The vineyard was saved when firemen from various cities in California lit back fires behind their property.
Select Wines
Whites
The 2019 Ruston Napa Valley Sauvignon Blanc was sourced from Ryan's Vineyard in the cooler Oak Knoll District in the southern part of Napa Valley. One will quickly realize from the aromatics alone that this is not a green or grassy styled wine of this variety. It is medium golden in color; the bouquet needs some time to fully express itself. It offers scents of honeysuckle, melon, peach, pear, papaya and pineapple. This wine showcases some textural weight across the palate featuring a creamy and rounded mouth feel. Its flavors somewhat mirror that of the bouquet and include apricot, pineapple, yellow nectarine, peach honeydew melon and some citrus notes. This wine was fermented and aged in neutral oak barrels, formerly used for Chardonnay. And the lees were stirred regularly.
The 2019 Ruston Charles Heintz Vineyard Sonoma Coast is from a site located at about 800 feet in elevation and about 6 miles inland from the chilly waters of the Pacific Ocean. This site is cool but tends to be sunny. This wine is medium to golden in color; the bouquet initially offers a honeyed note including honeysuckle, ripe peaches, pear, vanilla and crème Brule. It offers a diversity of ripe flavors including of mango, papaya, yellow peaches, apples and a note of warm butter. But this is not a buttery Chardonnay. A thread of acidity keeps this wine bright across the palate lingering with a supple texture. The finish is smooth and supple.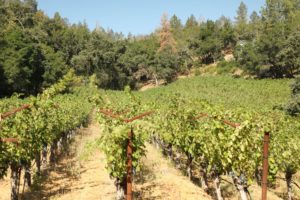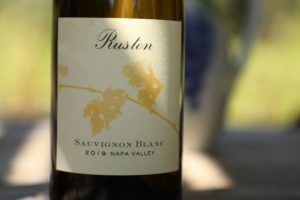 The 2019 Ruston Chardonnay, Sophia's Vineyard, Russian River Valley is deep gold in color; from the color alone one might suspect this will be a rich botting and after smelling and tasting it, they will find they are not incorrect. The bouquet offers attractive and ripe aromas of apricot, honeycomb, honeysuckle, crème Brule and assorted sweet baking spices. The palate offers flavors of mango, ripe papaya, yellow nectarine, peach and apricot. The richness across the palate continues through to the long-lasting finish. One might describe this bottling as a meal in a glass.
Reds
In 2009 Ruston began producing two separate wines, each one using the middle names of John and Janet's two daughters Mahalia and Simone.
The 2018 Ruston Family Vineyards Cuvee Mahalia is a blend of 56% Merlot, 22% Cabernet Sauvignon, 20% Cabernet Franc and 2 % Petit Verdot. This wine is deep ruby; the aromatics are dark fruited including black cherry along with a savory tobacco spice, dried herbs, clove, cardamom and as it breathes, it reveals a note of chocolate. This balanced bottling reveals flavors of plum and dark cherry. The broadly distributed tannins sport a moderate but not overly gripping texture which continues to persist for some time. The finish is juicy with bright mouth watering acidity
La Maestra is named after Lorraine who is fluent in Spanish and is referred to as the Maestra by the vineyard workers. This rich wine is predominately a Cabernet Sauvignon / Merlot blend with small percentages of other varieties all from their estate vineyard. This wine was originally dominated by Merlot but over the years it started being led by Cabernet Sauvignon. The 2019 Ruston Family Vineyards La Maestra is 89% Cabernet Sauvignon and 11% Petite Verdot (both were co-fermented for this particular vintage). This wine is deep ruby in color; the bouquet initially reveals floral notes including rose petals and violets complemented by plenty of fruit including blackberry and blueberry along with cocoa powder, mocha and chocolate. The palate is somewhat brambly with flavors of mulberry, blackberry, cherry and currant. The light to medium structured tannins are long lasting on the bright and fresh finish. This is a very food friendly bottling.
The 2019 Ruston Napa Valley Cabernet Sauvignon is 96% Cabernet Sauvignon with the remainder Cabernet Franc and Merlot. The grapes for this wine are from Oakville, Rutherford and St. Helena. It is deep ruby; the bouquet is clearly focused on the fruit characteristics rather than any overt influence from its barrel aging. The bouquet offers aromas of plum, cherry and chocolate. The tannins show more on the front rather than the back of the palate. The grainy and granular tannins anchor a bright, red-fruited finish including flavors of plum and cherry. This is certainly one of the better price point to quality Cabernet Sauvignons from Napa Valley.
Ruston used to produce a wonderful Cabernet Sauvignon from the Stagecoach Vineyards. We wrote the following in 2008 to describe that site: Stagecoach Vineyards are quickly growing in popularity as a world-class Cabernet Sauvignon source. Jan Krupp, the founder and owner of Stagecoach told us how when he originally planted the vineyards, he had to make 40 cold calls to even find a winery to purchase his grapes.
Twelfth Labor
A mutual friend in the banking business introduced John to the Benson family in Louisiana. Tom Benson owned the New Orleans Saints until his passing in 2018. This brand was created for the restaurant market in New Orleans; the first vintage was 28 cases of a Reserve Cabernet Sauvignon from the Ruston vineyard in 2015. They later added Chardonnay to the portfolio. Benson was involved in numerous businesses over his career including automotive dealerships, banking and sports franchises among other investments. He chose the name Twelfth Labor to represent his tiny wine brand, the 12th business he was involved in. His wife Gayle continues to own this brand.
The 2016 Twelfth Labor Cabernet Sauvignon Reserve St. Helena was produced from the Ruston estate vineyard. This wine is 92% Cabernet Sauvignon and 8% Petit Verdot; it is deep ruby and nearly opaque in the glass. The attractive aromatics include a floral component (rose petals and violets), dried herbs along with a plethora of fruit including blackberry jam, dark cherry, blackberry, dark chocolate and assorted baking spices. This bottling is balanced but with plenty of complexities both on the bouquet and the palate. It offers flavors of blackberry, plum, cherry, currant, dried herbs with a lingering, red-fruited tartness and light drying characteristic on the energetic finish. The tannins exert a moderate but not heavy grip. And the front label is an image of an original etching titled, Hercules and Cerberus created by the Italian artist Antonio Tempeseta (1555-1630).
—
At the height of their production Ruston was producing around 5,000 cases a year with distribution in nearly 250 retail outlets, in major markets around the U.S including premium restaurants but also in California from Eureka to La Jolla. Some of their exposure was through select Trader Joes, Total Wine and Bristol Farms locations. And locally, La Toque Restaurant in Napa was one of their early supporters.
Production has since scaled back considerably and is now between 600 and 700 cases annually with the focus on the estate wines and several bottlings of Chardonnay from Sonoma County. For more information or to purchase wines, visit: www.rustonvines.com