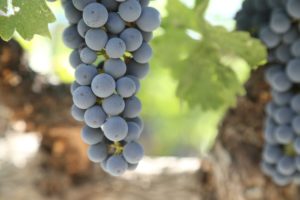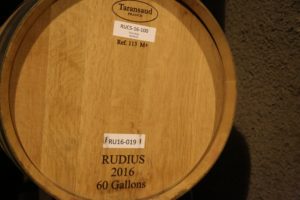 Rudius Wines There are the types of vintners you can't help but admire who have come to the wine industry solely on their own accord. They do not come from wine making families where you have the support structure should you want to get into the wine industry. In this case it is Jeff Ames, the founder of Rudius. Jeff is originally from Alabama and was on the fast track to become a lawyer – coming from a family of lawyers. Eventually after deciding law was not for him, he started working in a small wine shop in Memphis – which was his first real exposure to wine.
As we have seen time and time again on this project, regardless of your background, when the wine industry gets in your blood it may become a life long passion. Jeff sent a number of resumes to wineries on the west coast and secured his first job working with prominent winemaker Lynn Penner-Ash at Rex Hill in Oregon's Willamette Valley. He later moved to the Napa Valley and gained invaluable experience working at Napa wineries including Freemark Abbey, Flora Springs, Duckhorn and Outpost joining his friend, winemaker Thomas Brown who was leaving Turley Wine Cellars. It was at Outpost where he worked with Grenache – more about this in a bit.
After working for a number of vintners, Jeff decided to create his own wine commercially and today he also is consulting winemaker for several clients. Such was his passion to get into the wine making business he sold his home to fund the initial project. Jeff is a perfectionist when it comes to quality. His wine making approach is minimalist, taking more of a hands off approach by doing whole cluster fermentation, foot treading, and using natural yeast with no fining or filtration. In addition, his wines are racked as minimally as possibly, leaving the fruit to remain in contact with the lees and not exposing it to unneeded oxygen.
While his wines often stay in the barrel for significant time, his type of aging program ensures the wines are not over oaked. The Rudius wines often see extended bottle aging which is not a bad thing for the consumer! With small production lots (sometimes just a barrel or two), all hand crafted, this is a boutique Napa winery at its best. Rudius wines reflect a sense of place and in other words are true to the vineyard site, the varietal and the conditions of that particular vintage.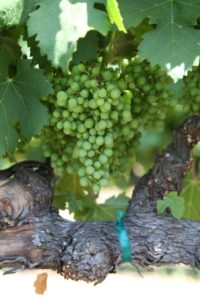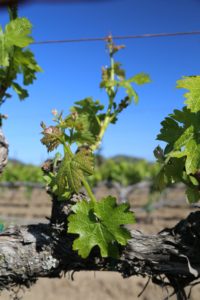 The name Rudius has interesting origins – it was the name of the wooden sword that was presented to a gladiator when he was freed by the emperor of Rome. The sword was wood and symbolized that the gladiator was done fighting and was now a free man. Jeff has already worked for a number of Napa wineries as indicated, and his winery is appropriately named as it represents the freedom to make wine in his own style.
The initial focus of Rudius wines were on site specific vineyards for Syrah and Grenache (Jeff also used to produce a Chardonnay). Over the years, the portfolio has morphed more into Cabernet Sauvignon. In addition to sourcing fruit from premium and special vineyards – they also own a vineyard on Howell Mountain called Savory Vineyard, planted to Cabernet Sauvignon and Viognier. During our visit with Jeff, we had a chance to taste a number of his wines including his inaugural vintage (2005) and verticals of Syrah and Grenache both from barrel and bottle along with the 2006 vintage of Napa Valley Cabernet Sauvignon from barrel. We highlight several below.
Select Wines
The 2005 Rudius Russian River Syrah was fermented entirely with wild yeast including the secondary malo-lactic fermentation. As a result it took several months to finish the fermentation and to reach dryness; it was pressed into the barrel where it actually finished fermentation. This is a dark purple wine that is well structured and definitely well balanced. A highlight of this wine is certainly the fruit; layered flavors of blackberry and blueberry burst onto the palate with underlying nuances of chocolate and spicy clove. An intriguing kiss of vanilla lingers on the pleasing finish.
The 2006 Rudius Emerald Pool Vineyard Syrah from Mendocino County is a big, rich and voluptuous wine both on the bouquet as well as on the palate. Its juicy but not jammy. There is a nice herbal quality one may pick up on the bouquet and some earthiness but in reality this wine is all about the fruit! Rudius also produces a vineyard block designate Syrah from Alder Springs (Mendocino County) and later vintages of this are blended with small amounts of Viognier helping enhance the aromatics of the wine. This wine, similar to the Grenache is pressed sweet to barrel where it finishes its fermentation.
We love the aromatics and mouth feel of the Grenache varietal in general and over the years tasting thousands of Napa Valley wines, it is not often we get to enjoy this Grenache. There are very few vineyards of Grenache located within Napa and as a result, Napa vintners who make this usually source fruit from other areas of California. Such is the case of Rudius where they purchase the fruit from the Russian River area in neighboring Sonoma County as well as in Mendocino County (north of the Napa Valley). Alas, only 75 cases of this wine were available (2005 vintage). Definitely decant this wine before serving.
Jeff told us that Grenache tends to darken in the barrel; this wine is not too dark, more of a ruby red color. The 2005 Rudius Russian River Grenache is very floral, almost perfume driven aromatics – violets combined with notes of sweet red fruit (raspberries). The palate showcases earthy notes along with a white pepper spiciness – anchored by raspberry and cherry flavors. The finish is warm and slightly spicy. Rudius wines are enhanced with decanting and often improve over the course of several days after being opened.
—
As of the time of this review all of the Rudius wines are produced in extremely small quantities. Jeff makes a variety of wines but most range in quantities of merely 50 to 200 cases with a total production around 500 cases annually. Interestingly as a small producer, the wines are selectively distributed in Canada, Denmark and Japan – however the best way to acquire wines is to signup for their mailing list or wine club.
For more information, or to join one of their Evocatus wine clubs, visit: www.rudiuswines.com