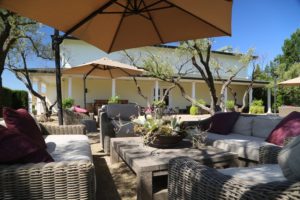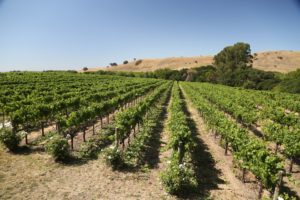 Ru Vango Winery is formerly known as Kieu Hoang Winery; the name and branding change took effect in 2022. The name Ru Vango translates in Vietnamese as 'road to art'. Prior to that, the winery was known as Michael Mondavi Family Estate and before that it was owned by Mahoney Vineyards, owned by Carneros winemaking pioneer, Francis Mahoney (whose current operation, Carneros Wine Company is based only about 1/2 a mile from Ru Vango Winery). The property is located about 2 miles from busy Highway 12/121 and being caught in traffic is the ideal excuse to take a break and visit the winery. This site is surrounded by rolling hills planted with vineyards. It is the quintessential Carneros property.
The tasting room is spacious, elegant and has been completely redesigned since the prior ownership. Howard Backen, a prominent Napa wine country architect was hired to help with the redesign and upgrade of the hospitality center. Too many tasting rooms in the valley are cluttered – this one is refreshingly not setup that way.
A number of decorations were added inside and outside the hospitality center. The most prominent of these is the large wine bottle artwork that stands outside near the parking lot. It is in the shape of a wine bottle but is made up of many normal size bottles. A massive stump of a Eucalyptus tree greets visitors as they enter the tasting room.
Founder Kieu Hoang immigrated to the United States in the mid 1970s from Vietnam. He founded and built a successful pharmaceuticals company (focusing on blood plasmas) doing business both in the United States and in China. He became interested in wine – especially as it relates to wellness. He lives in the Los Angeles area. In early 2021 Kieu Hoang sold both the Carneros and Spring Mountain wineries and properties to Garden Grove (Orange County) based Dr. Michael Dao of Dao Medical Group, a health care clinic servicing the community of Garden Grove. Address: AMD Plaza, 9191 Westminster Blvd., Garden Grove.
NOTE: this review has been identified as needing a *MAJOR* update.
The Kieu Hoang wine brand was founded in 2012 (before the purchase of this property) with wines initially only exported to China. With the acquisition of this Carneros property they now sell their wines to the domestic market in addition to exporting to China and other parts of Asia. The majority of their wines are made from the Napa Valley but they do produce California designate wines (including a sparkling wine) and also wines from Italy.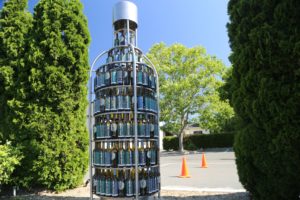 Their packaging and shape of bottles is some of the most unique and innovative we have seen available in different colors, creative shapes and sizes. Each bottle is essentially a piece of artwork. Also of note are the hundreds of tiny circles that appear on their wine labels – these are a representation of what plasma looks like under a microscope. And one might also construe these as being images of tiny grapes.
Chinese actress Li Bing Bing was a spokesperson for the wines and her image appeared in a number of their promotional materials at the winery and in an advertising campaign they initially ran at several area airports.
Select Wines
During an early visit to the property, we tried the following wines. The 2012 Kieu Hoang Sauvignon Blanc shows tropical notes including honeysuckle on the bouquet along with some floral aromatics. On the palate, white pineapple, melon – with a pleasing richness mid palate through the finish.
A number of their wines are labeled by color. The 2012 Kieu Hoang Red Label is Cabernet Sauvignon with fruit sourced from Calistoga and Yountville. It initially shows both herbal and smoky notes on the bouquet – then offers notes of red currant and red licorice. As the bouquet breathes some intriguing baking spices come to the forefront.
The 2010 Kieu Hoang Red Blend is very aromatic in the glass – showing higher toned fruit aromas with notes of cranberry, red currant and hints of baking spices. On the palate there is a red cherry tartness – with well integrated tannins and hints of mocha on the finish. Very good acidity. This wine needs to be paired with food.
Ru Vango, Spring Mountain Estate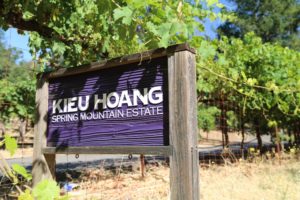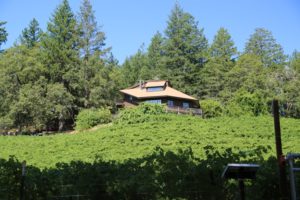 Kieu Hoang also owned the former Guilliams Vineyard in the Spring Mountain District (he purchased the site in 2014), before selling it to Dr. Michael Dao in 2021. Former owners John and Shawn Guilliams moved here in 1978 from the San Francisco Bay Area. Vineyards were originally planted on this site in the 1890s but were completely abandoned during the 1930s and the forest had reclaimed most of the land by the time the Guilliams arrived – so they had to clear part of their property to eventually plant vines (7 acres of vineyards).
They wanted a quiet location to build a house and raise a family but both did not have jobs at the time. Not having a background in the wine industry, John found work at a cooper and started building wine barrels. Soon John was making home wine with his co-workers; eventually he and Shawn decided to bottle their wine commercially – their first vintage from 1985. A small winery is located on the lower level of the family home on site which overlooks the vineyard.
Their driveway is extremely sharp and if one is driving west towards St. Helena on Spring Mountain road one will have to pass the driveway, turn around in the small dirt pull out, head back in the opposite direction and then enter the driveway. The property is located at an elevation of about 2000 feet placing this and nearby Spring Mountain vineyards as some of the higher sites in Napa County. And the property does receive a bit of snow here most winters. Remarkably the home and winery survived the devastating Glass Fire which severely burned a large portion of Spring Mountain in 2020.
The space is sometimes used for private events and select tasting for wine club members.
—
All visits to their Carneros based winery are by appointment; when you arrive, choose from two tasting flights. One features mostly California produced wines while the other "reserve" tasting features all Napa Valley wines.
And if the weather is nice – be sure to take a glass with you and enjoy the wine and views from a comfortable chair on their wrap around open air porch which overlooks the calming and quiet rolling hills of the Carneros part of Napa Valley.
Q Sushi & Kieu Hoang Wine Lounge, Westlake Village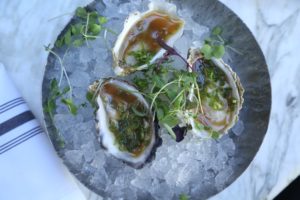 In 2016 the Q Sushi & Kieu Hoang Wine Lounge opened in the Shoppes at Westlake Village – this is mere minutes from the 101 and just south of Thousand Oaks. Plenty of parking and plenty of seating both indoor and outdoor on a small terrace. Come for a special Happy Hour menu – available between 4-6pm. Highlights of our meal were the Brussel sprouts, raw oysters, Shishito peppers and various sashimi.
A beautiful bar serves a variety of innovative cocktails. A number of Ru Vango's own wines are available by the glass or bottle as are select wines from other California producers and a couple from outside of the state. Also plenty of beer and sake selections.
—
Ru Vango has decent international distribution including in parts of Asia, Africa and the Middle East. For more information or to join one of their club offerings, visit: www.ruvango.com
Hospitality

Exterior

Q Sushi & Kieu Hoang Wine Lounge, Westlake Village