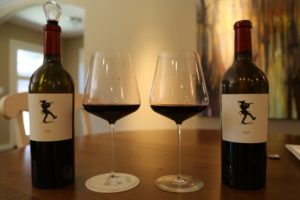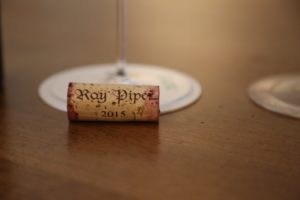 Roy Piper Wines. Roy grew up in Orange County (spending time in Yorba Linda and Newport Beach) and graduated from Cal State Fullerton with a degree in psychology. After college he went into finance and worked for American Funds. During his time here he would often treat clients to fine meals; one of his favorite restaurants was Checkers located in downtown Los Angeles. It was at Checkers that Roy became interested in both food and wine. He directly attributes this interest to one person – the executive chef at the time, Thomas Keller. Keller was at Checkers for only about 18 months but during that time Roy got to know him and was exposed to a diversity of premium wines. This was an awakening for his palate; while growing up the main wine he was exposed to was Gallo gallon jug wine that his parents kept above the oven in their kitchen.
Roy was a regular at Checkers, so much so that one day Keller casually mentioned he was going to be moving to the Napa Valley and starting a restaurant (ultimately Keller purchased the French Laundry in Yountville in 1994). Roy continued to explore his new-found interest in wine – he began collecting wines and attending various wine related events. One such event was an open house for Moraga Vineyards in Bel Air (a few minutes from the 405) where he met Mary Maher (noted viticulturist who was overseeing Moraga's vineyards at the time) and currently Harlan Estates Vineyard Manager. She encouraged Roy to follow his passion for wine – regardless of where it might lead.
By 2005, Roy was a successful executive at AIG who at age 38 was ready to take the next jump in the world of finance. As he recalls he wasn't married yet, had no children and no dog – in short, nothing was holding him back from making a career switch. He came to the Napa Valley that summer and met well-respected winemaker Charles Thomas who introduced him to winemaker Aaron Pott. One day Roy wandered over to Quintessa where Charles and Aaron were making wine – it happened to be the day one of their cellar workers quit and after showing interest in production, Roy was offered a cellar job.
Pott describes Roy's work in his first year as the worst cellar worker he ever worked with and by year two, Roy earned Pott's praise as being the best cellar worker he ever worked with. Roy recalls being in his head for most of the first year – working with numbers in his previous career and not used to working with his hands. But this changed over time as Roy became more adept in the cellar. Soon he was assistant winemaker at Seven Stones Winery a position he credits with being influential in his winemaking career.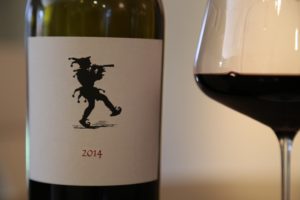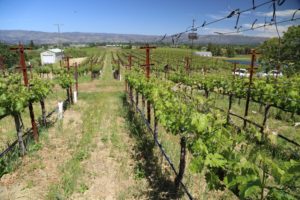 When it comes to the Napa Valley and its wine industry Roy is like a wine sponge, absorbing as much information as he possible can as it relates to vineyards and wine making. He has a bead on the pulse of Napa's wine world like few we have met. His recollection of bottles of wine opened years ago is rather remarkable, and if he wasn't a winemaker, it is obvious from spending a little time with him (and viewing some of his videos) that he would have made an excellent professional wine reviewer.
Looking to hone his winemaking skills, using fruit from some of the valley's most premium vineyards, from 2006 through 2009 Roy made wine but always declassified it – learning both about various vineyard sites as well as from a number of mentors. Roy readily admits he should have listened to advice from Aaron Pott – but he wanted to have the satisfaction of becoming his own winemaker through learning by doing. Understandable. His first commercial release was from the 2010 vintage.
Roy credits individual parts of his wine making skills to specific winemakers. Always in search of premium sites, he has long admired the vineyard prowess of Tony Soter who recognized and identified numerous premium vineyards sites within Napa Valley.
Early on Roy realized that color is one of the first components to drop out of aged red wines, so he learned to ferment at higher temperatures from winemaker Mark Herold, part of the tools he uses to extract more color. He learned how to mitigate tannins from working with Aaron Pott – most importantly when to pick; Roy bases his harvest decisions on tasting grapes and then acquiring numbers from the lab post-harvest. And from Paul Hobbs he learned about mouth feel – and the relationship that pH and acid have on this as well as how much and how often to sulpher his wines.
He tends to pick between 25.5 and 27.5 brix and runs a pH typically between 3.6 and 3.75. He always inoculates with commercial yeast and does not fine or filter the wines.
Roy's focus is singular yet at the same time broad in scope. He produces merely one wine a year – always a Cabernet Sauvignon sourced from some of the valley's best vineyards. And access to these vineyard sources often take significant time to cultivate based on relationships, waiting lists and limited supply and high demand. He has had to wait years to get fruit from specific vineyard sites – holding out for a producer to drop their contract for whatever reason. He produces only enough wine he can comfortably make by himself and sell. Production generally runs between 300 and 500 cases a year.
And he is a strong believer in blending, referencing a line that vintner Joe Heitz once said, "the greatest AVA in Napa is Napa". Roy seeks vineyard sites that are often well-known for producing vineyard designate wines – purchasing fruit and blending it with fruit from other premium vineyard designate sites. Some of the best wines he has enjoyed in Napa have been blends – referencing Inglenook from the 1940s, Beaulieu Vineyard from the 1960s and 1970s, Caymus from the 1980s and the Phelps Insignia from the 1990s.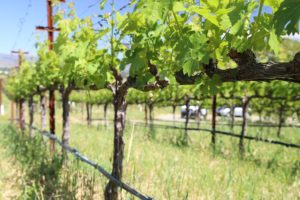 He has sourced fruit from premium vineyards up and down the valley over the years but Moulds Vineyard has become a special site for Roy. Fruit from this vineyard plays an integral role in his wines (his 2016 vintage was sourced entirely from Moulds Vineyard). Roy was first introduced to the property when he visited to view an art exhibit that was being shown in the 'barn' on the property. Rather than head to the exhibit, he was distracted by the vineyard itself and how well the vines were being managed. He met Steve Moulds and soon asked if he could purchase fruit. Nothing was available – Roy kept checking in every year and by 2011 a small block was offered (he has sourced from the same block ever since). His block is located on a rolling hill with vines growing in decomposed bedrock – the soil is full of tiny crushed up rocks.
As the vines grow in his source block, they are clipped into grow wires. It takes a remarkable number of clips to manage these vines – despite only sourcing from about 3/4 of an acre – some 45,000 of these plastic grow clips are used. This is only one small slice of Napa Valley – but gives one an idea of the incredible amount of manual labor that goes into maintaining premium vineyards.
Despite only about 7 acres of vines, Moulds' reputation for growing premium grapes has been noticed in Napa. He was the 2018 Napa Valley Grower of the Year; what little fruit he has is divided among a select few producers. Steve passed in 2021.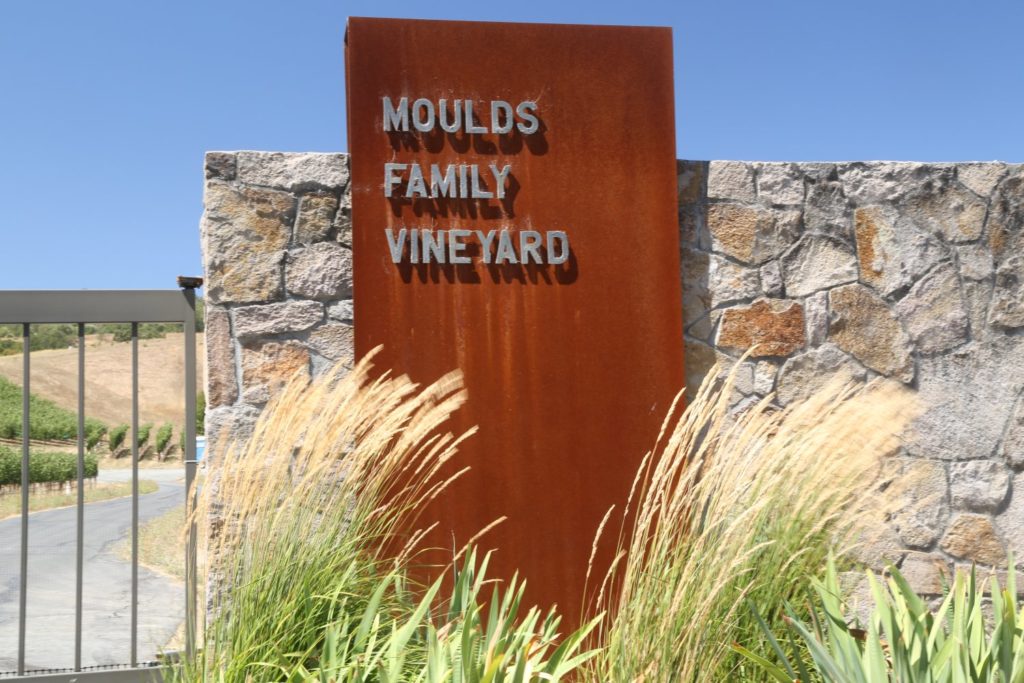 Select Wines
The 2014 Roy Piper Cabernet Sauvignon is noticeably dark in the glass – as Roy says, "I have no problem getting color on these wines". It shows an elegant ripeness with mostly dark fruit aromatics, somewhat brooding initially out of the bottle until it opens more. Shows notes of graphite and scorched earth – it is seductive with aromas of old cedar box and ripe blackberry. The bouquet continues to be generous over time as it opens additional layers of dessert spices show including mocha and a baking spice component. Superbly balanced from start to finish the softness and silky texture is quickly noticed – seamless across the entire palate. The wine lingers with plenty of flavor but without any harsh tannins – rather they are chalky, polished and supple.
The 2015 Roy Piper Cabernet Sauvignon reveals an intense and powerful bouquet showing mostly darker fruits with aromas of ripe blackberry, plum, dust, dried lavender, violets, cedar, dark chocolate and a mocha sweetness. Opulence for your olfactory nerves. What is immediately evident with this wine is the density on the palate – almost chewy at times. Broad shouldered but not harsh tannins anchor a long finish (Roy noticed the tannins softened considerably in the year after this wine was bottled).
Both wines show noteworthy aromatics.
—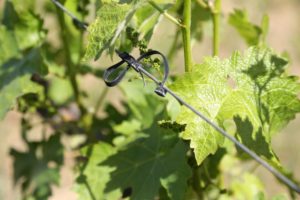 And Roy designed the fun looking label himself – a play on his last name, depicting a piper playing a flute. One would have to be very astute to notice the unique bottle. It is modeled after an 1855 Bordeaux bottle found in a shipwreck – if you look closely, the shoulders on the bottle are not symmetrical.
Mention should be made of Roy's video blogs – he is an open book when it comes to wine making and his educational videos bring viewers 'inside' the life of a winemaker. One can view these here: https://vimeo.com/user43683612
Roy Piper wines are sold almost exclusively through a release list – usually selling out within just a few weeks. The one retail exception is Archie's Waeside, a historic steakhouse located in the tiny town of Le Mars, Iowa. For more information and to join the release/mailing list, visit: www.roypiperwines.com
Roy on Vineyards

Roy on Inoculating

Barrel Tasting

Veraison at Moulds Family Vineyard