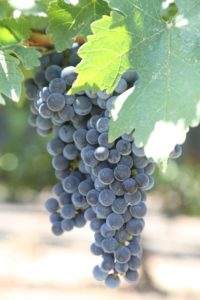 Round Two Wines is a newish label in Napa Valley, but from a vintner who is certainly not new to Napa. Winemaker and owner Dennis Johns is as local as it gets in the Napa Valley. He and his wife Adele both grew up in St. Helena and went to St. Helena High School. Dennis spent his entire career making wine in the Napa Valley. Not being formally educated in wine making at a university, Dennis has blazed his own path and wine making philosophy over the decades – some of his techniques are fairly unique.
As he recalls, "I needed a job", not necessarily in the wine industry; his first job was at Hanns Kornell Champagne Cellars doing disgorging work for this sparkling wine producer. He asked for a raise and was let go, so he started stopping by a secretary's office at Sterling Vineyards weekly, asking about work. Finally, she introduced him to Ric Forman (the head winemaker at Sterling Vineyards at the time) but unfortunately Ric did not have any work in the winery. Eventually persistence paid off and Ric offered him a job driving a forklift moving barrels around – fortunately this turned into additional hours in the cellar and also led to some hospitality and marketing work.
Leaving Sterling Dennis moved nearby to St. Clement where he apprenticed under Chuck Ortman (winemaker at St. Clement Winery). Chuck was also not formally educated in wine making but his apprenticeship was with one of Napa's wine making legends, Joe Heitz of Heitz Cellar. Dennis was quick to learn, and Chuck assigned him primary wine making duties within one year.
Ultimately Dennis founded white Cottage Winery on Howell Mountain – prior to purchasing land he had told his real estate agent to notify him of small properties – perhaps fixer uppers. She invited him to see a property but left out an important statistic: the property was 62 acres. Despite the larger size, Dennis and Adele purchased the property in 1989; it used to be part of a 5,000-acre ranch. Ultimately Dennis oversaw development of this to 28 acres of vines before selling. After selling white Cottage Ranch he purchased the nearby Red Lake Vineyard, (made two vintages) and then sold that vineyard.
A three year non-compete clause kept him from selling wine commercially but not from making it. The first vintage of Round Two Wines was 2009. Dennis cannot stay away from the beautiful terroir of Howell Mountain; he and Adele purchased acreage near Cade Winery and tend to their Viewridge vineyards, an acre and a half of Cabernet Sauvignon vines – the first vintage from this property will be small and from 2016.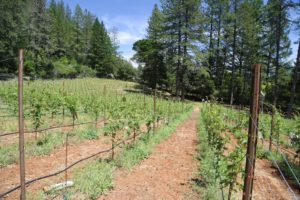 Dennis has made a lot of wine during his career but remains true to the types of wines he makes and select vineyard sources. He is a strong believer in the philosophy that wines are grown not made and is perfectly happy staying under the radar (does not submit his wines for review). He wants to present consumers with wines that "refresh and stimulate the palate" – so you could easily taste through a lineup of his wines starting from red and moving through the whites – and your palate would still be able to pick out the lighter nuances of his white wines (no palate fatigue).
In addition, his wines are meant to be enjoyed with food. He says, "both food and wine are meant to stimulate each other – take a bite or a sip and want more". There is a rhythm between the two that he doesn't always see with highly stylized wines these days including those that are high in alcohol. He wants great wines to not overwhelm you but as he says, simply "whelm" you.
Select Wines
The 2012 Round Two Chardonnay does not go through any malolactic fermentation. His oak program for this wine utilizes barrels with fine grained tannins. He wants oak that will enhance the impression of fruit in his wines rather than compete. Some of this wine is also fermented in stainless tanks. He maintains an aggressive stirring regiment – up to 4x a week trying to keep the lees suspended in the wine. This builds flavor and weight into the wine.
Out of more than 1,100 Napa Valley based wineries/producers we have met with and reviewed to date; Dennis is the first one who has told us he puts "ice cubes" into his wine during fermentation. What he means by this is he freezes the grape juice before it starts fermentation as regular sized ice cubes. When fermentation is nearly complete, he adds this addition of sugar (food) into wine and the fermentation is prolonged as a result. He desires an enhanced phenolic development of flavor (and also aromatics) without the influence of what can be sometimes astringent oak tannins.
As a side note, we have noticed this unpleasant oak tannin characteristic mostly on the finish of select white wines – especially dessert wines.
The 2012 Round Two Chardonnay is sourced from a unique vineyard in south Napa near the airport – by unique we mean a "landscaping vineyard" – simply 2-3 long rows lining the road in the Napa Airport industrial park. Dennis calls this his "Tarmac white"! There is a nuttiness – perhaps hazelnut, with some minerality notes on the bouquet. The mouth feel is memorable – it is oily, somewhat briny even – with a richness of fruit showing apple, pineapple and pear. Remarkably the finish is crisp without the weight that the mid palate shows.
Dennis made the first commercial Sauvignon Blanc from Pope Valley in 1979 for St. Clement Winery. He has long known what this variety can do in Pope Valley. It has inherently herbaceous characteristics and his wines of this variety show some of this but not to the extreme that this wine sometimes shows. The 2013 Round Two Sauvignon Blanc was cold fermented in stainless tanks. This vintage is pale yellow in the glass showing floral notes (citrus blossom), lemon/lime zest and green apple. The palate is lively, zesty and fairly light in body. Crisp finish.
Dennis makes a Cabernet Sauvignon rosé from second crop grapes. Key to this wine is the ripeness of the second crop – he doesn't always make this wine each year. The 2013 Round Two rosé is not light in color – it shows darker hues of red and orange. Incidentally this wine is an ideal accompaniment to a warm day on Howell Mountain with gentle breezes blowing through the pine trees. The nose is fun and layered – at times showing watermelon jolly rancher characteristics and a pleasing strawberry vanilla aroma. This wine is packed with flavor – especially mid palate through to the finish. Crisp but with structure.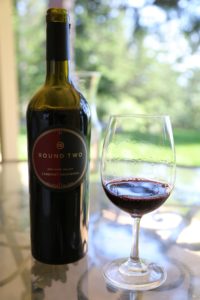 From Dennis and Adele's home on Howell Mountain you can see the peaks of Mt. Diablo to the far south of the Napa Valley. Their Syrah was grown in Contra Costa County in the Brentwood area. It was sourced from the vineyard of the General Contractor who worked with Dennis during construction of White Cottage Winery. Dennis hasn't always enjoyed Syrah's – describing them as clumsy or rustic at times. He presents several possibilities for this variety which is often called meaty – either similar to "slow roasted bacon on applewood" or a "wet sheep that has been taken into a musty old barn". He wants to avoid the later description and uses a number of techniques to do so.
He wants the fruit in a perfectly ripe balance when it comes into the winery. His philosophy is there is a balance one must maintain when stressing a vine – comparing vines to children that need to drink, you don't necessarily deny them water. He ferments this variety very cold and knows when to allow oxygen to reach the wine at critical times during the wine making process. He encourages his wines at certain times to be exposed to healthy amounts of oxygen. Dennis is quick to say, "to air is divine".
The 2009 Round Two Syrah shows pleasing ripe fruit aromatics – cherry cola, is slightly floral with vanilla and various baking spices. It is not a heavy wine on the palate but rather shows brighter notes of cherry and blackberry. Very easy drinking with good balance from start to finish.
The higher the sandpaper grit, the finer the grain. If the tannins in this Syrah were to correspond to a sandpaper grit number – that number would be in the 240 range, a sandpaper classified as a micro grit. Gentle to the palate and fine grained with a silky smoothness on the finish.
When blending for his red wines he lists 10 of the most important components – and this is essentially 'fruit' repeated 10 times. Tannin structure takes a secondary priority – he creates wines both very drinkable as soon as you open a bottle (no decanting required) but also red wines that will hit a sweet spot in 8-10 years – where the fruit becomes more integrated with the backbone. He does not want tannins to dominate his wines – rather the wine should be seamless from start to finish.
The 2012 Round Two Napa Valley Cabernet Sauvignon shows a strong viscosity in the glass and is dark ruby in color. The aromas show notes of mint, dried rose petal and black licorice – this is a very drinkable (early) Napa Cabernet Sauvignon. It is a "pretty" Cabernet Sauvignon made without extended maceration time – a lighter style if you will without any sharp edges. Cherry, ripe cranberry and chalky well-integrated tannins linger pleasantly.
The 2013 Round Two Howell Mountain Cabernet Sauvignon was sourced from the Red Lake Vineyard. It is dark in the glass quickly revealing ripe fruit aromatics – noticeably blackberry. Layered with flavor it also shows excellent acidity – mouthwatering on the finish. Dusty, somewhat chalky fine-grained tannins linger.
—
This is truly a small family run winery. Dennis makes the wines (usually only 400 cases per vintage) and Adele helps along with his two children Sam and Elaine. For more information about Round Two Wines and to join their mailing list visit: www.roundtwowines.com