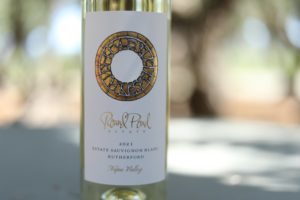 Round Pond Winery opened for tastings by appointment in July 2007. We followed the construction progress on this winery for at least a year visiting during different stages of construction. Our initial visit was on the second day that they were officially open.
The property is very historic; it used to be part of what was called "Rutherford tract", a part of the valley that was owned by Lizzie (George Yount's granddaughter) who married Thomas Lewis Rutherford. Lizzie received this property among approximately 1,000 total acres from her grandfather. Early records show the property used to be farmed to cattle and wheat, and fruit and nut orchards, among other crops.
The 1,020-acre property was eventually sold to the Roman Catholic Archdiocese of San Francisco; in 1902 St. Joseph's Agricultural Institute opened, a school and farm for poor and homeless boys from San Francisco. The focus was to teach boys about all types of agriculture including viticulture, as vines were already planted on site at this time.
Mulberry trees were also planted, used for raising silkworms; this was not the first time this had been done in Napa Valley – reference Sam Brannan's efforts in Calistoga decades prior. According to an article in the April 11, 1911, issue of the St. Helena Star, 1,000 mulberry trees were growing, 20 boys were living on the property, 90 acres of vineyards were in production, 500 chickens and 250 head of cattle lived on the property with about 1000 pounds of butter shipped to San Francisco weekly. Some 260 acres of both corn and hay were raised to feed the animals and we have seen several references from old newspapers that both the hay and grapes were sold. The article also stated that plans were in the works to start construction of a new building offering additional trade skills including shoe making, blacksmithing, wagon making and carpenter work.
In addition to classrooms, the school also featured a dormitory, a small chapel and a sizable cow barn. During Prohibition, one of their neighbors, Georges de Latour, founder of Beaulieu Vineyard purchased wines from this property for some of their Sacramental wine (reference a clipping from September 20, 1928, from the Napa Register). He and his wife became friends with the superintendent, Father Dennis Crowley and would often visit the school. One such visit on their way to the school in 1911 resulted in an accident in which the couple were thrown from their carriage and Georges suffered a broken collarbone. The school closed permanently in 1928.
—
Round Pond feels "Mediterranean" with its stately palm trees, succulent gardens and olive trees. Note the palm trees in front of the winery; these were imported from Riverside California. Due to their massive weight these palms even bent the crane as they were being lowered into the ground. This is an extremely photogenic estate and property; significant thought and care went into designing both the hospitality center and the winery building. The estate is 460+ contiguous acres, much of which is planted with grapes; in the summer one views a sea of green leaves in all directions from their outdoor terrace on the second floor. One little known fact is that Round Pond also owns a small vineyard in the south west corner of the Oakville appellation named M Bar Ranch bordering Vine Hill Ranch and neighbors of Beckstoffer's Missouri Hopper Vineyard.
Bob MacDonnell (died in 2021, from New York, a Penn State graduate whose background was in finance) and Jan MacDonnell's first property purchased in Napa Valley was in 1978 on Pritchard Hill. In 1983 the couple purchased their first property in Rutherford – 28.5 acres.
The name "round pond" comes from Bob's memories of Round Pond, West Point in New York where he used to camp and fish every summer (bass and catfish live in the pond). Depending on traffic, the pond is located about an hour drive north of Manhattan. Round Pond is a Morale, Welfare and Recreation area (MWR) available for members of the military and their families and other authorized personnel; it is an especially popular location in the summer with the surrounding grounds available for camping, RV use and a limited number of log cabins. A stone camp 'main office/store' is located on the southern shore. A narrow road circles the entire pond. And for several weeks, typically from the mid to the end of October, the surrounding foliage turns brilliant shades of orange, yellow and red.
The first vintage from Round Pond was around 1,000 cases in 1992. Brother sister team of Miles and Ryan MacDonnell joined the winery after previous careers and today both share the responsibilities of managing the estate. It is their efforts that have developed the Round Pond estate and created such a formidable wine portfolio.
Miles oversees the vineyard operations and wine production while Ryan is responsible for their marking and hospitality programs. After producing several vintages of non-commercial wine bottled under the label, Tractor Shed Red (Tudal Vineyards used to bottle one of their wines under the same name), they began bottling wines under Round Pond beginning in 2002 – and hired their first winemaker, Cary Gott.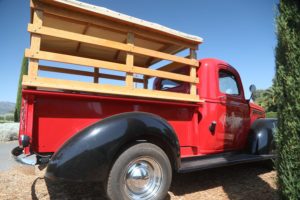 This is one of Rutherford's larger vineyard properties featuring approximately 362 acres of vineyards, 22 acres of olive trees, bountiful gardens and orchards. Rutherford Cross Road bisects their property and part of their property is bordered by the Napa River and also Conn Creek Road. In addition to their Rutherford property, the MacDonnell's also own 10 acres in Oakville (the M Bar Ranch). The family uses grapes from their properties for their own wines and in addition sell a large volume of fruit to premium Napa based producers. All agricultural crops on the estate are sustainable or organically grown.
Hospitality
Visitors enter the property down a long palm lined driveway. Sometimes during special events the Round Pond bright red fully restored 1941 Chevrolet truck will be parked at the entrance to the driveway. Also note the kiwi vine trellising next to the small parking lot – these tiny fruits are incredibly sweet and sometimes drop on the ground and begin ripening in December.
Round Pond offers a diversity of tasting experiences ranging from the quick Portfolio Tasting (30 minute) tasting to more niche tastings lasting an hour or longer focusing either on Cabernet Sauvignon or wines paired with small bites created by their executive chef (some of which feature produce often grown on site). More in depth experiences can be reserved including the Il Pranzo lunch or the Garden-to-Table brunch. A few items to start one's mouthwatering on from a recent menu included Hamachi Crudo, Seared Maine Sea Scallops and Roasted Snake River Farms Striploin. Guests are greeted on the first floor at the entrance by a concierge and then accompanied upstairs to the tasting spaces.
Weather permitting, guests will taste on their lovely outdoor patio upstairs. Cushioned chairs provide comfortable seating overlooking stunning views in all directions including Mt. St. Helena to the north. The Zinc Bar also located upstairs is next to glass windows built into the floor with views down to their barrel room. Indoor tastings are seated.
Select Wines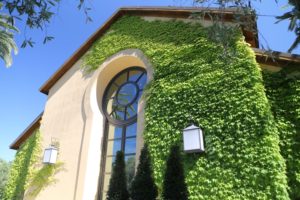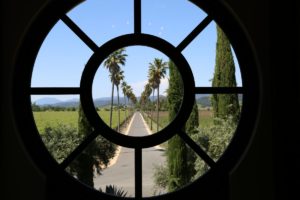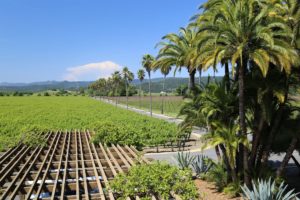 Total production of the Round Pond Estate wines is approximately 20,000 cases a year diversified across several categories of wines including the Estate Collection (Sauvignon Blanc and Cabernet Sauvignon), Reserve Collection (block selections of Sauvignon Blanc and Cabernet Sauvignon), the Gravel Series (Cabernet Sauvignon made from sections of the vineyards high in gravel content) and the Proprietary Collection (unique varieties and blends). A second label (Cabernet Sauvignon) produced entirely for the wholesale market, also owned by the family is Kith & Kin (meaning friends and family in Old English) is also about 30,000 cases per year.
The 2021 Round Pond Sauvignon Blanc Rutherford is medium straw in color; this wine packs layers upon layers of aromatics – with all the good things one loves about this variety. The bouquet shows guava, gooseberry, pineapple, pear, citrus blossom, honeysuckle, jasmine and fresh cut grass. The aromatics are neither overtly green nor tropical but balanced somewhere in between with influences from both ends of the spectrum. The palate immediately offers an intensity of fruit with flavors of green apple, kiwi, gooseberry and lime. The finish is refreshing, mouthwatering and built on bright acidity. Very well done. We immediately thought of pairing this with freshly caught Dungeness crab somewhere off the coast of northern Washington or southern British Columbia. Or sitting in a tiny restaurant somewhere in Tokyo enjoying fresh sashimi.
A very unique for a Napa Valley offering, is Nebbiolo, an Italian variety; Round Pond produces under 200 cases of this wine per year; because of its limited production it is not available for tasting at the winery and is generally reserved for wine club members. Out of more than 1,100 Napa wineries and producers personally visited and tasted with to date, this is one of just several Napa wineries producing wine from this variety. Because this wine can be somewhat tannic during its youth, Round Pond ages it for three years in oak prior to bottling. This is an ideal food wine as it has just the right amount of acidity, fruit and tannins.
Round Pond also produces a rosé of their Nebbiolo sourced from a section of the vineyard block grown specifically for this particular wine. The 2022 Round Pond Rosato di Nebbiolo is a blend of 75% Nebbiolo and 25% Syrah and was aged in stainless steel. This wine is deep copper/salmon in color; the aromatics are expressive and open (we tried this wine the day it was released) offering citrusy scents of lemon, kaffir lime, pomelo, citrus blossom, pineapple guava and lemongrass. There is a also a flinty/steely, almost minerality note to the bouquet. Smelling this beautiful bouquet after a cold, rainy and gloomy winter is making us long for one thing: warm spring days filled with sunshine. The palate offers a rounded and supple texture supported by bright but not bracing acidity. It reveals flavors of guava, lemon juice and light raspberry. The finish lingers with plenty of verve and flavor and immediately begs another sip. Very balanced.
The 2017 Round Pond Proprietary White Wine is a blend of 74% Sauvignon Blanc, 15% Viognier and 11% Sémillon – this wine was aged in 40% stainless steel tanks and 60% neutral French oak. Offers citrus notes on the palate including orange blossom; it shows slightly tropical as well. This wine is not as austere as sometimes a Sauvignon Blanc produced from a cool weather climate, and the addition of Viognier and Sémillon add both a textural element as well as a brightness of fruit on the palate (especially mid palate). It is rounded and slightly creamy in feel. Lingers with notes of lime and orange zest. This wine drinks very well by itself.
The 2016 Round Pond Proprietary Red is a blend of 50% Cabernet Sauvignon along with 36% Petit Verdot and 14% Malbec. Offers red fruit aromatics including raspberry and strawberry along with notes of sandalwood and old cedar box. Slightly briary and savory in its aromatic approach. Very soft from start to finish this wine is approachable due to its balance and finely integrated tannins. Darker fruit flavors include cherry, blackberry and plum. A hint of spice and licorice linger on the finish.
The 2016 Round Pond Reserve Cabernet Sauvignon is 100% varietal. Initially shows aromas of cigar smoke, old leather and as the wine opens the bouquet reveals darker fruits including blackberry and boysenberry. It offers plenty of depth on the palate with a firm still tight grip of tannins which lingers for quite some time. Slightly chewy. Also notes of mocha, graham cracker and black licorice. Good acidity.
Guests may try several other wines including Cabernet Sauvignon which is sometimes offered as several vintages in a vertical tasting. The 2005 Round Pond Cabernet Sauvignon while still young at the time of our tasting showed great fruit, acidity and structure. This is the heart of Rutherford, long known for a component in the wines referred to as the "Rutherford Dust", and this wine displays a pleasing earthiness on the bouquet.
And in 2021 Round Pond produced a Cabernet Sauvignon called Honouren, with images of those from Napa Valley affected by Alzheimer's creating the label. Bob MacDonnell was also afflicted with this terrible disease in the last years of his life. Proceeds from this wine are donated organizations fighting to end Alzheimer's. Round Pond also participates in Inspire Napa Valley (founded in 2017), an annual event hosted at several Napa Valley wineries to raise money for the Alzheimer's Association.
Sensory Garden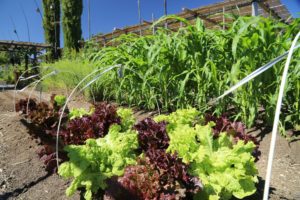 In the summer of 2009 Round Pond introduced a "Sensory Garden". This sizable garden is located directly behind the crush pad. It is open to guests and features numerous seasonal offerings ranging from summer squash and tomatoes to the unique sensory part of the garden planted with herbs and fruits that mimic some of the flavors and aromas often found in Cabernet Sauvignon and Sauvignon Blanc as well as items that pair well with these particular varieties.
Guests can also observe a number of biodynamically farmed practices in action. In addition, this garden supplies select produce for pairings with their wines.
Olive Oil
The MacDonnell's were inspired to start producing olive oil after purchasing and tasting a number of oils over the years from Napa Valley Olive Oil Company in St. Helena (still in business in the old white barn at the end of Charter Oak Ave). Guests can participate in a separate tour and tasting at their Estate Olive Mill (founded in 2003), an olive oil production facility located on the other side of Rutherford Cross Road (a 2–3-minute drive from the winery). For several years this experience was being hosted at the winery tasting room (dependent on availability of olive oils)however tastings are again being offered at the olive mill. Select olive oils and wines are tasted – with an add-on option to pair with amuse-bouche small bites prepared by their in-house chef. Guests will also sample one of their red wine vinegars. Along with Long Meadow Ranch this mill is only one of two operated by Napa wineries and of the two, this is by far the most accessible. No other producers make olive oil here as all production is for Round Pond's use only.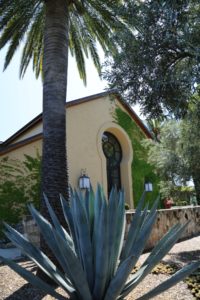 A sit down tasting used to include samples of several olive oils, vinegar and syrups as well as a tour of their small production facility. Those who have toured wineries will immediately recognize that the production equipment here is a bit different. Their vinegar is initially made as still wine then a culture is added to the wine to convert the alcohol into vinegar and once vinegar, it is aged in oak for up to 10 months before being released.
Olive oils on the other hand see a much faster to "product" time than either wine or vinegar – usually about 3.5 hours from harvest to production to bottling. There is no aging needed. Both Spanish and Italian olive trees are grown on the property (some 2,800 trees) and a couple of interesting olive oils are those infused with Meyer Lemon and Blood orange.
But Round Pond also sells select vinegar products including their coveted Balsamic vinegar. They began to make Balsamic vinegar in 2007 about 10 years after The Terraces winery started their program.
—
An electric vehicle charging station is on site. For more information, to schedule a tasting and or to join their wine club, visit: www.roundpond.com
Hospitality Center & Winery

Olive Mill

Sensory Garden

Vineyards