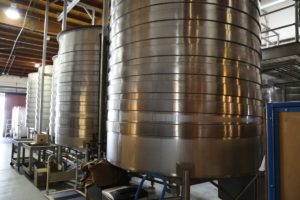 Robert Sinskey Vineyards is located against the hills on the eastern side of Silverado Trail in the Stags Leap District. Their motto is "fine wines from organic vines". Sinskey was founded by Dr. Robert (Bob) Sinskey, a prominent cataract surgeon in 1986; today his son Robert oversees the winery operations. Robert originally moved up from Los Angeles to help his father for a short while, but the winery ended up becoming his life's work.
Dr. Sinskey (died in 2015) made his mark on the world of ophthalmology from his home base in Los Angeles. Long involved in research, his early studies involved examining the eyes of Hiroshima bomb survivors. He began teaching at UCLA in 1955 and opened their eye services center. Later he invented and patented several important surgical devises including a modified J-loop IOL (intraocular lens) used during cataract surgery and what is known as the Sinskey IOL Hook, which is still very much in use today.
And he was certainly recognized for his achievements having been inducted into the American Society of Cataract and Refractive Surgery (ASCRS) Opthalmology Hall of Fame in 2005. He had also previously served as president of this organization. And what might have been the only Napa Valley winery owner with a connection to Ethiopia occurred when Sinskey established the Robert M. Sinskey Pediatric Eyecare Clinic in the capital city of Addis Ababa.
His original property (Three Amigos Vineyard) was purchased in Carneros with the intent to grow and sell grapes rather than make wine. He did just that – selling exclusively to Acacia Winery at the time and later became a partner in that winery. After Acacia was sold in the 1980s (the first of several sales over the years) – part of their payout to Dr. Sinskey was land – in this case up in the Stags Leap District (the same property where the winery is now located).
The first vintage of Robert Sinskey was in 1986, created by winemaker Joe Cafaro who made each vintage until 1991. Only three wines were released from this first vintage, a Pinot Noir, Merlot and a Chardonnay. Over the years their wine portfolio has greatly expanded and unlike many Napa Valley wineries, Robert Sinskey does not focus on Cabernet Sauvignon. Winemaker Jeff Virnig has produced all subsequent vintages – one of the longer consecutive periods of time at one winery by any winemaker currently active in the Napa Valley.
In late 2022, Robert Sinskey sold their winery, tasting room and surrounding property to the Wonderful Company, owned by Linda and Stewart Resnick, with the company headquarters based in Los Angeles. The Sinksey's did not sell their winery business and are currently leasing their winery and tasting room from the Wonderful Company. Wonderful Company also owns Lewis Cellars in Napa Valley and other wineries. For a very detailed look at many of the properties under their ownership, please read our review on this site of Lewis Cellars.
Hospitality
The stone-walled tasting room is elegantly designed, and the long semi-rounded tasting counter can accommodate many people. It can get very crowded here especially on the weekends in summer. Choose from tasting flights interestingly titled "Excessive" and "Gluttonous". However, their wines fulfill neither of these two words – as elegant and delicious are two words that come to mind. Food is always a component of a visit here; each flight is served with delicious small appetizers.
Their philosophy is wine pairs much better with food – these are not showy or overly 'ripe' wines.
Many visitors may not know Robert Sinskey has a cave on site – the cave actually opens up into the back of the hospitality center – past the kitchen (during many visits here the doors to the cave are usually closed).
Instead of just walking in and tasting, consider a Culinary Tour which starts at 11am M-Thursday or a Cave & Cellar tour or their Bento Box tasting which includes five seasonal wine & food pairings – food in a box. The above tours are by appointment only and are limited to 6 or less.
Tours can be arranged by appointment only. Sinskey has a sense of humor – all employees have interesting titles such as "drifter", "Zen master", "motivational goddess" etc.!
Maria Sinskey, their culinary director (and Robert's wife) is in charge of all their food operations. She manages a beautiful kitchen near the tasting counter and is also in charge of their organic gardens. As a result, some of the ingredients for these food pairings come from there on-site gardens (it is refreshing to visit a winery that uses a wide variety of edible landscaping). Maria is a published author and has appeared on TV food shows many times. During one of our visits, we found the food pairings included Zucchini & Goat cheese with Thyme, Gouda with Fig & Quince jam, and some very nice Tuscan style olives.
Worth visiting, is the outdoor terrace (planted to many small fig trees) – offering excellent views of the Napa Valley looking to the west (especially in the morning hours).
Vineyards
They own and manage nearly 200 acres (all certified organic); as of 2008 all their vineyards are farmed biodynamically. Biodynamic farming involves three things; building the health of the soil naturally using special natural compost, philosophically farm (prune and harvest based on phases of the moon and planets, and control pests and diseases without chemicals (cover crops, use plants that attract beneficial insects). The winery also uses solar cells to power the majority of the winery operations and even brews their own biodiesel (from used restaurant oil) for use in their trucks and tractors.
One of the several fires in October 2017 crept to within several feet of the hospitality center – burning a number of vines adjacent to the winery on a hillside and burning some of the property's landscaping. Remarkably and fortunately the hospitality center did not actually burn but ultimately the hillside vineyard next to the winery had to be replanted. This 'home' property only has about 5 acres of vines.
Select Wines
The Abraxas is an interesting Alsatian-style blend one won't find anywhere else in the Napa Valley; it is a blend of Pinot Gris, Riesling, Gewurztraminer and Pinot Blanc. This wine sees no oak during fermentation and aging and is clean and crisp on the palate. The 2013 Robert Sinskey Abraxis Vin de Terroir is very pale in color in the glass. This wine shows floral aromas as well as citrus blossom, pineapple that is not super ripe, hints of honey and some mineralities. It is light on the palate with a clean, lively finish.
The premium Pinot Noir is appropriately called 'Four Vineyards' sourced from four different vineyards in the Carneros region. The 2012 Robert Sinskey Four Vineyards shows a pretty bouquet with cherry cola notes, vanilla and some spicy oak notes. The wine is soft and delicate on the palate with a perceptible blood orange acidity component that lingers with a light tartness on the finish. Compared to their more widely distributed Pinot Noir, this wine has a very limited production.
POV is a term found in photography; Robert Sinskey was training to become a photojournalist and several of his images grace the labels of the wine. The POV is a Bordeaux blend in which the varietal percentages change every year. The 2011 Robert Sinskey POV shows some initial dustiness on the bouquet with red chili pepper component and even a hint of Jalapeno pepper. There is an initial sweetness of fruit on the palate – the tannins linger for some time and are slightly astringent. This wine has plenty of aging life ahead.
The Robert Sinskey wines tend to age well – and the 2006 Stags Leap Estate Cabernet Sauvignon is a good example of this. This wine drinks much younger than its actual vintage. Nine years later this wine is still anchored by robust somewhat tight tannins. Definitely recommended to decant first.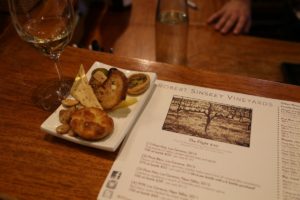 The 2005 Vandal Vineyard Cabernet Sauvignon is from the Carneros region. There are very few Napa wineries who make Cabernet Sauvignon from Carneros due to its cooler climate, but Sinskey does an excellent job with this one. It doesn't have the high alcohol that you find in some of the up-valley Cabernets and on the other hand its doesn't have any vegetal characteristics as you might find from a cooler growing region. They call this the Cabernet for Pinot Noir drinkers. Bright acidity with lively fruit including plum, berry and currant combined with silky smooth tannins make this a refined elegant wine.
The Vandal Vineyard is located just outside of the Napa city limits and is named appropriately – in reference to several children who burned a mattress at the top of the vineyard and then decided to take a tractor for a ride. After enjoying their time on the tractor, they jumped off leaving the tractor to continue its downhill run, ripping out Cabernet Franc vines on its way down ultimately rolling over and becoming destroyed before stopping at the bottom.
Lastly of note, their late harvest Zinfandel is one of the best of its kind that we have tasted in Napa Valley and that is saying a lot. Only a 1/3 of an acre is planted; during one of our visits the writing on the blackboard screamed "an erotic experience when paired with chocolate". Nice! Delicious ripe fruit is complemented with a variety of subtle spices including cedar and vanilla with just a touch of minerality towards the finish.
—
Total production varies each year but is usually around 25,000 cases. Lastly, check out their extensive and very informative website. For more information or to join their wine club, visit: www.robertsinskey.com
NOTE: if we get around to ever chatting with and or interviewing Robert Sinskey, this review will then have the potential to be one of the longer reviews on the Napa Wine Project…just a feeling.
Estate Property

Vandal Vineyard, Carneros