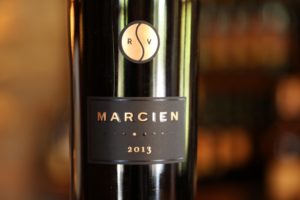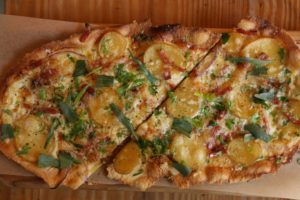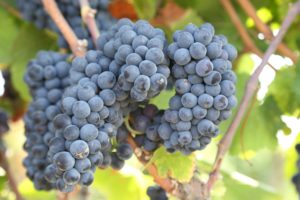 Robert Sinskey Vineyards. For more than three decades until 2023, Robert Sinskey Vineyards was located against the hills on the eastern side of Silverado Trail in the Stags Leap District. Sinskey was founded by Dr. Robert (Bob) Sinskey, a prominent cataract surgeon in 1986. The original winery was designed by architect Oscar Leidenfrost and opened in 1988; the stone for the walls of the original winery was quarried in Napa Valley. Today his son Rob and his wife Maria oversee the winery operations. Rob originally moved up from Los Angeles to help his father for a short while, but the winery ended up becoming his life's passion and work.
Dr. Sinskey (died in 2015) who collected wines for many years before becoming a winery owner made his mark on the world of ophthalmology from his home base in Los Angeles. His contributions to the industry were significant. Long involved in research, his early studies involved examining the eyes of Hiroshima bomb survivors from 1951 to 1953 while working in both Hiroshima and Nagasaki. He began teaching at UCLA in 1955 and opened their eye services center. Later he invented and patented several important surgical devices including a modified J-loop IOL (intraocular lens) used during cataract surgery and what is known as the Sinskey IOL Hook, which is still very much in use today.
And he was certainly recognized for his achievements having been inducted into the American Society of Cataract and Refractive Surgery (ASCRS) Ophthalmology Hall of Fame in 2005. He had also previously served as president of this organization. And what might be the only Napa Valley winery owner with a connection to Ethiopia occurred when Sinskey established the Robert M. Sinskey Pediatric Eyecare Clinic in the capital city of Addis Ababa.
In 1971 Sinskey founded a mobile surgery center, performing eye surgery in an outpatient environment rather than at hospitals. He also founded the Assil Gaur Eye Institute of Los Angeles; two locations continue to serve the city, one in Santa Monica and the other in Beverly Hills.
Sinskey Eye Institute, Santa Monica

Assil-Sinskey Eye Institute, Beverly Hills

His original property purchased in 1982 in Napa Valley was the Three Amigos Vineyard located in Carneros; Dr. Sinskey's intent was to grow and sell grapes rather than make wine. He did just that and sold exclusively to Acacia Winery at the time and later became a partner in that winery. After Acacia was sold in the 1980s (the first of several sales over the years), part of their payout to Dr. Sinskey was land – in this case in the Stags Leap District which is where the winery was built and is now located.
Robert Sinskey Vineyards sold the Three Amigos property in 2021; the site was several parcels which were acquired by multiple owners including the Davies family, owner of Davies Vineyard and Schramsberg. Incidentally the Sinkey's sold grapes to Schramsberg so the Davies were already familiar with this property before they purchased it.
The first vintage of Robert Sinskey was in 1986, created by winemaker Joe Cafaro who made the wines until 1991. We met with Joe years ago when he was still running his own small brand, Cafaro Cellars. Vintages 1986 and 1987 were produced at Flora Springs Winery until their own winery was completed. Only three wines were released from their inaugural vintage, a Pinot Noir (which earned a gold medal at the 1988 Orange County Fair), a Merlot and a Chardonnay. Over the years their wine portfolio has greatly expanded but unlike many Napa Valley wineries, Robert Sinskey does not focus on Cabernet Sauvignon. Winemaker Jeff Virnig has produced all subsequent vintages; this is one of the longer consecutive periods of time at one winery by any winemaker currently active in Napa Valley.
Transition Period
In late 2022, Robert Sinskey sold their physical winery, tasting room and surrounding property (42 acres) to the Wonderful Company, owned by Linda and Stewart Resnick, with the company headquarters based in Los Angeles. It is interesting to note the Wonderful Headquarters are located within about a 10-minute drive from either of the Sinskey eye clinics. The Sinksey's did not sell their wine business and leased their winery and tasting room from the Wonderful Company until June 18, 2023, when they closed their hospitality operations here. They continued to use the winemaking facilities on the property until January 2024. Wonderful Company also owns Lewis Cellars in Napa Valley and other wineries. For a very detailed look at many of the properties under their ownership, please read our review on this site of Lewis Cellars.
In early 2023 Robert Sinskey purchased additional land in Carneros giving them 84 contiguous acres; this property is called the Wildling Ranch. Their transition to both a winery and a hospitality space is a return to their original geographical Napa Valley roots. The Sinskey's will practice regenerative farming on the property and will maintain orchards, a variety of crops and will be raising farm animals. The site is home to a large Heron rookery and is on the path for transitory mountain lions. It also contains two ponds. The property will be entirely powered by solar and all farm implements will be electric operated including their tractors (Monarch). While it was sad to let go of the original Sinskey Winery, this is the next chapter of the Robert Sinskey story and it is an exciting one. While remaining a commercial enterprise they will do so in harmony with the surrounding natural environment.
Eventually production and hospitality may move to this location. Until then, look for a possible Robert Sinskey retail location in downtown Napa and select popup events/tastings in and around the city of Napa. The Sinskey's purchased a property in downtown Napa in May 2023. We look forward to visiting both of these locations in the coming years and will update our notes here accordingly.
Vineyards
Robert Sinskey owns and manages nearly 200 acres of vines (all certified organic) spread among five properties in Carneros of which four are on the Napa side and one on the Sonoma side of the appellation. Their motto is "fine wines from organic vines". As of 2008 all their vineyards are farmed biodynamically. Biodynamic farming involves several primary details; building the health of the soil naturally using special natural compost, philosophically farm (prune and harvest based on phases of the moon and planets, and control pests and diseases without chemicals using cover crops and growing plants which attract beneficial insects. The winery also uses solar cells to power the majority of the winery operations and even brews their own biodiesel (from used restaurant oil) for use in their trucks and tractors.
Vandal Vineyard is located just outside of the Napa city limits and is named appropriately in reference to punks who in late August 1997 took a tractor for a ride in this particular vineyard. After enjoying their time on the tractor, they jumped off leaving the tractor to continue its downhill run, ripping out Cabernet Franc vines, destroying trellising and irrigation lines on its way down ultimately rolling over and becoming damaged before stopping partway down a hill. About 1/2 an acre, equivalent to more than 200 Cabernet Franc vines was damaged or destroyed. The grapes were not quite ripe enough to salvage for that year's harvest. And this was not the first act of vandalism in this vineyard, although it was the most destructive.
The Sinskey bottlings are not showy or overly 'ripe' wines and are crafted with the ideal that wine pairs much better with food. They are balanced bottlings that simultaneously show beautifully in their youth but also are built to age remarkably well. And they have the history to prove it. Their wines spend additional time in bottle so that current releases are typically at least 5 or 6 years post vintage. We have always found their wines show younger than their actual vintage.

A quote from Dr. Sinskey in an article in the May 28, 1991, issue of the Napa Valley register succinctly sums up his philosophy, "Wine is a wonderful social drink. It enables you to digest food better. It slows down the meal so that the conversation is better. It's a true social drink, if it's handled right".
Select Wines
The Abraxas is an Alsatian-style bottling one won't find anywhere else in Napa Valley; it is a blend of typically in order of percentages: Riesling, Pinot Gris, Pinot Blanc and Gewurztraminer. This wine sees no oak during fermentation and aging. The 2018 Robert Sinskey Abraxis is medium golden in color; the bouquet initially offers notes of chamomile and made us recall the resulting smells from harvesting the small flower buds and crushing them between our fingers, beeswax, jasmine and a hint of paraffin. As this wine continues to express itself it opens to notes of apricot and yellow peach. The Riesling varietal aromas and flavors are noticeable which is no surprise considering Riesling is usually at least 50% of the blend. After spending some time with this wine, the one word we wrote which best summarizes its experience is layered – both on the bouquet and the palate. It offers flavors of green apple, honeydew melon, kiwi, a note of lemon juice and a subtle hint of sweet tarragon persisting on the finish. Its texture is almost saline or briny and provides a velvety mouth-feel. This wine was five years old at the time of our tasting and its freshness and brightness shows like it was just bottled. This is a beautiful white wine well worth seeking out.
The only wine released young is their rosé of Pinot Noir called the Vin Gris. The 2022 Sinskey Vineyards Vin Gris was harvested from five blocks on their Carneros properties including three before the epic Labor Day heat spike that year and 2 blocks during or after. This wine is a light pink/copper wild salmon flesh color; the bouquet offers aromas of strawberries, red apple, raspberry, rose petal and a citrus / lime nuance. It smells fresh as it should, considering the producer and their approach to winemaking, but also because it was such a young wine at the time of our tasting – only 8 months post harvest. The palate reveals flavors of red berries and reminded us of grazing the wilds of Alaska in late summer for low-lying red bush berries. The Pinot Noir is harvested directly for this wine and is whole cluster pressed; the wine is never made by bleeding off juice. Fermentation is without seeds, skin or stem contact and the color you see is natural as there are no color corrections made in the cellar.
The Orgia is a white wine made more like a red in that it is both pressed whole cluster and then fermented and aged in stainless steel while simultaneously a certain percentage was fermented on the skins (for 14 days) and then aged in neutral oak barrels. The 2017 Robert Sinskey Vineyard Orgia Pinot Gris is a light yellow color in the glass with a slight orange/copper tint. The bouquet is a bit shy and offers aromas of dried orange peel, a light lemon zest, Its texture is noticeably creamy and almost viscous. There is not one aspect which stands out on the palate, rather its more subtle flavors combined together including loquat, tangerine, a hint of rhubarb and apricot. But overall it shows a richness and intensity. And unlike some of the other Sinskey lighter style bottlings, the acidity, while still bright is not as noticeable as its texture is the star of the show here.
The profile for their Pinot Noir bottlings are typically 10 months aging in French oak barrels of which approximately 1/3 are new. The Carneros Pinot Noir is their most produced wine and every year its crafted from most of their Pinot Noir blocks across all their vineyards. General Manager Phil Abram calls this wine, "every tile in the mosaic." The 2017 Robert Sinskey Carneros Pinot Noir is pale to medium ruby in color; the bouquet is a pleasing union of both fruit and spice notes. It is elegant and offers scents of cherry, raspberry, dried herbs, tobacco spice and a light touch of white pepper. The palate is creamy and dominated by its red fruits including cherry and various red berries. It is slightly herbal and savory, especially on the finish, including notes of tea leaf and white pepper. The tannins are lightly textured leaving a very subtle dryness.
The Robert Sinskey produced Pinot Noir, appropriately called 'Four Vineyards' is sourced from four different vineyards in the Carneros District. The 2017 Robert Sinskey Four Vineyards Pinot Noir really needs some time for the aromatics to fully open and we found it continued to resist our efforts to coax out its scents. It offers notes of red cherry, red plum and a very subtle Tonka Bean spice. The palate offers a diversity of mostly red-fruited flavors including plum, cherry, currant and cranberry. Loads of fruit. The tannins sport a savory and moderate grip and linger along with mouthwatering acidity and a light touch of dried tobacco leaf.
The 2017 Robert Sinskey Three Amigos Pinot Noir is from a site off of Old Cuttings Wharf Road, not far from the northern edge of the waters of the San Pablo Bay. This wine is pale to medium ruby in color; the nose offers darker spices, white pepper, sage, dried rose petals and raspberry. The palate is focused on the fruit; it is fresh, bright and energetic with plenty of life ahead of it; this was their current release and we tasted it 6 years after its vintage date. It showed then as a younger wine. It offers red fruit flavors of cherry, raspberry and cranberry. Of the Pinot Noir bottlings we tried, this one is a crowd pleaser. The tannins are integrated, ripe and rounded and linger with a very light dryness. Note that this wine is no longer being produced since Robert Sinskey sold this vineyard in 2021.
The 2017 Robert Sinskey Vandal Vineyard Cabernet Franc (100% varietal) was aged for 22 months in French oak barrels of which 13 was new. The wine is dark ruby and opens to a variety of berry fruit aromatics, some darker spices and a light herbal note. Its an elegant bouquet with aromas of violets and cherries. It is intensely flavored across the palate with notes of blackberry and black cherry; upon tasting this wine we immediately wrote savory + fresh. It shows an earthy finish with a light lingering dryness (dry rock), pipe tobacco, dried herbs including a California chaparral characteristic. It has loads of lingering verve, an energetic brightness if you will.
Marcien is a limited production red wine created by blending several Bordeaux varieties together. It used to be called the Vineyard Reserve. But when Sinskey was planting red varieties in cooler Carneros one of his peers said something like, "you would have better luck growing these grapes on the surface of Mars." So they honored his advice, in name only; Marcien is old French for being from Mars. This wine is aged at least 2 years in barrel and then another 3 years in bottle. The one current release Marcien we tasted was 10 years post vintage date and was still their current release at the time of our tasting. One other producer in Napa Valley comes to mind in regard to long aging; Kelham Vineyards in Rutherford takes their wine aging to the extremes often 10-15 years before releasing any red wines.
The 2013 Marcien was tasted 10 years post vintage date and was the current release at the time of our tasting. This wine is a blend of Merlot, Cabernet Franc and Cabernet Sauvignon. It is deep ruby in color; the initial dominating aromatics are sweetly-fruited (dark plum, blackberry and licorice) but as one spends some with this wine, a number of other aromatics are revealed including Asian spices, sweet pipe tobacco, old cedar, dried herbs including sage and some rhubarb. The finish is dusty/earthy and lingers with a lovely textural grip of light to moderate grainy tannins. This wine still has plenty of energy; if it was a person at a party, it speaks volumes but without being the loudest one in the room.
POV is a term found in photography; Robert Sinskey was training to become a photojournalist; several of his images grace the labels of the wine. The POV is a Bordeaux-style blend in which the varietal percentages change every year. The 2011 Robert Sinskey POV shows some initial dustiness on the bouquet with a red chili pepper component and even a hint of Jalapeno pepper. An initial sweetness of fruit shows on the palate; the tannins linger for some time and are slightly astringent. This wine has plenty of life ahead with the proper aging.
The 2005 Robert Sinskey Vandal Vineyard Cabernet Sauvignon is from Napa side of the Carneros District. There are not many Napa Valley based wineries who make Cabernet Sauvignon from Carneros due to its cooler climate, but Sinskey does an excellent job with this one. It doesn't have the high alcohol that is often displayed in some of the up-valley Cabernets, but on the other hand it doesn't have any vegetal characteristics as one might find from a cooler growing region. They call this the Cabernet for Pinot Noir drinkers. It features bright acidity with youthful fruit including plum, berry and currant. The silky-smooth tannins help support a refined and elegant bottling.
Lastly of note, Robert Sinskey used to produce a late harvest Zinfandel; this was one of the best of its kind that we have tasted in Napa Valley. Only a 1/3 of an acre is planted; during one of our visits the writing on the blackboard behind their tasting bar made a bold statement about this wine, calling it, "an erotic experience when paired with chocolate". Nice!
Original Winery
After occupying their original winery space for more than 30 years, Robert Sinskey closed their hospitality operations on June 18, 2023, and moved out of this space. We keep our notes here for historical reference; we will update once we have more details of their hospitality and production operations at both their Carneros and downtown Napa properties.
The stone-walled tasting room was elegantly designed, and the long semi-rounded tasting counter often accommodated numerous visitors. At times it was crowded here especially on the weekends in summer. During one of our earlier visits, we noticed their flights were interestingly titled Excessive and Gluttonous. However, their wines are characterized by neither of these two words, instead elegant and delicious are two words that come to mind. Food is always a component of a visit; flights are served with delicious small appetizers.
The Atlas Fire, one of several simultaneous fires in October 2017 crept to within several feet of the hospitality center – burning a number of vines adjacent to the winery on a hillside and burning some of the property's landscaping. Remarkably and fortunately the hospitality center did not actually burn but ultimately the hillside vineyard next to the winery had to be replanted. This 'home' property is planted to about 5 acres of vines.
Many visitors may not be aware that Robert Sinskey had a cave on site; the cave conveniently attached to the back of the hospitality center located near the open kitchen. During our visits to the tasting room, we often noticed the doors to the cave were usually closed. This 5,000 square foot cave was drilled by Napa Valley wine cave pioneer Alf Burtelson, a general engineering contractor who founded his company in 1964. Alf is well into his 80s now and long since retired although is still living in the northern part of Napa Valley.
Incidentally, Alf's first cave job in Napa Valley was in 1972, to repair the original Beringer caves which his company did successfully; this eventually led to more work for Beringer including drilling new caves.
Over the years Robert Sinskey offered a variety of experiences including a Culinary Tour, a Cave & Cellar tour and a Bento Box tasting which included five seasonal wine & food pairings with the food served in a small box. As of our latest update to this review, they offered two experiences: Root to Glass, highlighting a flight of wines with small bites and Root to Table, offering a flight of wines with a larger selection of seasonal offerings, curated by a dedicated wine educator.
The team has a sense of humor; all employees have interesting titles such as "drifter", "Zen master", "motivational goddess" etc.!
Maria Sinskey, the wineries' culinary director, is in charge of all their food operations. She managed a beautiful kitchen in their hospitality space and also oversaw their organic gardens which were located near the main entrance. As a result, some of the ingredients for these food pairings came from their on-site gardens; it was refreshing to visit a winery that used a wide variety of edible landscaping. Maria is a published author and has appeared on TV food shows many times. During one of our visits, we found the food pairings included Zucchini & Goat cheese with Thyme, Gouda with Fig & Quince jam, and some very nice Tuscan style olives.
Also noteworthy is mentioning that Chef Greg Cole, owner of both Napa based Celadon and Cole's Chop House spent 6 years working at Robert Sinskey in their cellar, but also contributing his culinary efforts when needed as their winery chef.
And also worth visiting when Sinskey occupied this space was an outdoor terrace (planted to many small fig trees); this space offers excellent views of Napa Valley looking to the west, especially in the morning hours and weather permitting is also used to host visitors for tastings.
—
Total production has varied somewhat dramatically over the years but presently is usually around 12,000 cases with distribution available in more than 40 states. Their website is one of the more informative winery websites in Napa Valley. For more information, to purchase wine, to make a reservation for a tasting, or to join one of their wine club membership levels (the Gluttons), visit: www.robertsinskey.com
NOTE: this review will be undergoing a major update for the next few years as Robert Sinskey settles into their new home in Carneros near the intersection of Old Sonoma Road and Congress Valley Road. These are major changes and it will take some time to cover these here.
Former estate property, Stags Leap District