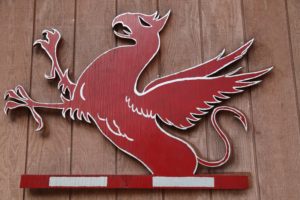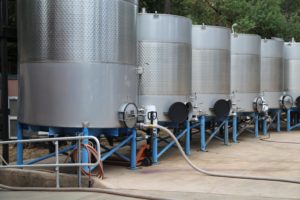 Robert Foley Vineyards is run by long time Napa vintner Bob Foley and his wife Kelly. Bob remembers his first trip to Napa was in 1964 with his father to pick out some grapevines from a well-known rootstock nursery that no longer exists in St. Helena. His father wasn't making wine commercially – he just wanted to have fun growing grapes and did so with a small vineyard in the family back yard. Robert remembers his father meeting with Dr. Harold Olmo at UC Davis – asking for advice on how to grow and manage these. In later years, Dr. Olmo would serve as Robert's adviser during his time at UC Davis.
A neighbor, Bill Miller (worked for a company that distributed Inglenook wines) and ultimately is the man responsible for introducing Robert to the wine industry. Robert's "aha" wine moment came when Bill took him to Inglenook Winery in St. Helena and gave Robert a cask sample of a very little produced variety in Napa Valley and beyond – Charbono. He tried a 1968 vintage – and immediately wanted more of this wine. Bill encouraged him to further his education; Robert then enrolled at UC Davis and graduated with degrees in both oenology and viticulture.
Robert has been wine making in the Napa area since 1977 (his first winery job was at Heitz Cellars) which puts him in a select number of winemakers still practicing their art today who were working in the 70's in the Napa area. He is among a select group of Napa winemakers that seem ageless. If you ever get the chance to meet him, you will soon realize his passion for his wines is great. Running his own winery which produces around 8000 cases a year certainly keeps him busy. But he is also the winemaker for several other small wineries based in Napa.
After many years of custom crushing at local wineries, he located hillside property on Howell Mountain and moved here in 2006. Vines were already planted on site dating to the late 1990's – they have since planted additional vines and now have 5 acres planted to Cabernet Sauvignon and Merlot. These vineyards are approximately at 2000 feet – keeping in tradition with some of the other vineyards that Bob sources from (focusing on hillside regions within the Napa Valley). He primarily works with vineyards that he owns or leases.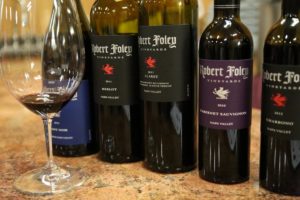 Robert is very careful about which vineyards he sources from. He must have full control over the farming. He met vineyard manager Hector Lopez when they were both working at Pride Mountain. Today he speaks of Hector as "an extension of himself" and calls him a "Zen Gardener". Hector's family has been managing grapes in the Napa Valley for many years – he was initially attracted to Robert's attention to detail in managing vineyards.
As a result of the hillside fruit and vineyard management practices, Robert Foley wines are typically very well concentrated both in aroma and flavor. And they have good acidity – these are wines that are built to last.
Over the years Robert has added wines to his portfolio. Case in point is their Pinot Noir. 2010 was the first ever vintage of Pinot Noir under the Robert Foley label. However, this was not the first time Robert has produced wine from this variety. He was the founding winemaker at Markham Vineyards and the year was 1978. Markham was making wine from a vineyard in Napa that was planted to several Pinot Noir clones including Gamay Beaujolais.
Wanting to learn more about how Pinot Noir was historically produced, Robert took a trip to Burgundy and met with those working with this variety. Armed with new viticulture and oenology knowledge about how to treat this variety – as well as some cuttings – he came back to Napa and planted these.
One day, a number of years after he no longer was making wine at Markham Vineyards, he received a call from one of their employees – informing him just how delicious his Pinot Noir had become after it had aged 10 years and told him it was very Burgundian in style. This was the perfect validation of Robert's research in France and his work with this variety.
He also made a Pinot Noir for Schoolhouse Vineyards for more than a decade (one of Napa's oldest producers, first vintage 1957). For many years he never had access to some of the premium Pinot Noir vineyards in Napa – clients and friends kept asking him to make a Pinot under the Robert Foley brand. Ultimately a friend introduced him to Lee Hudson – a well-respected grower in the Carneros region of Napa and Robert now sources fruit from a particular block within this vineyard each year.
Select Wines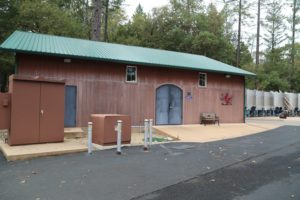 The 2012 Robert Foley Pinot Noir is dark in the glass, noticeably so for this variety leading one to think it might be a wine from a "bigger variety"- Syrah or Cabernet for example. The aromas show darker fruits but also with hints of white pepper and baking spice – with some floral notes. The wine is fairly soft on the palate. Like a number of other Foley wines we tried, this one has very good acidity. Fine grained tannins linger along with red fruit flavors.
Charbono is a variety that is extremely limited in production with most of these vineyards in the USA grown in and around the Calistoga area. It's genetic history dates to the French Alps of the Savoie region and when it was translated into English, it was known as the "Soft Black" grape. Charbono thrives with temperature swings during the growing season and Calistoga certainly has these. The northern part of the Napa Valley is the warmest but during the summer nights the temperature can drop 30 and 40 degrees from that day's high.
This is a variety that has come full circle for Robert. Inglenook stopped making this wine years ago. Robert wasn't sure it was even still grown in Napa. Then he discovered the Heitz Family in Calistoga – and was informed their vineyard was supplying this variety to Inglenook and was the fruit that made up the Inglenook 1968 Charbono. It was being used as single varietal wine but early on was also used for blending as small amounts into their Cabernet Sauvignons.
When Robert reached out to the Heitz family they were resigned to the fact that they were going to have to pull out the vines and plant another variety due to the lack of demand for Charbono. Robert said he would purchase their fruit and has done so every year since. He typically produces around 600 cases of this wine (they used to produce even more). There are just several Charbono producers in Napa; today he is the largest Charbono producer in the world.
Charbono inherently stops producing sugar at some point during the end of summer – usually around 22 or 23 brix and the maturation of the skins comes later. As a result, the wines made from this variety are typically lower in alcohol than what is now the average in Napa Valley for red wine. It is rare when their Charbono reaches 13%. The 2012 Robert Foley Charbono is 12.5% alcohol. It is dark in color – the bouquet breathes darker aromas – somewhat floral with notes of blackberry and dark cherry with a wood or cedar component. This wine has very good acidity and fruit within the framework of a light to medium body. The tannins are certainly there but are not out of balance or robust – rather are integrated and linger for some time. Charbono is a variety that produces wines that will age remarkably well – some vintages even better than Cabernet Sauvignon.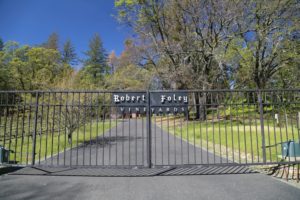 2011 was not a bad year for the Foley wines (in general this year is accepted as one of Napa's more challenging vintages in recent years). However, Robert has been making wine in Napa so long he has the perspective to know this wasn't his most challenging year. He refers to 1998 and remembers meeting a fellow vintner while doing some grocery shopping in St. Helena in October (normally a busy harvest time of year when winemakers should not have leisure time to be out stocking up on supplies) and having a conversation starter something like this: "Robert, have you ever picked your grapes after all the leaves have dropped off the vines?"!
In general, 2011 was a cold and wet year – with rain into June and rain starting particularly early in September. They kept their fruit as dry as possible, even bringing out leaf blowers to selectively dry out bunches on each vine – yet geographically they were also helped by the fact that many of their vineyards are located on the hillsides. The 2011 Robert Foley Claret is 80% Cabernet Sauvignon, 17% Merlot and 3% Petit Verdot (this small percentage of Petit Verdot helps elevate the aromas as well as provides some acidity to the wine).
The wine is dark in the glass – with an appealing expression of layered ripe fruit aromas – mostly black fruit including blackberry and black currant. The mouth feel is luscious with a rich complexity of fruit – it is a big wine with well-structured tannins on the finish that hit all parts of the palate. This wine opens up dramatically as it breathes – revealing notes of leather and tobacco. It is definitely a candidate for aging if you can resist drinking it now!
The Claret is a wine that one can certainly build a strong following around – and Robert Foley has done that with this wine over the years. It also was the first wine Robert bottled under his label in 1998.
Their Merlot was first bottled in 2005 as a 100% varietal wine. The 2011 Robert Foley Merlot was sourced from both Howell Mountain and Calistoga fruit. This is 100% varietal. The bouquet is pleasing with baking spice, sweet fruit – dessert in the glass if you will. The wine is soft on the palate initially but then builds in complexity and the tannins linger well on the finish. It is a wine that is easy to keep drinking.
—
The winged character that appears on the labels of all their wines is a "Griffin" and was taken from the Foley family crest. Did you know that Bob Foley has his own band and has been touring since 2006. Visit: www.robertfoleyband.com for details.
To join their mailing list and for more information about their wines, visit: www.robertfoleyvineyards.com