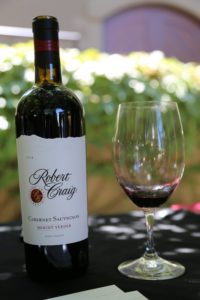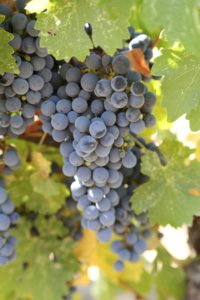 Robert Craig Winery is perched at an elevation of almost 2300 feet high up on Howell Mountain on the north east side of Napa Valley. With an elevation such as this, the property does see some snow in the winter – this is among some of the Napa Valley's higher vineyards. This location is well off the beaten path; their permit at the actual winery limits them to an extremely small number of visitors, as well as only several events per year at the actual winery, so they maintain a tasting room in the city of Napa. We have been to both the winery and tasting room and first met Bob years ago at a Taste of Howell Mountain event at Charles Krug Winery.
This winery was started by Robert Craig in 1990 (first vintage 1992) with Derek Ruston and Michael Nugent (friends he had met while in business school at the University of Chicago) and another friend Michael Adams. Robert was born in Arizona and grew up in Texas. His introduction to California was through serving in the Coast Guard. After marrying his wife Lynn in 1963 Bob became involved in real estate investment (prior to his long wine career).
He was involved in the wine industry for many years, initially with William Hill in developing a vineyard on Mt. Veeder and then later, at The Hess Collection as their General Manager. In addition he helped develop 300 vineyard acres on Mt. Veeder and was instrumental in forming sub appellations for both Mt. Veeder area and Spring Mountain. Bob has been focused on hillside vineyards since he became interested in wine in the 1960's. Over the years Robert spent a significant amount of time in some of the major hillside producing regions of Napa including Mt. Veeder, Howell Mountain, Spring Mountain and Diamond Mountain.
Robert passed away in September 2019 from complications from Parkinson's disease.
Robert Craig Winery owns the majority of their vineyard sources (they do buy fruit from select vineyards). They work with Napa Valley based hillside vineyards generally 1,600 feet or higher.
Turned off by big bold mountain grown wines that need to be aged for years before they can be consumed without the heavy hand of robust tannins? Not so with Robert Craig's wines. They tend to show the fruit extremely well, the tannins are not overwhelming, and balance and integration of all the components in the wine plays a key role in their winemaking style. However, with that said – Robert Craig's wines tend to develop complex nuances in flavor and aroma if you can resist drinking them upon purchase and put them down to age for a few years.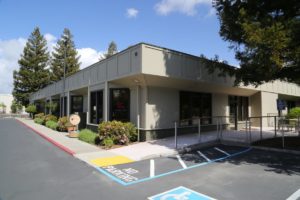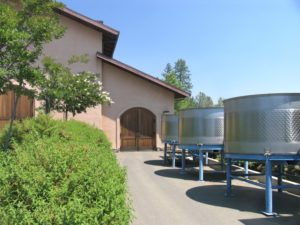 The tasting room is just minutes driving north of downtown Napa and is located in an area one doesn't typically associate with a winery tasting room. That is not a bad thing however; prior to their tasting room their offices were here and it made sense to combine both the office space and tasting facilities. The tasting room is located just off Soscol Ave behind the large Central Valley Builders supply building.
The tasting room is elegant and includes both counter and sit down table seating. Looks are deceiving and it is wineries such as these that are fun to seek out. The inside tasting room has been tastefully restored from its previous industrial uses yet feels completely modern. Robert Craig is appointment only and is setup to take only small groups. Typically tastings will be for your party only. The tasting is not rushed; it is very personal and informative; their staff is extremely knowledgeable about the wines and their vineyards.
Select Wines
While their focus is on Cabernet Sauvignon (with most of their wines sources from estate owned vineyards) they do make one white, a Chardonnay sourced from the Durell vineyard in Sonoma County. It is a vineyard that remains moderated by cooling breezes throughout the day due to its proximity to the bay. This wine has wonderful stone fruit aromas including pear and peach with a floral characteristic – mainly honeysuckle. The palate is rich with some of the fruit aroma characteristics continuing into the flavors (2007 vintage).
Their wines are very balanced so not one aspect jumps out and dominates the palate. They are soft on the tannin structure and very easily drinkable in their youth. The Robert Craig Affinity Cabernet Sauvignon is like drinking liquid velvet – we've had several vintages of this wine over the past few years and despite the variation of blending percentages and varieties each year, the quality and taste profile is consistent year in and year out. The 2007 Robert Craig Affinity showcases memorable aromatics which continue to evolve and develop in the glass as this wine opens…cedar box notes, cassis and chocolate with smooth velvety tannins anchoring the finish.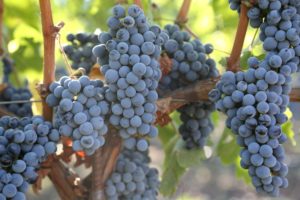 Two other must try wines are their Howell Mountain and Mt. Veeder Cabernet Sauvignon. The Mt. Veeder Cabernet Sauvignon was in fact their first wine produced as they did not yet own their Howell Mountain property (the site of their existing winery).
The 2005 Robert Craig Howell Mountain Cabernet is one of our favorite Robert Craig wines. It is unfined and unfiltered for maximum flavor and color. There is a mix of blackberry and white pepper on the palate with some subtle spices towards the finish (cloves, more pepper and even some anis). The 2005 was certainly one of our favorite wines until we tried the 2006 vintage. One word can be best used to describe that wine, memorable!
Their Zinfandel is a newer addition to their wine portfolio. Bob had his eye on a particular vineyard high on Howell Mountain for 6 years before fruit became available. This is a wine they now produce every year. The 2007 Robert Craig Howell Mountain Zinfandel shows nice baking spices with hints of black pepper both on the nose and the palate. This wine features concentrated flavors but shows some restraint – listing more towards the "refined" side of a teeter totter rather than the "jammy" side.
—
Robert Craig Winery participates in select consumer tastings throughout the year including the highly recommended Taste of Howell Mountain every June – held on the grounds of Charles Krug Winery. As of our latest update to this review, they produce around 9,000 cases annually. About 50% of their wine is sold direct to consumer (mostly through their tasting room) with the other half sold through distribution. The wines are or have been on a number of wine lists at premium restaurants in the valley including The Restaurant at Meadowood (3-star Michelin rated) and at select wine shops in the valley. For more information, to schedule a tasting or to join their wine club, visit their website: www.robertcraigwine.com
NOTE: this review has been identified as needing a major update.
Tasting Salon, Napa

Winery, Howell Mountain