Robert Craig Winery is perched at an elevation of almost 2300 feet high on Howell Mountain on the north east side of Napa Valley. This is the highest physical winery on Howell Mountain, slightly higher than the winery at Black Sears (although the uppermost reaches of the vineyard at Black Sears are the highest vines on Howell Mountain). Because of the elevation, the property does see some snow in the winter and their surrounding vines are among some of Napa Valley's highest vineyards. This location is well off the beaten path; their permit at the winery limits them to 30 visitors per month and only several events per year, so they maintain much more conveniently located tasting room in the city of Napa. We have been to both the winery and tasting room and first met Robert Craig years ago at a Taste of Howell Mountain event at Charles Krug Winery.
Robert produced the first vintage of Robert Craig wine in 1992); his founding partners were Derek Ruston and Michael Nugent (friends he had met while in business school at the University of Chicago) and another friend Michael Adams. Robert was born in Arizona and grew up in Texas. His introduction to California was through serving in the Coast Guard. After marrying his wife Lynn in 1963 Bob became involved in real estate investment (prior to his long wine career).
He was involved in the wine industry for many years, initially with William Hill in developing a vineyard on Mt. Veeder and then later, at The Hess Collection as their General Manager from 1980 through 1990. In addition, he helped develop 300 vineyard acres on Mt. Veeder and was instrumental in forming sub appellations for both Mt. Veeder area and Spring Mountain. Bob has been focused on hillside vineyards since he became interested in wine in the 1960s. Over the years Robert spent a significant amount of time in some of the major hillside producing regions of Napa including Mt. Veeder, Howell Mountain, Spring Mountain and Diamond Mountain.
Robert passed away in September 2019 from complications from Parkinson's disease.
Starting in 2013, Robert Craig Winery began to transition to produce the majority of their wines to estate owned vineyard sources, although they still purchase fruit from several growers. They work with Napa Valley based hillside vineyards generally 1,600 feet or higher. As of the latest update to this review, Robert Craig Winery owns four distinctive vineyard sites: the Robert Craig Winery Estate on Howell Mountain purchased in 1995, in 2015 they purchased Candlestick Ridge Vineyard from Duckhorn Winery, also on Howell Mountain a short drive from the winery estate), Amentet Vineyard, a 10 acre site of which 7 are planted to vines on Mt. Veeder (purchased in 2015) and La Londe Vineyard in Coombsville (purchased in 1993).
Select Wines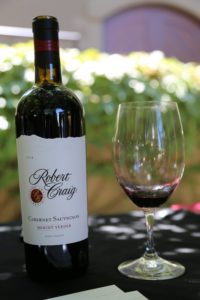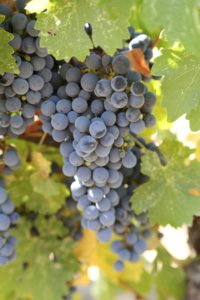 Robert Craig focuses on producing hillside Cabernet Sauvignon wines grown on their estate owned vineyards. Their wines clearly display a common mountain thread of character and depth and are driven by low pH, higher acidities and memorable tannins. These are big wines with excellent aging potential. One of their employees told us at Robert's funeral, friends and family brought some very early vintages of Robert Craig dating back to the early to mid 1990s; at the time these wines were 20-25 years old and were still showing very well.
Mountain wines, while big can certainly be balanced. The integration of all the components in the Robert Craig wines is an important part of their winemaking style. Robert Craig's wines tend to develop complex nuances in flavor and aroma if one can resist drinking them upon purchase and put them down to age for a few years.
While their focus is on Cabernet Sauvignon (with most of their wines sourced from estate owned vineyards) they do make one Chardonnay each year. Over the years they have focused their efforts for this wine on cool weather sites in neighboring Sonoma County.
The 2020 Robert Craig Gap's Crown Chardonnay wine was sourced from neighboring Sonoma County in the Petaluma Gap; Gap's Crown is a very cool site at about 1,000 feet in elevation. The wine saw no malolactic fermentation and was barrel fermented in neutral oak barrels. New oak was minimal during its aging, about one new barrel per 10 barrels. This wine is pale to medium straw in color with aromas of citrus blossom, grapefruit and a lemon lime nuance; as it breathes further, it evolves to show some notes of honeysuckle. The mouth feel is slightly creamy and rounded and is complemented with minerality notes and a noticeable brightness from the acidity. Oaky, buttery? Absolutely not. Very balanced from start to finish; offers flavors of melon, loquat and mandarin. This wine finishes with a zesty mouthwatering freshness and brightness.
The 2007 Robert Craig Chardonnay was sourced from the Durell vineyard in Sonoma County. It is a vineyard that remains moderated by cooling breezes throughout the day due to its proximity to the bay. This wine has wonderful stone fruit aromas including pear and peach with a floral characteristic, primarily honeysuckle. The palate is rich with some of the fruit aroma characteristics continuing as flavors.
Affinity is the first wine Robert Craig produced in 1992 from grapes purchased from the Staglin family in Rutherford. Affinity has become their workhorse and steakhouse wine, comprising up to 1/3 of their entire production and is often sold at premium steakhouses across the country. This wine has evolved over the year in regard to vineyard sites; today the source grapes are from their La Londe Estate Vineyard near the Napa Valley Country Club in Coombsville, named after La Londe Lane. This is the only non-mountain vineyard site under their ownership.
Affinity is a Cabernet dominated wine but with smaller percentages of other Bordeaux red varieties in the blend. The 2019 Robert Craig Vineyards Affinity Cabernet Sauvignon is 83% Cabernet Sauvignon, 11% Petit Verdot, 5% Merlot and 1% Malbec. This wine is medium to darker ruby in color; the bouquet is elegant with notes of sandalwood, cassis and as the wine evolves in the glass shows notes of dried rose petals and some barrel spice influence including vanilla. Upon tasting this wine, we immediately noted that its profile does not feel like a mountain grown wine. And that is of course true, the palate is much softer than their other hillside grown Cabernet Sauvignon wines with flavors of red cherry and red licorice. It is already very approachable and balanced for such a young wine at the time of our tasting. The tannins are noticeable but finer grained and well-integrated into the slightly dusty finish.
We have enjoyed several vintages of this wine over the years and despite the variation of blending percentages and varieties each year, the quality and taste profile are consistent year in and year out.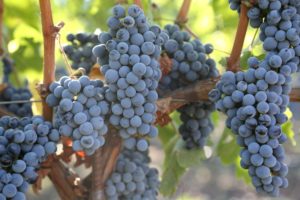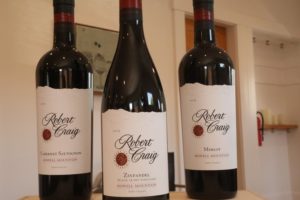 The 2017 Robert Craig Spring Mountain Cabernet Sauvignon (100% varietal) was sourced from the privately owned Crowley Vineyard at about 2,000 feet on Spring Mountain (near Sherwin Family). This wine shows initial aromatics of mushroom and forest floor but as it opens the fruit is revealed including notes of plum along with some darker baking spices. The bouquet also shows notes of espresso and darker chocolate deeper into the aromatics and as the wine continues to evolve. The palate offers plenty of depth with flavors of dark cherry and plum. Lingers with gravelly, somewhat coarse and very persistent tannins along with some savory notes including darker spices and pepper.
The Robert Craig owned Amentet Vineyard on Mt. Veeder was originally part of actor Robin William's estate. He later donated this section of land to Lori and Brian Nuss, proprietors of Vinoce and Twenty Rows. Brian sold this property to Robert Craig in 2015. Amentet refers to the Egyptian god of rebirth and fertility. The 2018 Amentet Vineyard Cabernet Sauvignon is 90% Cabernet Sauvignon and 10% Cabernet Franc. This wine is dark ruby in color; the bouquet initially shows an herbal note in union with old cedar box and darker fruit aromatics including blackberry and blueberry. A dust and a note of mocha evolves as the wine continues to breathe. The palate features primarily darker fruit flavors anchored by broad based tannins which linger for some time. Very good acidity; also notes of dust show on the finish.
The Robert Craig 2018 Howell Mountain Cabernet Sauvignon is a blend of grapes from both the winery estate vineyard and also Candlestick Vineyard. It is composed of 90% Cabernet Sauvignon with 9% Malbec and 1% Merlot. This wine is noticeably dark in the glass with aromas that are earthy, meaty and with notes of mushroom and a rose stem quality. Also shows notes of Santa Rosa plum, red licorice and hints of old cedar. The Cabernet Sauvignon dominates over the Merlot on the palate. The tannins are big, gravelly in texture, persistent and dark in nature. One remembers these, but also the great acidity that lingers on the finish. This wine is built for the long haul with plenty of aging potential.
Howell Mountain is one of two regions within Napa Valley noted for its excellent Cabernet Sauvignon but also Zinfandel (the other being Calistoga). Bob had his eye on the Black Sears Vineyard on Howell Mountain for 6 years before its Zinfandel became available. They continue to source from a special Zinfandel block at Black Sears, planted in 1967. It is dry and biodynamically farmed; remarkably the yields from this high elevation site produce only about one ton of fruit a year.
The 2018 Robert Craig Black Sears Vineyard Zinfandel is 95% Zinfandel and 5% Petite Sirah. The wine is medium ruby color in the glass; sports aromas of raspberry, cherry cola and some spice notes including white pepper, probably from the variety but also perhaps from the barrel aging. Despite approximately 15% alcohol, one can quickly tell this is not a fruit forward 'riper' styled wine – or in other words, it is everything because of what it is not… IE, not jammy, not sweet and not overly extracted. On the palate shows red cherry, red licorice and raspberry flavors. Lingers with excellent acidity, a brightness and a tartness complemented by well-integrated tannins. And this style is not an anomaly; we have tasted several older vintages back to 2007 also produced in this style.
The 2005 Robert Craig Howell Mountain Cabernet was one of our favorite Robert Craig wines from some of our early tastings. It is unfined and unfiltered for maximum flavor and color. There is a mix of blackberry and white pepper on the palate with some subtle spices towards the finish (cloves, more pepper and even some anis). The 2005 was certainly one of our favorite wines until we tried the 2006 vintage.
Two other very special wines are Robert's Block, a barrel only production of Cabernet Sauvignon from their Howell Mountain winery estate vineyard which is only produced during the most exceptional of years and 'The Stick', a Cabernet Sauvignon harvested from the best blocks in their Candlestick Ridge Vineyard.
The 2016 The Stick, Candlestick Ridge Vineyard Proprietary Red blend is 60% Cabernet Sauvignon, 35% Merlot and 5% Malbec. Dark and inky in the glass the bouquet is savory with darker spices, blackberry and dark chocolate aromatics. The aromas as initially meaty but slowly evolves into showing ripe fruit. The palate is intense, dense and layered framed by what we called memorable, 'steak tannins'. The finish lingers juicy with mouthwatering acidity.
Tasting Room Evolution
Robert Craig closed their original city of Napa tasting room in 2021 and by the second week in October that year had moved their offices and hospitality operations to the edge of downtown Napa at 1553 Second Street. A parking lot to the rear of the building has three spots reserved for clients of Robert Craig as well as a handicapped spot. The tasting room is ADA compliant with a lift available at the rear entrance. Parking is also available curbside (2-hour limits) on Second Street and Church Street.
Visits to Robert Craig are appointment only and groups are usually small. Tastings are not rushed, are very personal and informative and are hosted in the main room or weather permitting, outside on the patio or on the porch. During several visits over the years, we have always found their staff extremely knowledgeable about the wines and their vineyard sites. Guests can enjoy a flight of wines or order by the glass or by the bottle. Library and large format bottlings are often available for purchase.
This home was built sometime between 1895 and 1907 and in its early years was owned by Belle Coombs, a member of the founding family of the city of Napa (reference Nathan Coombs). She sold to Anna Frary in 1906 and today the structure is referred to as the Frary House. A number of families have resided here over the decades including William Butler who became the County Horticultural Commissioner in the 1920s. By the 1990s the house was converted from residential to commercial use.
Current tasting salon

Robert Craig's original tasting room was located mere minutes driving north of downtown Napa and was located in an area one doesn't typically associate with a winery tasting room. That is not a bad thing; however, prior to their tasting room their offices were here, and it made sense to combine both the office space and tasting facilities. The tasting room was located just off Soscol Ave behind the large Central Valley Builders supply building.
The tasting room was elegant and included both counter and sit-down table seating. Looks are deceiving and it is wineries such as these that are fun to seek out. The inside tasting room was tastefully restored from its previous industrial uses yet felt completely modern.
Original Napa tasting room

Robert Craig Winery participates in select consumer tastings throughout the year including the highly recommended Taste of Howell Mountain held every June on the grounds of Charles Krug Winery. As of our latest update to this review, Robert Craig produces around 9,000 cases annually. About 50% of their wine is sold direct to consumer (mostly through their tasting room and wine club) with the other half sold through distribution.
The wines are or have been on a number of wine lists at premium restaurants in the valley including The Restaurant at Meadowood (3-star Michelin rated) in St. Helena, Cole's Chop House Celadon in Napa and at select wine shops in the valley. For more information, to schedule a tasting or to join one of their wine clubs (members enjoy complimentary tastings), visit their website: www.robertcraigwine.com
Winery, Howell Mountain