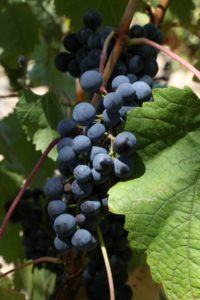 Robbins Vineyards was founded by long time farmer Phil Robbins in 2002. He owns 18 planted acres just off of Zinfandel Lane south of the town of St. Helena. At one time his acreage was part of a much larger property owned by the Christian Brothers. The Christian Brothers had their well-known winery on Mt. Veeder (now the Hess Collection) and also owned this second location on Zinfandel Lane. Phil's vineyards were originally part of what was 200 acres of vines. This land has been planted to vine since the late 1920's and before that was home to prunes and cattle.
Phil grew up near Chico California in the Central Valley north of Sacramento. Farming has been in his family's blood for many years every since they immigrated to California from Ohio in the late 1890's.
Phil owned a vineyard near Davis where he experimented with growing a number of varietals as well as different trellising methods on various varietals. Looking to grow premium grapes he started looking for land in the Napa Valley in the mid 1990's. Vineyard land at this time was rather scarce and after looking for a number of months essentially Phil put his dream of owning vineyard land on hold. However he left his business card with a realtor in Napa whose specialty was vineyard land.
Shelving the search for vineyard property, several years soon went by and one day more than 3 years after he started looking for property he received a call out of the blue from the same realtor. This person had lost Phil's card and had found it when he was cleaning out his desk. Not recognizing the card, the realtor placed it on top of his desk until one day he remembered Phil and the fact that he was looking for land in Napa. As luck would have it, the last piece of the old Christian Brothers vineyard was for sale and this is the piece that Phil ended up purchasing in 2002.
Phil and Leopoldo Ceja (of Napa's Ceja wine family) manage the vineyards. Cabernet Sauvignon, Merlot and Petit Verdot are planted on site. A balanced vine makes a balanced wine – and Phil and his vineyard management team are extremely focused in their vineyard efforts. The property is managed sustainably; cover crops are in part used to help maintain the health of the soil.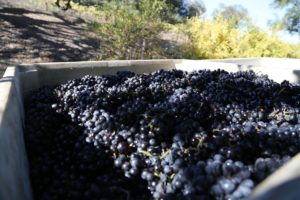 Phil learned the art of wine making a number of years ago and also took courses through the UC Davis extension program. He has made their wine since day 1. However he was inspired to make wine commercially after his son Chad made home wine for their family's enjoyment. A year later Phil and his wife Leslie brought a bottle of this wine to a party hosted by wine professionals and it was entered into a blind tasting. This "garagiste" home wine ended up taking the top award at this tasting.
The production is currently about 500 cases split between two wines, the Big Alibi Red and their Estate Cabernet Sauvignon. Phil makes the wine at a winery within a golf clubs drive of his vineyard. A variety of oak programs are used including French, some Hungarian and several barrels that include the heads of American Oak with the bodies of French Oak.
Phil strives to produce lower alcohol Bordeaux styled wines – with structure but not overbearing. His wines are meant to be consumed with food and are approachable at a young age. 2005 was his first commercial release. We tried a number of components from various barrels that will form the final blends for their finished Big Alibi Red. The 2007 Merlot shows nicely despite at the time of our tasting still 7 months away from bottling. The bouquet is somewhat earthy or dusty, with notes of cedar and blackberry. This is a rich example of this varietal; the palate shows soft but concentrated flavor including blackberry and blueberry. A certain chalkiness and notes of minerality are found on the broad structured rather lengthy finish.
Besides making his own wine from the estate, Phil also operates a custom wine brand service. He already has several clients utilizing his services including a wine shop. Here is a private label service in which you know where the wine is coming from. It is private labeling but is from an artisan producer sourcing from an estate vineyard. This isn't bulk wine private labeling; the wines can be made in the style you enjoy. All packaging and development is included with the service as well as several bottling options.
The wines are currently available direct through their website and mailing list. Plans are in the works for additional distribution in Northern California. For more information about Robbins Vineyards visit:
www.robbinsvineyards.com