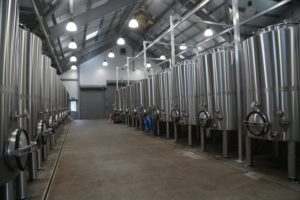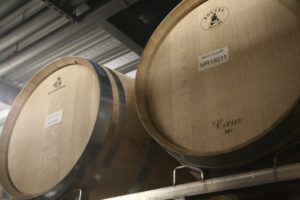 ROAM Napa Valley. Founder and winemaker Mario Sculatti grew up in the Napa Valley influenced by a number of individuals from his parents' generation who were involved in the wine industry including his father Ron Sculatti who was one of several people who helped create the award-winning 1973 Chateau Montelena vintage along with Mike Grgich, Bo Barrett and Roam Steineke. The 1973 was Ron's one and only harvest at Chateau Montelena. The name ROAM is in tribute to Roam Steineke who has since passed on but who developed a strong friendship with Ron. In tribute to his friend, Ron chose Roam as Mario's middle name.
Mario's family first settled in the Napa Valley in 1901 (Mario is 4th generation from Napa Valley) – originally, they immigrated to the USA from Italy. Over the years Mario's relatives have been involved in agriculture in what are now a number of prominent sites in the valley. Mario recalls his grandfather used to lease land for growing mixed blacks (red grape varieties) on site of what is now Bill Harlan's The Reserve at Meadowood. And family members used to own what is now a prominent vineyard in Oakville under Duckhorn Wine Co ownership.
The core of the Roam Cellars production is currently three vineyards – Sleeping Lady on the edge of the Mayacamas mountains just south of Yountville, a small 1.5-acre vineyard on the top of Glass Mountain in the St. Helena sub appellation Mario refers to as Xaga and the Muir-Hannah Vineyard in Oak Knoll just north of the city of Napa. Mario has long term contracts with all these vineyard sources.
One of his friends, a Wappo descendant and an archaeologist suggested Mario use a name to honor the Wappo Native Americans while also making tribute to Glass Mountain, a hillside full of obsidian. Mario chose Xaga – a Wappo word referring to a weapons grade of obsidian. This was a prominent site for creating arrowheads; the Wappos often used the obsidian as trade. As a result, obsidian from this hill made its way all over California and beyond through their trading channels at the time.
While over the years Mario has tasted and contributed ideas about blending with accomplished winemakers such as Benoit Touquet and Massimo Di Costanzo he attributes his winemaking skills to Denis Malbec, a winemaker who was tragically killed in an automobile crash in 2016 in Yountville. Mario calls Denis, "the greatest teacher one could have ever hoped for". Mario learned the science of winemaking from Denis, all about barrel selection and which coopers he preferred and reasons behind the choices he made within the winery.
But Denis was far more than a mentor to Mario – he was a great friend. Mario recalls numerous times enjoying old and rare wines in the company of Denis; on one occasion Denis told Mario to meet him at Brasswood Restaurant for dinner along with a second request – bring a 1970s bottle of Napa Valley wine in a paper bag. Mario did so and when they sat down to eat, they both tried each other's wines without knowing any information about each of the wines. Remarkably both men had brought 1973 vintages of Beaulieu Vineyard Georges LaTour Private Reserve.
Sleeping Lady Vineyard, Yountville

Mario's first introduction to selling wine was while working for his family at the clothing store, his parents founded in 1981, Mario's Napa Valley. While working at the clothing store, Mario began selling wines on the side and caught the attention of Napa Valley winery owner Greg Martin, also the founder of Greg Martin Auctions; Greg is one of the country's foremost authorities on historical weaponry.
Mario then moved to Las Vegas to focus on selling rare wines; later he relocated to Orange County and ran Spectrum Wine Auctions (at the time, the parent company of Greg Martin Auctions) from 2006 through 2011 – a company focusing on auctions, wine storage, consignment services and retail sales. Mario also spent time working in Hong Kong because the company maintains a second location there.
Eventually Mario moved back to the Napa Valley and began to spend more time in the company of winemakers. While at Realm Cellars he assisted winemaker Benoit Touquet with small lots of every Cabernet Sauvignon clone growing at the Sleeping Lady Vineyard (6 clones in total). Ultimately, they made separate wines from each clone and eventually were offered larger contracts for future fruit from this vineyard.
Mario chose small blocks of clone 7 and clone 30 Cabernet Sauvignon while Benoit chose the rest. According to winemaker and local viticulture historian, Graeme MacDonald, clone 30 may have locally originated in one of Inglenook's vineyards. Today Mario crafts small lot wines from each of these clones – using different barrels during the aging but eventually blending wine from the barrels into the final wines. He loves working with this particular vineyard – according to Mario, the fruit produces balanced wines with a distinctive red fruit profile along with often floral aromatics.
While Mario crafts his own wines, he is also the winemaker for several other private label brands (often just a single barrel or two). He is a very hands-on winemaker – who if he finds himself in a challenging winemaking situation, often asks, "what would Denis do?". His winemaking style closely emulates Denis's – although if he needs to, he can reach out to several close winemaker friends when needing advice, including Shawn Johnson.
Délestage is an important part of his winemaking, practiced during fermentation with the idea to somewhat polymerize the tannins creating a softer structure within the wine. Essentially it works like this: the fermenting wine is drained off of the must/cap into another vessel and then pumped back over the cap to continue fermenting. Sometimes some of the must is removed in the process.
Select Wines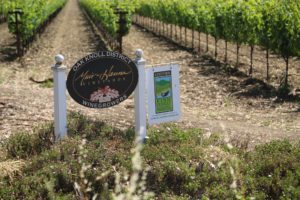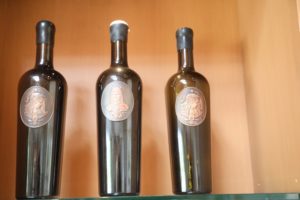 Mario's first commercial release was the 2015 vintage. However, he produced several vintages of wines prior to this but did not release them direct to consumer – some went to his friends' restaurant in Oklahoma.
His Chardonnay comes from the Muir-Hannah Vineyard in the Oak Knoll District. This vineyard is owned by John Muir's great grandson and family; it was one of the Chardonnay vineyards that produced the fruit for Chateau Montelena's 1973 vintage that won the "Judgement of Paris" tasting. The other vineyard source for this acclaimed wine was from the Bacigalupi Vineyards in the Russian River appellation in neighboring Sonoma County. Mario's father worked with fruit from Muir-Hannah while at Chateau Montelena – and now some 45+ years later his son also has access to fruit from this special site.
Stylistically the ROAM Chardonnay continues to evolve since Mario made his first vintage in 2017. Mario always barrel ferments and ages his Chardonnay. The 2017 ROAM Wines Chardonnay underwent about 2/3 malolactic fermentation. This was the first ever Chardonnay Mario made. Golden in the glass offers stone fruit (nectarine and peach) and citrus blossom aromatics with barrel influences showing especially lingering on the finish with hints of caramel. This wine is very balanced with an intensity of flavor but with a lighter texture.
About 50% of the 2018 ROAM Chardonnay went through malolactic fermentation. This wine is noticeably brighter on the palate (higher acidity) then the 2017 vintage with perhaps less noticeable barrel influence on the aromas and palate then the 2017 vintage. With the 2019 vintage, Mario introduced wine making techniques to add a bit more texture and change the mouth feel including stirring the lees in barrel once a week. Keep an eye out for these very limited production Chardonnay wines.
Red wine tasting notes coming sometime in 2023 or 2024.
The labels are impressive – privately minted brass medallions for the white wines and copper for the red wines. Each label contains a relief image of a 'character' as Mario calls them – these are people who are historically significant or who have played an important role in his own life. Mario's uncle hand burnishes every single one of these labels.
Rutherford Wine Vault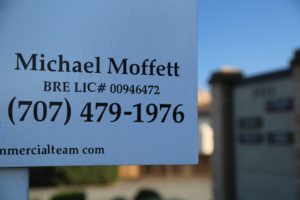 Driving on Highway 29 past Beaulieu Vineyard one day in late 2016, Mario spotted a for lease sign. When he called the agent of record Michael Moffett, he was told another vintner had already committed to one of the buildings for lease but then Mike offered to show Mario several other buildings further west on the property. This site is very historical, home of the Georges de LaTour estate, the founder of Beaulieu Vineyard. Two buildings were of interest and were still for lease, a tractor shed built in the 1940s and an adjoining cellar, built in 1916. This cellar is extremely historic; it was Beaulieu Vineyard's first winery on their own property (used for several years as their primary winery before operations were moved across the street to their current location). It continued to be used for Beaulieu's "champagne" production as it was called back then – housing production through the 1991 vintage.
While growing up in St. Helena Mario remembers seeing this building but had never been inside. When Mario finally did enter the building, it was in bad shape with bats living inside, ivy crawling through the windows and covering parts of the walls and floor – but it was also a window back in time. They found forty bottles of 1991 Beaulieu Vineyard "Champagne", a Blanc de Blanc, an old riddling table and some other era items. Naturally, Mario made sure to have these included in the terms of his lease. The Rutherford Wine Vault is a partnership between Mario and John Franks (long time real estate developer and investor).
Spending over a year cleaning and making a few modifications, the building reopened for the first time in nearly 20 years as the Rutherford Wine Vault in early 2018. One of the major modifications involved removing a section of concrete in the ten-inch-thick poured concrete wall to connect the tractor shed with the cellar. In its place they installed a wooden door – built from original Beaulieu Vineyard redwood tank #29 (the stains from the winemaking clearly show on the interior of the door).
They converted one side of the old tractor shed to private caged wine lockers – with a minimum sized locker starting at 12 cases of wine ranging up to larger walk-in lockers holding up to 250 cases of wine. Existing customers who have greater storage needs may rent additional spaces to store pallet sized containers of wine. Visiting these lockers is like being in one of the Napa's Valley's most exclusive and rarefied 'wine air' – one locker contains only vintages of Screaming Eagle wine for shipment outside of the country, other lockers contain old first growth wines and some lockers are rented out by select Napa Valley based wineries for their own wines.
And in addition to the obvious benefits of storing and aging wine in a secure temperature-controlled environment, this vault attracts clients with a wide variety of wine interests and collections; the space is often used by tenants to enjoy or share wines with others. The interior is cozy indeed, surrounded by old bottles of wine, photographs of famous people enjoying wines from the Napa Valley and a smattering of wine relics.
Extremely rare, the building is one of only two in the Napa County Agricultural Preserve grandfathered in for private wine storage – the other is in Oakville and owned by vintners Ren and Marilyn Harris of Paradigm Winery. The estate is also home to Beaulieu Garden, a premium wedding and private-event destination site (one of the few sites permitted for weddings in Napa County).
If you are a serious wine collector and passionate about the Napa Valley's wine heritage, there is absolutely nowhere else in the valley you should consider storing your wine. Driving down the sycamore lined driveway at 1901 Highway 29 is like driving through some of the most iconic history in the Napa Valley. The historical echoes of wine personalities still linger on these hallowed grounds – those most closely associated with this particular property including Georges de Latour, André Tchelistcheff along with a handful of other personalities who visited over the years.
VAULT Wine + Artifacts
In early 2021 ROAM Antiques closed permanently and underwent a major renovation which was completed by late summer 2021. The space anchoring the south side of Lincoln Avenue on the far west side of Calistoga is a partnership between Mario Sculatti and Trevor Mallett.
The space re-opened as VAULT Wine + Artifacts in Fall 2021, a wine tasting space for several brands owned by Trevor and Mario, along with select other wines from Stringer Cellars and Sarah Francis, among others. In the spirit of the previous antiques business, a number of historical wine objects are displayed inside. These include winemaking equipment, hand-blown glass and an impressive collection of corkscrews. Other than the large items, most everything is for sale in the gallery.
The centerpiece of the space is an old Roman press, whose heritage Trevor told us, is possibly from either Austria or the Ukraine. Old wooden Roman presses are extremely rare in Napa Valley. The only two wineries we know of who own Roman presses from earlier winemaking days are Nichelini Family Winery and Yates Family Vineyards. Another smaller wooden press is from Germany with words in German engraved in the wood which roughly translate to: "In good times and in bad times we still make red and white wine"!
As of our latest update to this review, VAULT Wine + Artifacts offers three tastings including Valley Floor, Mountain and Unique Varieties. Visits are preferably by appointment, but staff will try to accommodate walk-ins if not busy. A side room seats up to 8 people for a private and more intimate tasting. A large mirror greets visitors inside this room; it doubles as a secret door to another room, containing a library and and office. For more information or to book a tasting, visit: www.vaultcalistoga.wine
Mario's Napa Valley
Tucked in between the locally iconic WF Giugni & Son Deli (pronounced 'jooney') and another clothing store on Main Street in St. Helena, for nearly 40 years Mario's has provided premium men's wear clothing for up valley shoppers attracting both locals and tourists. The store sells a variety of premium clothing (focusing on European brands) ranging from sport jackets to attractive shirts and a very fine selection of jeans (some branded as Mario's).
Named after Mario Sculatti, the store originally opened in Hotel St. Helena – they have been in their current location since 1992 only a few doors down from their original shop. And nearby on the opposite side of the street, is Amelia Claire, a clothing store focusing on women's fashion named after Mario's sister. This store opened in 1989.
Roam Antiques Closed, but we keep our notes here for historical purposes.
Mario founded ROAM Antiques & Design in Calistoga in 2014. Walking into this shop was like walking back in time and was testament to Mario's longtime love for collecting items of historical value. He gathered old boxes, old wines and other items especially as they related to Napa Valley's history. The shop contained an assortment of eclectic, one-of-a-kind home and industrial items.
The ROAM Napa Valley wines are all produced in very small quantities – total production is around 600 cases with plans to grow slightly. For more information or to join their waiting list, visit: www.roamwine.com