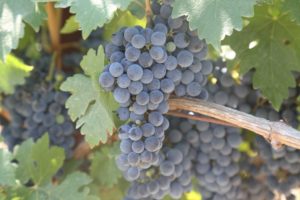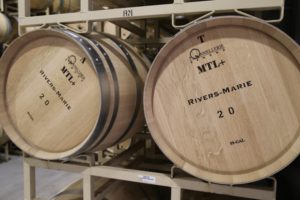 Rivers-Marie. Since 2002 Rivers-Marie has quietly been producing limited production premium wines including Pinot Noir; their first vintage was from the Summa Vineyard on the dead-end Taylor Lane near the town of Occidental in neighboring Sonoma County. This vineyard produced the first 100-point Pinot Noir from California in 1991 when it was a Williams Selyem vineyard designate. Today the vineyard is owned by Rivers-Marie. Later they added Chardonnay and Cabernet Sauvignon to their portfolio.
The winery is owned and operated by husband and wife, winemaker Thomas Brown and Genevieve Welsh. The name comes from combining both of their middle names, Rivers from Thomas and Marie from Genevieve. For years, the wines were primarily sold through their allocation list with very limited domestic distribution. However, in late August Rivers-Marie opened a highly visible winery and tasting room on Highway 128 just south of Calistoga (they share the same driveway as their next-door winery neighbor – also with a rare, hyphenated name, T-Vine Cellars).
The site of the winery used to be the home of Forni-Brown-Welsh Gardens – a 6-acre organic farm that sold a variety of agricultural products to restaurants including their most well-known product, tomatoes. And they were open a short while each year for home gardeners to purchase young vegetable plants. This is also where Genevieve grew up. Her father Barney worked a variety of jobs including selling appliances at Sears, as a Radio DJ and did some work at The Fillmore in San Francisco. Through her father's connections, Genevieve remembers seeing cool acts at the Fillmore including Jefferson Starship. In 1978 the family moved to Calistoga from Alameda, CA when she was five years old and began the gardens. And it was through her work at the gardens that she met Thomas.
In addition to raising vegetables, Genevieve recalls the animals that used to roam on the property including a former wild burro captured in Baja California that her family named Good Friday after the day that they picked him up in Petaluma. Chickens of course, because every small family farm in the Napa Valley has those. But rarer were the peacocks. In homage to their peacocks, the wallpaper on one wall in the bathroom is decorated with a pattern of colorful peacock feathers. When weather permits, tastings are held at a long table situated between the two buildings – exactly on site where the peacocks used to roam.
And the heritage of Forni-Brown-Welsh Gardens lives on in Forni Farm & Nursery – now located near Fulton and the outskirts of northern Santa Rosa in neighboring Sonoma County (primarily selling a variety of vegetable starts throughout the year).
Genevieve's family home (leveled in 2018) once stood on site of what is now the Rivers-Marie cellar building. The Rivers-Marie site is about 2 acres and borders a parcel of land to the east still owned by her parents. The first harvest at the winery was in 2020 and their hospitality space opened at the end of August that same year. The winery is simple but very functional with state-of-the-art winemaking equipment including an optical sorter for their Cabernet Sauvignon and small tanks (open top for Pinot Noir and closed for Cabernet Sauvignon). One of the buildings houses two-barrel rooms.
Thomas Brown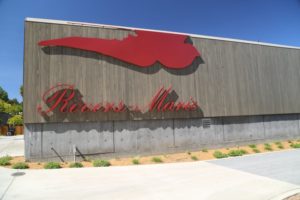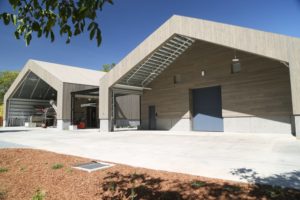 Thomas is one of the busiest wine makers in the Napa Valley. Several producers have showed us lists of all the Napa brands that he consults for and or provides direct winemaking services; this is an extensive list. He is from Sumter, South Carolina and developed an interest in wine while attending the University of Virginia where his major was not wine related (he studied English and Economics).
He moved to the Napa Valley in 1996 and took a job at All Seasons in Calistoga (known for their California cuisine, wine selection and long time in business – but unfortunately the All Seasons Bistro permanently closed in 2020). While there, Thomas met winemaker Ehren Jordan who was working for Larry Turley at the time of Turley Wine Cellars. Thomas took a job with Ehren in the cellar at Turley in 1997 – spent several years there before beginning his own career and starting to consult for various clients (some of which were clients that Ehren was already working with).
And within only 10 years of making wine in the Napa Valley Thomas received two 100-point scores from Robert Parker – regardless of what your perception is of scores, creating several wines within a short period of time that receive 100 points from Parker was a watershed moment in Thomas's consulting career.
Today Thomas is highly sought after for his winemaking services, experience and access to premium area vineyards. And while he was once the student, over the years he has become the teacher. We have met with a number of winemakers who worked under Thomas – and consider him one of their mentors. These are winemakers who have gone on to establish their own brands or consult for other Napa Valley based brands.
And in early/mid 2021 Thomas took over full ownership of Pinot Noir producer, Aston Estate in neighboring Sonoma County. He started this brand in 2001 with Napa Valley vintner Fred Schrader (Schrader Cellars) and Chuck Sweeney (Vine Cliff Winery) and the wines are sold through a subscriber mailing list. In addition to the brand and inventory, the sale included 14 acres of coastal Pinot Noir vineyard near Annapolis (far northern reaches of Sonoma County just inland from Sea Ranch). From Rivers Marie, this would be more than a 2 hour drive out to the vineyard site.
Spotlight on Sumter, South Carolina
Sumter (population: approximately 40,000) was founded originally as Sumterville in 1845, the name of the town changed to Sumter in 1855. Named after Revolutionary War General Thomas Sumter – visitors to town can see a statue of the general in front of the courthouse or visit his burial site at the General Thomas Sumter Memorial Park. And Fort Sumter in Charleston (where the first shots of the Civil War were fired) is also named after the general.
The historic downtown area is easily walkable with highlights including the Sumter Original Brewery, Centennial Plaza, the Sumter County Museum and the historic Opera House.
Other interesting activities or places to visit within a short drive of downtown Sumter include the old-school Sumter County Flea Market (loads of character at this site) and Swan Lake Iris Gardens – 8 types of swans live here, and it is a popular place to visit from about mid-May through mid-June due to thousands of blooming irises.
The town has been home to a number of prominent individuals including the birthplace of Clara Louise Kellogg (born 1842); a world-famous operatic soprano who performed internationally including in the great cities of Europe) and numerous athletes including Ray Allen, 10-time NBA all-star.
Select Wines
All their wines are 100% varietal.
The 2018 Rivers-Marie Platt Vineyard Chardonnay (all Wente clone, Sonoma Coast) was aged in 100% French oak of which 35% was in new barrels. This wine is medium golden in color with pretty aromatics including citrus blossom, almond and an orange peel zest. On the palate there is a richness of flavor (including apple), a roundness of texture but with a complementary brightness of acidity, minerality notes and a subtle hint of butter on the finish. Bright, balanced and very lively.
The 2018 Rivers-Marie Silver Eagle Vineyard Pinot Noir (is from a vineyard on the Sonoma Coast owned by the Valdez family of Valdez Family wines). Of all their Pinot Noir sources, fruit from this vineyard tends to ripen first. Medium ruby the aromatics are noticeably fruit forward showing raspberry along with darker spices and hints of cedar. And as the wine breathes further, notes of mocha are revealed. One word to describe the palate – seamless. Shows notes of red licorice on the finish – with lighter well integrated supple tannins.
The 2018 Rivers-Marie Occidental Ridge Pinot Noir is medium ruby color; offers an elegant bouquet with aromas of ripe plum and cedar box. Slightly savory with some dried herbs. A pleasing union of both spices and fruits. Both red and darker fruits on the bouquet and on the palate including lingering flavors of red cherry and currant. Bright with a dancing twirling finish.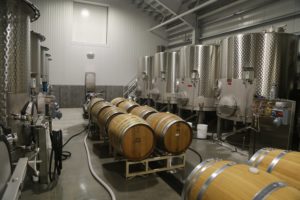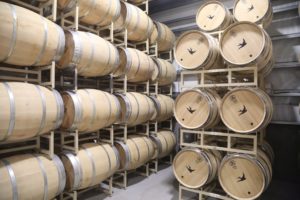 The 2018 Rivers-Marie Panek Vineyard Cabernet Sauvignon (located valley floor north of the town of St. Helena) is a blend of clones 7 and 169; the wine is deep ruby in the glass with a pretty floral note including violets, darker leather and blackberry. Very appealing aromatics. Juicy and mouthwatering from entry through to the finish the tannins are medium bodied, earthy and linger with some subtle hints of old cedar. A complementary brightness from the acidity balances the ripeness of the fruit.
The 2018 Rivers-Marie Calistoga Cabernet Sauvignon (was sourced from Larkmead Vineyards – a few minutes' drive from the Rivers-Marie winery) and is a blend of 4 clones, Olmo (named in honor of former UC Davis Professor, Dr. Olmo who has some important historical connections to Larkmead Vineyards), Jenkins and 30 & 169. Shows dark ruby in color with expansive aromatics focusing on riper fruits including plum, blackberry and boysenberry. A cardamom spice is noticeable on the palate along with wet slate rock, hints of cedar and is anchored by darker fruits. The feel of the tannins across the palate is an intriguing part of this wine – dry, firm yet already fairly well integrated despite the wine's youth at the time of our tasting. Juicy, mouthwatering – lovely to drink by itself.
The Rivers-Marie Herb Lamb Cabernet Sauvignon is sourced from 13 rows (known as the HL1 block) within the 5-acre Herb Lamb Vineyard. Located in the Vaca mountain range off of Mund Lane the property is not quite high enough to be considered in Howell Mountain. This is a very special vineyard – Colgin produced their first wine from this site in 1992 and until 2016 Herb Lamb Vineyards produced their own wines from here. Rivers-Marie now has exclusive access and control of the farming for this vineyard.
The 2018 Rivers-Marie Herb Lamb Cabernet Sauvignon is deep purple in color: the wine smells like this varietal with herbal nuances including menthol, wintergreen, tobacco leaf and dry dust. Savory, earthy, meaty showcasing plenty of darker fruit including blackberry and plum. Juicy and mouthwatering across the palate the wine's backbone is in its layers of flavor (mostly darker fruit), great acid and firm dusty still tightly woven tannins. Lingers with plenty of fruit including some dried herbs and white pepper. An impressive showing with plenty of character to age for years to come.
—
A very limited number of visitors are hosted privately Tuesday through Saturday, by appointment at either 10am or 2pm. Allow approximately 90 minutes for the experience. Production of each wine is often just several hundred cases with total production usually between 3,000 and 5,000 cases per year. The wines are selectively available in certain states including California, Texas and New York. For more information, to schedule a visit or to join the mailing list, visit: www.riversmarie.com
Taylor Lane, Occidental (site of the Rivers-Marie owned Summa Vineyard)