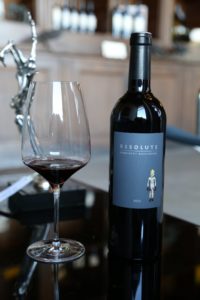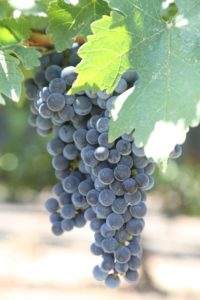 RiverHouse by Bespoke Collection. Proprietor Michael Polenske left the world of finance in 2006 and has built a collection of lifestyle businesses centered around wine, art and design focused on both the Napa Valley and neighboring Sonoma County. He purchased the nearly 10-acre Blackbird Vineyard (7 acres are planted to vines) in the Oak Knoll District of the Napa Valley in 2003 and produced a small amount of his first wine that year. The focus of the Blackbird wines has always been on Merlot.
In 2008 Michael opened Ma(i)sonry in Yountville – a collection of both art and premium wine from select producers – housed in an old stone building dating from 1904. Ma(i)sonry would become the foundation for what would eventually become the Bespoke Collection, the umbrella luxury brand overseeing Michael's interests in art, wine and design. Michael later sold Ma(i)sonry to Restoration Hardware (in 2014) but continues to manage and curate their art collection. His Blackbird wines may also still be available for tasting there.
Michael's interests in the art world continued to grow – in 2010 he purchased the I. Wolk Gallery in St. Helena after the founder and local art pioneer Ira Wolk died in a tragic bicycling accident. In 2014 the Bespoke collection opened an art gallery on the square/plaza in Healdsburg (neighboring Sonoma County). They opened another gallery in Yountville just north of Ma(i)sonry. While all the galleries are located within an easy drive of one another, the works at each of the galleries differ as do the artists represented.
ÆRENA Gallery, 600 Main Street Napa

ÆRENA Gallery, 1354 Main Street, St. Helena

ÆRENA Gallery, 115 Plaza Street Healdsburg

After selling Ma(i)sonry, Michael and his staff were interested in finding another location where they could pair art with Blackbird wines. They looked for quite some time before discovering this somewhat rare downtown Napa River front facing space. The space not only appealed to them, but so did the views overlooking the river. The RiverHouse opened in September 2016 along the Napa Riverfront Walk just off of Main Street (almost directly behind the Napa Valley Welcome Center). This space closed on Monday December 13, 2021.
Note: RiverHouse closed for visitors in December 2021. By March 2022 what was ÆRENA Gallery in the RiverHouse moved to 606 Main Street in downtown Napa. The former RiverHouse space was taken over by Masaharu Morimoto (owne of the nearby Morimoto's restaurant). We will keep a close eye on this and will update our notes accordingly after our visit to their new location. This review has been identified as needing a major update.
Michael's work with art does not end with these galleries – the Bespoke Collection also curates at any one time, between 60 and 80 pieces of sculpture at Auberge du Soleil, as well as at MacArthur Place in the town of Sonoma and Solage in Calistoga. There are even a few prominent pieces displayed at the Blackbird Estate property on the corner of Oak Knoll Ave and Big Ranch Road. Collectively these art spaces are grouped under the ÆRENA Galleries & Gardens – a name taken from The Man in the Arena – a speech that Theodore Roosevelt delivered in Sorbonne Paris in 1910.
Combining art with wine tasting is a unique experience in Napa. One tends to stay longer in this gallery then if one was simply walking into an art only space. Employee and Private Client Leader, Jonathan Hensen describes a main part of his job as sharing information about what they do at the winery and in the vineyard for visiting guests and creating a personal and emotional connection for people to the wine they are enjoying. He says, "emotion makes wine taste better" – and to this we can add, it can certainly add an additional element of fun and enjoyment to the experience.
While both visually appealing art is on display so too is functional artwork including furniture. All the pieces contained within the gallery are available for purchase. Michael travels to Europe several times a year seeking out unique and interesting pieces of art. They work with a number of artists – often California based but also with Internationally based artists. A number of the artists represented have had their works displayed in a number of prominent museums.
Select Wines
The Bespoke Collection offers wines from several brands including Blackbird, ÆRENA and Recuerdo. We have also tried a Lake County Cabernet Sauvignon bottled under the brand, Resolute produced for only a few years. This wine was sourced from vineyards at 2,400 feet in elevation (2014 was the first vintage). The label on Resolute brings Michael back to his childhood. He recalls his father gave he and his older brother a pair of boxing gloves while they were still children. While shopping for art at the well-regarded Modernism (art gallery) in San Francisco Michael describes being immediately drawn to a particular piece of art. It was an oil painting of a young boy with a crown on his head, boxing gloves on both hands and at least one black eye. This drew Michael back to his childhood experience of boxing with his brother and being the younger yet still tough fighter.
In that regard, this wine is resolute in the wine world; pairing a Lake County Cabernet Sauvignon against a Napa produced Cabernet Sauvignon – perhaps determined to prove its character and quality against its neighbor, a region already known worldwide. And Michael is no stranger to promoting wines that perhaps lie in the shadows of other wines or regions. Blackbird Vineyards had to fight the backlash against Merlot caused in part by the film, Sideways which was released in 2004. Not wavering from this variety and their estate vineyard, Blackbird produces three red wine blends – each of which contains significant percentages of Merlot.
Tasting notes from select ÆRENA wines coming by end of 2023 or 2024.
Recuerdo Wines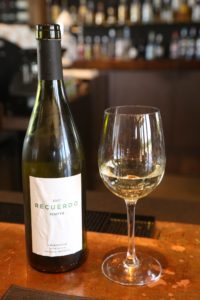 Paul Leary, partner in the Bespoke Collection is a one of the Private Vineyard Estate Owners at the Vines of Mendoza in the Uco Valley Argentina – an ambitious project encompassing some 1500 acres including vineyard blocks owned by various investors, the world-class The Vines Resort & Spa, the acclaimed Francis Mallmann Siete Fuegos Restaurant, the Winemakers Village (a select part of the property created for physical wineries) and the Vines of Mendoza's own winery.
While the Recuerdo Wines were not available for tasting at the RiverHouse in Napa, they are available for purchase. They are also available for tasting inside the Vines to Go tasting salon located next to the pool at the Vines of Mendoza Resort & Spa. And the Recuerdo Wines can be ordered at Francis Mallmann's Siete Fuegos Restaurant or at the bar next to the restaurant.
Recuerdo Wines is a partnership between Michael Polenske and Paul Leary and the team at The Vines of Mendoza.
The 2017 Recuerdo Chardonnay. The color of this wine is similar to the transition in a lemon, between where peel meets pith. Fresh aromatics. Think springtime poolside at The Vines of Mendoza Resort overlooking the vineyards and the snowcapped Andes with bright sunshine everywhere. Citrus blossom. Minerality and freshly cut pineapple. Crisp on the palate with a texture that is slightly rounded. The acidity is bright and shows nicely. Lingers with flavors of orange mandarin. A hint of spice reflects on the clean finish for but a moment. Easy drinking, showing very well by itself.
Vines to Go Salon, The Vines of Mendoza Resort

—
Riverhouse Napa (permanently closed in December 2021)
Several tasting experiences were offered at the RiverHouse (where wine was paired with art) including the Portfolio Tasting which included the current releases of Blackbird Wines and the Bento Box tasting, a Bento Box lunch prepared by their culinary neighbor, Morimoto Napa. This was paired with the current releases of the Blackbird wines. And a number of other exclusive experiences were offered including a flight, yacht tour and customized activities using the expertise of their concierge staff.
Tastings were originally conducted inside but later tastings were offered on the walkway directly outside.
We keep our notes and photographs here for historical purposes.
For more information about Bespoke Collection and its lifestyle opportunities, and to order wines from its represented brands, visit: www.bespokecollection.com