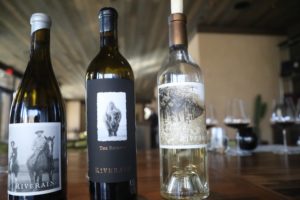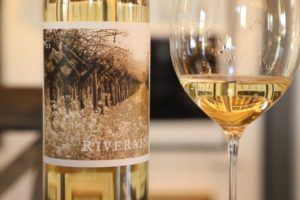 Riverain was founded by several friends who originally connected in Orange County through the world of wine, Steve Nordhoff (founding attorney of Nordhoff Bengfort, a Newport Beach based legal firm) and Dean Gray (worked in the field of consumer packaging, initially for Proctor and Gamble) and Dean's wife Laurie (who captured the lovely photographs for some of the Riverain labels). Their inaugural vintage was in 2011 – merely two wines, a Cabernet Sauvignon from Tench Vineyard in Oakville and a Syrah from the Cardiac Hill Vineyard in Bennett Valley (neighboring Sonoma County). Production has grown slowly over the years, but still remains small (a typical vintage is around 500 to 600 cases in total) and in addition to their Cabernet Sauvignon has evolved to also include a Sauvignon Blanc and a Pinot Noir.
Dean's son Scott is the face of the brand in the Napa Valley – he lives and works in the valley having spent 2 years working with winemaker Thomas Brown at Outpost Winery in the cellar and more recently as cellar master at Mending Wall Winery. He is also directly involved in helping craft the Riverain wines.
According to Scott, Steve is the 'wine geek' in the group and was already familiar with Thomas Brown and a number of the wines he produced for various clients. When it was time to get serious about their brand, Steve, Dean and Thomas met at Press Restaurant in St. Helena. Steve and Dean decided to partner in the business and Thomas agreed to be the winemaker. He has made their wines since the first vintage.
Thomas is one of the busiest wine makers in the Napa Valley. Several producers have showed us lists of all the Napa brands that he consults for and or provides direct winemaking services; this is an extensive list. Originally from Sumter, South Carolina – he developed an interest in wine while attending the University of Virginia where his major was not wine related (he studied English and Economics).
He moved to the Napa Valley in 1996 and took a job at All Seasons Bistro in Calistoga (known for their California cuisine, wine selection and long time in business – but unfortunately permanently closed in 2020). While there, Thomas met winemaker Ehren Jordan who was working for Larry Turley at the time of Turley Wine Cellars. Thomas took a job with Ehren in the cellar at Turley in 1997 – spent several years there before beginning his own career and starting to consult for various clients (some of which were clients that Ehren was already working with).
And within only 10 years of making wine in the Napa Valley Thomas received two 100-point scores from Robert Parker – regardless of what your perception is of scores, creating several wines within a short period of time that receive 100 points from Parker was a watershed moment in Thomas's consulting career.
Today Thomas is highly sought after for his winemaking services, experience and access to premium area vineyards. And while he was once the student, over the years he has become the teacher. We have met with a number of winemakers who worked under Thomas – and consider him one of their mentors. These are winemakers who have gone on to establish their own brands or consult for other Napa based brands.
Select Wines
The 2021 Riverain Sauvignon Blanc Riverbound Vineyard Yountville is medium golden in the glass; the aromatics are highly attractive, elegant, diverse and beg one to try this wine. The bouquet features notes of honeysuckle, jasmine, citrus blossom, lemon juice, a kaffir lime zest and a fruit sweetness including of cantaloupe, pear and Golden Delicious apple. It smells like what one would expect of white florals and spring time. The beautiful, bright, balanced and energetic palate offers flavors of pear, apple, mandarin, lemon juice and grapefruit. This wine is lively, refreshing and mouth watering with a light tartness but not a greenness. The varietal characters are expressed well. And refreshing is this wine's alcohol at 13.2%, far less than many of the Napa Valley Sauvignon Blanc bottlings we have recently tried. This is an ideal wine but itself, but also as a palate cleanser following tasting robust and fruit forward Napa Valley Cabernet Sauvignon bottlings. It was aged for 10 months in 25% new French oak barrels and 75% stainless steel vessels.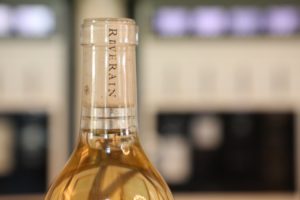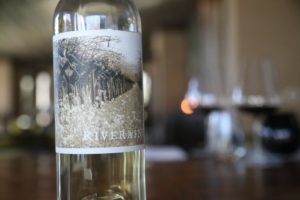 The 2018 Riverain Sauvignon Blanc Riverbound Vineyard Yountville is from the Gamble family owned in Yountville. Riverain harvests the same three rows in the same block each year. This wine is medium golden color with plenty of floral aromatics initially showing including honeysuckle, lychee and notes of pear and pineapple. As the wine breathes further, reveals a lemon/lime zest. This is a very attractive bouquet. Balanced across the palate with hints of some mineralities on the finish – complemented by a noticeable brightness along with flavors of red apple and mandarin. Aged in both neutral French oak barrels and stainless steel for 10 months.
Dean's relationship with Tom Gamble (owner of Gamble Family Vineyards in Yountville) is an important one in the early development of Riverain. Dean began visiting the Napa Valley in the late 1990s and through his work with Proctor and Gamble he met Tom. Tom was instrumental in helping introduce him to a number of vintners and others in the wine business. Eventually Dean purchased a home in Rutherford (the Riverain House) not too far from the Napa River.
Riverain in French refers to as a riparian zone or being 'near the river' and also someone who is local to an area, a resident.
The Riverain Pinot Noir is a rare Thomas Brown produced wine of this variety for a client (considering he has become known for his Napa Valley Cabernet Sauvignon). However, Thomas also operates Rivers-Marie with his wife Genevieve, among other wines produced under this brand, are several premium Pinot Noirs. The 2018 Riverain Generations Pinot Noir Sonoma Coast "Silver Eagle Vineyard" Pinot Noir is the Riverain inaugural vintage of this variety. It is a blend of two Pinot Noir clones – weighted towards 828 but also with Pommard. Offers elegant fruit on the bouquet but also with a savory side – including aromas of dust, dried herbs and a hint of mushroom. Features a simultaneous lightness but also a depth of flavor across the palate – so balanced, so soft – simply seamless in its flavor and textural profile. Lingers with notes of raspberry and a sweetness of fruit on the finish. Only 85 cases of this beauty were produced with a very slight increase in production for 2019. Highly worth seeking out.
The 'nuts and bolts' of their production as Scott phrases it, since day one has been Tench Vineyard, bordering the Silverado Trail in eastern Oakville. Riverain has sourced from the same block of Cabernet Sauvignon each year – a piece located on the northeastern side of the property with vines growing in red rocky volcanic soils. For several years as new vines took hold, grapes for this wine were harvested at two separate times, but as the vines matured, equilibrium was reached as far as phenological ripeness between the younger and older vines and today the grapes are all harvested at once.
The 2017 Riverain Tench Vineyard Cabernet Sauvignon was picked in late September, several weeks earlier than a normal year – fortunate in that the terrible brush fires and resulting smoke that somewhat defined this vintage in both the Napa Valley and parts of Sonoma County occurred about 10 days later. This wine offers aromatics of dust, ripe fruit including plum and some savory nuances. Fresh herbs, sage. Briary, slightly savory. One can feel and taste the site and the soils on the finish – with dusty, earthy and granular feeling tannins that persist for some time. But most noteworthy of this wine and vintage is its brightness. Of all their vintages from this vineyard, Scott has noticed this one has the most acidity.
The 2018 Riverain Tench Vineyard Cabernet Sauvignon is deep ruby in color with purplish tinges along the rim. Offers captivating aromatics that keep evolving as the wine opens including aromas of blackberry and chocolate, and at times some herbal notes including a nice union of sage and violet. Its texture is appealing – with moderate tannins yet dense and somewhat chalky in their feel, they are rounded and nicely integrated. Hedonistic, rich, rounded and flavorful – everything that this site can produce is showcased in this wine in this particular vintage. The defining characteristic of this wine is in the sum of its parts; it is remarkable in how well it drinks and feels in its youth – its simultaneous ripeness plus freshness plus overall balance is uncharacteristic of a Napa Valley Cabernet Sauvignon this young. A collector's crowd pleaser for sure.
Their reserve Cabernet Sauvignon is always a barrel selection from what the team feels are the best barrels of wine from the Tench Vineyard. In 2017 they chose 4 barrels – two aged in Darnajou and two in Taransaud. The 2017 Riverain Reserve Tench Vineyard Cabernet Sauvignon is dark ruby/purple in color; it offers dark aromatics including plum, blackberry and chocolate along with darker spices. The density of fruit is obvious with bigger tannins yet with a texture that is still integrated into the overall feel on the palate. Long lasting. Shows notes of savory plum on the palate with dried tobacco leaf nuances that linger along with a mouthwatering acidity. Built to age. Built to be big but balanced.
And the intriguing label for this wine is an image from a photograph of a bison taken by Gary Crandall of Gray Crane Studios in Jackson, Wyoming (the piece is called Ghost of the Plains).
—
The wines are primarily sold direct to consumer and private tastings are hosted by Scott at Mending Wall Winery. Tastings may also include older vintages as Riverain holds back a certain small percentage of wines each year for their library collection. Based on where the owners spend most of their time, the wines are very selectively distributed in both the Napa Valley and Orange County – primarily at restaurants but also at some retail wine shops including at ACME Wines in St. Helena and at Hi-Time Wine Shop in Costa Mesa. And very limited distribution in Florida and Texas.
For more information or to acquire wines by joining their allocation list, visit: www.riverainwines.com