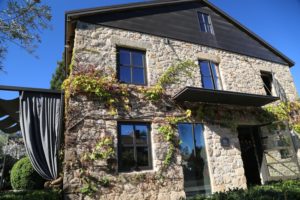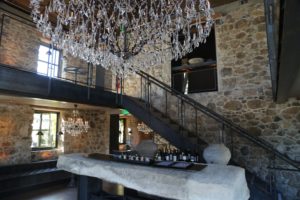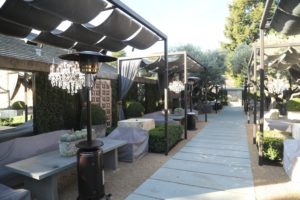 RH Wine Vault is located across the street and just down from the famed French Laundry restaurant. Formerly the tasting building known as Ma(i)sonry – this fancy spelling of the word masonry refers to the trade of building a building from stone. This old stone building used to be a former distillery and was completely gutted and elegantly restored a number of years ago. It is one of only two buildings in Yountville to be listed on the National Register of Historic places (note the plaque outside) as you walk in. Ma(i)sonry opened by appointment only in early October 2008 and was not your typical wine tasting destination. Founder, Michael Polenske called the space, "Ma(i)sonry is in every way a celebration of life's aesthetics. Every collection on site has been created by the hand of an artist, or artisan, or designer, and, of course, that includes the wine."
Ma(i)sonry was one of the early premium tasting rooms to open in Yountville – followed by a number of other equally high-end tasting rooms to open nearby and further to the south of town.
The old stone building houses some fascinating history; it was built for Charles Rovegno in 1904 – by a local stone mason Angelo Brovelli (Angelo worked on a number of what are now historic stone bridges in the valley). All the stone in this building was quarried from the eastern hills above the valley floor proper. Charles died in 1954 and for some 30+ years the building was a boutique Inn – called the Burgundy House Inn.
This part of Yountville, which we call NoYo (North Yountville) used to be known as the "Chinahouse" part of town – not quite large enough of an area to be called Chinatown.
Now called The Wine Vault at the Historic Ma(i)sonry Building, it is currently owned by RH (formerly Restoration Hardware) – a premium purveyor of furniture, lighting, textiles, rugs, bathware, décor and outdoor products. RH operates numerous galleries throughout select parts of the United States and Canada and was founded as a single store in Eureka, California in 1979; the current headquarters are in Corte Madera (San Francisco Bay Area). Additional RH properties are located in Manhattan, Palm Beach, Boston, Chicago and Nashville.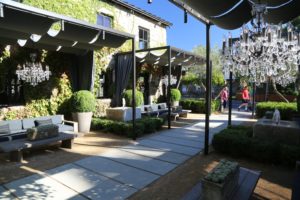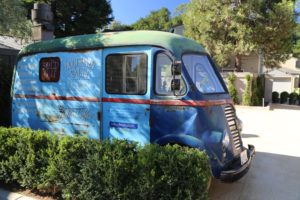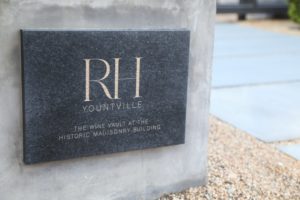 Until the complete interior and exterior courtyard redesign of 2018 (led by John Gillam of Backen, Gillam, & Kroeger Architects), Michael Polenske's Bespoke Collection was curating and managing the art collection housed within the space and grounds. Ma(i)sonry closed temporarily in 2018 and reopened on October 1st that same year as part of the RH Gallery and Cafe (the Yountville RH Campus). The changes are dramatic; the art collection has been removed, the building offers more space and less objects with the focus now being on the wine.
A chandelier heavy decor is prominently featured in both the Wine Vault, the Cafe and the neighboring lifestyle gallery. The focus of this campus is as their tagline indicates, "an integration of food, wine, art & design". While the previous selection of wines was limited to certain Napa based vintners, wines from several of these vintners continue to be offered here, however the wine selection has increased dramatically – focusing primarily on some of Napa's most premium producers (although there are a number of higher end Sonoma County based wines also offered). And a number of the wines offered are produced from wineries who typically do not maintain their own tasting rooms or other public tasting spaces. As a result, if you would like to taste through just one of these producer's wines you may do so by requesting one of their "wine flights". And specific winemakers whose wines are represented here may host guests from time to time.
One can expect to find both current and sometimes older vintages from wineries such as Eisele Vineyard, The Mascot, select Paul Hobbs produces wines, Opus One, Dominus, Shafer and others. Wines are categorized and can be ordered by variety (featuring some of the most common varieties grown in Napa including Cabernet Sauvignon, Chardonnay, and Pinot Noir among others (there is also a selection of Bordeaux-styled blends). Wine flights are presented in three categories, Classic (includes Napa and other locations in California), Connoisseur (focusing on single vineyard Napa wines from Napa producers) and Collector (featuring some of the Napa Valley's most limited production and coveted wines).
Wines can also be ordered by the bottle and enjoyed inside the building or in the bucolic courtyard in a number of relaxing spaces nestled under the old olive trees. And a separate building at the edge of courtyard offers a variety of wines by the glass as well as coffee, tea and miscellaneous drinks including several specialty beers.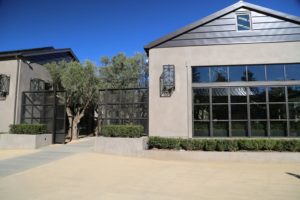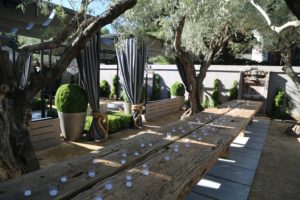 RH Wine Vault also provides more intimate tasting experiences by appointment, held upstairs in either of their two private rooms. This setting is an opulent reminder that when one thinks Yountville has reached a certain sophistication plateau, another space comes along and sets the bar even higher. Although for some quick perspective, after visiting the RH campus, duck into the dive bar Pancha's located just north and across the street. A visit there, perhaps will give one some perspective of what parts of Yountville used to feel like.
While the RH Wine Vault features several gorgeous Chandeliers, the RH Restaurant next door brings the number of chandeliers to the next level. Highly visible from the sidewalk, the two primary dining spaces offer intrigue, magnificence and is clearly a space to see and be seen. Guests interested in visiting the art galleries in the back pass through a walkway dividing the two restaurant spaces.
Several unique tasting experiences are offered at The Wine Vault including the Wine & Cheese Experience – which pairs some of their member wines with both local and imported cheese and charcuterie, the Wine & Caviar Tasting – with member wines paired with locally sourced caviar and their Apres the Day – an after hours private tasting hosted by one of their wine consultants (ideal for slightly larger groups).
Note that the RH Wine Vault also offers concierge services to help hand craft customized itineraries in the Napa Valley (including a visit to their tasting room) as well as helping to organize lodging, lunch and dinner reservations as well as transportation. Inquire for details. This is a somewhat unique offering by a Napa Valley tasting room.
Their Medallion Membership program features three tiers of wine club membership.
For more information and a current list of vintners represented, visit: www.maisonry.com
RH Wine Vault

RH Restaurant + RH Gallery