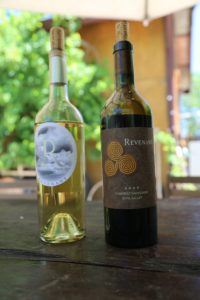 Revenant Wines was founded in 2005 by wine maker Anthony Knox. While this was his first Napa project, he is certainly not new to the wine industry. He grew up in a family where food and wine were an integral part of life. His mother was the manager of Blum's Restaurants and Tony would often accompany her to work in San Francisco. He remembers his attraction to the San Francisco Bay Area began while on these trips with his mother. While she was working in the restaurant, he would ride cable cars up and down the streets of San Francisco getting to know a number of the cable car drivers. He would then accompany them into Blum's where his mom would serve them meals.
And it is wine that has taken him all over the world – early in his career he was a bartender. He remembers one particularly busy night when there was a demand for mixed drinks, and it was all he could do to keep up with customer requests. A gentleman saw how hard he was working and approached him towards the end of the evening. This man was John McManus the owner of a number of restaurants in Waikiki. He invited Anthony to Hawaii to help manage his restaurants including the very popular restaurant at the time, Blue Water Cafe.
Upon returning to California Anthony was approached by the General Manager of Southern Wine and Spirits and Anthony became one of their leading salesmen, making valuable contacts in both the restaurant and wine world. He lived in Italy close to the beautiful shores of Lake Garda for a while (outside of Verona) when he was working as Sales Manager for an Italian wine import company. And as Anthony says, "there is mostly Italian wine experience on my resume, because the Italian's keep calling me".
Anthony has worked with a number of winemakers over his career. However, he considers Terry and Frances Leighton, proprietors of Kalin Cellars (Marin County based, founded in 1977) as mentors to his own wine making. Anthony ages his wines sur lies and bottles all his red wines with no filtration and does a minimum of fining using organic egg whites. He also stresses the importance of blending and does so with all his red wines. And ensuring his wines retain good acidity is another key element of his wine making.
The white label wines are his non-Napa wines. Currently he produces two wines from Paso Robles, a unique white variety, Fiano and a delicious food-friendly red Cuvee blend.
Select Wines
Fiano is an extremely unique variety for California – we have not yet seen this growing in Napa (although we do know of one Napa producer sourcing it from outside of the county). It is a variety that grows in the Campania region of southern Italy and on the island of Sicily. It thrives in warmer weather and Anthony says if it were to grow in Napa, it would probably do best in Calistoga. He is currently looking for a grower to plant this variety in the Calistoga area.
The 2014 Revenant Fiano underwent a slow cold fermentation period in stainless steel tanks. The wine was aged on the lees in once used French Oak and did not go through malolactic fermentation. It is noticeably dark golden in the glass and shows some unique and layered characteristics aromatically. It is distinctive with aromas of honey, cantaloupe, lemon and almond on the bouquet. This wine is truly gentle on the palate, creamy, soft and rounded. There is a richness of flavor that lingers for some time on the finish along with a slight nutty nuance. It is a treat to try something a bit different from the ubiquitous Napa Chardonnay and Sauvignon Blanc.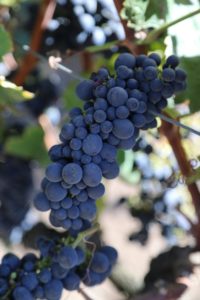 Syrah is as Tony calls it is his "vanity project" and is his favorite variety to drink. He doesn't make much of this – only slightly more than a barrel each year. He has been working with the Frediani Vineyard in Calistoga since his 2006 harvest and until more recently was the only vintner sourcing this variety from this vineyard. The 2013 Revenant Syrah was aged in four barrels – racked several times during the aging – two French and two American oak barrels. And then Tony chose the best barrel of wine from the four.
It shows a meaty/gamey bouquet – with aromas of bacon fat complemented with notes of holiday spices including cinnamon. There is also a spice component, not necessarily pepper as we often taste on cooler weather grown wines of this variety but perhaps more of a spicy oak characteristic. On the palate the wine is somewhat briary and brambly with ripe flavors of blackberry tinged with a pleasing clove note on the finish. Earthy tannins linger.
The 2007 Revenant Napa Valley Cabernet Sauvignon was 9 years old at the time of our tasting. Aromatically it smells like a younger wine – with powerful fruit forward aromas that quickly envelop the glass. Baking spices, black currant and blackberry show along with a darker fruit liqueur note. These are lively aromatics. The wine is juicy, shows a richness of fruit, and is balanced. The tannins are somewhat dusty, fine grained and are well integrated. This wine has held up very nicely.
The 2013 Revenant Napa Valley Cabernet Sauvignon is all Calistoga sourced fruit – the aromatics are sweet showing ripe cherry and blackberry – it's somewhat brambly on the palate showing bigger fruit then it's structure. The tannins are somewhat chewy and linger along with notes of toasted oak, cinnamon and a powerful grip of fruit. Decent acidity complements the complexity and depth of the fruit.
The 2012 Revenant Propriety Red was sourced from two vineyards in the Napa Valley – along the northern Silverado Trail near the Three Palms Vineyard and from Spring Mountain. It is a dark wine in the glass with intense darker fruit aromatics including blackberry. This wine delivers a softness yet at the same time delivers a richness on the palate. It has a very lively finish with polished slightly earthy tannins. This is an opulent wine.
—
While his primary wines all use free run juice, he also produces a second label called Griot which are wines made from pressed juice. Griot in French refers to story tellers based in West Africa and is used to describe tribal historians – including those who create stories around both music and poetry.
The name and symbol on his wines are meaningful. Revenant in French means "to return" and ties in with his decision to start this label – returning to the wine business so to speak. The symbol on his label is a triskele originating from a Celtic emblem which visually depicts the symbols of life including earth, water and sky. And all three certainly tie into agriculture and the art and science of growing grapes and producing wine.
The total production of Revenant Wines is around 1,000 cases annually with the majority of the wines sold through distribution. Tony has utilized distributor contacts he made throughout his career in the wine business and the wine is selectively distributed in Texas, New York and Internationally including Quebec and the Netherlands. For more information and to purchase wine, visit: www.revenantwines.com