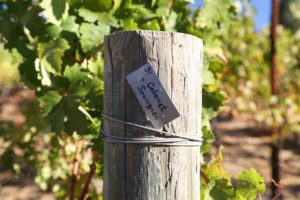 Reid Family Vineyards has been making wine commercially since 1996 – but their roots run much deeper in the area than that. A family member originally moved to Knights Valley (just north of Napa Valley) in the late 1840's when land was given to him by well-known California military officer and explorer, John C. Fremont. This was a time when Grizzly bears still roamed what would eventually become "wine country".
Their direct lineage Napa Valley family roots trace back to 1862 when proprietor and Winemaker Kirk Reid's great-great grandparents met in what was called Napa City at that time, at the Napa Hotel and eventually settled in Calistoga. In those days the Napa Hotel was able to accommodate horses, buggies and carriages for weary travelers who would have had to travel for many hours to reach the hotel, due to the primitive transportation options in those days. We spotted a notice in an old issue of the Sacramento Bee advertising accommodation coaches would leave Benecia at 7am in 1859, be ferried to San Francisco and then be ferried up to Napa arriving late in the evening that same day and then continue on up to White Sulphur Springs Resort in St. Helena.
Yosemite and the naturally occurring Geysers (in Sonoma, Lake and Mendocino counties) were especially sought after attractions by those on the East Coast who were visiting California in the mid to late 1800s. Kirk's great-great grandparents would host visitors and then guide them by mule up to the geysers.
Kirk and his family moved to Napa Valley in 1978 from Los Altos He practiced medicine in Napa for 35 years, had an office on Trancas Street, but is now retired, but winemaking is his serious "retirement" job. Kirk served in the Philippines in the Peace Corp (taught Biology there in his early twenties), made several trips to the USSR in the late 1980s including to Telavi (now in the country of Georgia and a prominent winemaking region ). At the time, Reid was attempting to form a sister city relationship between Napa and Telavi. And Kirk's wife Karen also served in the Peace Corps, in the very remote Caroline Islands (part of Micronesia).
The Reid family purchased this property in the early 1980s; the site of an old prune orchard. For many years Kirk raised llamas including for sale under the name Napa Valley Llamas and made home wine. By virtue of living in Napa he knew a number of vineyard owners and winemakers; in other words wine making expertise was not hard to find. He has learned wine making "by doing" over the years. And today his two sons Kevin and Bae are involved (Kevin helps out with social media and some marketing and Bae helps with the wine making (having worked at another winery in the Napa Valley for prior experience).
The winery and property is technically in the city limits of the western part of Napa and sits in the low foothills of Mt. Veeder and the southern end of the Vaca mountain range (forms the Western spine above Napa Valley floor). The encroaching city is nearby; to reach the winery one drives through a number of residential neighborhoods.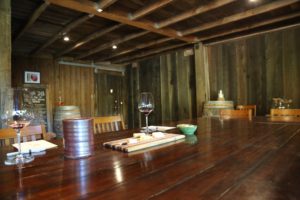 The winery cellar itself is one of the best examples of "how to" build a small winery in the Napa Valley. It is modeled after a number of traditional French Chateaux's – even down to how the barrels are stacked, handled and racked. Taking full advantage of their "terroir" in the Napa Valley and some of the best insulation money can buy – this above ground winery requires no air conditioning. Being located in the Napa City limits – the site is not that far from the cooling influences of the nearby San Pablo Bay.
For several hours in the very early morning (usually around 2am) – the winery automatically opens vents in the walls near the floor – with a fan that turns on. During this time the warm air is sucked out of the winery near its roof and the cold air is sucked in and fills the entire winery. After several hours the vents close, the fan shuts off and the winery remains very cool through the entire day. Even on 100 degree days – the inside remains at or near cave temperatures.
When researching how much it would cost to put in a system to manage the winery waste – Kirk began to do some research. He found a unique system (still in its early design stages) through a student doing research at Sonoma State University (in neighboring Sonoma County). Finding this "test" system for managing waste much cheaper than standard winery waste management systems – Kirk implemented it. Waste from inside the winery passes through oyster shells to neutralize acidity and then is piped into the ground and delivered to 20 redwood trees around the property – providing additional nutrients. Judging by the health of these trees – this system is working well!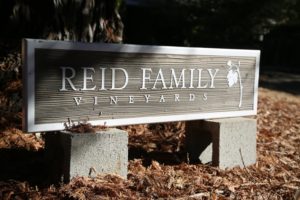 As a result, Reid Family is the only winery currently in Napa County with this unique system; their winery is also a test site for the Napa County Department of Environmental Health.
All their wines are named after family including their children, Kirk's wife, his grand kids and even Bae's wife has a wine named in her honor. The winery itself is an old barn that dates from 1882. Kirk planted the vineyard in 1992 – entirely to Merlot. His neighbor had recently planted Merlot and Duckhorn was buying Merlot from a nearby vineyard. Kirk describes himself as a "varietyaholic" and over the years has budded a good portion of the Merlot over to what is now 7 varieties.
Select Wines
The 2012 Reid Family Kyla's Cuvee is a 50/50 blend of Chardonnay and Viognier. Viognier is a very aromatic variety – it becomes a bit more subdued when blended with the Chardonnay but still offers plenty of pretty aromatics in the glass. Tangerine blossom, other citrus and as it opens it shows a touch of tropical notes – yellow pineapple. On the palate it is crisp and clean with lingering flavors of green apple. This wine does not see any malolactic fermentation and no oak.
The 2010 Reid Family Erik's Zinfandel is blended with 5% Petite Sirah. As with all the wines we tasted – aromatics are an important part of Kirk's winemaking. This is clearly evident in this wine – the bouquet bursts out of the glass – big ripe fruit aromas, ripe blackberry, almost a cherry liqueur – the nose would lead one to believe this wine is high in alcohol and probably jammy on the palate. Not so at all. The wine is under 14% alcohol and medium bodied on the palate. Some spicy notes show mid palate and the fine grained earthy tannins linger on the finish.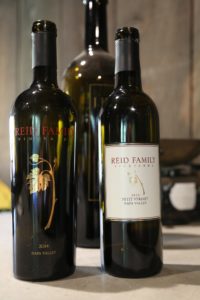 The 2010 Reid Family Kevin's Cuvee or as Kevin calls it, his "flagship Bordeaux blend" shows both red and dark fruit aromas on the bouquet. Deeper into the aromas hints of vanilla show. As the wine breathes beautiful baking spice aromas come forward. A sweet core of fruit shows on the palate – this is a lively wine. Incidentally his 2011 vintage, the "Pops Blend" is named in honor of his wife's father – who recently celebrated his 100th birthday.
The 2011 Reid Family Karen's Cuvee is named in honor of his wife and is a unique blend of Syrah and Zinfandel. Kirk describes this as his Mozart wine – more pretty, delicate. It is rounded initially with a softer palate – this is a wine that is certainly easy to drink. More red fruit than black fruit shows on the palate. The tannins are there but are soft throughout.
—
When reflecting on what he enjoys most about the wine industry, Kirk realized that gatherings of family and friends to help at the winery – either bottling, or during harvest and enjoying good food and wine are what means the most to him. Looking to incorporate these events for potential customers, Reid Family came up with a novel ideal several years ago.
They are the only winery we know of in Napa offering a "Bottle a Barrel" program. For a set price per bottle – you can reserve a day (well in advance and typically a Saturday) with Kirk and he will oversee the production of one barrel of wine (this is 24 cases). The wine will then be bottled and will be yours to take home. Group sizes for these events are usually in the 30-40 range but do vary in size. A number of corporate planners have used this program for their clients or teams.
A few years after they began producing wine commercially they found themselves purchasing fruit – and their production was above 1000 cases. As Kirk told us, "it wasn't so fun anymore" and today they focus on mostly estate fruit. Production is often in the 400-600 case range. They have no distribution whatsoever – all wine is sold through their wine club.
—
And Reid Family is home to the annual Crush MS event (founded in 2014). The goals of this non profit are to leverage the wine community to raise funds and awareness to eventually find a cure for multiple sclerosis. Funds raised from their various events are donated to Stanford University for immunology research and to programs that directly benefit people living with MS. Kirk and Karen's son was diagnosed with MS in 2002.
To join their wine club, to schedule a tasting or for more information visit their website: www.reidfamilyvineyards.com