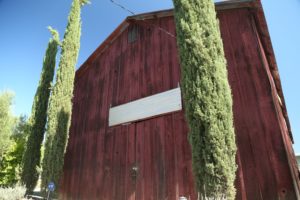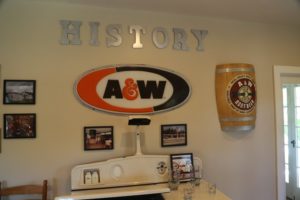 Redmon Wines is a small St. Helena based producer focusing on small lot wines – typically with a production of under 300 cases per each bottling. Their total annual production is around 1500 cases. The winery is owned by Lisa Redmon; as a sole proprietorship, she wears all the 'hats' that comes with owning a small winery. This includes wine making decisions, input into vineyard management and overseeing the sales and distribution. Lisa is originally from the San Francisco Bay Area but has lived in Napa Valley for 40+ years.
The roots of Redmon began when Lisa's father Tom moved the family to Napa Valley in the early 1970s and purchased the only "fast food" restaurant in all of the northern Napa Valley – the A&W in St. Helena. This will remain the only fast-food restaurant in St. Helena as it was grandfathered in before an ordinance prohibiting fast food restaurants in the town. A number of family members worked at this restaurant over the years including Lisa when she was a child. She recalls her father talked to her teachers at St. Helena high requesting she leave class 20 minutes early to work the lunch shift at the restaurant (across the street from the high school) and she would go back to school with her lunch – naturally a hamburger. The family owned the A&W for some 35 years before eventually selling it. Using the profits from the restaurant, in the early 1990s Tom purchased a 3.5-acre vineyard directly behind and west of Corison Winery – a short distance in from highway 29 in the town of St. Helena.
This small vineyard is entirely planted to Cabernet Sauvignon and many of the original vines dating back to the early 1970s are still in production (clone 6 planted on St. George rootstock – a phylloxera resistant rootstock). Any Cabernet Sauvignon vines still commercially producing from the early 1970s or older growing in Napa Valley are in a very select group of company. Others in the valley we know of that are 50 years or older include some vines at Scarecrow Vineyard in Rutherford, MACDONALD Vineyard in Oakville, a small vineyard owned by Grace Family Vineyards, a tiny vineyard on Grant Street in Calistoga and what is the largest planting of old vine Cabernet Sauvignon in Napa, Valley, owned by Grgich Family next to Yountville.
Eventually Lisa took over the management of the vineyard from her father. At the time the vines were all head trained without trellising, the rows were planted 10 feet apart from each other and the entire vineyard was dry farmed. Lisa added trellising to the vineyard and retrained the vines completely, added new rows of vines in between the old rows and brought in irrigation as needed. Today their farming is a mix of both traditional and contemporary practices. And in a tribute to the old head pruned vines and her family name, the R in their label is roughly in the shape of what the old vines looked like after about 1/3 of each vine had to be cut away to begin the process of trellising. And as expected the R is red borrowing from Lisa's last name and is designed in tribute to the history of the vineyard.
The vineyard sits on the edge of the valley floor on what is known as St. Helena bench land – some of the valley's premium vineyard real estate. The soils are composed of gravelly deposits that have washed down from the nearby Mayacamas mountains over the eons as well as volcanic soils. Nearby neighbors include Corison Winery and a Del Dotto owned vineyard.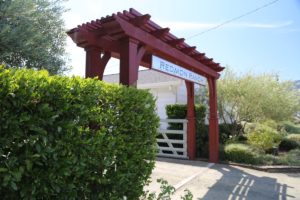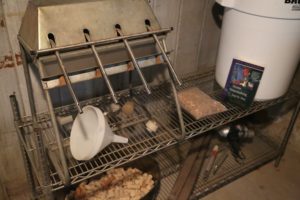 The label began as a very small production in 1999; initially 25 cases (about a barrel) of home wine were made in her garage and then released as a commercial vintage two years later. Lisa purchased Home Winemaking Step by Step and still owns the original winemaking equipment she used for this inaugural vintage including a plastic bin, the 4-pin bottling device, the corking machine and even the original hair dryer used for drying wax. The wine was truly hand crafted and every bottle was numbered by hand.
Lisa enjoyed wines for many years but before co-founding Redmon, she hardly considered herself knowledgeable about wine at the time. By virtue of living in Napa Valley and being surrounded by vines as well as having the opportunity to develop a small vineyard, she discovered the "Napa allure" that often turns wine neophytes into oenophiles. And she is extremely passionate about her business and is always willing to share some of what makes the Napa Valley unique with those that she meets.
For many years Redmon focused on one wine – a 100% estate varietal Cabernet Sauvignon. However, Lisa has since expanded production to include other wines from select vineyards in the valley. These 'source' vineyards are not owned by Redmon but are farmed by family run businesses and are located on both valley floor and hillside locations.
Select Wines
When researching the style of Chardonnay she wanted to produce Lisa didn't have far to look. She purchased a number of Napa Valley grown Chardonnays and placed these wines in several blind tastings identifying the style she was most interested in emulating. Ultimately Lisa began producing a lighter styled, food friendly wine that saw only partial malolactic fermentation and no new oak during its aging. The resulting wine is crisp, clean, yet retains some weight on the palate and pairs well with a variety of foods.
The 2019 Redmon Wines Chardonnay Mueller Vineyard Carneros Napa Valley is medium golden in color; the bouquet offers aromas of red apple, citrus including lemon juice, apricot and as it breathes it eventually reveals scents of crème Brule, warm butter and vanilla. The palate shows both a richness from plenty of California sunshine (despite Carnero's deserved reputation for being a particularly foggy part of Napa Valley) but also a complementary brightness from the acidity which keeps this wine beautifully balanced. It offers flavors of pear, pineapple and peach. The finish is rich, intense and long lasting. This wine was allowed to go through about 30% malolactic fermentation and was aged in French oak barrels of which about 1/3 was new.
The 2009 Redmon Wines Chardonnay shows a pleasing bouquet mostly dominated by citrus including Meyer lemon and orange blossom; however, there is an underlying component of tropical fruit which helps balance the citrus aromas. The mouth feel is soft with some weight, but still in balance. The mid palate is clean, and the finish has some richness to it and is well endowed with various baking spices.
The 2019 Redmon Wines Merlot (100% varietal, single vineyard,) is dark ruby in color; it shows both character and elegance on the bouquet. It offers aromas of tobacco spice, an herbal note including of light green pepper, sage and other dried herbs, black raspberry and some floral notes including violets. Let this wine breathe; it needs time to reveal its fruit and patience will be rewarded. The palate offers flavors of plum, blueberry and a bittersweet chocolate note. It finishes bright, savory, and slightly dusty with both red-fruited flavors and a lingering tobacco spice. The tannins are felt but are nicely integrated. This energetic Merlot deserves your attention.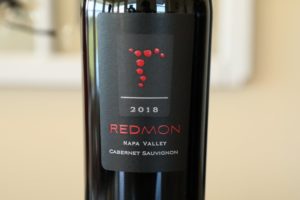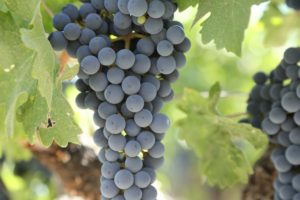 The 2016 Redmon Wines Merlot is from a vineyard on Spring Mountain at about 2,000 feet; it immediately offers aromas of mushroom, coffee grinds, earth notes and warm leather; it is diverse and somewhat savory in its aromatic presentation. Let the wine breathe – more fruit aromatics come forward. On the palate the entry is rounded and soft but well layered with flavors of plum, blueberry and other red fruits. It offers a lovely texture from start to finish with a liveliness that lingers including both acidity and fruit along with hints of tobacco leaf. This highly layered wine shows more depth than often found in a lighter style Merlot.
The 2018 Redmon Wines Napa Cabernet Sauvignon is 80% Cabernet Sauvignon from Rutherford with 10% Merlot and 10% Cabernet Franc. This wine is dark ruby in color; the bouquet offers aromas of licorice, old cedar box wood (reminded us of the beautiful aromatics whenever we open our grandmothers old velvet-lined cedar box formerly used for keeping jewelry), some brambly notes, cherry, blackberry and a light note of dark pepper. Its savory aromatic character is also mirrored on the palate. Its texture is supported by a light grainy tannins along with a note of lingering toasted oak and tobacco spices on the finish.
The 2008 Redmon Wines Napa Valley Cabernet Sauvignon based blend has some Merlot (for softness) and Cabernet Franc to add additional complexity including some spice. The nose shows ripe slightly jammy aromas including blackberry and blueberry. The palate is approachable upon entry with dusty tannins starting about mid plate. The finish lingers with broad fairly coarse tannins as well as both red and black fruit.
The 2018 Redmon Wines Cabernet Sauvignon Coombsville Immaculate Vineyard is deep ruby and nearly opaque in the glass with an amaranthine rim; the aromatics are opulent and showcase a riper expression of this cooler sub appellation. They include scents of blackberry and boysenberry, violets, sage and some darker dessert spices. The bouquet offers plenty of aromatic depth. This wine is bright and energetic across the palate with a refreshing acidity; it offer flavors of red plums, cherry and currant. The tannins are still a bit tightly woven and continue to persist for quite some time with a light dusty note. Of all the Redmon bottlings, this might be the most crowd friendly wine. We would like to revisit this wine in 5 or 10 years to see its progression. Very age worthy. And this was the inaugural bottling from this vineyard for Redmon Wines.
The 2018 Redmon Wines St. Helena Estate Cabernet Sauvignon (all clone 6) is deep ruby in color; the aromatics are attractive and showcase scents of sage, violets, rose petal, plum, blackberry, cedar and a hint of chocolate. The palate sports mouth-filling fruit of plum, cherry, blackberry and blueberry along with a note of chocolate. A brightness showing from the acidity extends from start to finish. This wine lingers a bit savory with darker pipe tobacco, expressive tannins with a moderate but rounded grip and light dusty/dryness on the finish.
The 2009 Redmon Wines St. Helena Estate Cabernet Sauvignon is much darker in color than the Napa Valley Cabernet Sauvignon of this same vintage. The bouquet is seductive and elegant while offering deep dark fruit aromas including blackberry and black cherry as well as cassis. As the wine opens, additional aromas of both dusty chocolate and some vanilla are revealed. The mouth feel is immediately soft and velvety; it is rounded with a delicious backbone of fruit anchoring from start to finish. The finish is more delicate than the Napa Valley Cabernet Sauvignon and shows plenty of length.
The 2018 Redmon Wines Mt. Veeder Cabernet Sauvignon (Bruadair Vineyard, elevation about 1,600 feet) is deep ruby in color with a purplish rim; the bouquet reveals aromas of violets and darker fruits including blackberry and plum along with bittersweet chocolate. While smelling this wine, we thought of the movie Inception. The aromatics on this wine are deeply layered and one can get lost in them with some time. Those interested in big Napa Valley mountain grown wines from this variety will gravitate towards this bottling. The palate offers flavors of plum, blackberry and a nuance that is almost rusting iron-like along with notes of crushed pepper on the finish. The dense and pixelated tannins persist for quite some time on the chewy and mouth-watering finish. There is a reason this wine was saved for the last during a current release tasting of their wines. It is layered, intensely flavored and offers memorable structure.
—
Lisa also owns another small property in St. Helena which was the site of an old winery; this could be very valuable someday if she wanted to make wine on the property (all production is at a state-of-the-art winery in Oakville) as all winery bond permits are grandfathered in. This old winery was known as the Fountain Winery and was founded by two Germans in 1876 and operated until 1911. It was still standing as recently as the early 1990s before it was demolished. One of the founders, George Fountain was mayor of St. Helena for a period of time.
This winery produced mostly whites from the owners 40-acre vineyard until Prohibition. After the repeal of Prohibition in 1933 the winery briefly served as a fruit distillery. While the old winery is no longer here – an old barn is still standing (dates from 1899) and with some retrofitting and remodeling, this would make an ideal winery facility. And in another piece of history relating to this property, the residence (now used as an office) used to be located on site of the old Sunny St. Helena Winery (now Merryvale) and was one of the Mondavi family homes in the 1930s. This home was moved to the Redmon Ranch in 1951.
Sales of the Redmon wines are direct to consumer through a mailing list and wine club. Visits are for typically for those already on her wine club or for serious wine enthusiasts. Lisa has personally met many of her customers over the years.
Mia Carta Napa Valley
Redmon is part of a small collective of boutique Napa Valley based wineries represented at Mia Carta Wine Lounge in downtown Napa. This space is located at 1209 1st Street next to Rebel Vintners near the intersection of 1st and Coombs Streets. It had a soft opening to the public on May 22, 2021, and officially opened on June 17, 2021.
In addition to Redmon, this space houses several premium boutique Napa Valley producers including Arthouse Wines, Earthshine, Essere Franco, Ilsley Vineyards, Pellet Estate, Rarecat and Sciandri Family. Sharon Harris, proprietor of Rarecat learned about the space early on, and then invited several of her friends to join including Redmon Wines and Ilsley Vineyards.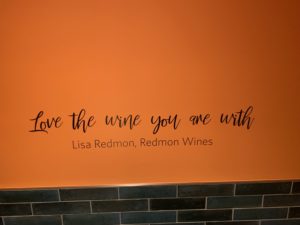 A significant amount of thought and effort went into the renovation of this space. A couple of items inside quickly catch one's eye including the Italian Piaggio "Ape del Vino" or in English, referred to as the Wine Bee. It was purchased in Italy, restored and then shipped over, however unfortunately it was stuck for quite some time at the port of Galveston in Texas before it cleared customs and reached Napa Valley. It is fully functional and is operated by a two-stroke Vespa engine. The back opens up to reveal wine kegs with spigots on the side of the vehicle – making this ideal to take to various wine tasting events. And the 145 piece 'puzzle' of walnut wood built against the back wall is in the three-dimensional shape of a street grid of downtown Napa – complete with an outline of Napa River and a red marking to indicate Mia Carta's location on the map.
Recycled cork from cork manufacturer, Amorim Cork America lines the east wall of the space. If one casually glances at this wall, one will think it's one entire piece of cork, but each piece is a quarter offset, so the lines are hard to see between each of the pieces. With Norm's background as President & Co-founder of Calgary based ZeroSound Systems, his knowledge and expertise were used during the renovation of the interior space. Acoustic tiles are placed on top of the tin stamped metal ceilings – if one looks carefully one can almost see the tiny holes punched in each of these tin squares, which are part of the design to help mitigate noise. The bar and some of the tabletops are constructed from Richlite, a recycled paper/resin composite.
Visitors taste either inside or outside weather permitting (heat lamps are built into the outdoor overhang), choosing flights from any of the vintners or by the glass or by the bottle. This part of the building used to be recessed – set back more from First Street but during the renovation it was expanded, providing more interior space. And a private tasting room is located in the rear of the space.
For those into wine, it is easy to spend an afternoon in this part of downtown Napa – numerous tasting rooms are within several blocks of Mia Carta. For more details about this beautiful space and or to make a reservation, please visit: www.miacartanapa.com
www.redmonwines.com
Redmon Vineyard St. Helena

A&W St. Helena