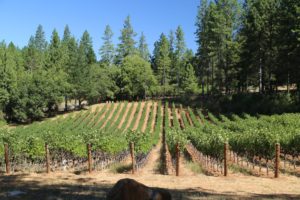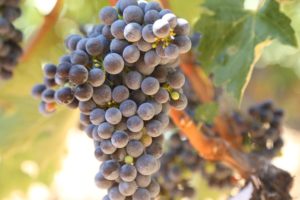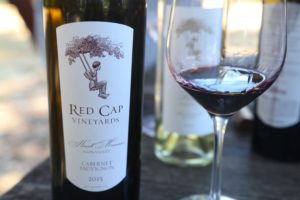 Red Cap Vineyards are owned and operated by the husband wife team of Tom and Desiree Altemus. They manage a 6 acre vineyard nestled among the Ponderosa Pine trees, high on the ridge line of Howell Mountain at about 1900 feet.
Tom become a vintner in a fairly short amount of time. Originally from Philadelphia, he took a job with IBM after college. Transfering with the comap;ny first to Boulder Springs and later to San Jose, his first introduction to the Napa Valley came through several business trips – where he began to explore fine wine. Making a complete career change in the late 1990's Tom enrolled in the California Culinary Academy in San Francisco and after graduating soon thereafter started working at some of California's finest restaurants from Los Angeles to San Francisco. It was during a stint at a restaurant in St. Helena that he met his current winemaker Rudy Zuidema. Rudy has made the wine every year since their inaugural vintage in 2005.
In 1998 Tom (at only 33 years of age) and Desiree purchased this 10.5 acre roperty on Howell Mountain; at the time much of it was covered in a dense thicket of brush and trees. After securing all the necessary permits (not an easy process), they planted the vineyard in 2003 and released their first vintage in 2005 which was merely 50 cases. 2006 was their first official release and total production as of our latest update to this review has been increased to only several hundred cases. Tom has sold fruit to several high premium Napa Valley based wineries over the years including to Davies Vineyards (same family that owns Schramsberg Vineyards); selling more fruit then what he makes gives him the ability to increase his own production in the future.
Once someone sees the soil of this vineyard site one quickly determines how Tom and Desiree decided upon the name Red Cap. The soil is very red and rocky, iron-rich volcanic soils that have been oxidized over time due to exposure to the elements. The soils are also nutrient poor, not necessarily bad for growing premium wine grapes but Tom introduces small amounts of organic material each year next to the vine trunks.
The swinging boy on the label often immediately gets the attention of those who are seeing the wines for the first time. Tom & Desiree have three children and were inspired to create a label such as this one to "…represent the spirit of wonder and fun that we all try to embody on a daily basis."
Tom's true passion is in the vineyard and as he says, "this is his best job to date". We can see why after visiting; the vineyards grow in a very zen-like location and are surrounded by tall pine trees – this is hillside Napa Valley at its best.
Tom used to net the vineyard but no longer does this – comparing putting netting on vineyards to putting panty hose on a hairy leg! The time and expense spent netting ultimately did not justify the amount of fruit saved from the birds. During harvest often picks are at staggered intervals; harvest can easily take a month or more despite the small size of the vineyard. The reason being is Red Cap only picks when the fruit is ripe and often this may mean picking merely several rows or blocks of the vineyard. As a result, all wine is fermented in small lots with whole berry fermentation (no jacks or stems) and punch-downs are done by hand.
Two hallmark's of their vineyard site and the Red Cap wines are excellent acidity and refined tannins perhaps surprising considering that some of the Napa Valley's most tanninc wines often come from the hillsides. Fermentation is conducted using non-inoculated yeasts (yeast that exist on the skins of the grapes) with cooler longer fermentation times.The wines are typically aged in French oak for approximately 20 months.
Select Wines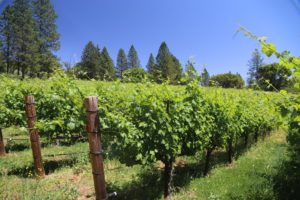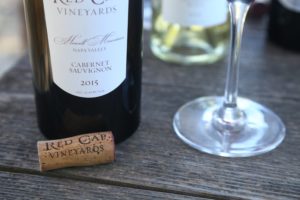 With a culinary background Tom understands the importance of pairing food with wine. The 2006 Red Cap Cabernet Sauvignon is an ideal food wine; it is not a Cabernet Sauvignon that is so tannic out of the gate one needs to wait years for it to soften, nor does it present attributes that are overly ripe. As Tom says, it has a "power combined with elegance". All their vintages are 100% varietal Cabernet Sauvignon from the 3 distinct clones that are planted on site.
The 2006 Red Cap Cabernet Sauvignon was tasted about a month after bottling – so this wine still had some time before being released. However, it was already drinking quite nicely with bright lively fruit and great acidity. The wine is dark ruby in color with the bouquet showing notes of cocoa, cherry cola and floral nuances. As the wine breathes additional layers of fruit aromas show. The palate is rich with cherry and plum and just a kiss of vanilla from the oak. Their oak program is structured to not dominate, rather to let the varietal characteristics show. The finish lingers with notes of spice; the tannins are structured, in balance and fairly delicate.
We had the opportunity to also try this wine again after it had seen another year of bottle age and after it was officially released. Along with the rich fruit it shows a pleasing earthiness both in the bouquet and on the palate. The flavor profiles are very well integrated and layered – with good balance throughout. This is a rather impressive first vintage and a year of bottle age has treated it well.
2011 was a challenging year in the Napa Valley due to colder growing conditions and rain at inopportune times including early in the growing season and during harvest. Tom elected not to use fruit from his lower vineyard and he and Rudy were extremely selective in which grapes they chose to ferment – paying extra attention to sorting. The 2011 Red Cap Cabernet Sauvignon offers dark fruit on the bouquet along with hints of white pepper. Elegant and still fruit forward after 8 years this wine is showing wonderfully at the time of our tasting (2019) and still has plenty of aging ahead. Nicely balanced the wine shows no harsh edges – and finish smoothly with slightly dusty fine-grained tannins lingering softly. This wine is a perfect example of why one should never blindly follow wine critics and wine scores.
The 2014 Red Cap Cabernet Sauvignon is visibly dark with purplish tinges on the rim; reveals dry dust on the bouquet quickly masked by the intensity of the fruit aromatics with blackberry and plum. Also hints of old cedar box and perhaps a kiss of sage. Offers both red and darker fruits on the palate – a fairly opulent wine with a nice intensity of fruit from start to finish. Lingers with mouth watering acidity and fairly pronounced tannins – but not coarse, rather firm and finer grained in nature.
And one shouldn't neglect Red Cap's Sauvignon Blanc – with a number of vintages sourced from a premium vineyard in Rutherford. These are not the green or grassy style of wines from this variety – rather they have beautiful texture, creamy with viscosity, silky smooth but with weight and intensity of fruit. We tried several older vintages – these are wines that have the 'stuffing' to be able to age for a few years after release.
—
Locally one might be able to find the wine at the St. Helena Wine Center in downtown St. Helena. Red Cap also maintains a mailing list on their website. For more information or to join their wine club, visit: www.redcapvineyards.com
Tom and 'The Monk"