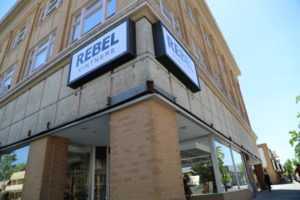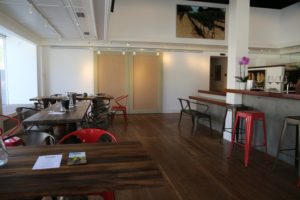 Rebel Vintners opened their tasting room in the heart of downtown Napa in early May 2018. This prime space is located on the corner of Coombs and 1st Street within easy walking distance of two 1st Street anchor hotels, Andaz and the Archer as well as within easy walking distance of numerous highly regarded restaurants and other tasting rooms. Making full use of this corner location, a liberal use of windows allows those walking or driving by to easily see inside the tasting room.
This tasting room is a partnership between three vintners, Jason Holman and his wife Helen of Holman Cellars, Timothy Keith of Leaf & Vine Winery and Kevin Cadle of Cadle Family Wines. All three are owners and winemakers and as Kevin told us "We do most everything ourselves" – such is the case when you are running your own boutique winery. Each vintner makes their wine in the city of Napa – in one of the several industrial/business parks surrounding the city which are currently home to numerous wineries. None of these vintners own their own vineyards. And while all are making their wine in the Napa Valley – many of their wines are sourced from other parts of California.
All are producing wines from a diversity of varieties – these are small lot intriguing wines that are reasonably priced.
Leaf and Vine is a father son partnership between Tim Keith (the winemaker) and his father Rick. The winery was founded in 2010 and focuses on single vineyard, single varietal wines from not only the Napa Valley but other regions within Northern California. Tim grew up in Oregon but was familiar with the Napa Valley from a young age, as he and his siblings would spend parts of their summers on their grandfather's ranch in Chiles Valley.
In the winery, his style is fairly minimalist – fermenting with non-inoculated yeasts (indigenous) and bottling the wines unfined and unfiltered. He tends to age his wines up to 30 months in barrel and then another year in bottle before releasing.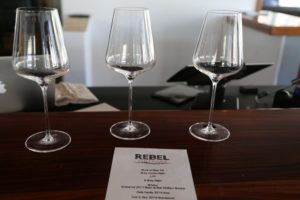 Holman Cellars was founded in 2010 by Jason and Helen Holman. Their path to owning a winery in the Napa Valley is an interesting one. Both met on their first day attending law school in Seattle. Jason is the winemaker, but it really is his wife's family who is responsible for his second career after he retired from law. Helen's uncle is long time Napa vintner John Kongsgaard who ultimately mentored Jason during his early winemaking career. Today they focus on a number of labels including Uncharted Cellars.
Jason began making home wine in a old barn in Coombsville (just east of the city of Napa) in 2008 and 2009 and then took the jump to commercial production in 2010. His total production is merely 500 cases – only a few barrels are usually produced of each wine. Holman Cellars tends to age their reds for 36 months in barrel – some new but most once or twice used oak. As a result, current releases are often up to 4 years old.
Cadle Family Wines was founded by Kevin Cadle – for those who come to winemaking without growing up in the industry, we have noticed that there is no norm on how one gets started in the business. For Kevin, he traveled the world and taught English as an international schoolteacher – ultimately ending up in Curacao in the ABC islands of the southern Caribbean. While there he became fascinated about wine (certainly not a hotbed for vineyards, although the island was home more recently to a winery). Eventually he moved to California and earned his master's degree in viticulture and enology from the University of California at Davis. The combination of earning his degree and working at premium wineries in the Napa Valley provided him the tools and inspiration to begin his own label.
Because these vintners are sourcing grapes from a variety of sources throughout the state, the diversity of wines available for visitors to taste is enticing. With few exceptions, the focus of all three vintners is on single varietal, single vineyard wines.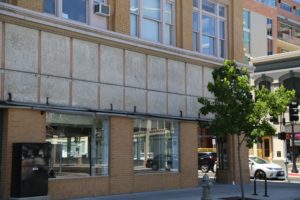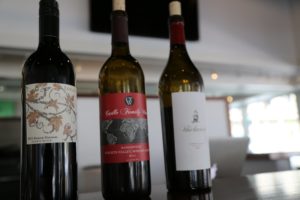 The tasting room was formerly occupied by The Playful Garden – a specialty boutique store selling garden wall art and home decor items. Prior to this it was home to Doll Store & More. But this building's history extends much earlier. It was built in 1914 as Napa's first steel-and-concrete building. Known as the Native Sons of the Golden West building it was the tallest building in the city of Napa for 95 years. The Native Sons still maintain space on the second floor above the tasting room. The exterior and some of the interior of the building was badly damaged in the earthquake of 2014 but was repaired in the years following the quake.
The partners revitalized the interior creating a spacious and inviting environment. In the process of renovations, they removed ugly particle board and other layers revealing the original wooden floor.
Visitors can stop by without needing an appointment and taste at the bar or choose one of the sit-down options (tables). With a commercial kitchen on site and a strategic partnership with locally based Monday Bakery – they offer guests the options to taste with small bites, charcuterie and cheese plates and various baked goods.
And for those looking to imbibe in something other than wine, they also offer ciders on tap.
The tasting room changes its vibe somewhat after 5pm and becomes more like a wine bar and a lounge space – serving wines by the glass with games showing on the big screen opposite the wine bar. An old school gaming machine is available for anyone old enough who wants to relive their past gaming prowess with games such as Pac-Man, Frogger and Galaga. And for those looking to just hang out for a while, especially in the evening, order a bottle of wine and play one of the board games on site.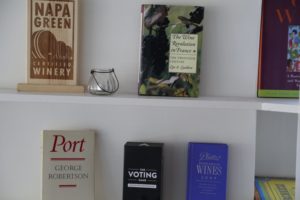 In a tasting room environment that is typically employee driven, it is refreshing to be able to taste with one of the owners (usually Tim, Jason or Kevin are here – although during harvest they may not be in the tasting room as often).
Two options are available through the Rebel Vintners wine club – a 6 bottle or a 12-bottle shipment annually. For more information visit: https://rebelvintners.com