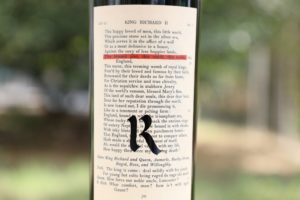 Realm Cellars produced their first vintage in 2002 (made at Sherwin Family Winery by winemaker Mike Hirby). In addition to their estate vineyards in the Stags Leap District, Coombsville and on Pritchard Hill, Realm Cellars sources fruit from several other premium vineyards located around Napa Valley including Dr. Crane and To Kalon vineyards. These vineyards are well-regarded in the industry both for the pedigree of their grapes as well as in some cases, historical significance. Both Dr. Crane and To Kalon are closely tied to the vineyard history of Napa Valley and these specific sites combine the best in terroir and grapes to produce premium wines.
Co-founding partner, Juan Mercado, who we originally met with many years ago in their small office in St. Helena at the time, switched careers from hospital administration in the San Francisco Bay Area to working in the wine industry. This is a career change that we venture a guess to say Juan certainly has no regrets about. Juan is no longer involved in the day-to-day activities at Realm Cellars as he is currently focusing on wine activities in Paso Robles.
Managing partner, Scott Becker took ownership of Realm in 2012; today, Scott, along with winemaker Benoit Touquette oversee the operations at Realm Cellars. Scott has been involved in the wine industry for many years – first working at Cakebread Cellars and later for Global Wine Partners, (a company that focused on wine investments) and then for Bill Harlan to help develop PROMONTORY.
For many years, Realm did not own vineyards, and focused their efforts on securing high quality grapes from premium vineyards entirely within Napa Valley, a "realm" of properties if you will, spanning from Calistoga to Coombsville. For any vineyards they work with not under their ownership, they don't just buy grapes, rather they develop a relationship with the owner or grower and play an integral part in how each vineyard is farmed. They employ their own viticulturist who works with the property owners/farmers on a full-time basis. Their focus is two-fold, creating red blends from various Napa vineyards with proprietary names as well as single vineyard, mostly single varietal wines.
2011 was the first vintage of Realm for their current winemaker Benoit Touquette. He is a native of Bordeaux and has a master's degree of Enology and Chemistry from the University of Bordeaux. 2011 as it were, was an ideal vintage for him to start with at Realm. This was a much cooler year than the Napa norm, with rain late in the season and a generally cooler summer followed by a cool fall with early rain. It was a challenging year for some vineyards in the valley. During an early tasting of this vintage from Realm, we found these wines stylistically plush, with plenty of fruit and were drinking well in their youth.
University of Bordeaux today

Early on Juan adopted names for each wine which reflect the writings of Shakespeare or characters that appear in his plays. In addition, the following line from the Tragedy of King Richard II is on every bottle of their wine, "This blessed plot, this earth, this REALM".
Those who have followed the Realm story closely over the years know the challenges they have faced. In the space of adversity, they have found resilience, survived a transition in ownership (rare among small brands), built their businesses on risk and all the while maintaining an unwavering commitment to quality and integrity.
Select Wines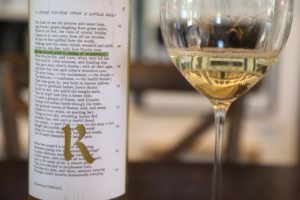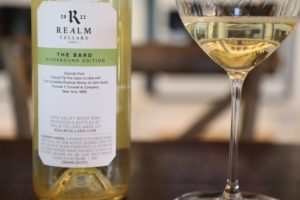 Whites
The 2022 Realm Cellars The Bard Riverbound Edition Napa Valley White Wine (100% varietal Sauvignon Blanc) is medium golden in color; the bouquet initially is shy and withdrawn and its initial aromatics are of green apple, honeydew melon and a flinty character. There is also a nuance here that reminded us of the resulting smells of pouring water on hot slate rock that has been warmed by the sun. But give this wine time to evolve in the glass and open and its scents will become more floral and aromatically sweet. It eventually opens to notes of honeysuckle and citrus blossom. It's flavors are attractive showing apple, pear, kiwi, mandarin and ripe ruby grapefruit on the long flavor filled finish. This wine's texture is supple and almost saline in its feel which is balanced brightly by an invigorating acidity. The grapes for this wine were sourced from two Sauvignon Blanc clones from two individual blocks within Tom Gamble's Riverbound Vineyard in Yountville. This wine was thoughtfully crafted using a varieties of vessels including neutral oak foudres, concrete eggs and stainless steel.
Realm's first ever white wine was a 2010 Sauvignon Blanc sourced from the Farella Vineyard. This wine is varietal Sauvignon Blanc each year but rather they market it as a white wine. This allows them to play with percentages and make stylistic changes each year as needed. The 2012 Realm Cellars Sauvignon Blanc is crisp and clean; it shows notes of lemon, lime and underlying nuances of lychee. Green apple on the palate with a clean finish.
Reds
The 2021 Realm Cellars The Bard is a blend of 83% Cabernet Sauvignon, 7% Merlot, 6% Cabernet Franc, 3% Petit Verdot and 1% Petite Sirah. The Bard is crafted every year from barrel selections from a handful of premium vineyards. This wine is deep ruby and opaque in the glass; this darkly colored wine is focused on both a freshness and simultaneous ripeness of aromas. The highly attractive bouquet reveals scents of blackberry, blueberry and boysenberry with other layers of darker baking spices including of cinnamon and nutmeg. The palate is darkly fruited with flavors of cherry, boysenberry, mulberry and black currants. This wine is packed with layers of both intense flavor and structure. The chewy, firm and pixelated tannins are evenly distributed across the palate. Their grippy texture and accompanying rich flavors continue to persist in tandem on the long and exquisite finish. We would like to see where this wine is at in the next 10 or 20 years. Highly age worthy.
The 2012 Realm Cellars The Bard is a blend of 95% Cabernet Sauvignon and 5% Petit Verdot. This wine is dark ruby in color; the aromatics smell like what we associate with home (Napa Valley); this is even more relevant considering we are drinking this in Thailand during our annual winter break from our work on the Napa Wine Project and this is the only wine we have tasted in two months. What shows immediately is how much fruit is still on both the bouquet and the palate 11 years post vintage date at the time of our tasting. This bottling offers scents of ripe blackberries, dark plum and old cedar wood. Let this wine breathe; the aromatics become a little sweeter as it opens including of fresh rose petals, caramel and toffee. The tannins are very supple, featuring a light granulated character along with an almost creamy texture. Dark fruit and dark spices accompany, including a woodsy note, cloves and lingering subtle hint of dried tobacco leaf. Initially, one can feel warmth of the alcohol deep on the finish but after a few sips this goes away.
The 2011 Realm Cellars the Bard is their highest produced wine (at the time of our last update, their total production is around 15,000 cases across all their wines). This wine is made from several vineyards, usually sees around 70% Cabernet Sauvignon each year with smaller percentages of other Bordeaux based varietals. Aromatically, floral aromas show on the bouquet including pleasing aromas of violets and black currant. A hint of spice shows on the mid palate to finish – the finish is long and lingers for some time. The wine has very good structure, perhaps surprising from a vintage in Napa Valley which tended to be more feminine in character.
The Tempest Napa Valley Red Wine is typically a blend of Merlot, Cabernet Sauvignon and Petit Verdot with the dominant varietal always being Merlot. This was the first wine Realm released in 2002. The 2011 Realm Cellars the Tempest is a dark inky wine with plenty of earthy notes on the bouquet. Toasted oak, dusty blackberry aromas show along with a mouth feel that is plush, velvety and soft. The tannins are well integrated on the finish. This wine is very approachable in its youth.
The 2011 Realm Cellars Falstaff is 60% Cabernet Franc and 40% Cabernet Sauvignon. Aromatically this wine is pleasing, notes of tobacco, chocolate and dark fruit are revealed. The tannins show more up front on palate rather than the back – the wine shows more skin tannins than oak tannins. The mouth feel is soft and rounded with a with a finish that shows plenty of fruit as well as additional notes of toasted oak.
The Farella Vineyard is managed by the team at Realm; this vineyard was founded by Frank Farella who purchased this 56-acre property in 1976. His son, Tom Farella is a long-time grape grower (who is now growing wine grapes in the Nevada desert) and managed Farella Vineyard for more than 20 years. Realm has been sourcing fruit from this vineyard since their early years after Juan happened to see an ad in the Napa Register for grapes for sale. The Farella's sold grapes to Robert Mondavi for many years but after the Mondavi sale to Constellation, Farella held back the fruit. Juan's timing was ideal; fruit from this vineyard has been the backbone of the Realm Tempest wine every year since.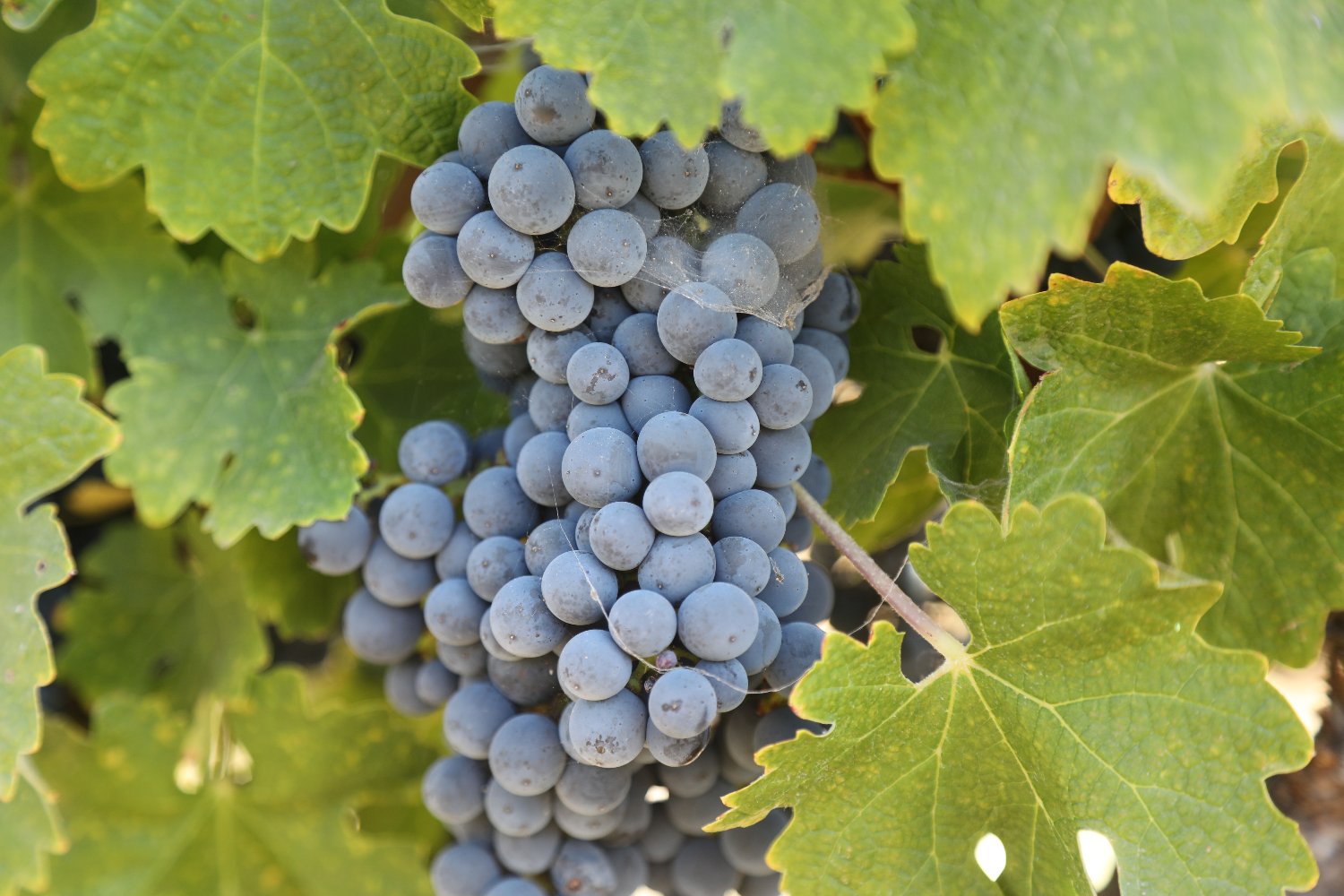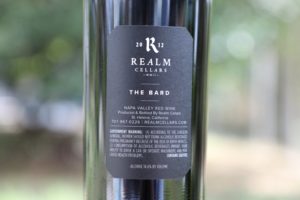 The vineyard is located in Coombsville, a cooler part of the valley – this region is cool, but not as cold as nearby Carneros which is closer to the San Pablo Bay and less protected geographically than Coombsville. The vineyard is on a hillside and on a clear day one can see the outline of San Francisco's skyscrapers far in the southern distance. The vines were planted in 1979 and are the oldest vines Realm sources from. Stylistically this wine is more Bordeaux in style than a typical up valley Cabernet Sauvignon. Aromatically on the 2011 Realm Cellars Farella vintage (100% Cabernet Sauvignon) there is a sweet note of fruit, almost candy-like in quality that envelops the glass – along with earth notes. The palate is wonderfully in balance, is elegant and the finish lingers for some time. This is a wine that should age very well.
The 2011 Realm Cellars Dr. Crane is from the vineyard of the same name. This historic site was first planted in 1858 by San Francisco surgeon Dr. Beldon Crane – he was one of the earlier vineyard pioneers in Napa Valley. This site is also tied to the railroad tracks that were built in Napa Valley. These tracks used to run to Calistoga, but now terminate on the grounds of Charles Krug Winery north of St. Helena. These are the same track that the Napa Valley Wine Train uses. A quarry near the vineyard supplied the rock that was used as the base for these railroad tracks. The historical significance of this vineyard does not stop here; this was St. Helena's little Chinatown in the 1920s during the time the California Pacific Railroad was being built. The property then served as a campsite for the Chinese workers.
The 2011 Realm Cellars Dr. Crane is 97% Cabernet Sauvignon and 3% Petit Verdot. The balance on this wine is truly remarkable. It strides a fine line between elegance and being a big wine. The bouquet is lively; its aromas are refined and appealing showing both red and black fruit, mineralities and a hint of baking spice and black licorice. Well-structured tannins anchor a rather long finish. The beautiful label was designed by a Chinese artist – the same artist that created the Ad Coeulum label for Napa Valley based Lanthanide Wines.
With a vintage of To Kalon as your first wine "out of the gate" in 2002, one sets the bar high. Less than 20 producers source fruit from the Andy Beckstoffer managed part of this sizeable and historically significant vineyard. In 2002 it was extremely difficult to get fruit, today with established brands already sourcing, its next to impossible for another winery, new or established to gain access to this particular vineyard. At the time, Andy Beckstoffer took a chance on Realm and other producers with the intent that the site would make great wines regardless of who was making the wine.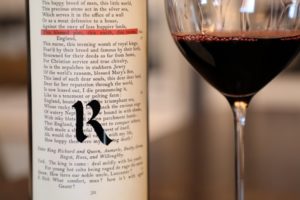 The 2011 Realm Cellars To Kalon shows an opulent nose: the palate showcases a powerful flavor profile, plenty of structure and bright acidity. The placement of the tannins is interesting and somewhat surprising – showing more on the front and sides of the palate rather than entirely on the back. Still, it is a big wine – black fruit dominates along with tobacco, cassis and just a bit of toasted oak on the finish. This is a robust wine which is simultaneously balanced, showcasing a seamless quality running across the length of the palate.
And an exciting wine for Realm is Moonracer, the first wine for Realm made from grapes growing on the property. This is a special wine that collectors will want to seek out from their allocation list. And the label for this wine is remarkable; it is computer generated from data based that Realm provided for an algorithm (based on vineyard information including temperature, winds etc.). This algorithm along the creative input from their graphic designer Sergio Albiac remarkably creates a unique label for every single bottle of wine.
—
Realm was one of the ill-fated wineries to lose wine in a wine warehouse arson fire in Mare Island in 2005; in fact, their entire 2003 vintage was lost in this fire. What a way to enter only your second year of commercial winemaking. Those interested in more information about this Vallejo wine warehouse fire can read Frances Dinkelspiel's book, Tangled Vines: Greed, Murder, Obsession, and an Arsonist in the Vineyards of California. Realm bounced back from this disaster; strong connections in the valley and access to premium vineyards allowed them to recover and grow their production.
They say in the wine industry it can take at least 10 years to build a small brand and metaphorically turn that small snowball rolling downhill into a bigger one. After 10 years Realm certainly became more established and was built for the long term rather than the short. So, it made sense to redo their logo, general branding and look and feel of the packaging – starting with the 2012 vintage. They have put significant time and resources into developing a stronger and bolder looking logo and a unique label for each of their wines – one that is instantly recognized regardless of which wine in question.
After 20+ vintages (at the time of our latest update to this review), it feels like Realm has been re-energized not only with their branding and presentation but also with the team and continuing commitment to details and constant striving to improve the quality of wines each year.
The Estate

At the end of 2015 Realm Cellars acquired Hartwell Winery including 20 acres of land and the existing caves in Stags Leap Wine District on what is called Wappo Hill. Benoit was very familiar with this property having made the Hartwell's wine beginning in 2004 and oversaw the vineyard management since 2008. This is a prominent neighborhood with vintners Jean-Charles Boisset and Gina Gallo and Rob Mondavi as some of their neighbors. Since the acquisition, Realm Cellars has transitioned their wine making operations to this property. Several years later, Realm acquired the rest of the Hartwell property and Hartwell eventually ceased all production operations.
After several years, construction was finished on a contemporary redesign of the primary building on site along with the addition of a hospitality space. Additional cave space was also drilled, significantly increasing their total square footage. In addition, a replant was completed of most of the surrounding vineyards including a small block of Charbono (a variety more often associated with Calistoga).
Visits are for serious wine enthusiasts and collectors and are usually with their sales and marketing director. An educational component is part of a visit here including details on terroir and what makes each of their vineyards unique – as well as some interesting history of the valley.
NOTE: Visits resumed in late 2023 and include several individualized experiences. Stay posted for our revisit and **significant updates** to this review including current release wines, the transformation of the property, details about the Nine Suns acquisition and subsequent plans for that property and current photographs of the Realm Estate. We hope to visit sometime in early to mid spring 2024 after our annual winter break to Thailand unless we receive an invite to the property prior to this.
Realm Houyi Estate
In mid 2022 Nine Suns Winery and the Houyi Vineyard on Pritchard Hill were purchased by Realm Cellars. This acquisition included the entire property, physical winery, the Nine Suns and Houyi wine brands and remaining wines. Realm has long been familiar with the Nine Suns property having first purchased grapes from the site in 2013. Previous owners, the Changs, including Jason and his wife Flora were extremely involved in building and operating the winery. Flora continues to operate her own brand Plinth and continues to source grapes for Plinth from the Houyi Vineyard.
The Chang Family purchased this property in 2010 from developer and majority owner of the San Diego Chargers football team, Alex Spanos. The Chang's three children (Aimee, Jason and Chris) were all instrumental in the development of the property, winery and brand. J
This 40-acre property is planted to 23 acres of vines (HOUYI Vineyard) including all five primary Bordeaux red varieties; the majority to Cabernet Sauvignon with smaller amounts of Merlot, Cabernet Franc, Petite, Verdot and Malbec. As with a number of their Pritchard Hill neighbors, their own soils are extremely rocky and iron rich red in color. Vines were already here when the Chang's purchased; the oldest vines on site date to 2004. After purchasing the property, the family initially sold the grapes to several premium producers; the first wine they produced was from the 2011 vintage (200 cases) but elected not to release it. Their first commercial bottling as Nine Suns was a 2012 Cabernet Sauvignon.
The name Nine Suns was carefully chosen to honor the Chang's heritage. Nine Suns is part of a Chinese legend (often told to children) where 10 individual suns would rise and set each day taking turns doing so. One day all ten suns rose at once and the earth soon suffered due to the heat. Houyi, a mythological Chinese archer was given the task of eliminating the suns – he successfully shot down 9 suns leaving only one.
The winery itself was well designed with significant thought behind some of the details and appearance. Juan Carlos Fernandez (architect for Cade Winery) was the primary architect for the winery, hospitality building and residence. 2015 was the first vintage entirely crushed and fermented at their winery. All fermentation tanks are small and easily accessible from the nearby crush pads. The idea behind building walls around the parking lot is aesthetically pleasing but it also serves a purpose. Rather than initially seeing the great views from the parking lot – guests are meant to first enjoy the views after they walk up to the hospitality center.
The winery features small lot tanks and a unique cave for barrel aging. The walls are unlike most caves in the valley in that they are not covered with rough looking shotcrete or gunnite. Rather this was the first winery (and probably the last) to test out a unique cave coating material called Elephant Armor. Texturally it is very smooth and is waterproof but was more challenging and time intensive to coat a cave compared to the traditional methods. Visually it is quite appealing, casting an elegant look to the overall appearance of their cave.
A single sycamore tree growing in the distance to the south of the winery invites glances. It grows on a former helicopter pad which has been converted into a perfectly perched viewpoint. Both great views of Napa Valley spread out below and the nearby vineyards are part of the visual feast from here.
A small Library Room is shaped exactly like a guitar – even down to the gold 'strings' embedded in the floor.
The Realm wines are selectively distributed including in local premium restaurants such as the French Laundry as well as through their mailing list. For more information and to join the list, visit: www.realmcellars.com
Beckstoffer, To Kalon Vineyard