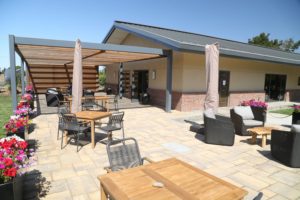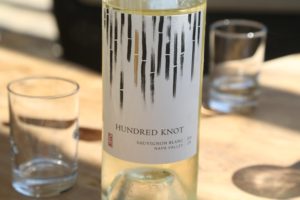 RD Winery was founded in 2010 by Vietnam based entrepreneur Mr. Nguyen Van Dong; he decided to start a winery after visiting the Napa Valley and being inspired by the scenery, lifestyle and the wines. His winery, RD was the first Vietnamese owned winery in the Napa Valley, founded slightly before the other Vietnamese owned winery, Kieu Hoang.
Mr. Van Dong is a major contributor to the economy of Vietnam over the years having developed roads (with contracts from the government) and other related infrastructure, real estate projects, tourism, golf courses, mining, farming various agricultural products including rubber trees and overseeing the creation of a 3,000-hectare nature preserve with a variety of exotic animals roaming the land including zebras and giraffes.
He is chairman of the Rang Dong Group (with headquarters in Phan Thiet, Vietnam) which oversees 10 individual companies. Rang Dong Group was founded in 1991 and currently employs more than 3,000 employees. The company has become one of the largest private construction companies in all of Vietnam.
His businesses are integrated in such a way that he often owns companies needed to work on his various projects – such as owning the equipment company that builds roads or the nurseries that provide plants for landscaping. He has been awarded a Hero of Labor (Anh hùng lao động) from the Vietnamese government for his contributions over the years to the country's welfare.
The Winery, Napa
In 2011 Mr. Nguyen purchased the former production facilities of Japanese sake maker, Hakusan Sake Gardens located south of the city of Napa near the intersection of Jameson Canyon Road and Highway 121. At the time of their opening in 1990, Hakusan was one of only 4 sake producers located in California. The company was founded by Toyokichi Hombo who amassed a fortune through bottling Coca-Cola in Japan, first selling it to Americans stationed in the country after WWII and later to the Japanese. Hakusan added a Japanese garden to the grounds – and today remnants of this can still be found including a large flowering cherry tree growing behind the winery and near the tasting room – supposedly a gift from one of the Japanese emperors.
When Vang Dong purchased the property, Napa Smith Brewery was one of the tenants – producing their beers on site (but they are no longer located here).
The winery is 25,000 square feet and is used for producing both the RD wines as well as functions as a full-service custom crush facility for other producers. Clients include not only those who make wine but also those producing cider, beer and sparkling wine. They offer both winemaking, storage, bottling and private label services. And despite being fairly close to the epicenter of the 2014 Napa earthquake and near other wineries and wine storage warehouses that sustained significant interior damage, the winery interior, barrels, case goods and equipment was not damaged.
Hospitality
Their tasting room was previously used for a short while for Napa Smith Brewery to showcase and taste visitors on both their beer and still wines. While Napa Smith Brewery moved out several years ago, they still maintain a presence in the Napa Valley – with a taproom at The Village Napa Valley – Vista Collina Resort & Spa. And retired vintner, Vic Bourassa used one of the private rooms for a short while to host tastings for Bourassa Vineyards.
After a major remodel in 2019, with the interior decoration overseen by local designer, Patti Cowger of PLC Interiors, the tasting room opened in July of 2020. Contemporary décor – with an Asian feel, the interior includes artwork from Vietnam (brightly colored paintings from a variety of artists sourced through a gallery in Ho Chi Minh City) and a hand-blown glass chandelier from Los Angeles based artist, Seth Parks.
Tastings are conducted either indoors by walk-in, or more intimate tastings can be reserved in the private room. An outdoor patio also offers additional space, weather permitting and overlooks both the well-manicured gardens and nearby Highway 12. Eventually small bites will be offered to be paired with the wines.
Wines/winemaking(Rượu vang)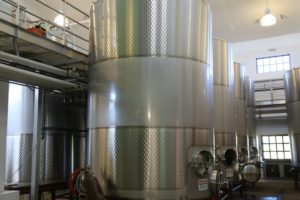 From 2012 until 2017, wines produced under the RD Wine brand (with red wine names including Napa 55, 66, 77, 88 and 99 – the higher the number generally corresponding to higher amounts of Cabernet Sauvignon in each wine up to 100% varietal) were made exclusively for export to Vietnam. The winery went through a complete reset in 2018/2019 expanding their production to also include the domestic market. An important hire as consulting winemaker in 2018 was accomplished and well-respected Timothy Milos. He has access to numerous premium vineyards in the Napa Valley and beyond and RD Winery is using his connections to purchase fruit from several of these sites. Timothy also updated and changed some of the winemaking equipment – modernizing while also focusing on smaller lot fermentations.
The wines RD Winery produces for the domestic market are sold through their on-site tasting room as well as through select distribution. They continue to also produce wines for the Vietnam market. 2018 was a transition year in winemaking – fortunately Timothy made some wine for another client that ultimately was not used in their own portfolio – and RD Winery was able to purchase this and bottle it as their own wine.
With the transition, RD Winery introduced several brands of wines – Fifth Moon focusing on affordable quality made wines sourced from locations throughout California and including varieties not often seen in the Napa Valley such as Malvasia Bianca and Grüner Veltliner. These are exciting wines for their balance, freshness and extremely reasonably price to quality ratio. They are hand crafted food friendly wines. The name Fifth Moon refers to the Vietnamese Summer Solstice.
And wines bottled under Hundred Knot are typically single vineyard designates from both Napa and Sonoma. Hundred knot refers to an old Vietnamese tale.
Grüner Veltliner is the most planted wine grape variety in Austria but in California, plantings are very rare. In the Napa Valley we are aware of only two producers who have/or are making wine from Napa Valley grown Grüner Veltliner: Lava Vine through its ownership affiliation with winemaker Rudy von Strasser who originally planted a small block on Diamond Mountain bottling it under von Strasser for several years and the Hess Collection with a small amount growing on Mt. Veeder.
There are other vineyards in California, but one has to know where to look. The 2019 Fifth Moon Grüner Veltliner was sourced from a single vineyard in a picturesque slice of San Luis Obispo County known as Edna Valley (a short drive from the city of San Luis Obispo). The wine was pressed whole cluster and the resulting juice was fermented in stainless steel. No secondary fermentation and it was left on the lees until bottling the next spring. Highly aromatic with notes of lemongrass, lemon, lime and citrus blossom on the bouquet. Juicy with a noticeable crispness but not a tartness. Balanced across the palate, a touch of minerality lingering with flavors of lime and green apple. Drinks well by itself.
The 2019 Fifth Moon Malvasia Bianca was sourced from The Green Valley of Solano County (near San Pablo Bay). The winemaking team harvests this early preferring some restraint on the aromatics due to the fact that this varietal often produces aromatics that are cloying sweet when the fruit is harvested riper. This wine is only 11.6% alcohol. Is pale yellow in the glass; shows a brightness on the bouquet which assistant winemaker Conner Bockman describes as a "lemon lime zing" but with a floral sweeter note including honeysuckle. The nose becomes slightly less floral as it opens, revealing aromas of green apple and kiwi. Balanced across the palate with a mouthwatering finish.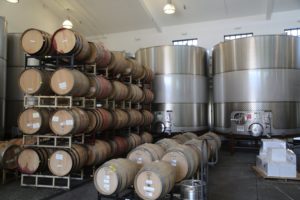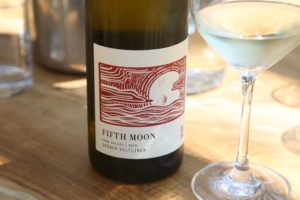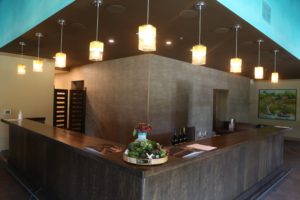 The 2019 Hundred Knot Sauvignon Blanc is 100% varietal and was sourced from two somewhat remote sites including from a vineyard in the far south eastern reaches of Napa County, almost in Solano County and a hillside vineyard on the backside of Howell Mountain above Pope Valley. Entirely whole cluster pressed, 20% of this wine was fermented in oak barrel, a small amount in an acacia barrel and the remainder in stainless steel. Lighter golden in color in the glass, shows a variety of stone fruits on the bouquet including apricot and peach, hints of dried straw and citrus blossom. Offers a noticeable ripeness of fruit on the aromatics. This wine is a nice balance between the stylistic extremes often associated with this variety (green and grassy or more ripe fruit forwards and tropical). Lively across the palate lingers with a brightness of fruit and lift of acidity.
The 2018 Hundred Knot Chardonnay was sourced from vineyards in Oak Knoll and Carneros. The wine was aged in 25% new French oak – (a diversity of barrels was used). Pale golden in the glass, the aromatics are both varietal and oak influenced including aromas of dried straw, mandarin orange, apple and popcorn butter. Offers an intriguing texture that is rounded, almost oily in its feel across the palate. Flavors of lemon and lingering notes of butter.
The 2017 Hundred Knot Syrah (100% varietal) was sourced from a tiny vineyard in Coombsville, a sub appellation known for its small 'back yard' or 'front yard' vineyards. Immediately offers an elegant bouquet with red fruit including cherry and currant. A brightness if you will with some more subtle hints of dried herbs and dust as the wine opens further. Shows dark fruit on the palate including plum – its juicy with lively acidity. Lingers with earthy tannins and darker spices including cracked peppercorn.
The 2017 Hundred Knot Cabernet Sauvignon is 100% varietal and is composed of fruit from a small vineyard in the hills of close to Lake Berryessa with some valley floor Rutherford grapes. The bouquet is elegant, complemented with an herbal note (which is perhaps from the vineyard in eastern Napa Valley) and hints of dried tobacco leaf. Saw some American oak during aging – a noticeable barrel influenced sweetness immediately shows on the palate. Tannins still are a little tight but are not heavy or course in their feel.
For more information, to schedule a private tasting or to join one of their wine clubs, visit: www.rdwinery.com
VIETNAM CONNECTIONS
Rang Dong Group Headquarters
Located in the tallest building in the ward of Phú Thủy, in Phan Thiết, the capital of the Bình Thuận Province – the Rang Dong headquarters building is prominently located next to Ton Duc Thang, the often-busy main street which runs through the center of town. The operations of their various business are controlled and overseen from this building.
Sea Links City
Sea Links City, whose motto is, Life is Beautiful is a huge resort complex near Mũi Né (about a 5-hour bus ride from Ho Chi Minh City) centered around the Sea Links Golf & Country Club and several resort properties located along the coastline of the South China Sea. 167 hectares in size. The hotel/resort properties within Sea Links City include the 5-star Sea Links Beach Hotel (with a massive pool, a restaurant and a giant ballroom and smaller VIP rooms), the Sea Links Beach Villas (315 three-bedroom villas) and Ocean Vista, Ocean Villa (luxury apartments).
The golf course is considered one of the more challenging 18-hole golf courses in all of Asia. Those staying at Sea Links City have access to a private beach on the lower part of the property and to a private lagoon well-stocked with fish. A number of small fishing pavilions surround one side of this lagoon and provide shade and a relaxing space to fish, drink and eat.
Sea Links Beach Hotel

Golf Course/Club

Villas + Apartments

Fishing Lagoon

Beach

Visit: www.sealinkscity.com
Rang Dong Wine Castle, Mui Ne Vietnam
Construction on the Rang Dong Wine Castle began in 2011 and the castle opened in 2013 inside Sea Links City. The castle was designed by a Vietnamese architect using materials from Vietnam. Mr. Nguyen took inspiration to some extent from a previous visit to Castello di Amorosa in the Napa Valley. There is a fascination in parts of Asia with building 'faux' western attractions and monuments such as the Leaning Tower of Pisa, old city Verona, Italy and the Eiffel Tower, to name but just a few. And this fascination is not only for western monuments but also prominent attractions from within Asia – case in point being the faux Taj Mahal in northern Bangladesh. The Rang Dong Wine Castle is supposed to mimic the look of a castle from 13th century Europe – but in actuality looks much more modern.
Visitors can choose from several admission offerings – a tour only or a tour + tasting. The small vineyard planted near the entrance wrapping around part of the castle property is planted to Chardonnay and Syrah – but is only a demonstration vineyard as none of the fruit produced is harvested. A likeness of the iconic Grape Crusher statue in the Napa Valley strikes an imposing pose just outside of the castle entrance. The original statue is located not far from Rang Dong Winery in Napa near the intersection of Highways 12 and 121.
The inside of the castle is well air conditioned with passageways lined with bottles of RD wines and empty wine barrels. No wine is actually made here despite a number of small stainless-steel tanks contained on one of the floors. With no loading dock at 'the castle' receiving wine from the Napa Valley has been a bit challenging. For many years the castle was without a forklift, and during that time, palettes of wine were dismantled case by case and individually carried to storage.
As one walks through the lower levels of the castle, guides provide basic insights about its interior and information about some of the wines on display. Their cellar contains a number of older vintages and often visitors will taste wines 6-8 years old. At full capacity, approximately 200,000 bottles of wine can be stored inside the castle. An elegant and opulent large tasting room contains a number of tables for seated tastings following the tour (the interior decor is reminiscent of some of the wineries we visited in Moldova).
A couple of standouts from our tasting included the 2017 Napa Valley Chardonnay, a 2011 Napa Valley Merlot – and the elegant yet well-layered limited edition 2013 1600 Napa Valley Cabernet Sauvignon – a rare and exceptional wine in which only 1600 bottles were produced.
And before leaving the castle, visitors can stop by a large retail space containing numerous wine and non-wine souvenirs.
Castle Exterior

Castle Interior

Tasting Salon

Vineyard

Ocean Dunes Resort, Phú Thủy
Ocean Dunes, a lower priced resort also owned by the Rang Dong Group is about a 15-minute drive away from Sea Links City near the small town of Phú Thủy. A number of massive homes line wide streets on the way to the resort from Phú Thủy including two behemoths simply titled 'red house' and 'white house'. Ocean Dunes is a 7-story resort with plenty of well-manicured grounds to spread out on – so that it never feels crowded. The rooms are basic and comfortable, each with a small balcony with a sliding glass door that opens to the exterior.
A walkway runs in front of the resort just above the crashing surf line – connecting numerous properties located along the coastline. The resort features a large pool, a spa which offers numerous massage services and two restaurants.
Sea Horse Restaurant offers both indoor and outdoor dining with an appealing selection of salads, including the delicious Greek salad along with other international and Vietnamese dishes. Also select fresh seafood and plenty of cocktails. The grounds are sometimes used for private events such as parties with a no noise policy in effect after 10pm.
Sea Horse Restaurant

Napa Wine Mart, Phú Thủy
Within about a 5-minute drive of the Ocean Dunes Resort is the spacious Napa Wine Mart tasting room located in downtown Phú Thủy showcasing wines from California, Napa Valley and Sonoma County. Parking for cars is in front, curbside – or for bicycle or motorbike on the sidewalk. During our visit, most of the wines represented were California appellation. A select number of wines can be tasted – a taste of each wine is priced on its own. Wines can be paired with basic snacks.
Tasting is held either at the small bar or in one of several sit-down areas in chairs that resemble wine barrels. While a select number of wines can be tasted, a greater number of wines are available for sale. The focus of the wines in the tasting room are on Cabernet Sauvignon, but also Merlot, Shiraz and Sauvignon Blanc are selectively available to try.
Phú Thủy

Former Napa Wine Mart & Lounge, Ho Chi Minh City
A Rang Dong Wine Mart used to be located in District 1 of central Saigon and operated for a few years but has since closed. During our last visit to this space, it was taken over by a private wine club and we were told is no longer associated with Rang Dong Winery.