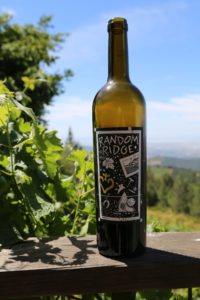 Random Ridge Winery is owned by Bill and Susan Hawley. The vineyards are at an elevation of 2400 feet making these among the highest vineyards in all of Napa County. The majority of the vineyard is planted to Cabernet Sauvignon and Cabernet Franc but also includes lesser amounts of Merlot and a small block of Sangiovese. Random Ridge owns 47 acres – Bill planted all the vineyards and today manages approximately 9.5 acres of his own vines. All his mountain-top vineyards other than as Bills says, "a barrel from the Sonoma side" are in Napa's Mt. Veeder Appellation.
This is an interesting place to grow vineyards; it is at elevation, above the fog line, remote, rugged and the region has a lot of sun. Dusty dirt rutted tracks lead to homes and to a few vineyards from the "main" road which is nothing more than a single lane strip of old pavement leading through the hillsides. This is and certainly feels like one of the more remote places in western Napa County (although all the vineyards on this ridge are only accessible via roads from Sonoma County). There are few vineyards in the area; the land is mostly covered with chaparral and or forest (much of which burnt down during terrible fires in October 2017).
From the property one has great views of nearly all of Sonoma Valley and well beyond. The famed Louis Martini's Monte Rosso Vineyard (perhaps Sonoma's equivalent to Napa's To Kalon Vineyard) lies many hundreds of feet below. Views of Mt. Diablo, San Francisco and the Golden Gate bridge (when it's not foggy) can easily be seen from the property. You cannot see directly into the Napa Valley, but from certain vantage points, have views of the Vaca Mountains that form its eastern side.
Bill grew up in Southern California and moved to northern California to go to college at Sonoma State University. While there he met Phil Coturri who grew up in the area, knew about managing vineyards and was making home wine on the side (now runs a successful vineyard management company based in Sonoma County). Bill was introduced to Phil's home wines and the wine country "lifestyle". That gave him the "wine" bug.
After graduating SSU with a degree in Poetry (Bill continues to write and collect poetry), he worked construction jobs (Bill built his house himself from recycled materials collected over the years) for a while but then soon found vineyard work. He worked one year for Bruce Cohn (BR Cohn Winery in the Sonoma Valley) and actually moved into a trailer among the vineyards for one season. He continued to work at nearby wineries (Kenwood Winery) and was vineyard manager at Carmenet Vineyards for much of the 1980's.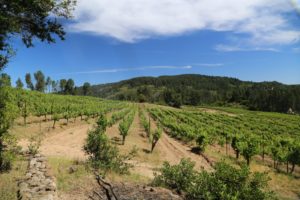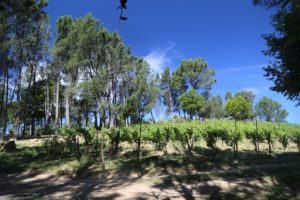 By the late 1970's Bill was actively looking to purchase property to develop his own vineyard. He found this property directly across a small valley from the top of Mt. Veeder and purchased it in 1978. From this angle the top of Mt. Veeder looks like a rolling hill – from the other side it's a precipitous drop. Bill's vineyards see moderate temperatures during the growing season. During the summer, both next door Sonoma Valley and the main Napa Valley can be entirely blanketed in fog in the morning while the temperature here is much warmer. As the fog burns off it warms up in the valleys but then cools down on Mt. Veeder during the day. So, your temperature spikes are minimized while having more sunshine than the lower elevations.
Growing conditions are not easy here – the soils are made up of decomposed volcanics, tuff (a rock formed by the accumulation of volcanic ash) and solid rock caps – these soils are certainly not nearly as fertile as at the lower elevations. Over the years with cover crops and other nutrient additions, Bill has dramatically improved his vineyard soils. Nonetheless, the vineyards struggle, and the fruit is small and concentrated. They harvest slightly over a ton an acre. All water comes from a well several hundred feet deep – one of their vineyard neighbors has a well that goes down over 1000 feet.
Bill planted the first vines in 1982 (some of these original vines are still producing) and their first commercial vintage was from 1988. He firmly believes the best wine possible is made directly in the vineyard. He tries to find a balance in his vineyards, letting sugar form naturally through the vines rather than through dehydration. He strives for concentration and intensity in the fruit (much of this comes naturally from the vineyard terroir), yet he does not want a wine that is overly extracted.
Bill compares his vineyard terroir to what is called "garrigue" in France, a low to mid elevation scrub or chaparral that grows in Mediterranean forests below the tops of the mountains. Some of these characteristics are certainly represented in their wines.
For many years Bill and his family lived here without electricity. Today his sons Emile and Zane help with the vineyard and sales. Zane followed in his father's literary footsteps, graduating from the University of California Santa Cruz with a degree in literature and Emile is a sommelier. Like Bill, both are avid surfers. Susan began Brandt-Hawley Law Group, based in Glen Ellen in 1978 – a law firm dedicated to historic and environmental preservation cases.
Select Wines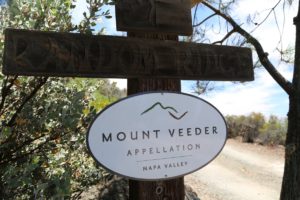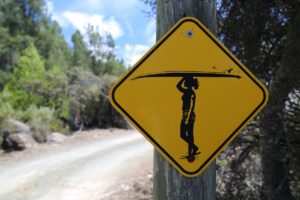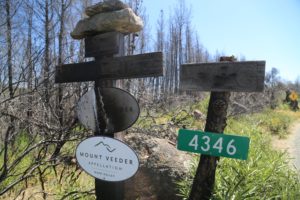 The 2004 Random Ridge Cabernet Sauvignon is blended with a slight amount of Cabernet Franc. The nose is floral, somewhat perfumy in nature with a dusty component – with aromas that are reminiscent of old brick. The wine also has a slight briary or brambly characteristic on the nose and this is carried over to the palate. The palate shows a sweet core of fruit from entry to finish and an abundance of darker fruit notes including black cherry and black licorice. The finish is flavorful and ends with dusty smooth and broadly based tannins.
The 2007 Random Ridge Cabernet Franc is blended with a slight amount of Cabernet Sauvignon (meant to strengthen the mid palate and add more complexity to the finish). This a balanced food friendly wine. The bouquet shows nice red fruit, red cherry and some raspberry at times – it has a lively nose that reveals some baking spices and faint aromas of browned sugar as it evolves in the glass. There is also a gravelly or dry earthy component. The palate is well balanced with dusty moderate tannins that stay in the background from the mid palate through to the long finish. The tannins to do not dominate, rather they complement the elegant fruit.
The typical total production between their Mt. Veeder vineyard and the lower Sonoma vineyard is only about 1200 cases per year. The wines are selectively distributed in wine shops and restaurants in both northern and southern California. For more information and to join their mailing list, visit: www.randomridge.com or their blog: http://randomridge.blogspot.com/