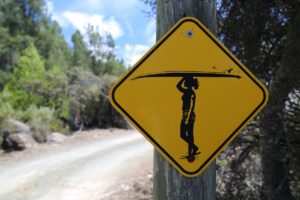 Random Ridge Winery is owned by Bill and Susan Hawley. The vineyards are at an elevation of above 2,200 feet making these among the highest vineyards in all of Napa County. The majority of the vineyard is planted to Cabernet Sauvignon and Cabernet Franc but also includes lesser amounts of Merlot, Malbec and a small block of Sangiovese. Random Ridge owns 47 acres divided into three separate but contiguous parcels. Bill planted all the vineyards and today manages approximately 9.5 acres of his own vines. All his mountain-top vineyards other than as Bills says, "a barrel from the Sonoma side" are in Napa Valley's Mt. Veeder Appellation.
This is a challenging place to grow vineyards; it is at elevation, above the fog line, remote, rugged and the region has a lot of sun. Dusty and dirt rutted tracks lead to homes and to a few vineyards from the "main" road which is nothing more than a single lane strip of pavement leading through the hillsides. This is and certainly feels like one of the more remote places in western Napa County, although all the vineyards on this ridge are only accessible via roads from Sonoma County. There are few vineyards in the area; the land is mostly covered with chaparral and or forest but most of this vegetation burnt down during terrible fires in October 2017. Bill stayed on site and ultimately saved their home from burning.
From the property one has expansive views of nearly all of Sonoma Valley and well beyond. The famed Louis Martini's Monte Rosso Vineyard (perhaps Sonoma's equivalent to Napa's To Kalon Vineyard) lies many hundreds of feet below. Views of Mt. Diablo, Mt. Tamalpais, San Francisco and the Golden Gate bridge (when it's not foggy) can easily be seen from the property. One cannot see directly into Napa Valley, but from certain vantage points, there are views of the Vaca mountains to the east.
There are a few places in Napa Valley that for whatever reason we feel a strong pull towards and more importantly are inspired by – both property and personality. This is most definitely one of them. Bill has built a lifestyle centered around his property, literally from the ground up. He is a farmer, viticulturist and winemaker. But he is also a poet and a surfer. He lives a life of duality, one of dedication to his land but also one of freedom through words and waves. His wines showcase the influence of this rugged mountain site, it's surrounding vegetation and Bill's own personality. And that is unique, eschewing homogeneity – an individualized print that is distinctive, that no other producer on the planet can claim.
Bill grew up in Southern California and moved to northern California to go to college at Sonoma State University. While there he met viticulturalist Phil Coturri who grew up in the area, knew about managing vineyards and was making home wine on the side; Phil now runs a successful vineyard management company based in Sonoma County. Bill was introduced to Phil's home wines and the wine country "lifestyle". He soon developed an interest in learning more about wine.
After graduating SSU with a degree in Poetry (Bill continues to write and collect poetry) and worked various construction jobs. Along with a friend, he also built a house on the property in the early 1980s from recycled materials collected over the years. Later he found work in vineyards; he worked one year for Bruce Cohn (BR Cohn Winery in Sonoma Valley) and even moved into a trailer among the vineyards for one season. He continued to work at nearby wineries including Kenwood Winery and was vineyard manager at Carmenet Vineyards (now Repris Vineyards) for much of the 1980s.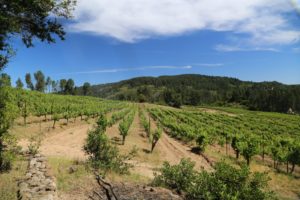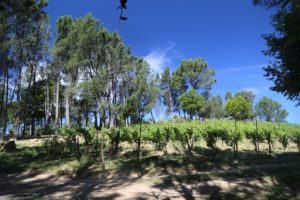 By the late 1970s Bill was actively looking to purchase property to develop his own vineyard. He found this property directly across a small valley from the top of Mt. Veeder and purchased it in 1978 when he was 27 years old. From this angle the top of Mt. Veeder looks like a rolling hill – from the other side it's a precipitous drop. Bill's vineyards see moderate temperatures during the growing season. During the summer, both next door Sonoma Valley and Napa Valley can be entirely blanketed in fog in the morning while the Random Ridge property is entirely in sunshine. In the mornings during the growing season, temperatures here are typically much warmer than lower elevation sites. As the fog burns off it warms up in the valleys but then cools down on Mt. Veeder during the day. So, temperature spikes are minimized while having more sunshine than the lower elevations.
Growing conditions are not easy; the soils are made up of decomposed volcanics including tuff (a rock formed by the accumulation of volcanic ash) and solid rock caps. These soils are certainly not nearly as fertile as at the lower elevations. Over the years with cover crops and other nutrient additions, Bill has dramatically improved the vigor and vitality of his vineyard soils. Nonetheless, the vineyards struggle, and the grapes are small and concentrated. They harvest slightly over a ton an acre. All water comes from a well several hundred feet deep – one of their vineyard neighbors has a well that goes down over 1000 feet.
Bill planted the first vines in 1982 (some of these original vines are still producing) and their first commercial vintage was from 1988. He continues to farm his vines organically and firmly believes the best wine possible is made directly in the vineyard. He tries to find a balance in his vineyards, letting sugar form naturally through the vines rather than through dehydration. He strives for concentration and intensity in the fruit (much of this comes naturally from the vineyard terroir), yet he does not want a wine that is overly extracted.
Bill compares his vineyard terroir to what is called "garrigue" in France, a low to mid elevation scrub or chaparral that grows in Mediterranean forests below the tops of the mountains. Some of these characteristics are certainly represented in their wines.
Sometimes Bill will sell grapes, primarily to Sonoma County producers but has also sold to Napa Valley producers in the past. One of the more recent vineyard designate bottlings was a Random Ridge Cabernet Sauvignon by Loxton Vineyards in Sonoma Valley.
For many years Bill and his family lived here without electricity. Sometimes he has seasonal help from young international workers through the World Wide Organization of Organic Farms (WWOOF). Today his sons Emile and Zane help with the vineyard and sales. Zane followed in his father's literary footsteps, graduating from the University of California Santa Cruz with a degree in literature and Emile is a sommelier. Like Bill, both are avid surfers. Susan began Brandt-Hawley Law Group, based in Glen Ellen in 1978, a law firm dedicated to historic and environmental preservation cases.
Select Wines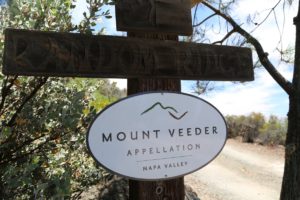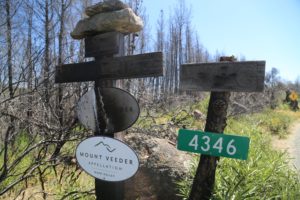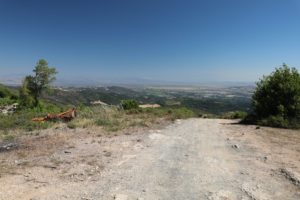 The 2020 Random Ridge Fortunata is 100% varietal Sangiovese from the Brunello di Montalcino clone. Fortunta in Italian is the feminine equivalent of good luck or lucky lady. This wine is deep ruby in color; it was sitting in the glass for about 30 minutes while we were working, teasing us with its pretty aromatics. The bouquet offers a diversity of scents including of red and dark plum, dark cherry, white pepper, a woodsy spice, leather and dried herbs including sage. As the wine evolves in the glass the aromatics change somewhat and show an Asian five-star spice note, dark chocolate and the fruit becomes more pronounced. There is a savory character to the aromas. The palate is high toned with flavors of red cherry, currant, cranberry and a noticeable savory component especially on the finish highlighting both a mouthwatering and energetic acidity and darker spices including crushed black peppercorn. This wine sports well-integrated rounded tannins of a light to moderate feel; the fruit outpaces their light textural grip. Only two barrels were produced of this wine. 15.2%.
The 2019 Random Ridge Cabernet Sauvignon (with a small amount of Cabernet Franc in the blend) is deep ruby in color and nearly opaque in the glass; it's aromatics offer a generous helping of 'character' with aromas that are brooding, dark and well-layered. The more descriptions we use to characterize a wine, the more interesting the bottling. The bouquet offers scents of sweaty baseball mitt on a hot day, a gamey like character, mushroom, freshly tilled moist and dark earth, band aid, dark and ripe plum, loads of dried herbs, peppercorn, pipe tobacco and as it opens further, a light hint of espresso almost hidden by the rest of the aromas. The palate is fresh, and focused on highlighting primarily red fruits including currant, cranberry, red licorice and not quite fully ripe red cherries. The finish is dark, savory, juicy and spice filled, supported by drying tannins with a broadly distributed and pixelated long-lasting texture. With the proper cellaring, this wine has lots of life ahead of it. 14.9% alcohol. This wine would pair well with the Spicy Swiss sausage produced by Zio Brand with several retail locations on California's Central Coast.
The 2020 Random Ridge Cabernet Sauvignon is deep ruby with a light purplish tinge on the rim in the glass; the bouquet is brambly and offers aromas of dark licorice, dark plum, freshly picked blackberries, black currants, cassis and old cedar box. But its scents are primarily focused on fruit rather than secondary characters. This vintage is 15.5% alcohol and there is a small but still perceptible amount of residual sugar on the palate perhaps noticeable more on the front and mid palate rather than the finish. This bottling reveals flavors of raspberry, strawberry, cherry, red licorice and blueberries. The tannins show still very youthful (we tasted three years post vintage) and linger with a dense, dry, moderate and persistent grip along with notes of dried tobacco leaf and dried sage.
The 2007 Random Ridge Cabernet Franc is blended with a slight amount of Cabernet Sauvignon which is meant to strengthen the mid palate and add more complexity to the finish. This a balanced food friendly wine. The bouquet shows red fruit including red cherry and some raspberry at times; it features a lively nose which reveals some baking spices and faint aromas of browned sugar as it evolves in the glass. There is also a gravelly or dry earthy component. The palate is well balanced with dusty moderately structured tannins that stay in the background from the mid palate through to the long finish. The tannins to do not dominate, rather they complement the elegant fruit.
The 2004 Random Ridge Cabernet Sauvignon is blended with a small amount of Cabernet Franc. The nose is floral, somewhat perfumy in nature with a dusty component and aromas that are reminiscent of old brick. The wine also has a slight briary or brambly characteristic on the nose and this is carried over to the palate. The palate offers a sweet core of fruit from entry to finish and an abundance of darker fruit notes including black cherry and black licorice. The finish is flavorful and ends with dusty smooth and broadly based tannins.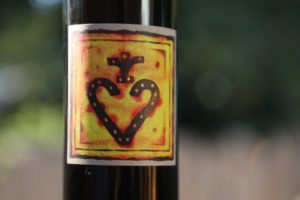 For one vintage only, Random Ridge bottled a dessert wine labeled Willy Nilly. The 2008 Random Ridge Willy Nilly Zinfandel Port (tasted 15 years post vintage) is from the Casa Santinamaria Vineyard in Sonoma Valley (with vines dating back to the 1890s). This wine is a medium tawny color in the glass; for some reason smelling this bouquet immediately triggered a memory of walking into winemaker Dr. Richard Peterson's Christmas Tree house on Darms Lane near Yountville during the holidays, all decorated for the season next to his Christmas tree farm. This wine offers a most appealing scent of ginger snaps and cinnamon cookies along with clove, cardamom, chocolate and a raspberry walnut tart. The palate is very lightly textured, but richly flavored and echoes the bouquet to some extent including notes of raspberry, cardamom, ginger and licorice. This wine is sweet but not overtly so and is counter balanced by its acidity. Very balanced. It is so delicious that half a glass becomes a glass and then the bottle is empty and you either want more or you have fallen asleep, completely relaxed. Only 4 barrels were produced.
The typical total production between their Mt. Veeder vineyard and the lower Sonoma vineyard is only about 1200 cases per year. The wines are selectively distributed in wine shops and restaurants in both northern and southern California and sold direct through their website. For more information and to join their mailing list, visit: www.randomridge.com or their blog: http://randomridge.blogspot.com/