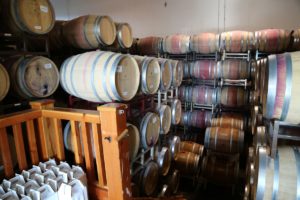 Ramian Estate is run by Napa vintner, Brian Graham who originally is from Texas. His path to wine comes after earning a degree in architecture from Texas Tech. However soon after graduating he started working in wine stores and then as a wine buyer. Bitten by the wine bug at this point, with a career in architecture quickly fading in the rear-view mirror he sold everything he owned save for what could fit in 2 suitcases and moved to France.
He then he enrolled in the University of Bordeaux and worked several harvests in Burgundy and Bordeaux. Gaining valuable winemaking experience from a European point of view, Brian was ready to put his knowledge to the test in a prominent wine making region which is how he soon found himself in Napa.
One of the professors at Napa Valley College was nice enough to let him in to his class 5 weeks after courses had already started – after Brian cold called him in the middle of the quarter. As Brian learned from some of the high-end chateaus in France, the primary aspect reflected in the wines were the hardships of the actual vintage – was it a cold year, hot year, lots of rain etc? Everything else remained consistent from year to year from the type of barrels to vineyard sources. As a result, Ramian tries to lock up long term contracts for most of his vineyard sources.
The 2005 Grenache Rouge is sourced from Lake County (North of Napa County), from 60+ year old dry farmed vines. Don't be fooled by the light appearance of this wine – this color is in no way indicative of the actual structure of the body and palate. It is extremely hard to find a Grenache from a Napa producer due to the fact there just isn't much of this varietal grown in Napa and Napa wineries have to source from elsewhere.
This wine is a winner with a smooth rounded mouth feel – great fruit including strawberries and cherries. It is quite versatile – chill it for hot summer days or enjoy at room temperature for more moderate weather. Brian has been intrigued with wine history for a long time and this theme is carried throughout his different wines.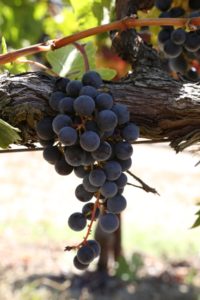 The La Mora is a unique red blend of Dolcetto and Nebiollo. The name La Mora can be traced back to the 15th century when Pontiffs would bless the wine, and they would shout "La Mora" after tasting a particularly delicious wine which literally means "a beautiful day with beautiful wine"! Brian imported budwood from several well-known estates in Italy and it now grows in the Sierra foothills. The Nebiollo provides the structure and tannin backbone for the wine while the Dolcetto fills in the mid palate with some nice fruit and chocolate characteristics.
The nose is very elegant with almost earthy qualities and hints of raspberry and cinnamon on the palate. His Chapter series are proprietary Bordeaux red blended wines in which the chapter number changes each year. We tried Chapter 5; the 5th year Brian has made this wine (2005 vintage). There is a nice sweetness in the elegant bouquet, some vanilla and cherry fruit followed by a big mouth feel full of complex layers of flavor including blackberry, coffee, toasted oak and chocolate, with an extremely long finish. There is a ton of life in these bottles of wine and will age quite nicely.
Brian is also a firm believer in building core blends and then adding to these blends as needed during their time in oak. This is rather than vinifying everything together immediately after fermentation. The thinking behind this is if you have wine that is not as high quality as the rest, you have a chance to isolate that wine during later blending rather than making the final blend right after fermentation. Look for his high-end reserve wine, a 100% Cabernet Sauvignon named J.Garret after his son. Merely 2 barrels of this wine were produced!
As a small winery, Ramian has a lot of flexibility to produce small lots of various varietals. We also barrel sampled some delicious fruit including a Viognier/Roussanne (nice weight on this wine already), and the Two Petites, which is anything but Petite. This is a blend of Petite Sirah and Petit Verdot – want a huge wine with an explosive mouth feel, this is the wine for you.
Ramian's wines are very easily identifiable. There is no label on the bottles, just a small black circle with a white R in the middle. This "label" is actually a replica of the R key from an old Smith Corona typewriter.
All Ramian's wines are produced in small quantities, typically under several hundred cases. They make their wine at Silenus Vintners, a wine making and tasting collective located just south of the town of Yountville. Silenus has a full tasting facility, and you can taste Ramian's wines as well as other producers there.