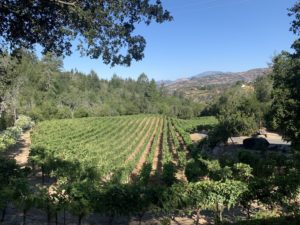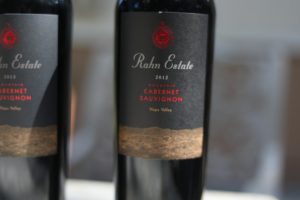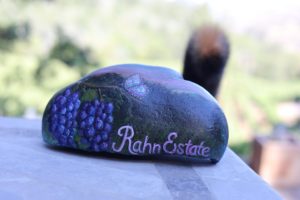 Rahn Estate. Founders of Rahn Estate, Brian and Andrea Rahn met in high school in Fresno and later both attended Fresno State. After graduating with a degree in Agriculture, Brian realized he wanted to work with grapes in some capacity and the family moved several times including living in Sacramento while commuting to Napa Valley to work for Jack Neal & Sons. In 1999 the Rahn family settled in Napa Valley and purchased a 20-acre hillside location on the slopes of Howell Mountain. Andrea remembers that winter well; their property received enough snow to go sledding down one of their hills.
The property was being sold under market value because the perception was there was no water to be found on site. When their neighbor discovered water after drilling a well, they hired a water-witcher and drilled several wells, eventually obtaining enough water to sustain their needs including planting a vineyard. The first vines were planted in 2001; today three clones of Cabernet Sauvignon are planted over five acres separated into three distinctive vineyard blocks. The family sells the majority of their grapes. Each block is named after a family member including Andrea, and their two children, Dylan and Hannah. Their family is intimately connected to this piece of land; Dylan and Hannah grew up among the vineyards. Dylan recalled he first learned to drive an excavator at age seven on this property when they were developing the vineyard. Today both work in the business; she as a winemaker, including for Rahn Estate and Dylan as a viticulturist.
Brian carefully analyzed the soils on their property and despite only 5 planted acres of grapevines, ultimately installed 13 different irrigation sets corresponding to changes in soil and site. As Dylan told us, "The soils tell you what to do." They chose specific rootstocks and clones to match different parts of their property. And not all the property is picked at once; a typical harvest usually involves 3-4 harvest times.
The uppermost portion of their vineyard is less than 100 feet below the Howell Mountain sub-appellation boundary, so they bottle their estate wines as Napa Valley. This part of Howell Mountain is known as Windy Gap with winds from the west funneled up through this small break in the hillsides, especially so in the afternoon.
Their first vintage was a home wine from 2006 simply labeled as Red Table. While it was never commercially released their first few vintages gave them an appreciation for the quality of wines produced from this site. Their first commercial vintage was in 2008 made by winemaker Chad Alexander. Previous vintages have included wines from purchased grapes from select vineyards outside of Napa Valley. From 2014 until 2018, no wines were bottled under Rahn Estate and moving forward all Rahn Estate bottlings will be from Napa Valley.
Another family-owned property is located near Lake Berryessa in eastern Napa County. Approximately three acres will be planted to most likely Grenache, Mourvèdre and Petite Sirah.
Brian and Andrea's daughter Hannah (who graduated from Fresno State with a degree in Enology) took over their winemaking in 2019. And for Andrea, her greatest joy and accomplishment is seeing her children continue their family business – and she also admits, the wine business has become more fun now that they have taken over responsibility for the Rahn Estate wines.
Coastal Viticultural Consultants, Inc.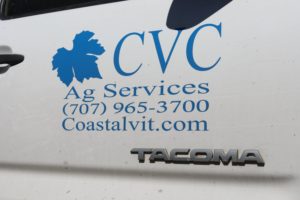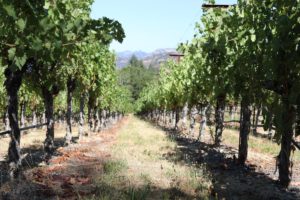 Brian began this viticulture business in 1998; the company offers a full range of data collection services and numerous monitoring applications for both soils and grapevines. Their technology measures various data points in response to vine stress levels, especially as it relates to water usage.
Their services also include vineyard development and irrigation management. While their in-field technology has been extremely beneficial to clients including some services they developed in-house, tested and then brought to market, Dylan is quick to admit that "technology is not a substitute for attention", referring to the constant human management needed to oversee vineyards. Rather, technology in the vineyards is complementary, helping viticulturists make more informed decisions.
Their clients are not only in Napa Valley but also in parts of the San Francisco Bay Area, Lodi and Mendocino County and range from larger winery and vineyard operations to also small wine brands. Vineyards under their management are almost all dry farmed. And some of their technology and services are applicable to other agricultural crops; they have also worked with pear, almond and apple producers.
Select Wines
The 2020 Rahn Estate Rosé is a blend of Cabernet Sauvignon and Merlot from the Oak Knoll District. This wine is medium salmon color in the glass; the somewhat shy bouquet needs some time to fully evolve in its youth. When it opens, it shows aromas of strawberry, a hint of dried orange peel and raspberry. Noticeable immediately is this wine's texture with its creaminess running the length of the palate. It offers flavors of cherry, some citrus notes and various berries including cranberry along with pomegranate. It lingers with some minerality notes and a finishing burst of a brightness. And as our friend simple stated when also trying this wine, "it is comfortable to drink".
The 2013 Rahn Estate Grenache Mourvèdre (a 50/50 varietal blend) San Francisco Bay Area is dark ruby; the bouquet offers aromas of dark cherry, blackberry, boysenberry along with chocolate, chocolate brownie and some other dessert spices. We tasted this wine nine years post vintage date; earlier in its life Dylan described the darker spice influence from the Mourvèdre as being more pronounced. Years in the bottle has tempered this characteristic; the palate shows some light notes of darker spices along with a fruit filled finish of blackberry and boysenberry anchored by dense yet fine chalk-like tannins.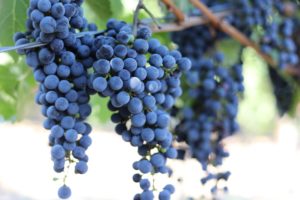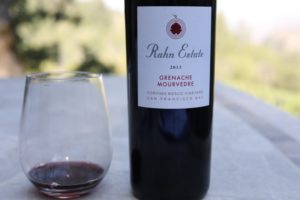 The 2012 Red Table Cellars Zinfandel Corvino Bosco Vineyard San Francisco Bay is dark ruby in color; the aromatics offers dark plum, black licorice and some darker dessert spice notes as the wine evolves in the glass including chocolate and hints of Graham cracker. The bouquet is also somewhat briary. The palate offers flavors of ripe blackberry and boysenberry along with a jam/preserve fruit note but it's not 'jammy'. It is juicy across the palate with red and darker fruits. The finish lingers with some notes of pepper and tannins which offer a light grip.
The 2012 Rahn Estate Cabernet Sauvignon is 100% varietal and was aged 24 months in 100% French oak barrels. This wine is dark ruby in color; the aromatics are initially a bit savory with a meaty nuance and a hint of leather, but as the wine evolves in the glass it offers more fruit including blueberry, blackberry preserve and dark plums. The palate offers plenty of fruit; at this point in its life, it shows extremely well but still has plenty of life ahead of it. We tasted this wine 10 years post vintage. The tannins are well managed, but with some density. They are earthy, medium structured and linger with a light gravelly or silty texture. Surprisingly the tannins show more on this bottling than the 2013 vintage, which was generally considered a more 'muscular' vintage in Napa Valley, especially from hillside vineyards.
The 2013 Rahn Estate Cabernet Sauvignon is dark ruby in the glass; the bouquet offers aromas of blackberry jam preserve, dark plum, a savory blood iron note and dried herbs. The fruit is bright and lively across the palate with flavors of dark plum and blackberry. The finish is savory and features darker fruits including Santa Rosa plum along with white pepper and a light note of dessert spices. The tannins are supple and very well integrated.
The 2013 Rahn Estate Petite Sirah, Corvino Bosco Vineyard San Francisco Bay is dark ruby/purple and opaque. This variety can often be a powerhouse on the palate, but the Rahn's style is a bottling that is balanced, focuses on the varietal taste and is a more elegant showing. The bouquet is somewhat brooding with darker fruit forward aromatics of ripe blackberry and blueberry. The wine shows a richness and density of flavor without any heavy handedness of tannins. It lingers with a mouthwatering freshness, dark fruit and dried tobacco leaf. We tasted this wine nine years post vintage and it was showing exceptionally well.
—
Santa Rosa based artist Bob Johnson visited their property and closely examined their soils. Johnson models some of his works closely on the artist Mark Rothoko, known for his color field paintings, a shading style of art featuring large sections of color. After visiting their property, Johnson created a shading drawing outlining the color of their soil profile for their back label. And the front label is a style of art known as Pointillism (painting by applying numerous small dots) and features a topographical outline of the vistas seen looking north towards Mt. St. Helena from their vineyard.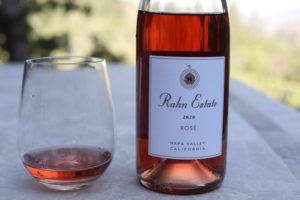 Rahn Estate is the definition of a micro winery, a family owned and managed vineyard with a very small production (typically only 200 cases per year of wines are bottled under Rahn Estate). After five years of building a very strong case for allowing direct to consumer visits and sales at small winery properties in Napa Valley, the organization Save the Family Farms succeeded in convincing the Napa County Board of Supervisors to unanimously pass a Micro-winery ordinance in March 2022 which took effect on May 5, 2022.
This legitimizes hosting tastings at small family-owned properties based in Napa Valley who qualify under this ordinance. These wineries must ferment at least 201 gallons of wine a year from estate grown grapes up to 5,000 gallons per year (home wine allows for 200 gallons per family a year), the property must be a minimum of 10 acres, winery and hospitality related structures on the property must be less than 5,000 square feet in size (including having an ADA-Compliant bathroom) and no more than 20 trips to the property by staff or customers are allowed each day.
Visits with members of Save the Family Farms are hosted by the people who produce the wines, grow the grapes and have invested their livelihood into their properties.
—
In the past, Andrea has placed a limited number of bottlings in local restaurants, but today they focus their sales on direct to consumer. Online orders can only be shipped within California. For more information, visit: www.rahnestate.com