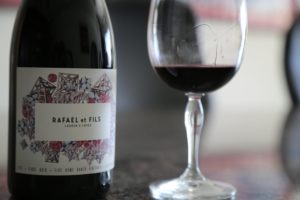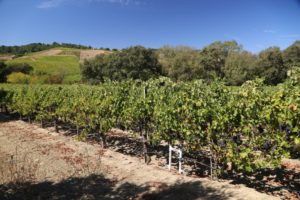 Rafael et Fils (translates from French into Rafael and Son) was established by Georg and Rosie Rafael with the purchase of 50 acres of land in 1985 in the southern part of the Napa Valley (in what is now the Oak Knoll district). A longtime family friend, Frank Farella (of Farella Family Winery) originally introduced them to this property. When they purchased this site, the land was being used for grazing cattle. They immediately planted grapes (today 23 acres are planted to Cabernet Sauvignon and 2 acres of original vines are still planted to Chardonnay).
Spanning decades, Georg's contributions to the hotel industry worldwide has been significant. Coming from a hotelier background, purchasing land in the Napa Valley in the mid 1980's with the intent to plant vineyards took a bit of foresight. Their initial intent was to be solely growers – and for a number of years they sold all the grapes from the property to wineries such as Duckhorn, Robert Mondavi and Far Niente.
After tasting the wines made from grapes from the vineyard Georg decided he wanted to make his own wines from the property. Their first vintage is from 1996; perhaps this is one of the older Napa producers still under the radar (although that is changing). Tom Farella was hired as their winemaker, and he made the wines every year until 2009.
Reaching a crossroads in the evolution of their brand, Georg approached his son Marc for advice on how best to proceed. Marc decided to take over the management of their operations. However not having a background in wine (he studied economics in London), he enrolled at UC Davis – taking various wine making and viticulture courses. Interestingly, Marc spent part of a summer as an intern in his youth working at Veramonte Winery in Chile (coincidentally founded by Augustin Huneeus – who also owns Quintessa Winery in Napa Valley).
Today Marc is the sole proprietor of Rafael et Fils. Despite their first vintage produced more then 20 years ago, Marc feels like he is building a startup. When he came on board, he inherited inventory spanning a number of vintages. He also hired and continues to work closely with winemaker Brad Kitson on all critical wine making decisions. Brad was already familiar with their wines and the vineyard having helped Tom produce some of the earlier vintages.
Their original label used to portray a very French look (earlier vintages display the name Domaine Georg Rafael Pere & Fils). Marc found that buyers would often mistake their wines for being from France. Compared to the old label, the current label is innovative, bright and lively; it is one of the more elegant and appealing Napa wine labels that we have seen. The image is a series of colorful mineral stones created by Michael Kirts of Heroist (a Portland, Oregon based design company).
Marc's philosophy is to create 100% varietal specific wines (no blends) currently from the family vineyard in Oak Knoll as well as a vineyard to the north in Mendocino County. The focus is on wines that are old world in style – showing more restraint when it comes to ripeness, level of alcohol and feature long ageability. With a track record of over 20 years, these are wines that have proven to age very well.
Marc has known vintner Mary Elke for years. Mary owns a small vineyard in Napa's Coombsville AVA, but is most known for founding Elke Vineyards in 1979 with her husband Tom just west of Boonville (Mendocino County) to the north of Napa. Marc started sourcing fruit from this vineyard in 2013.
Select Wines
The 2015 "Lauren's Cuvee" Anderson Valley Elke Home Ranch Vineyard Pinot Noir was named in tribute to Marc's fiancée Lauren. This wine spent a year in oak with about 20% being new French oak. Bottled unfined and unfiltered. Offers an elegant bouquet with raspberry notes and a sweetness of dessert spices and a hint of tobacco. Supple and well balanced this wine drinks well young. Good acidity with a hint of earth notes and mushrooms on the finish.
As a side note, this is a Pinot that will probably age well. Some time ago, we enjoyed a 1995 Farella-Park Pinot Noir (also from the Elke Vineyard) 20 years after its vintage date; it still had plenty of life, anchored by its great acidity.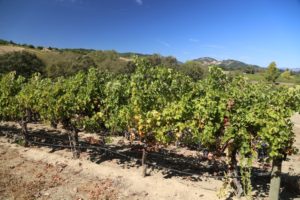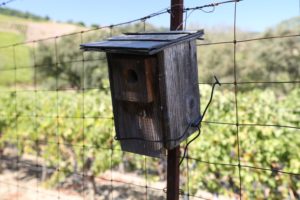 Their Napa vineyard is located in the far western part of the Oak Knoll District (borders Mt. Veeder) planted on the southern hillsides of the Mayacamas Mountains. Alston Park forms the southern border to their property – with vines planted almost to the park's border. This is a generally cooler part of Napa and can often be significantly colder than up valley. A good example of this was during a recent harvest slightly before sunrise – Marc measured the temperature at the vineyard as 55 degrees while up in Oakville at the same time it was already around 75 degrees.
The 2013 Estate Cabernet Sauvignon is their most produced wine, this vintage was just under 800 cases. It was aged in 40% new French oak (typically barrels with lighter toast levels). It is well layered aromatically. It shows elegant notes of blackberry and black licorice woven with lesser aromas of cigar smoke, an herbal nuance and cedar box. The palate is supple texturally on the entry but rich in flavor. Polished but noticeable tannins are somewhat chalky and slightly chewy. Very appealing mouth feel. A harmonious finish that is well integrated into the wine. Excellent balance.
—
To date Rafael et Fils is sold mostly through distribution. Total annual production is around 1500 cases. The wines are available locally at ACME Wine Shop in St. Helena, Backroom Wines in the city of Napa and have been at the French Laundry, Solage and Charter Oak restaurants. There is some international distribution including Japan, Thailand and the UK. For more information and to purchase, visit: www.rafaeletfils.com
NOTE: possibly no longer producing. Moved to Europe. We will archive this review at some point.