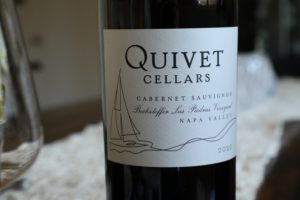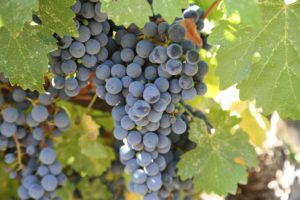 Quivet Cellars focuses on extremely small production Cabernet Sauvignon (with a tiny production of Syrah) using the finest artisan techniques, hands on wine making, premium vineyard sources and limited production often highly allocated French oak barrels. Quivet Cellars is a partnership between four partners who all share a passion for fine wine. The name Quivet comes from Quivet Neck, a very historical area in eastern Massachusetts located on the bay side of Cape Cod's geographical fishhook, with no traffic about a 90-minute drive from the center of Boston.
The Quivet Neck part of Cape Code including the community of Dennis was among the earlier settlements from Europeans in the United States – founded in 1639 only 32 years after the Mayflower landed at Plymouth Rock. The Native American's called part of this landscape Quivet. Like wine in Napa Valley, Quivet Neck historically has been home to a rich natural resource, in this case, salt. Salt was first mined from deposits commercially in the period of the Revolutionary War and became a valuable product among the colonial settlements. Later the site was home to a prosperous shipbuilding industry (the original clipper ships were called Shivericks).
The actual physical Quivet Neck is a strip of sand accessed by driving past the Quivet Neck Cemetery, soon reaching a dirt road which winds past Crowes Pasture Conservation Area before ending at a locked gate with several nearby parking spaces. One then can walk a short distance along a sandy road, or better yet, along the white sand beach. Our recommendation for visiting this area is during early to mid-Fall, hopefully enjoying a clear and brisk day with next to no one on the beach. And one should spend a little time wandering through the tiny community of Denis including a stop for lunch or dinner at the excellent Scargo Cafe.
Several of the partners involved with Quivet have strong family ties to this east coast region.
Quivet Neck, Cape Cod

Quivet Neck Cemetery

Denis

One of the now partners, Duane was introduced to winemaker Mike Smith who at the time was assisting Thomas Brown with some of his wine making projects. While visiting Napa Valley Duane contacted Outpost Winery to purchase a particular bottling of Zinfandel but was told they were already sold out of this wine. They referred him to vintner Fred Schrader's (founder of Schrader Cellars) wine shop on the north side of Lincoln Ave in downtown Calistoga where Mike was working at the time. He still had a case of the bottling Duane was interested in. Both men started talking and Duane casually mentioned his interest in potentially starting a wine brand someday. He left his business card with Mike.
Mike recalls he held on to Duane's business card for about a year before reaching out to him. Mike's own wine project, Myriad had not yet even released their first wines. Duane asked Mike to prepare a business plan (Mike's degree is in business) and he did so. A partnership was formed and included individuals who worked in the medical/pharmaceutical industry as well as the world of venture capital. Mike has made every vintage since the beginning and is also one of the partners. At that time, Mike had already helped make wine for Napa notables including Schrader Cellars, Maybach and Outpost. Today he continues to produce exceptional wines for Myriad Cellars with his wife Leah and also consults for several other small Napa Valley based brands.
Select Wines
Mike has been working with Los Madres Vineyard (meaning the mothers in Spanish) since 2004 when he first was introduced to these grapes through his work at Nicholson Ranch Winery in neighboring Sonoma County. For reference this vineyard is located on the Sonoma side of Carneros just north of the popular diner, Lou's Luncheonette and and near one of the most impressive structures in all of Carneros, the hilltop located Chateau de Ninis. This is a cool weather Syrah, moderated by the cold waters of the nearby San Pablo Bay, but the actual vineyard site is located in a bowl, which helps protect the vineyard from the notorious windy conditions of the Carneros region and geographically helps retains additional heat. The vineyard site and terroir produce grapes which have excellent acidity year in and year out. Mike continues to source grapes from this site each year along with several other producers including for Myriad.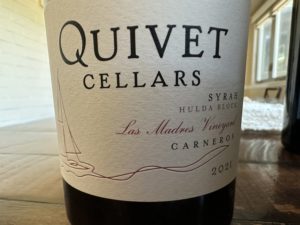 The 2021 Quivet Cellars Los Madres Vineyard Carneros, Sonoma County Hulda Block (ENTAV clones) was destemmed before fermentation. This wine is deep ruby in color; it offers an immediately noticeable bouquet of darker spices including toast, coffee grinds, dried herbs, dark chocolate and Graham cracker. It also shows plenty of fruit, especially after it has time to evolve in the glass with aromas of dark plum, mulberry and blackberry. The nose is dark and also meaty at times along with tobacco spice. The entry is plush but balanced with a depth of layered and darker fruits including plum. The tannins are long lasting, dense and show a lingering dusty note and a hint of pepper. Their grip is not course but sports still somewhat tightly wound structure in their youth. Finishes savory. This wine has the character to continue to age for years to come.
Quivet Cellars focuses most of their production on premium vineyards within Napa Valley; at last count and at the time of our latest update to this review, they are sourcing from several extremely historic Beckstoffer owned and managed sites including Las Piedras Vineyard and Pellet Vineyard, both in St. Helena.
The Beckstoffer owned Las Piedras Vineyard is appropriately named; in Spanish the name refers to: the rocks. The resulting rocks are due to the vineyard being located on alluvial deposits from the nearby Mayacamas mountains; approximately 2/3 of the neighboring also Beckstoffer owned Dr. Crane Vineyard shares a similar rocky profile although its soils are not quite as rocky. And Las Piedras Vineyard tends to ripen 1-2 weeks after Dr. Crane most likely due to differing rootstock.
The 2020 Quivet Cellars Beckstofer Las Piedras Vineyard is deep ruby and nearly opaque looking in the glass; the bouquet offers a diversity of aromatics including violets, lavender, a dusty note, cocoa powder, chocolate and a damp earth note resulting from freshly tilled soil. The scents express more fruit as the wine evolves in the glass including of cherry. The mouth feel is seamless and smooth from the entry through to the finish. This wine offers flavors of black raspberry, plum and cherry. The ripe and rounded tannins anchor a supple finish which lingers with both red and darker fruits along with a light dusty nuance.
The 2020 Quivet Cellars Napa Valley Cabernet Sauvignon (Calistoga) was a one time bottling with grapes from Kenefick Ranch and the Peterson Family Vineyard (Switchback Ridge). This wine is dark ruby in color: the bouquet is immediately elegant, including of old leather, plum, old cedar box, dust, and as the wine opens further, it reveals a dark tobacco spice, white pepper and raspberry. In addition to its spice notes, there is plenty of fruit here: we wrote brambly to describe its aromatic character. On the pallet, this wine offers flavors of blueberry, dark cherry, and pomegranate. Its texture is plush with feathery and harmonious tannins which linger with a gentle grip.
It is always refreshing to try a Syrah that is balanced and doesn't show overly spicy, both in the bouquet and on the palate. The 2006 Quivet Cellars Syrah Las Madres Vineyard Hulda Block Syrah offers an elegant and balanced bouquet; it is very aromatic, almost perfume-like. The bouquet offers an appealing medley of cooking spices. The mouth feel is soft and rounded throughout; it is rich, plush and juicy with intense flavor including cherry and dark berry fruit. The long nd supple finish so characteristic of Smith's hand-crafted wines is clearly evident here. The good news is this is a very enjoyable wine; the disappointing news is only 48 cases were made.
The 2006 Quivet Cellars Cabernet Sauvignon is sourced from the same vineyard as another Cabernet Sauvignon made for Mike's own label, Myriad Cellars; the fruit source is the same for both wines and even picked on the same day. However, stylistically it is very interesting to notice the differences in part based on the different winemaking programs. This wine is sourced from a very steep hillside originally hand-terraced vineyard at about 900 feet in the Mayacamas mountains in the Spring Mountain District. The bouquet starts out wonderfully with aromas of the smell of dry earth on a warm summer's day, mineralities and crushed rock. Some darker spices and notes of cedar are also present. The palate is full of ripe fruit including boysenberry, and blackberry with notes of dark chocolate. A touch of toasted oak helps complete the finish which is well structured yet also very well balanced. With that said, any notes of oak in this wine are subtle, found on the nose and then again on the finish. As with the Cabernet Sauvignon made from this vineyard for Myriad cellars, this wine is all about the terroir and well represents this particular vineyard site.
Quivet Cellars also sources grapes from Kenefick Ranch located in Calistoga. During our first visit with Mike, we tried a barrel sample of the 2007 Kenefick Ranch Cabernet Sauvignon. While not yet built as a "complete wine" at the time of our tasting, (still needed future blending), this was already a showy wine with powerful fruit and intense mouth filling flavors.
—
Because of their extremely small distribution, Quivet's wines are available exclusively to mailing list customers with releases occurring several times a year including in February for the Syrah and Sauvignon Blanc and in May for their Cabernet Sauvignon wines. For more information, to join the mailing list (for immediate allocation to wines if available) or to schedule a tasting, visit: www.quivetcellars.com