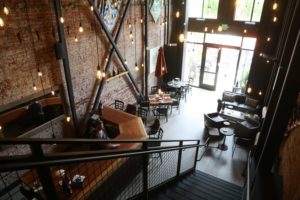 Quilt & Co opened in downtown Napa in August 2020. This tasting room features a number of brands from 5th generation winemaker Joseph (Joe) Wagner's Copper Cane & Provisions collection. It is located in a beautiful 100+ year old brick building on Main Street across from Veterans Memorial Park and the Napa River. Previous tenants were Velo Pizzeria, Rio Poco and Pilar restaurants. With a significant retrofit already in place, the building survived the 2014 Napa earthquake nicely intact while nearby buildings were not so fortunate (including the building that houses Carpe Diem restaurant).
Wagner's Quilt brand focuses on Napa Valley grown fruit and the 'co' includes brands made from grapes typically grown outside of the Napa Valley including neighboring Sonoma County, central California and even Oregon. Wagner owns a sizable piece of property in the hills near Calistoga Ranch in the northern part of the Napa Valley. The name 'quilt' came from time spent on this property – looking down at the patchwork of vineyards – which become even more quilt-like after harvest when leaves begin to turn various shades of yellows and reds.
Additional brands represented at the tasting room include Belle Glos (the Clark & Telephone Vineyard Pinot Noir in 2001 was this brand's first commercial wine, the brand Belle Glos named in honor of his grandmother and easily identified by the unique red wax shape on the outside of the bottle), Beran (a brand that focuses on Zinfandel), Böen (meaning 'to farm' in Norwegian in honor of his own heritage producing California grown Chardonnay and Pinot Noir), Elouan (meaning 'good light' featuring Oregon Chardonnay and Pinot Noir) and Steorra (a sparkling wine).
Wagner's parent company, Copper Cane & Provisions was not named for golden looking canes on grapevines seen under smoky brownish skies at sunset during the ubiquitous fire season, but rather is an homage to the eventual lignification of the canes that come towards the end of the growing season indicating that harvest is coming soon. The green canes turn a color that is almost copper like.
All his brands are made at a large production facility in Rutherford (about 30 minutes north of the tasting salon).
Copper colored canes

Joe Wagner grew up at Caymus Vineyards – where wine is his blood so to speak. During a visit to Quilt & Co, we were told a story as related by one of their hosts. At age 19 Joe moved to Mexico to spend some time working at table grape vineyards and practicing his Spanish. For 16 years the Wagner's operated a table grape growing operation in the Sonora Desert in Mexico. They ultimately developed and managed 400 acres of these grapes – shipping the grapes back to the states for consumption. Eventually they sold this business.
After his time on the farm, Joe returned to California sporting dreadlocks. Along with a childhood friend, (who works for Copper Cane) they presented a cigar box to his father Chuck – who probably initially thought his son was returning from Mexico with some special cigars to present to his supportive father. He opened it and instead of cigars, discovered the gift inside was Joe's dreadlocks – symbolizing Joe's return and his seriousness about working in the family business.
In 2006 Joe began crafting wines that would become bottled under Meiomi – he eventually sold this popular Pinot Noir focused brand to Constellation Brands in 2015.
Quilt & Co Tasting Room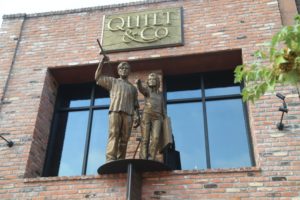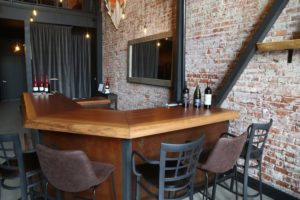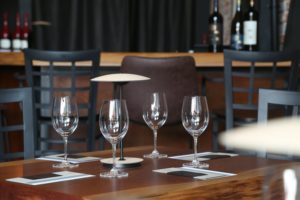 Perhaps the most common question visitors ask the hosts when visiting this space is 'who are those statues of'? The two highly visible 'golden' statues perched on the exterior of the building high above the street level are of Cesar Chavez and Dolores Huerta. These statues were unveiled in 2015 across the street at Veterans Memorial Park and were created by local artist Mario Chiodo. Chavez died in 1993 but Huerta attended the unveiling of the statues.
Wagner owns both the buildings housing Quilt & Co and the former AVOW Restaurant along with a third building – as of our latest update to this review – housing the non-Wagner owned La Taberna (Spanish style small plates menu).
A number of tasting selections are offered including Napa Valley only wines, a flight that includes wines from a diversity of sites primarily from outside of the Napa Valley, higher end wines and even a library tasting featuring some older vintages. Due to their affiliation and proximity to the former AVOW next door – a number of small bites and pairings were prepared by the AVOW chef and then brought table side to Quilt & Co.
UPDATE: we heard that since AVOW is now closed, Quilt & Co will be moving into the former AVOW space. We will keep a close eye on this and will update our notes here accordingly once we have more details.
Select Wines
In what is a very unusual offering – in 2019 Joe released his 2011 vintage of Taylor Lane Pinot Noir bottled entirely in magnums. The source for these grapes is from a vineyard that he helped plant when he was 15 years old in the Sonoma Coast appellation in neighboring Sonoma County. Medium ruby in color offers very pretty aromatics including raspberry, cherry cola, white pepper, an Asian 5-star spice and subtle hints of cocoa powder – found more towards the back of the bouquet. Offers dark fruit across the palate, with a slight roundness in texture complemented by good acidity. Plenty of spices on the palate and on the finish – including peppercorn, dried tobacco leaf and a fruit spice union similar to the skin of a ripe Santa Rosa plum. The tannins are present but are fairly well integrated.
And this wine is named for the street that passes by the vineyard – in the rolling hills west of the tiny community of Occidental.
The 2019 Belle Glos Oeil de Perdrix Pinot Noir Blanc was made from grapes grown specifically for rosé. In French, Oeil de Perdrix means 'eye of the partridge' – incidentally this is the same name that Sacramento wine retailer, Darrell Corti suggested to Bob Trinchero to use for what would become Sutter Home's famous White Zinfandel (but the TTB ultimately rejected that name indicating it needed an English translation as the name). Its name originated in Champagne to describe a rosé wine and is now used to describe wines produced in Switzerland. Salmon pinkish color in the glass, offers aromas of strawberry and watermelon. Noteworthy is the wine's saline type viscosity – showing weight with its rounded and creamy texture. A lingering brightness on the finish with flavors of cranberry, red cherry and currant – not tart, simply refreshing.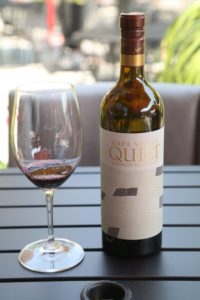 The 2016 Belle Glos Eulenlock Napa Valley Pinot Noir (was sourced from Carneros). Medium to darker ruby in color shows appealing aromatics including fig, brown chocolate, mocha and various dessert spices. Rounded with an appealing mouth feel and a noticeable density or weight on the palate- this wine has plenty of layers. Lingers with loads of fruit, well integrated fine-grained tannins and notes of old cedar and cardamom. And Eulenlock means 'owl hole' in German – referring to the owl boxes located at this vineyard.
The 2017 Quilt Cabernet Sauvignon was sourced from 7 vineyard sites within the Napa Valley and is 100% varietal. Dark ruby in color offers a sweetness of ripe fruit driven aromatics including fresh boysenberry and blackberry and hints of Graham cracker. Dark fruit shows across the palate including black cherry. The tannins are noticeable but are not coarse. Lingers with some darker spices, and toasted cedar. Mouthwatering.
The 2015 Quilt Cabernet Sauvignon Reserve is a very limited barrel selection of the finest lots from that years' vintage. 100% varietal. Dark ruby in color with purple tinges on the rim. Offers a ripe sweet bouquet with notes of blackberry jam and various dessert spices including nutmeg and vanilla. Loads of fruit on the palate including boysenberry and blackberry. Lots to love here for drinkers of hedonistic Napa Valley Cabernet Sauvignon wines. The tannins are chewy and somewhat gravely in their textural feel.
The 2018 Napa Valley Quilt, The Fabric of the Land is a blend of Merlot, Zinfandel, Petit Verdot and Petite Sirah – all harvested from Napa Valley grown vineyards. Dark purple in the glass with pretty aromatics including licorice, mocha, dried herbs, cedar and blueberry. Somewhat savory. Lovely texture across the palate – a balanced and a riper showing built around a richness of flavor. A crowd pleaser if you will. The tannins are drier and darker in nature but are not course. Juicy and mouthwatering – this is a fun wine to enjoy by itself.
AVOW Napa (permanently closed)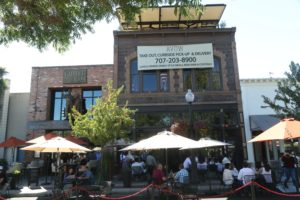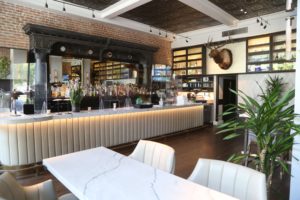 This cozy and inviting restaurant opened in 2019 in the very historical Fagiani/Thomas building – named after Nicola Fagiani who bought the building in 1945 and opened a bar, operating as Fagiani's bar from 1945 until 1974. We keep our notes and photos here for historical reference. Walking inside one feels like walking back into time, to another era where if the walls could talk – one's ears would burn with their stories. However, not all stories relating to this building have been lost; Co-owner Anita Andrews (Fagiani's daughter) was murdered inside in 1974 – the weapon: a simple screwdriver. The bar remained completely shuttered until 2010, a year after a DNA match finally identified a suspect in the murder – he was convicted in 2011. Enthusiasts of some of Napa Valley's more gruesome murder stories, including this one, can reference the book Murder and Mayhem in the Napa Valley by Napa resident, Todd L. Shulman.
Prior to AVOW, previous tenants included two short lived restaurants, The Thomas and Ninebark. Finally, 'life' has returned to this space and with other nearby restaurants, this block, the "Joe Wagner block" has become an important destination for both visitors and tourists to downtown Napa (easily within walking distance from the Napa River, numerous tasting rooms and various shops).
The former AVOW features three floors including two well stocked bars on both the first and second stories and dining space on all three floors (the kitchen is located on the second floor). And there was a large elk head mounted to the wall that Joe got during a hunting trip. And fairly unique for the city of Napa was a small semi-outdoor seating area on the third floor offering stellar views overlooking parts of the downtown skyline and Napa River. And decorating the walls of the third story were ceramic masks in the likeness of Wagner's first 25 employees at Copper Cane along with himself and his children.
For more information about Wagner's wines, visit www.coppercane.com and about Quilt & Co, visit: www.quiltandco.com
Quilt & Co