Punk Dog Wine produces affordable wines meant to be enjoyed and consumed at the time of purchase. With statistics being thrown around about how most wine is consumed within an hour or two of purchase, this makes a lot of sense. In addition, they focus on non-traditional red varietal blends.
It is a name that perhaps wouldn't necessarily be associated with the more serious side of Napa's wine making industry but in all seriousness of honing a quality craft, there is a certain element of fun that is important to. And this catchy name certainly reflects that.
Their first vintage was in 2004. It is always refreshing to find a winery that is not named after the owners' last name; in this case the winery is named after owner and wine maker Eric Gordon's strong but small dog (named Sophie) who he affectionately calls the "mischievous mascot".
This dog was bred for cattle and sheep herding, it has a lot of energy, and its nickname at times is "punk" hence the name. Based upon the chosen name, their wines are all about having fun; as Eric says, "take your fun seriously". Case in point: one year Eric was not able to secure premium grapes and as a result did not make any commercial wine. Quality of grapes is of the utmost importance in winemaking and Eric did not want to compromise the quality of his wine.
For years, Punk Dog focused on two wines each year, Sophie's Riddle and Sophie's Romp – each wine was completely different from the other. Currently Eric produces a Punk Dog sparkling Viognier.
Owner and wine maker Eric Gordon was an 'air-force kid' as he says, having grown up in the Caribbean – spending his formative years in the Dominican Republic – often taking weekend trips to Puerto Rico. Later he attended college at the University of South Florida, graduating with a BS Biology degree with a focus on Zoology. It was a trip to visit his grandfather in Santa Rosa, California that introduced him to fine wine. Prior to this trip he had no appreciation for quality wines – having only tasted cheaper wine. His grandfather maintained a healthy cellar and during that visit, Eric was introduced to a number of wineries in both Sonoma and Napa Counties.
Rather than returning to what was his career at the time in Florida (a medical laboratory technologist) – he moved to wine country. It was a big career change at the time – he sold all his belongings – packed whatever he had left in his car and drove to California. His medical lab background certainly helped when he started looking for work at various wine labs. His first job at a winery was at Dry Creek Vineyard. With a degree in Biology, he had a strong background in chemistry – but furthered his education by taking various wine related chemistry classes at Napa Valley College. Over the years he has worked with some of the best in the business including Kirk and Nils Venge, Philippe Melka and Marco DiGiulio.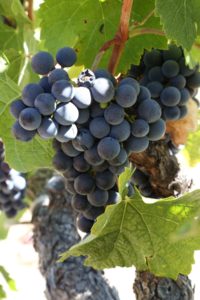 In 2006 Eric located a space in the industrial park just south of Napa College – now called the Crusher District which is home to many small artisan producers. It was the former home of Delectus Winery and before them, part of a number of buildings in this park were used by William Hill Winery. Eric has since doubled the size of the space needed – he makes both Punk Dog and E. Gordon Cellars here – along with several custom crush clients who make their wines here.
Eric offers a number of related services for custom crush clients including one that is somewhat unusual in the area. He has one of the few counter-pressure bottling lines in Napa and can produce wines by the Charmat Method – fermenting sparkling wines in tanks rather than in bottle.
During our first visit, we tried the 2004 Sophie's Romp from a barrel sample towards the end of its aging. It is a three-varietal blend (Cabernet Sauvignon, Zinfandel and Merlot). This wine sees three years in oak before it is bottled, and the extra year really helps the wine come together. The nose has cedar aromas with hints of oak and big fruit flavors. It is a very dark wine with great structure. This wine is "robust in flavor" but with well-managed tannins; it is interesting to let it open and to see how the flavors change over time.
Sophie's Riddle is noticeably lighter wine – with a blend that one rarely sees from the Napa area. Try to solve the riddle of this blend, which appears on the bottle's label. The blends often change each year depending on available fruit sources.
With access to his own sparkling wine making equipment on site, Eric can make wines such as his 2014 Sparkling Viognier (sourced from Alexander Valley in neighboring Sonoma County). Shows nice fruit initially with a pleasing creaminess. A slight lingering bitterness shows on the finish – best tempered by Eric's recommendation of using this wine for making mango mimosas. Easy drinking summer wine.
Eric continues to make limited production wines and are not currently available through his website due to low production (only about 400 cases currently produced annually). Interested parties can contact him directly via phone. Punk dog has a mailing list which you can sign up for online. Visit: www.punkdogwines.com