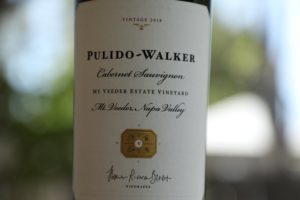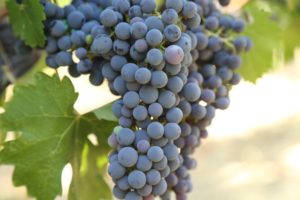 Pulido-Walker was created by husband-wife Mark Pulido and Donna Walker. Mark's family originally immigrated from Spain and were pharmacists. Mark also graduated with a degree in pharmacy from the University of Arizona and later became President and CEO of McKesson Corporation and Novartis Pharmaceuticals Corporation USA.
Donna also comes from a pharmaceuticals background; like her father, she earned her degree in pharmacy. She joined 3M Pharmaceuticals and eventually became their North American Sales and Marketing Directory (of their Telecom Division). Both run the Pulido Walker Foundation, a charitable organization that focuses on health and education related issues.
They both began to visit Napa Valley in the early 1980s tasting at wineries ranging from Carneros to Calistoga.
Mark and Donna interviewed a number of Napa Valley's most well-regarded consulting winemakers and ultimately settled on Thomas Brown for a variety of reasons. Thomas was intrigued at the opportunity to provide his input on planting their vineyards as well as be their founding winemaker. And there is the Palmetto State connection which doesn't hurt; both he and Donna are originally from South Carolina.
They purchased 115 acres in the southern part of Mt. Veeder appellation in a section of this appellation that does not feature the steep rugged hillsides that Mt. Veeder is more known for further to the north. Rather, their property is located on rolling more open hillsides featuring exceptional views of the southern part of Napa Valley including the city of Napa in the distance. Part of the reason they purchased this property was for the views but also due to its very close proximity to the city of Napa, while maintaining the feel of being in the country. Its elevation ranges from 650 to nearly 1,000 feet.
After they purchased the property, they set out to determine its' wine growing potential – digging 100 soil pits on site and monitoring the various micro-climates and temperatures. Comparing the results to a number of already known premium growing sites in the valley, they realized their property would be good for growing premium wine grapes. A nearby vintner sells grapes to Yao Ming for the Yao Ming wines, but most of this southern part of Mt Veeder is still grassland and oak trees.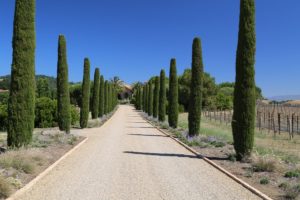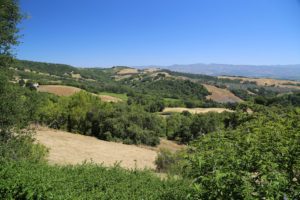 At the time of our visit several clones of Chardonnay as well as four clones of Cabernet Sauvignon were just being planted on the surrounding hillsides (today 15 acres are planted to vines of which 75% is Cabernet Sauvignon and the remainder Chardonnay). The first harvest from their Cabernet Sauvignon vines was in 2018 and resulted in the subsequent first bottling of the Pulido Walker Mt. Veeder Estate Cabernet Sauvignon. Each of the clones are harvested and fermented separately before deciding on the final blend.
A number of years ago, Pulido-Walker secured a permit for a cave winery on site; however conveniently Mark and Donna are partners in Mending Wall, a winery located off of the Silverado Trail north of St. Helena which is where Thomas makes the wines.
Mark and Donna had wine made in barrel from the 2008 and 2009 vintages, but it wasn't up to their exacting quality standards, so it was never bottled under their own label. Their first commercial releases were from the 2010 vintage.
Thomas Brown, Winemaker
Thomas is one of the busiest wine makers in Napa Valley. Several producers have showed us lists of all the Napa brands that he consults for and or provides direct winemaking services; this is an extensive list. He is from South Carolina and developed an interest in wine while attending the University of Virginia where his major was not wine related (he studied English and Economics).
He moved to Napa Valley in 1996 and took a job at All Seasons Bistro in Calistoga, a restaurant known for their California cuisine, wine selection and long time in business. Unfortunately, All Seasons Bistro permanently closed in 2020. While there, Thomas met winemaker Ehren Jordan who was working for Larry Turley at the time of Turley Wine Cellars. Thomas took a job with Ehren in the cellar at Turley in 1997 and spent several years there before beginning his own career and starting to consult for various clients (some of which were clients that Ehren was already working with).
And within only 10 years of making wine in Napa Valley Thomas received two 100-point scores from Robert Parker. Regardless of what your perception is of scores, creating several wines within a short period of time that receive 100 points from Parker was a watershed moment in Thomas's consulting career.
Today Thomas is highly sought after for his winemaking services, experience and access to premium area vineyards. And while he was once the student, over the years he has become the teacher. We have met with a number of winemakers who worked under Thomas and consider him one of their mentors. These are winemakers who have gone on to establish their own brands or consult for other Napa based brands.
Select Wines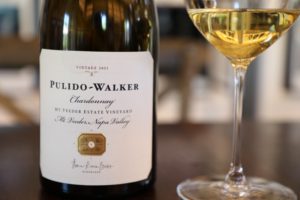 The 2021 Pulido Walker Mt. Veeder Chardonnay is deep golden in color; if California sunshine, or perhaps all the gold found in this state had an aromatic, it would be similar to this bouquet. The scents are highly attractive and include warm butter, vanilla bean, crème Brule, ripe pineapple, yellow peach, apricot, caramel and other assorted sweet baking spices. The flavors somewhat echo that of the aromatics, sporting notes of ripe pear, yellow peach, apricot, mandarin citrus and papaya. A hint of vanilla lingers on the lively finish. This is a rich but balanced bottling. Its texture is supple, creamy and lightly saline in its feel. There is weight here but its not overly viscous. It is nice to finally taste a bottling of this; we recall a number of years ago when Pulido Walker's Estate Director at the time, Daniel Ha invited us out to see the planting of these vines but unfortunately we were traveling then. This wine was made from several clones including Montrachet, Robert Young, and Wente; it was aged for 14 months in 67% new French oak barrels.
The 2018 Pulido-Walker Cabernet Sauvignon, Mt. Veeder Estate Vineyard (100% varietal) is deep ruby and the definition of opaque in the glass; the bouquet is highly aromatic and darkly fruited. It shows aromas of dark plum, black cherry and a floral component of violets. To go along with the layered fruit is a savory supporting spice built upon aromas of dark toasted oak, a dark forest floor note and old cedar wood. This wine offers equally dark fruit flavors including of plum, cherry and blackberry. This wine lingers with a noticeable woodsy spice and crushed peppercorn, both of which outlive the length of the fruit. Like the bouquet, the palate is also savory. The dense textural feel of the tannins against the rich fruit is a complementary character; they show as grainy with a persistent accompanying dry character, but are also rounded and ripe and anchor a rich and long-lasting finish. For reference, we tasted this wine 5 years post its vintage date. If one were categorizing a wine as either masculine or feminine, this is clearly masculine. We could envision a glass of this wine in the hands of someone smoking a cigar inside the lounge upstairs at the Bohemian Club in San Francisco.
Pulido-Walker used to source from the Panek Vineyard, a site that Thomas introduced them to. The Panek Vineyard is located on the east side of Highway 29 just north of Deer Park Road. The vineyard itself is valley floor but has a slight slope to it and is very well drained. This wine is bottled with a red capsule as a reference to the types of aromas and flavors that this vineyard tends to consistently produce each year. Only 265 cases of this wine were bottled, and it was already sold out at the time of our tasting. Mark and Donna continue to work with this vineyard – future vintages will be available – always in small amounts.
The 2012 Pulido-Walker Panek Vineyard Cabernet Sauvignon initially shows some intriguing floral notes and as it breathes both red and darker fruits show with a sweet red berry fruit that is at the core of the bouquet. Aromatically it is elegant but also powerful. On the palate there is good acidity, notes of raspberry, blackberry and soft tannins that are very well integrated. This wine drinks very smoothly and easily while young.
Switching gears entirely for their other wine is a small production Cabernet Sauvignon from the Melanson Vineyard. Pulido-Walker was the first to make a vineyard designate from this particular vineyard. The Melanson Vineyard sits high on the slopes of Pritchard Hill at an elevation of between several other small premium producers also source from this property.
Multiple clones of Cabernet Sauvignon were picked and fermented separate from each other – all using natural yeast. The 2012 Pulido-Walker Melanson Vineyard Cabernet Sauvignon is dark in the glass and reveals a pleasing depth of aromas including plenty of darker fruit, black fig and hints of chocolate as the wine opens. The entry is plush and soft with darker fruit notes including blackberry. The delicate tannins start on the front of the palate and end silky and smooth on the finish.
—
The label design ties into both Mark and Donna's backgrounds. The small pharmacy scale is an ode to Mark's heritage while the golden label contains four ancient Apothecary symbols.
Policy Estate Vineyards, Yountville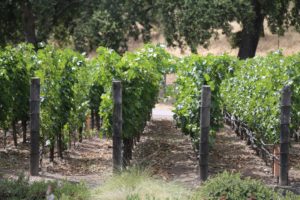 Note: in summer 2019 Donna and Mark purchased the Policy Estate and Policy Vineyard in Yountville. Formerly owned by Gail and Carmen Policy, the Policy's will continue to source grapes from these vineyards. Donna and Mark's home on Mt. Veeder burned down in the fires of October 2017; originally, they were going to rebuild soon after, but with a very limited labor force available for post fire construction and issues with insurance, rather than build from scratch they elected to purchase an existing property already planted to vineyards and with a beautiful home on site.
The Policy Vineyard is 14 acres of which 10 acres are planted to vine – almost entirely to four Cabernet Sauvignon clones but also with a very tiny block of Cabernet Franc. Incidentally this property used to be owned by Peter Mondavi (Charles Krug). The vineyard was planted from scratch in 2003, allowing full control including vineyard layout, variety, rootstock and clonal selections. A nearby knoll helps create a microclimate unique to their particular vineyard.
With the addition of this vineyard into their portfolio they now own 25 vineyard acres between both their Veeder estate property and the Policy Estate.
Most of their wine is sold direct via their mailing list in 3-pack wooden boxes. A certain amount is also allocated to select restaurants across the country. For more information, and to schedule a private tasting of Pulido Walker wines at Mending Wall Winery located on the Silverado Trail south of Calistoga, please visit: www.pulidowalker.com
Veeder Property

Policy Vineyard