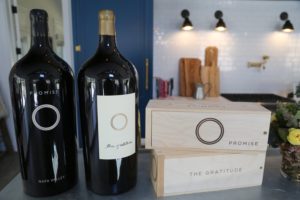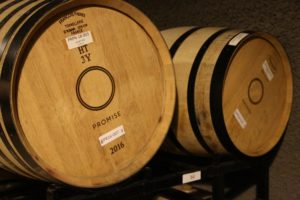 PROMISE Wine is a boutique producer, founded in 2004 by proprietor Stephen McPherson. Stephen was introduced to wine early on in his life. His family was living in Paris where his father was the headmaster for the American School in Paris. Stephen's father was passionate about wine – even taking classes from Steven Spurrier the British wine expert and wine merchant who was based in Paris at the time (also well known for organizing the now famous Paris Wine Tasting of 1976). As a result of his father's interest in wine, Stephen remembers visiting Burgundy and being intrigued even at the age of 10 by the industry.
Stephen eventually moved to Los Angeles to pursue a career in the entertainment industry. His first job was perhaps typical of those who when they are young move to Los Angeles with big aspirations to work in Hollywood – he was a limousine driver. In a successful career Stephen ultimately became president of ABC Entertainment for six years.
As an interesting side note, the first civilian owned vineyard in the state of California was most likely that of José María Verdugo planted by the mid 1790's in the vicinity of what is now the current site of ABC Television Studios in Glendale. (For more information reference the book, Los Angeles Wine by Stuart Douglass Byles, published 2014).
When Stephen initially started dating his wife Jennifer he visited her apartment for the first time and noticed a copy of Wine Spectator on one of her tables. He questioned her as to why she brought his Wine Spectator magazine over to her own apartment but in actuality she was already a subscriber to the magazine. They immediately realized their shared passion for wine.
Stephen's love of wine has never been far from his career – he would often visit the Napa Valley. Since his first visit to the valley, he has been drawn to the natural beauty, the lifestyle, the wines and to the vintners. He remembers being given bottles of wine or trying wine at a restaurant, then calling up the vintner and the openness in which he was treated…ultimately being invited to their home for more wine and conversation with vintners such as winemaker Nils Venge, the Bronsteins' (Diamond Creek Winery) and other long time Napa winery owners.
Conversely, he tells the story of how if a passionate fan of Desperate Housewives would just show up at the studio wanting to meet 'so and so' actress, security probably would be called in to handle this fan (this is a show we have heard of but have never seen, having never owned a TV in our life).
We have learned from older vintners in the valley that one of the most important aspects to remaining passionate about the wine industry as one gets older is to always be curious – learn new things about wine every day. Stephen continues to further his own education – continuing to learn from those who manage the vines that produce the fruit for his wine, from his winemaker as well as taking wine classes from both UC Davis and USC.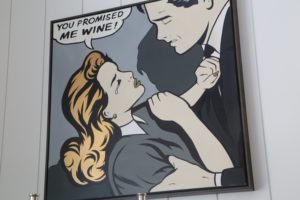 The name "Promise" and the label are directly tied to one another. This wine is a tribute to his wife and the promise she made Stephen keep to eventually pursue his interest in making wine (incidentally they were married in the Napa Valley). The label is a representation of Stephen's own wedding ring – part titanium and part gold.
Over lunch with the label designer of the Fiji Water brand – Stephen discussed the need to create a label for PROMISE Wines. Surprisingly merely a few hours later that day the designer sent Stephen a rendition of an elegant design which ultimately became the final label for the Promise Wines.
In 2004 Stephen reached out to Rich Frank (owner of Frank Family Winery and former Disney Executive) conveying his interest in making wine. Interestingly enough both came from the entertainment business but neither knew each other prior to this initial contact.
Rich dedicated a single block of Cabernet Sauvignon in his Winston Vineyard in Rutherford for the inaugural PROMISE Wine (Stephen calls this the "heart" block based on its central location within the vineyard and presumably one of the vineyard's sweet spots). This vineyard formed the core of their Cabernet Sauvignon from 2004 through 2014. The wine was made by the Frank Family wine making team for this period of time.
Beginning in 2015 and moving forward a vineyard next door to the Winston Vineyard (The Terraces) and a vineyard from Pritchard Hill provided the fruit for their Cabernet Sauvignon. And more recently the grapes have come from Stagecoach Vineyard on Atlas Peak. During this transition Stephen also changed winemakers and wine making facilities. He hired Kirk Venge and moved the operations to Hunnicutt Winery (where Kirk also makes the Hunnicutt wines).
Since we first met with Stephen, PROMISE acquired an approximately 100 acre property on Pritchard Hill – the uppermost piece of their property borders Bryant Family. Their property is off of Sage Canyon Road – not connected to the 3 primary roads that lead to Pritchard Hill. There are no immediate vineyards close to their property. In 2019 they cleared a small section of land to plant a tiny vineyard – with the intent to grow Sauvignon Blanc.
And in addition to wine, PROMISE is involved with two other products. A single barrel of bourbon whisky is bottled each year under Promise Spirits based in Kentucky. This rare spirit is dedicated to Stephen's great grandfather Walter Henry McPherson who was raised in Kentucky and made whiskey for his friends and family. This bottling comes in a beautiful walnut box (each box and bottle is numbered). The first release was a 12-year old sweet mash Kentucky straight aged in 100% new American white oak barrels (with heavy char). We have tried this several times – and each time the most common descriptor word we use is smooth – it glides across the palate – there is nothing harsh about this beauty. Best consumed slowly and straight up. This extremely limited release is highly allocated and is released to their allocation list members.
PROMISE also raises heritage pigs on their property – an unusual Hungarian breed called Mangalica (known as the kobe of pork in certain circles) – they often resemble sheep in appearance. They will be making their own "Jamon Imberico Bellotta" and curing the meat through a collaboration with St Helena Montessori School.
Because of Stephen's background in the Entertainment business it was entirely appropriate that we first met for lunch at Chateau Marmont – one of Hollywood's historical "old dame's – located right off of Sunset Blvd. And then followed this up by another tasting of his wines at Wally's Vinoteca in Beverly Hills. Wally's is one of the most established and top wine shops in Los Angeles – incidentally, the current owners also own Marciano Estate Wines in the Napa Valley.
Select Wines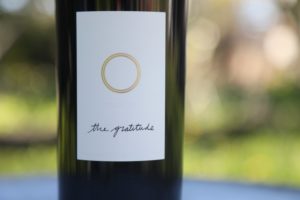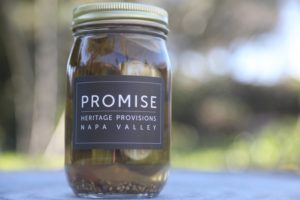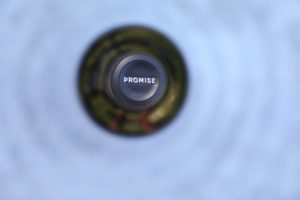 The 2012 PROMISE Cabernet Sauvignon shows darker elegant fruit aromas – the bouquet is complex and layered and as it opens reveals black currant, an earth quality, leather, tar, and notes of black cherry. As it continues to breath notes of mocha and chocolate start to show. On the palate this wine is remarkably balanced for being so young (not even yet released at the time of this review). The tannins are well integrated – showing a bit early on in the front of the palate, slightly chalky and then lingering softly. Good acidity.
The 2016 PROMISE Cabernet Sauvignon is an exceptional wine. 100% varietal from the Stagecoach Vineyard on Atlas Peak, shows dark purple in the glass. Offers an elegant darker fruit bouquet – well layered aromatics with notes of blackberry and a subtle note of dried tobacco leaf. A hint of sweetness from the oak shows initially on the palate followed by a layered richness of flavor. Blackberry and boysenberry along with lingering notes of mocha. Good acidity. Riper and grainy tannins with a noticeable grip, continue to linger for sometime. This is a big showing but its balance is one of its most attractive attributes.
The 2012 vintage was the first first ever release of a PROMISE Pinot Noir – from the Bucher Vineyard in the Russian River Valley of neighboring Sonoma County. The bouquet on the 2012 PROMISE Pinot Noir is floral leading to flavors of cranberry and raspberry on the palate. This wine shows notes of spicy white pepper and hints of cedar lingering on the finish. This wine shows a noticeable density – a bit more robust of an offering compared to other more delicate Sonoma grown wines from this variety.
PROMISE also produces a rosé of Pinot Noir simply called "the joy" – from grapes specifically in Napa's Carneros region for this style of wine. Thoughtfully made – this wine will appeal to a variety of palates. It is salmon colored in the glass – the entry is lively on the palate with notes of watermelon and red cherry. The finish is clean and crisp with very good acidity.
In addition to their Napa Valley wines, PROMISE also produces a Grand Cru Champagne made in Le Mesnil, Champagne (from a PROMISE owned vineyard) and a very rare single barrel bottling of an exceptional 100% Cabernet Franc during select years from Sugarloaf Vineyard located south of the city of Napa. This highly coveted bottling is for members only.
Their wines are nearly entirely sold through their allocation list with a very select number of restaurants in the Los Angeles area carrying the wine – based on personal friendships Stephen has made with the restaurant owner or sommelier. And as of our latest update to this review, select PROMISE Wines were offered at the RH Wine Vault in Yountville.
For more information and to join their mailing list, visit: www.promisewine.com