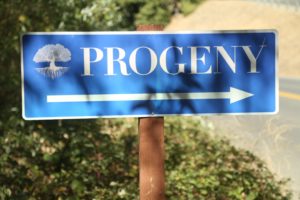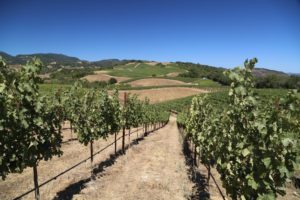 Progeny Winery was founded with the purchase of an old cattle ranch in early 2007 by husband and wife Betty and Paul Woolls. They were notified of the impending sale of the property by long time Napa vintner and Mt. Veeder proponent, Robert Craig. It was rare to have a piece of land on Mt. Veeder of this size come up for sale (some 230+ acres). Remarkably, the property had been under ownership by the same family since 1885. This land had never been planted to grapes and at the time of their purchase was open pastureland. After securing the necessary permits to plant (based on finding suitable water on the property), 32 acres of vines were planted in 2009/2010. They harvested the first grapes from the estate (Woolls Ranch) in 2012.
The vineyard was planted to four of the five primary Bordeaux red varieties (only Petit Verdot is not planted here) and a number of fairly unique (for Napa) both red and white Rhone varieties including Grenache, Mourvèdre, Marsanne, Roussanne and Viognier. No fruit is sourced for their wines from off property. The vineyard ranges in elevation from approximately 700 to 950 feet; this is the southern part of Mt. Veeder. The temperatures remain fairly moderate with noticeable cooling breezes often blowing through in the afternoons.
Betty O'Shaughnessy Woolls is originally from Minnesota where she worked in real estate investment and development in Minneapolis. She was also an owner and teacher at a cooking school in Minneapolis (Mrs. O's Cooking School). She came to Napa Valley in 1990 and settled in Oakville. She founded O'Shaughnessy Winery on the slopes of Howell Mountain in 2003. Paul traces his interest in wine back to Roswell New Mexico, "not a wine capital of the world by any means", as he says. He was 15 years old and sampled a number of cheap wines but found they all tasted pretty much the same – sweet and with bubbles. Fast forward to the early 1980s when he was practicing law in Philadelphia – he met a collector, Robert Perna who Paul describes as "more interested in educating people about wine then making money". Robert offered classes under the name L'ecole de Vins (The Wine School, in English) – Paul took a number of these classes and quickly broadened his international wine education and palate.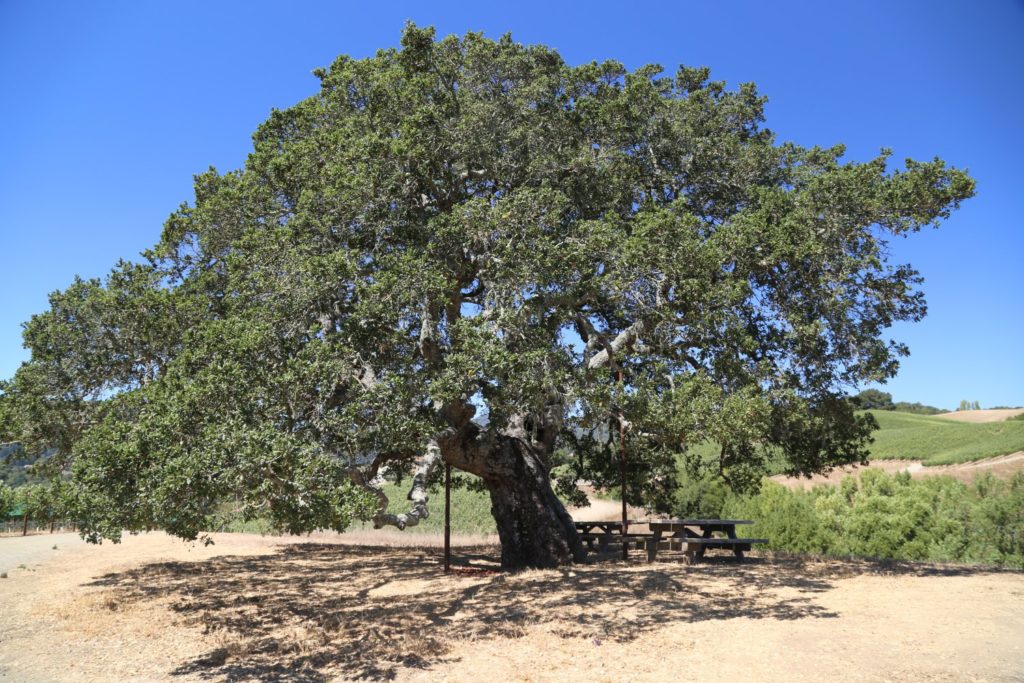 The label for their wines is an image taken from an old California Live Oak (Quercus agrifolia) tree estimated to be between 250 and 300 years old. It has stood the test of several centuries, growing on a small knoll overlooking the property. It is gnarled, there are even several large holes in the trunk, but it continues to thrive spreading its giant canopy over these rocky soils. And perhaps the tree also symbolizes the wines of Mt. Veeder. Wines from this region generally need a good amount of time to mature and truly show the character of the terroir.
This maturation ties in well with their wine making philosophy. Progeny does not follow the 'normal' cycle of wine releases – rather they hold their wines back several years; for example their Special Selection Reserve is remarkably released 6 years after the vintage date. These are wines that hold their core vitality and freshness, even after years in the bottle.
Select Wines
The focus is on four wines – a Trinity Blanc (Rhone variety white blend), a Trinity Rouge (Rhone variety red blend), Cabernet Sauvignon and a Special Selection Release (S.S.R) Cabernet Sauvignon. The first wine made under the Progeny label was from 2006.
The Trinity Blanc has interesting beginnings. In 2012 50 cases were made; the decision was made to not release this commercially – preferring to release their red wines first which are the wines Mt. Veeder is certainly more known for. Paul began pouring this for friends; it wasn't long before they started asking him if they could purchase a few bottles. While legally he could not sell them this wine, creatively he told them he would give them a bottle if they wrote a check for one of his favorite charities, Clinic OLE (now OLE Health). This went over well until it was suggested that $100 checks be the minimum donation, not the maximum. From this one vintage they have already donated over $10,000 to OLE Health. A percentage of gross profits for subsequent vintages are also donated to OLE Health.
Progeny produces a very limited bottling of this wine each year. The 2013 Progeny Trinity Blanc is an equal proportion 92% blend of Marsanne and Roussanne with the 8% remainder being Viognier. This wine was aged in both concrete and neutral oak. It underwent no malolactic fermentation and was aged sur lie. It is pale straw color in the glass; the bouquet shows nuances of hazelnut and cantaloupe with other melon aromas. Stone fruit flavors show on the palate including notes of peach. The wine has a nice balance of flavor, weight, and acidity – there is certainly some weight on the palate but it is not overly viscous. Lingering notes of almond. In our opinion, this wine should be able to able to age for a few years developing additional characteristics and complexities.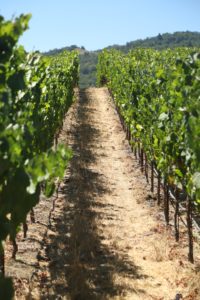 The 2012 Trinity Rouge was the first vintage of this particular wine. This year saw 50% Syrah, 48% Grenache and 2% Mourvèdre. The bouquet shows darker fruit – almost a meaty component from the Syrah – the Grenache contributes some nice fragrance including floral notes. As the wine opens lively and bright aromatics show including black berry and blackberry fruits. Also, dark chocolate and some oak spice on the bouquet. The tannins are fairly fine grained with some perceptible chalky notes – well integrated, they linger softly for some time.
The 2016 Progeny Mt. Veeder Reserve Cabernet Sauvignon is a blend of 83% Cabernet Sauvignon, 5% Malbec, 4% Merlot, 3% St. Macaire, 3% Cabernet Franc and 2% Carmenere. This wine was barrel aged for 22 months and then aged in bottle for an additional 24 months. This is a powerful wine with plenty of life ahead of it. It is juicy across the palate, with mouthwatering acidity and flavors of plum and darker fruits. The tannins are persistent so much so that even two minutes after swallowing we could still feel their textural grip. Lingers with notes of dried tobacco leaf. This is a bottling well worth seeking out.
The 2012 Progeny Mt. Veeder Cabernet Sauvignon was blended with 5% Malbec. This wine is dark ruby in the glass with some interesting aromas including sweet plum, graphite/pencil shavings along with raspberry and blackberry. There is a barely perceptible hint of dried herbs and cigar smoke. The palate shows more red fruit then darker fruit and features great acidity. This bottling features long-lasting broad-shouldered tannins.
The 2007 Progeny Cabernet Sauvignon Special Select Release (S.S.R) is always 100% varietal Cabernet Sauvignon. This wine is noticeably dark in the glass (by far the darkest of the three red wines we tried) – fig, brown chocolate, blackberry and a dried floral note show on the bouquet. Showcases darker fruit on the palate – lingering notes of baking spice including cloves. Robust tannins. Age-worthy. No question there.
A state-of-the-art winery was completed in time for the 2016 harvest. Along with a new hospitality center, the production facility was designed by Juancarlos Fernandez of Signum Architecture. Juancarlos was responsible for designing several other premium Napa properties to date including Cade Estate, Brand Estate and Nine Suns Winery. Juancarlos rode his bicycle around the property during his early visit to the site – identifying a particular knoll to best capture the panoramic vistas of the rolling hills. That knoll is the location of the hospitality center, which opened in late Fall 2017.
The wine is now primarily sold direct to consumer – although in the past, Progeny maintained a few select placements around the country including locally at the French Laundry in Yountville and in Wally's in Beverly Hills. For more information about this unique property and its exceptional wines, to schedule an appointment and or to join their mailing list, visit: www.progenywinery.com
Vineyards

Hospitality Center