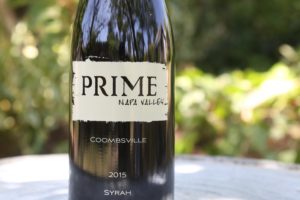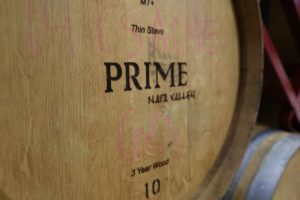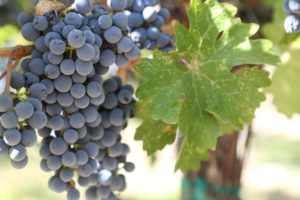 Prime Cellars (not to be confused with Prime Solum, another Napa Valley based producer) focuses on very small production wines from the Napa Valley – with an emphasis on the Coombsville appellation (east of the city of Napa) and on small family owned vineyards. Many vineyards in Coombsville are 'back or front yard' vineyards – usually very small in size – several of which we have helped harvest over the years. Promise Cellars was founded by Ted Henry (the winemaker) and his wife Lisa. Ted went to the University of California Davis (one of the premier wine education schools in the country) without knowing what he wanted to major in. After taking a basic introduction to winemaking class he was hooked by the wine bug. Ultimately he graduated from UC Davis in 1999 with a degree in winemaking. He came directly to Napa after graduating, took a job with Trinchero Family Estates and has been working in the valley since, including at separate times, head wine making positions at Jarvis, Clos du Val and Groth. He crafted the first vintage of Prime Cellars in 2005.
In regards to their name – "prime" can mean the following and is defined on their own website as:
"1. first in excellence, quality, or value: a prime example
2. of the greatest relevance or significance: a prime artifact
3. of the greatest commercial value: prime real estate"
Definition 1 and 2 certainly applies to the type of wines they are striving to create – and of course one of the most important aspects of high quality wine making is a sense of place or as they define in #3, "prime real estate". Their "sense of place" is predominantly Coombsville – still Napa's newest sub appellation (having been approved in 2011). While Prime Cellars does not own any vineyards, they work with select tiny vineyard sites – in both Coombsville and other parts of the valley.
While generally accepted that Coombsville is a cooler growing region and "up valley", Coombsville has many micro-climates especially on the east side of the region against the warmer summertime slopes of the Vaca Mountains. Wine from this region is surprisingly complex, soft and layered in flavor and typically not vegetal on the nose or on the palate. The wines from Coombsville can have both elegance and strength.
Ted originally wanted to put the name Coombsville on a bottle of Cabernet Sauvignon as a tribute to "place" – but he started making the wine before Coombsville was an approved AVA and was not able to get approval. He looked for "naming" inspiration in another place. Any local grape grower is familiar with the "California Grape Acreage Report" presented annually by the United States Department of Agriculture. The county of Napa is designated District 4 in this report and is from where this wine takes its name. When the nearby District 4 tasting room closed, also in downtown Napa any confusion about the name of this wine was eliminated.
Select Wines
The 2015 Prime Cellars Napa Valley Coombsville Syrah is medium to deep purple color in the glass; immediately offers a savory showing on the bouquet, not with notes of pepper, like some Syrahs we enjoy but rather more meaty in its aromatic approach. Sizzling bacon fat, beef jerky, dust, mocha, perhaps some dried herbs and dark plum. As the wine opens further, notes of dark chocolate show. Opulent with plenty of darker fruit layers across the palate. Generous and rich in flavor but texturally feels balanced. The finish is also savory – with some darker spices along with nicely integrated grainy, but not course tannins. Only 101 cases produced.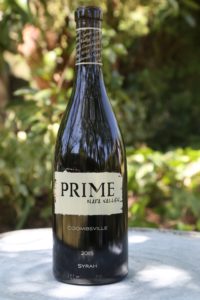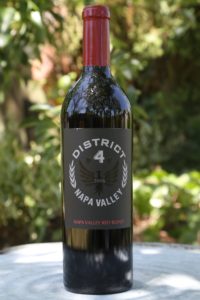 The name District 4 could mean almost anything – but in fact this wine is homage to the California Department of Agriculture's designation of Napa County as its 4th viticultural region, IE District 4. California is organized into 17 distinctive growing districts – incidentally only about 4% of the states entire wine grape production is from the Napa Valley.
The 2018 Prime Cellars District 4 Napa Valley Chardonnay is medium gold in the glass; shows ripe melon, honeycomb, butter, a subtle lemon zest and vanilla on the bouquet. Also tropical with aromas of papaya and mango. Deeper into the aromatics and as the wine opens, is a note of sweet vanilla. This wine is very flavorful across the palate – a rich showing with notes of mandarin, honey, glazed pear and Golden Delicious apple. It is rounded but not creamy in texture. An appealing characteristic of this wine is both its balance and brightness – with a vitality particularly noticeably on the finish. Very nicely done.
The 2016 Prime Cellars District 4 Napa Valley Red Wine is a blend of 80% Cabernet Sauvignon, 15% Syrah and 5% Petit Verdot. The blend changes each year as do the varietals. Deep ruby in the glass offers aromas of a tomato based sauce, dried herbs, dark olives, currants and red cherries. Soft in texture and juicy across the palate – very approachable in its youth. Lingers with darker spices and medium grip of tannins. Food friendly, price won't hurt the pocket book. This is a great everyday red wine.
The 2010 Prime Cellars Napa Valley Chardonnay is a clean, crisp wine focusing on fruit and natural acidity. This wine was interestingly enough made in thirds – 1/3 new oak, 1/3 used and 1/3 in stainless steel. It was not allowed to go through its secondary (malolactic) fermentation. Bright fruit shows on an elegant yet somewhat muted bouquet – citrus and notes of green apple complete the finish. Stylistically this is the opposite of another Chardonnay we had tried earlier in the day – big, bold, creamy – a wine as a stand alone desert. This one is not that – it screams for food.
Prime Cellars also produces a Chardonnay from the Berry Lane Vineyard in Coombsville). The 2015 vintage was 100% fermented in barrel on the lees and then aged in several vessels including stainless steel and in several times used oak barrels. 30% of the wine was aged in new acacia barrels. We rarely see Napa Valley wines aged in acacia and the few times we have, it has always been white wines, usually Sauvignon Blanc. No maloactic fermentation.
The 2008 Prime Cellars District 4 is predominately Cabernet Sauvignon with some Cabernet Franc. Aromatically this wine shows bright lively fruit – much of that coming from the Cabernet Franc. The nose is "pretty" and slightly floral with notes of rose petal and some subtle spice. Good acidity, good flavor and fairly delicate tannins round out the pleasing finish.
The 2009 Prime Cellars Coombsville Cabernet Sauvignon is the bigger of the two red wines – it is 100% varietal. The nose shows some peppery notes and as it breathes more fruit is revealed. This wine has good structure and character. It is a wine you can certainly lay down for a few years.
Tasting Room, downtown Napa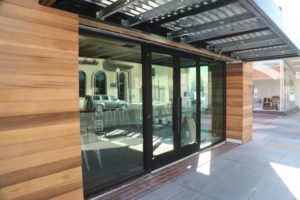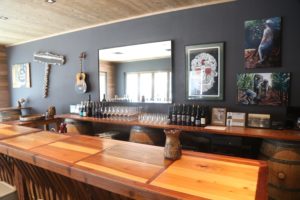 This tasting room is operated in conjunction with Trahan Wines and is located in downtown Napa within a short walk of First Street Napa (a collection of shops, tasting rooms and restaurants). Old timers will remember three pieces of information about this tasting room space: this was the original home of Backroom Wines, the first tasting room partner with Trahan Wines was Ted Osborne of Olabisi Cellars and Sadie, the old dog (since deceased) that used to hang out here would always greet visitors.
One of the older tasting rooms in the city of Napa, it underwent a significant exterior remodel in 2020 and 2021. Over the years since Trahan Wines opened this tasting room, the city of Napa has changed dramatically and now there are numerous tasting rooms and restaurants easily within a short walking distance. The tasting room sports a comfortable and relaxed atmosphere and usually Trahan Wine owner Chuck Custodio's dog will be hanging out inside.
Many of the 40+ tasting rooms in downtown Napa are staffed by employees. However at this tasting room, it is common to meet and taste with Chuck as his office is also located here. Chuck hosts most of the tastings, even for Prime Cellars as Ted is usually not here. This is a completely different tasting experience than one may have at larger Napa Valley wineries. A number of wine makers prefer to stay behind the scenes and it is always a pleasure to meet winemakers who have an genuine interest in meeting their clients and don't mind the customer interaction part of the wine business. And Chuck certainly appreciates and enjoys talking with guests.
Parking is curbside if you can find a space – or the Clay Street Parking Garage is within slightly more then a block walk of the tasting room.
Prime Cellars total production is under 1000 cases. For more information or to join signup for their mailing list or join the wine club (6, 12 or 24 bottles annually), visit: www.primenapa.com