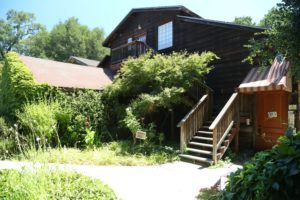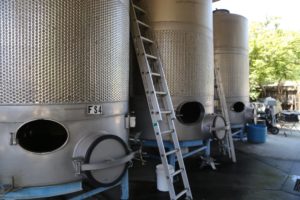 Prager Winery & Port Works is located at 1281 Lewelling Lane just south of the town of St. Helena right off of Highway 128 (West side of the road), across from Louis Martini Winery. Visitors to the property have to keep a sharp eye out for the entrance to their gravel driveway just north of the Sutter Home tasting room. The winery and tasting room is located along the busy wine strip known for its larger wineries and bold signage, Prager has neither a big winery or a bold sign. Park in the gravel parking lot in the back.
Prager Port Works is a unique winery in Napa Valley as their specialty is port-styled wines and other late harvest "sweet wines". They are the only open by walk in tasting room in all of Napa to specialize in dessert wines. Ask any winery in the Napa Valley for a recommendation for "sweet wines" and invariably the name Prager Port Works will be at the tip of their Cabernet coated tongues. Warm up in the winter or anytime for that matter with a visit to their winery. A tasting generally includes 4 to 5 pours of various wines and vintages and visitors get to keep a souvenir glass.
The Prager's have a long history in the Napa Valley. Jim Prager (died in 2017) was originally from Orange County, California and grew in a much different Orange Conty then today – back then it was more agricultural based rather then urban like it is today. He worked in insurance – his first trip to the Napa Valley was in 1974 through one of the wine and food societies he belonged to. One of the highlights of his first visit to Napa was a personal tour with Jack and Jamie Davies, owners of the esteemed Schramsberg Winery.
During a mid life crisis, foolishly thinking he could make wine cheaper than he could purchase it, he and his wife Imogene moved to the Napa Valley and produced their first crush in 1979. Initially most of their production was dry table wine. Lucky for us this soon changed and they started focusing more on what all "sweet" tasters love – alcohol that is rich in flavor, sugar and acidity.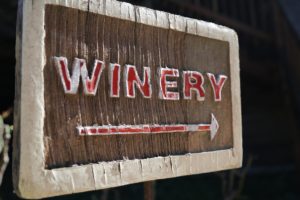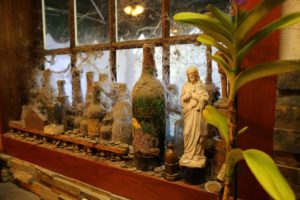 Their property is historic – once a part of the John Thomann Winery and Distillery (now Sutter Home). The carriage house on site dates from 1865. The winery including barrels and tanks is as the Pragers say, "located in the shadow, directly behind Sutter Home" (and behind the Prager tasting room).
We remember when we first started visiting Prager, Jim used to host visitors himself – often tasting the wines with guests. He passed on in 2017. All responsibilities for the winery operations are handled by the Prager family with Jim's three sons Jeff, John, Peter (the winemaker and who has also served as the President of the Sweet and Fortified Wine Association) and daughters Mary and Katie and two son-in-laws, Rich and Kevin having taken over the day to day operations. They have no employees so you are always meeting with one or more of these family members (this is extremely rare to find for any winery located on Highway 29 between Yountville and St. Helena). Their total annual production is generally between 3500 and 4000 cases.
The tasting room is one of the most unique spaces in all of the Napa Valley. One enjoys wine surrounded by thousands of US dollar bills and other paper currencies from around the world. Visitors walk through their barrel room to reach the tasting room. This room is always crowded when we stop by and is always a hub of conversation and laughter.
The typical question that usually is first asked is "why did you start putting money on your walls?" – the typical answer is someone a long time ago first stapled a $1 bill to the wall and it caught on from there. We have been told that this tradition first started in 1988 when Jim gave a customer change and he decided to staple it to the wall. Write your name on a bill and come back and collect it when you re-visit this winery. Consider Prager a bank that pays no interest! There are two rules when it comes to the money – don't take any money from the walls and don't put any USA money on top of existing International currency. One wall is more or less dedicated to international bills including banknotes from countries that do not even exist anymore. And see if you can find the $100 bill with the image of Jim Prager instead of Benjamin Franklin.
And conversation invariably will turn to thick maze of cobwebs tangled over a number of old bottles on the window sill. From what we have been able to determine – these cobwebs date back to around 1986 or so and have never been disturbed since.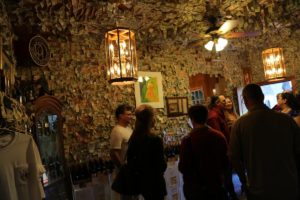 The small tasting room often gets crowded, especially on the weekends – a second overflow room is used as needed. Several picnic tables are available outside of the winery.
Select Wines
One of our favorite Prager bottlings, is the Prager Royal Escort Vintage Port; this wine will age well for many years. In fact, we have one in our cellar, hopefully getting even better and will open it for a very special occasion. And they also produce several tawny-style ports.
A more recent addition to their portfolio is the Bronze White Port-styled wine which was aged in barrel for 8 years. Select older vintages are also for sale. Be sure to try their delicious chocolate port candies as these go really well with their wines. And candied walnuts and pecans (prepared by the family) are often paired with several of their wines and are available for sale as small gift boxes.
The 2012 Prager Madeline Late Harvest Riesling was aged in French oak for two years; it is dark yellow in the glass. There is a noticeable richness to the bouquet with aromas of banana, tropical notes, an orange peel zest, honey, caramel and citrus blossom. This richness carries onto the palate with flavors of yellow pineapple, honey and dried apricot. Features intense flavors but is not heavy in structure. Decent acidity to help balance the sweetness. Finishes with a warm crème Brule / toffee / hazel nut combination. Shows a tinge of bitterness on the finish. Only sold in 375ml bottles. 16% alcohol and 12% residual sugar.
—
Custom Etching and their wine labels are all created by the Prager family.
Looking for still wines? Yes, Prager does make a Petite Sirah and a very sweet late harvest Riesling. Prager has been our only Napa Valley Winery to make our 20+ year old Highlight of the Month list (Jan 2007) – on our sister travel site. And in an old school Napa Valley tradition, Prager sends all visitors who purchase a tasting, home with a souvenir wine glass. For more information visit: www.pragerport.com