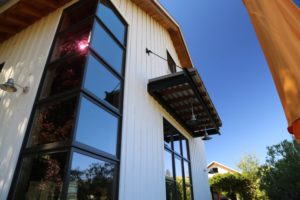 Post Parade was founded by Louisville, Kentucky born and raised Brook Smith. The name Post Parade is an homage to Kentucky and its horse racing heritage and refers to the time just before the start of the race when horses walk onto the racetrack – a short period of calm. During this time, spectators usually become quiet, and the jockey has time for private reflection, including perhaps on all the hard work and even a bit of luck needed prior to an actual race.
The inception of the brand dates back to a Kentucky Derby party in 2008 where Brook met Napa Valley vintner, Frank Dotzler (Outpost, Mending Wall, Pulido Walker) for the first time. Both men began talking about their professions – Brook about his various interests in the bourbon business and Frank about Napa Valley. Brook casually mentioned that he might like to make wine someday from the Napa Valley. Unlike many ideas which are put into words but never into action, this idea came to fruition.
Two years later the first vintage of Post Parade was produced at Outpost, merely 75 cases of Cabernet Sauvignon. Through winemaker Thomas Rivers Brown's vineyard connections, Post Parade has grown with production now around 2,000 cases annually.
In 2020, both Thomas and Frank became partners in the brand along with Brook and several of his friends based in Kentucky including Matt White (perfume industry) and Mark Gray. Brook, a Clemson graduate, is an entrepreneur, philanthropist and art collector whose interests cross a wide variety of businesses including surety bonds, clothing, digital data management, software development and an outfitter among other interests.
In the world of spirits, he is involved with YOLA Mezcal, Barrell Craft Spirits and Castle & Key Distillery (originally the historic Taylor Distillery). One of his philanthropic works (with his wife Pam) includes founding Somewhere Appalachia; Appalachian Impact Fund with projects involving rehabilitating old coal mines into cultural destinations in both Kentucky and parts of West Virginia.
Winemaker, Thomas Rivers Brown
Thomas is one of the busiest wine makers in the Napa Valley. Several producers have showed us lists of all the Napa brands that he consults for and or provides direct winemaking services; this is an extensive list. Originally from Sumter, South Carolina, Thomas developed an interest in wine while attending the University of Virginia where his major was not wine related (he studied English and Economics).
He moved to the Napa Valley in 1996 and took a job at All Seasons in Calistoga (known for their California cuisine, wine selection and years in business; unfortunately, All Seasons Bistro permanently closed in 2020). While there, Thomas met winemaker Ehren Jordan who was working for Larry Turley at the time of Turley Wine Cellars. Thomas took a job with Ehren in the cellar at Turley in 1997 – spent several years there before beginning his own career and starting to consult for various clients (some of which were clients that Ehren was already working with).
And within only 10 years of making wine in the Napa Valley Thomas received two 100-point scores from Robert Parker – regardless of what your perception is of scores, creating several wines within a short period of time that receive 100 points from Parker was a watershed moment in Thomas's consulting career.
Today Thomas is highly sought after for his winemaking services, experience and access to premium area vineyards. And while he was once the student, over the years he has become the teacher. We have met with a number of winemakers who worked under Thomas – and consider him one of their mentors. These are winemakers who have gone on to establish their own brands or consult for other Napa Valley based brands.
Select Wines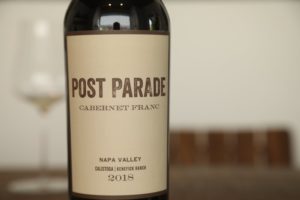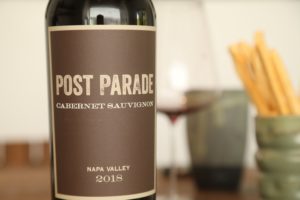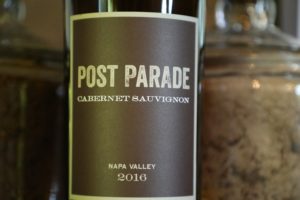 All the Post Parade wines are 100% varietal.
The 2019 Post Parade Show Pool Sauvignon Blanc is a special wine. The grapes were harvested from part of 2 acres of vines in the Tofanelli Vineyard located slightly south of Calistoga. The vines are entirely Sauvignon Musqué clone and were planted in 1996 and retro fitted to trellising seven years later. This vineyard has been owned by the Tofanelli family since the 1920s. This wine respects the inherent bright varietal characteristics but also embraces the warmth of Calistoga. Medium yellow, the wine initially shows beautiful floral aromatics including citrus blossom and honeysuckle. The bouquet evolves and offers notes of green apple, pear and kiwi. Offers attractive flavors across the palate including apple and citrus with some minerality nuances. Very well balanced with approachable and pleasant acidity; this wine drinks quite well just by itself. The 2021 Post Parade Sauvignon Blanc was the last vintage of this variety made from the Tofanelli Vineyard.
In 2022 Post Parade began producing a Russian River Valley Sonoma County Chardonnay from the Don Miguel Vineyard.
Stretch Drive is the most produced wine annually and is crafted to be approachable in its youth. It is also the most distributed of the Post Parade wines in restaurants. The vineyard sources may change depending on the vintage; in 2018 the grapes were harvested from Policy Vineyard in Yountville and Larkmead Vineyard, just south of Calistoga. The 2018 Post Parade Stretch Drive offers fruit forward ripe aromatics including blackberry and boysenberry. A noticeable aroma of toasted cedar plank continues onto the palate. The bouquet is slightly briary but shows more fruit as it evolves. Supple and flavorful, the palate is anchored by finely integrated soft tannins. Lingers with brightness of cherry and berry fruits. This wine is highly approachable in its youth.
The 2019 Post Parade Stretch Drive was aged in 75% new French oak for 22 months. This wine is deep ruby in color; the aromatics are just as 'deep' as the color offering dark fruit and other scents including of black olive, violets and toasted cedar. As this wine opens in the glass it loses some of the initial barrel notes and the fruit becomes more expressive. The palate reveals flavors of blackberry, dark currant and lingers with a supple texture and a lingering note of old cedar.
We found the select vintages of Stretch Drive always show a bit more oak influence on both the bouquet and the palate than the Post Parade bottlings.
The 2018 Post Parade Cabernet Franc Kenfick Ranch, Calistoga is dark ruby in color; shows pretty aromatics of plum and blueberry along with some accompanying cedar. But the fruit is the focal point here. Also, a hint of espresso and violet as the wine breathes. Has plenty of complexity and depth on the palate. A sometimes-overused term, but this wine is 'a cab lovers Cabernet Franc'. Finishes with some length including darker gravelly tannins complemented nicely with brightness of fruit. Was aged in 70% new French oak.
The 2018 Post Parade Cabernet Sauvignon spent 20 months in 85% new French oak. Dark ruby in color, the aromatics are initially meaty, and savory with notes of bacon fat and cedar. Somewhat briary, the aromatics evolve to show more fruit as it breathes including ripe blackberry. Plenty of character and complexities across the palate in this beauty. Well layered with flavors of blackberry, cassis and lingers with a brightness and flavors of red cherry and licorice. The tannins are dusty, gravely and medium bodied in their textural grip. Memorable because this wine is big, yet it retains its overall balance.
The 2019 Post Parade Cabernet Sauvignon is deep ruby and nearly opaque in the glass with an amaranthine rim. The layered and generous bouquet offers dark and ripe fruited scents including of blackberry, boysenberry, dark chocolate and a riper sweet fruit note deeper in the background. Simply put, this wine smells pretty. The palate offers flavors of plum, dark cherry, a note of chocolate and mocha. This wine is very approachable in its youth, especially in regard to its texture; the tannins are supple, soft and rounded. One would not be incorrect in calling this wine hedonistic. It drinks well in its youth, but lets revisit in 6-10 years to see its development in the bottle.
The 2018 Post Parade Oakville Ranch Cabernet Sauvignon was sourced from some of the most premium blocks at this vineyard; the wine was aged in 80% new French oak. Dark ruby in color; offers pretty aromas of plum, cedar and hints of espresso and dark chocolate. One can almost smell the soil in the aromatics – the nose is slightly briary. Offers plenty of depth but without any heavy grip of tannin texture. Showcases good acid, with a lingering brightness on the finish.
810 Foothill Boulevard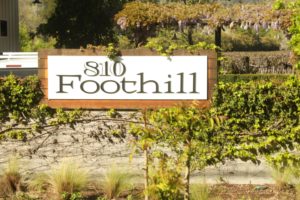 In February 2022 Post Parade vacated their prior St. Helena tasting salon and moved into the former T-Vine tasting room located at 810 Foothill Blvd, in Calistoga, just south of the center of town. This is directly next door to their sister winery, Rivers-Marie. The entire property is 14 acres of which the majority of land is planted entirely to Cabernet Sauvignon.
Post Parade shares the space with two other Thomas Rivers Brown winemaker projects including Matthew Wallace (co-owned by Matt & Alicia Hardin) and Caterwaul (co-owned by the Hardins and Brown). After the three brands moved in, the name of the space was changed to 810 Foothill Boulevard, to reflect the site's address. This property is owned by the Regusci family (owners of Regusci Winery in the Stags Leap District.
Former tasting salon, Spring House, St. Helena
In Spring 2021, Post Parade began offering tastings in the historic Spring House in St. Helena, located directly across from Goose and Gander restaurant. Post Parade vacated this building in early 2022. We keep our notes for historical reference.
This original family home has rich history; it dates from the late 1880s and was built by Battista Salmina, brother-in-law of one-time owners of Larkmead Vineyards, Felix Salmina and his family. Incidentally, Felix Salmina was one of the seven founding members of the Napa Valley Vintners in 1944.
And along with Felix Salmina, Battista also helped build in 1878 and operate the old wooden William Tell Hotel just down the street from the Spring House. Remarkably this building is still standing – located at 1228 Spring Street. And connecting some of these historical ties to Post Parade during the brief time they occupied part of this building, some of the grapes for the Stretch Drive Cabernet Sauvignon were sourced from Larkmead Vineyards.
Another Napa Valley based brand, Lang & Reed first moved into this building in 2020 and along with The Debate wines, also offers tastings by appointment. Several spaces are available for hosting tastings including a dedicated room with a handsome wooden table carved from a Douglas Fir tree by Napa Valley based wood-worker Scott Allen. He also provided furnishings for some of Thomas's other winery projects including Mending Wall and Rivers-Marie. Two other spaces for hosting guests include a larger shared room and a porch overlooking Spring Street.
—
Post Parade often travels with wines to select cities around the U.S., offering tastings including sometimes with Napa Independent Producers (a collection of small, mostly Napa Valley brands or wineries). For more information, to schedule a tasting or to join one of their appropriate membership club offerings (Triple Crown, Winner's Circle), please visit: www.postparadewines.com