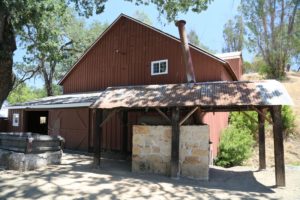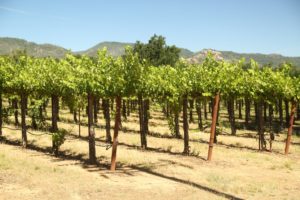 Pope Valley Winery is located off the typical Napa Valley "beaten path" – allow about 30 minutes to get here from the Silverado Trail. As the name indicates, this winery is in Pope Valley which is a relatively unpopulated area of Napa County on the backside (east) of the town of Angwin. Pope Valley actually is home to a number of small mostly private wineries so it is unusual to find a winery here that you can actually visit, especially without an appointment. The roads are narrow and windy, and typically there is much less traffic than you find on the Napa Valley floor. This is not the "Napa wine strip"!
This is a quieter part of Napa Valley that few first-time tourists to the region ever see – a part of the county that is certainly worth seeking out. It is rural with few wineries and a nice balance of natural landscape and vineyards. It is more likely you will hear birds rather than the noises of passing vehicles.
The winery dates from 1897, founded by Ed & Bertha Haus as the Burgundy Winery & Olive Oil Factory. Tunneling into the hill and construction took about 9 years before the winery was completed. The Haus's moved to Pope Valley in 1882 and Sam began working as a blacksmith. Remarkably his old barn still stands with his old blacksmiths tools mostly hanging on the walls. An article from the November 4, 1892, issue of the St. Helena Star references Ed building a new blacksmith shop that year. His shop is located within a short walk from the tasting room and guests to the property are welcome to walk inside and look around at the old equipment.
This was one of the few Napa County wineries to stay "open" during part of Prohibition. The typical story of such wineries is that they produced Sacramental wine during Prohibition for church use. Not the Sam Haus Winery – through their connections they sold wine to a network in Chicago who then supplied the wine to Al Capone's speakeasies and brothels. The winery stopped selling wine after Capone became more and more lawless, but to outside sources it appeared the winery was closed during Prohibition. However, immediately following the repeal of Prohibition the winery opened again in 1933. And Ed and Bertha's children, Sam and Lillian operated the winery until 1959.
Current owners, the Eakle family purchased the winery and property in 1997 and have preserved its history very well. The Eakle and the Haus family's already knew each other. Brother and sister and Napa natives (3rd generation Pope Valley and 5th generation from Napa County), David Eakle and Diana Hawkins currently oversea the winery operations. Both are Chico State graduates. Their father Sam runs Eakle Construction & Trucking, a company their family founded in 1974 and currently services the tri counties (Lake, Napa and Sonoma). As part of Eakle Family Vineyard Management, they offer a variety of services including vineyard development and vineyard removal; one can often see their vineyard management signs throughout Pope Valley.
David and Diana's grandparents, Lee and Betty Eakle started what was called Eakle's Valley Market in the 1940s with Spanish immigrant Litto Damonte, the Hubcap King, known for collecting hundreds of hubcaps at what is still the family owned Hubcap Ranch. The market specialized in selling groceries, meats and general merchandise. Betty served as Pope Valley's postmaster for 30 years.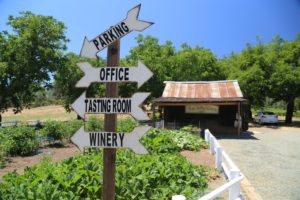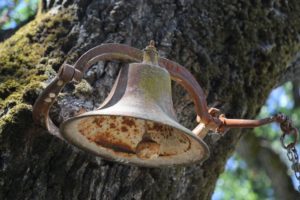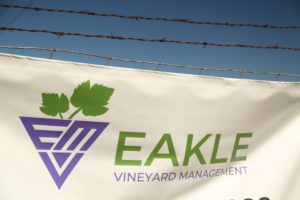 The once thriving nearby township of Aetna Springs (we have been told nearly 3,000 people lived here at one point) was built around quicksilver (cinnabar ore) mines. The first cinnabar mine established in Napa County was the Phoenix Mine in 1861. Ultimately 21 miles of tunnels were drilled into the hillsides. For some 40 years between the 1860s and early 20th century, Napa County was once one of the most prominent quicksilver regions in the state. Quicksilver from Napa County was an integral part of California's gold mining heritage – as quicksilver transported from Napa County to the Sierra Nevada gold fields was used for extracting gold and silver from the ore bearing rock.
In a convenient use of nearby labor, quicksilver miners were brought in to dig out the cellars (which took 9+ years by hand) – located on and under the adjoining hillside backing up up against the winery. The impressive wooden timbers within the cellar were taken from Napa's Oat Hill Quicksilver Mine via horse drawn wagons.
If it is not too busy in the tasting room, ask one of of the staff to give you a quick tour of their historic winery and cellar/cave. And be sure to ring the bell embedded in the old oak tree for good luck (the tree grows directly in front of the cellar entrance).
The cellar, which dates from 1909 was built over the small Haus Creek (appropriately named after Ed Haus); their wines are aged in barrel here. During the rainy season, this little creek still flows and during particularly rainy periods, water flows from one of the walls within the cave and through the cellar. One year a small portion of one side of the cellar slid down during the rainy season. The rock walls are very crumbly with many small pieces having fallen. Walking in here is like walking back in time with the original timbers holding up the winery still in place, the original sign from the late 1890s, "Burgundy Winery" hanging inside, and wine barrels stacked in the dim light. There are some highly intriguing wine caves in Napa Valley, but one will never come across one quite like this in their explorations of underground cellars in the county.
The property encompasses 36 acres of which 5 acres are planted to vine including approximately 4.5 acres to Cabernet Sauvignon and 1/2 acre to old vine dry farmed Zinfandel (which makes only about a barrel of wine each year). Their wines are made from grapes grown both on the property surrounding the winery as well as from the Eakle Ranch on Hardin Road, also in Pope Valley located about 6 miles from the winery. Total planted land between both properties is about 70 acres.
Guests pull in on the short gravel road; the small tasting room is to your left. The staff is very friendly; you will find a totally relaxed atmosphere and a diversity of wines available for both tasting and purchase inside the tasting room. Many of their wines have won top medals in statewide competitions. Their wine selection is somewhat atypical of Napa wineries which is not a bad thing and is uniquely refreshing to have the opportunity to taste wines other than the ubiquitous Cabernet Sauvignon. Their wines are reasonably priced by Napa standards.
Select Wines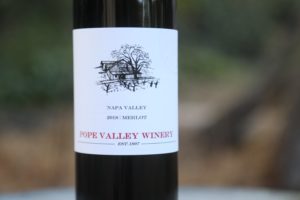 Whites
The 2022 Pope Valley Winery Rosé of Sangiovese is medium copper in color; the bouquet immediately sports citrusy aromatics including of dried orange peel, freshly grated kaffir lime peel, lemongrass and a very subtle sweetness, perhaps vanilla almost hidden far in the background. The palate offers a silky creamy texture from start through to the finish. This wine reveals flavors of lemon and lime juice, grapefruit, It is rich yet simultaneously fresh and youthful. There is a perception and rightly so for many rosé bottlings that they must be consumed soon after bottling, but this wine has the character to hold up for a couple of years. A burst of brightness from the fruit and acid completes the satisfying and energetic finish.
There are growers who will tell you that Sauvignon Blanc is the best white variety to grow in Pope Valley. And during our most recent tasting at the winery, one of the staff also told us this. And what is rare for a small Napa Valley based producers, Pope Valley Winery produces several bottlings of this variety. The 2020 Pope Valley Winery Sauvignon Blanc is pale to medium gold in color; the bouquet is pretty and immediately engaging with floral notes including of honeysuckle and jasmine along with freshly mowed grass. Driving back over Howell Mountain, the bouquet on this wine reminded us of passing by the ball fields in Angwin next to Howell Mountain Road when workers are out cutting the grass. Also notes of citrus blossom and a minerality nuance. Bright, lively and crisp the palate shows flavors of lemon and lime along with notes of lemongrass. The mouth feel offers a very supple almost creamy like texture. The palate is not tart, nor grassy but very balanced and refreshing, especially on the finish.
The 2022 Pope Valley Winery Reserve Sauvignon Blanc is light straw in color; it's bouquet is highly aromatic offering attractive sweet florals including honeysuckle and star jasmine. It also offers notes of Golden Delicious apple and honeycomb. The palate reveals a light creamy texture complemented by rich flavors of pineapple guava, pineapple, and lemon/lime juice. This is not a green nor a grassy bottling of this variety. It is balanced and drinks very well by itself.
What is arguably one of the more rare bottlings in Napa Valley is the vintage Brut Rosé of Sangiovese. The 2022 Pope Valley Winery Brut Rosé is medium to deep salmon in color; the bouquet smells fresh and fruity including scents of fresh rose petals, raspberry, kumquat and recently cored red apple. This apple aroma reminded us of when we were a child using an apple peeler mounted on a wooden bench and the resulting smells from coring several buckets full of apples to be make for apple sauce. This wine offers flavors of green apple, rhubarb, lime and ruby grapefruit. Bright, crisp and energetic, the finish lingers with mouthwatering, lively acidity and primarily citrus led flavors. To us, the bouquet is a bit more interesting than the palate, perhaps triggered by childhood memories. This wine was enjoyable with fresh tomatoes, cucumbers and thinly sliced onion salad from our garden dressed with Antinori Winery olive oil, ground pepper, dried oregano and a light drizzle of Tedeschi Winery vinegar.
According to the 2017 Napa County crop report, only 7 acres of Chenin Blanc are planted in all of Napa Valley. And until more recently, Pope Valley Winery would have had the oldest of these vines – dating back to 1945 (however these vines have since been removed). The 2016 Chenin Blanc shows straw yellow in the glass with aromas of lemon zest, citrus blossom and green apple. This wine is fairly rounded on the palate, with intense fruit flavors and a minerality nuance towards the finish. This is a balanced bottling showing bright acidity. This was the last vintage of Chenin Blanc produced by Pope Valley Vineyards.
Reds
The 2018 Pope Valley Winery Napa Valley Merlot is a blend of 81% Merlot, 16% Cabernet Sauvignon, and 3% Malbec; the wine is dark ruby in the glass; features generous aromatics – we smelled it immediately upon opening with fruit forward notes of blackberry and boysenberry along with a darker note deeper into the bouquet, perhaps old leather and dark licorice. We love the how the fruit is so expressive on the nose and is complemented rather than dominated by oak. On the palate, shows ripe blackberry along with a savory component, more towards the end. This iwne also offers notes of pepper, dust and tobacco leaf. Features earthy tannins with a moderate and noticeable grip, complemented by a persistent brightness on the finish.
The 2019 Pope Valley Winery Merlot is a blend of 84% Merlot and 16% Cabernet Sauvignon. This wine is deep ruby in color; its clear this bottling is a crowd favorite from the get go. The bouquet offers attractive and sweet aromatics including of ripe plum, cherry and raspberry jam. There is also an appealing herbal thread here (perhaps sage or other dried herbs) with an accompanying very light touch of oak. The palate offers similar ripeness including flavors of blackberry, dark plum, assorted baking spices and a light note of pepper on the finish. This wine is anchored by well-integrated grainy tannins and a finish that continues to produce flavor.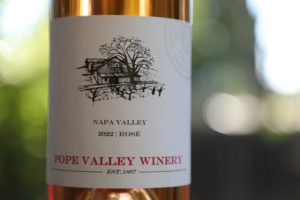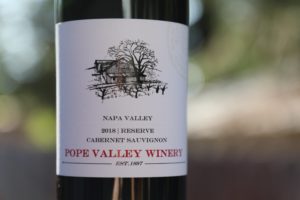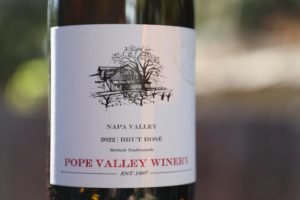 The 2018 Pope Valley Winery Napa Valley Sangiovese is 100% varietal; the wine is medium ruby color. It offers distinctive aromatics of currants, mushroom, damp forest floor in the redwoods, tar and toasted cedar. As the bouquet evolves, more fruit comes forward. The bouquet is certainly savory. A lighter style food friendly showing with great acid across the palate. Mouthwatering with flavors of red cherry, red currant and cranberry. Not as spicy as some Napa Valley Sangiovese wines we have tried over the years. Offers a light to medium grip of tannins with lingering notes of dried tobacco leaf and dust. Not sure why, but we immediately thought of pairing this wine with our family's hand rolled Italian ravioli recipe. Will have to do so!
The 2017 Pope Valley Winery Napa Valley Cabernet Sauvignon is dark ruby in the glass with aromatics of ripe Santa Rosa Plum, blackberry, and cherry. Also, a hint of dried tobacco leaf. The cherry notes remind us of being perched on a tall metal ladder in the heart of the Brentwood U-pick cherry orchards in late May or early June, feasting on ripe cherries while trying to simultaneously fill a bucket. Offers plenty of flavor across the palate with still tightly wound and slightly drying dusty tannins (we tasted 4 years post vintage date). And like on the bouquet, the dried tobacco leaf note lingers on the finish. Like the other wines we have tried from Pope Valley Winery, this one also showcases excellent acidity. This wine was aged for 26 months in French oak barrels of which 40% were new.
The 2018 Pope Valley Winery Napa Valley Cabernet Sauvignon is a blend of 98% Cabernet Sauvignon, 2% Malbec and 2% Petit Verdot. This wine was destemmed and then fermented followed by 24 months of aging in 40% new French oak barrels. This wine is deep ruby in color; the ripe bouquet offers aromas of blackberry, licorice, and other sweetly fruited aromas. One thing is clear, its scents are focused on the fruit rather than any overt barrel influences. It also shows a note of sweet tobacco spice. The palate offers flavors of cherry and plum with tannins sporting a grainy grip on a finish that is dusty/earthy, with a light note of dried tobacco leaf and long-lasting fruit.
The 2019 Pope Valley Winery Faultline is a blend of 63% Cabernet Sauvignon, 22% Malbec, 15% Merlot. This wine is deep ruby and nearly opaque in the glass; the ripe bouquet offers dark fruited aromas including of plums, blackberry, boysenberry and a kiss of dried tobacco leaf. The deliciousness on the bouquet continues onto the palate; one would not be incorrect in describing its character as being hedonistic. It offers ripe flavors of cherry, blackberry and Pakistani mulberry along with a complimentary note of cocoa powder. The tannins are grainy in texture but well-integrated into the wine's overall cadence and linger with a moderate grip along with a light touch of barrel influence. This wine is named after a fault line located near their vines at the Eakle Ranch Vineyard.
The 2018 Pope Valley Winery Reserve Cabernet Sauvignon is harvested from the property surrounding the winery. The grapes for this wine were destemmed to tank for fermentation and then transferred to barrel where it spent 24 months in 500L puncheons of which were 50% new oak barrels; it is a blend of 95% Cabernet Sauvignon and 5% Petite Sirah. The bouquet is dark (like the color of the wine) with an amaranthine rim; it is savory offering aromas of plum, cherry, blackberry, clove, pepper, dried tobacco and other darker fruits. As the wine evolves in the glass it offers additional scents including of chocolate. The flavors are somewhat echoed on the well-layered and rich palate including of blackberry, dark plum and cocoa powder. The tannins are grainy, pixelated, long lasting and broadly distributed across the palate along with a light drying/dusty character, crushed pepper and a darker fruit filled finish. Compared to their Napa Valley Cabernet Sauvignon, this wine simply put, has more of everything. This is a bottle well worth pursuing.
Dessert
Pope Valley Winery used to produce a late harvest wine from Chenin Blanc. The only one we have tried to date is the 2001 Pope Valley Winery Late Harvest Chenin Blanc. We tasted this wine 22 years post vintage. It is deep amber in color; the bouquet shows a pronounced honeyed note, ripe apricot, candied apple, stewed prunes, orange marmalade, baked pineapple upside down cake, pear, brown sugar, walnut, a very subtle note of herbs and an orange peel zest. This wine offers an initial burst and richness of flavor which carries through the front and mid palate, but subsides quickly on the finish. This includes apricot, honeycomb, nectarine, yellow peach, brown sugar, yellow raisons and dried figs. This is not an overly sweet showing, but still, its sweetness outshines its acidity. We found the bouquet more interesting than the palate. It was only $16 retail when it was released.
A rare non estate bottling is the 2002 Pope Valley Winery Red Hills Lake County Zinfandel Port which we tried 21 years post vintage. This wine is a blend of 95% Zinfandel and 5% Merlot. Remarkably it was aged in French oak barrels for 18 years before being bottled. It is deep garnet in color; the bouquet is bursting with fruit, sweetness of aroma and baking spices. It offers scents of baked blackberry, dried figs, dark licorice, ripe dark cherry, dark plum, nutmeg, clove and cinnamon. This richly flavored wine offers notes of plum, dark cherry, dried stone fruits and a lingering thread of sweet pipe tobacco on the finish. It is richly flavored, with a sweet but balanced residual sugar to acid profile. This wine has lots of life ahead of it. It is in 500ml bottles.
—
Guests are welcome to bring a picnic and enjoy following or before a tasting – several picnic tables are located in the shade of their oak trees. Or the tasting room provides a variety of wine friendly snacks including cheeses, a charcuterie board and a few extra nibbles. And if in the mood, a bocce court is available near the tasting room. This winery is very family and dog friendly.
Pope Valley Winery offers numerous places for guests to enjoy tasting including during inclement weather inside the old blacksmith shop (and often used to host club members), in the lounge/loft located above the old cellar, outdoors on picnic tables or private tastings hosting by appointment in or next to the old farmhouse.
Pope Valley Winery offers a variety of events including Music and Wine Sundays offered once or twice a month during the warmer months, by appointment private blending sessions, private lunches or dinners and BBQ's, especially their popular Spring BBQ usually held at the end of May, which features good food, barrel tastings, a tour, lots of wine and tons of fun. Musicians are primarily from the local counties; one band, The Happy Accidents are neighbors, residing at the nearby Hubcap Ranch. But sometimes acts come from further afield including the always popular country singer Mark Powell (from Abilene, TX). And during some of these events, in addition to wine tasting flights, wine is served by the glass or bottle.
Total production each year is around 4,000 cases. For more information and or to join one of their wine clubs (each with varying numbers of bottles shipped each year), visit: www.popevalleywinery.com
Grounds

Cellar + Upstairs Lounge

Tasting Room

Blacksmith Shop

Labels