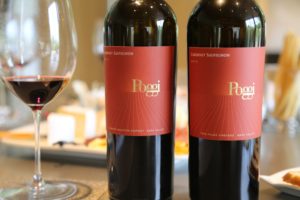 Poggi Wines was founded by Tom and Lauri Poggi. Based in Calistoga, they operate one of the smaller estate vineyards in all of Napa Valley – approximately half an acre on the valley floor – about 450 vines. They purchased this property in 2004 – and have made wine from the estate every year since – other then 2008 when a severe frost destroyed the majority of their crop. For the first 10 years they made home wine – the early years were with the help of long time Napa winemaker Nile Zacherle.
Tom was born in Chicago but raised in Oregon (where he graduated from the University of Oregon in Eugene). Laurie is originally from Minnesota. Both looked for property in 'wine country' for about 5 years – spending most of their time looking in the Sonoma Valley but seeing properties that often needed significant work. Eventually they were shown a piece of property in Calistoga – an acre with a home that they could move into without needing to do significant upkeep. They were attracted to Calistoga because it is often less busy then the rest of the Napa Valley, it's strong farming roots, and the fact the property was in a rural area but within a very short drive into the town of Calistoga.
And during their trips to the area they would often explore other wineries in the region. Laurie recalls their first time wine tasting in the upper part of the valley; being attracted to a rather eclectic property, Tudal Winery tasting with the founders, Arnold and Alma in a 'shed' next to the vineyard.
At the time of purchase the property was planted entirely to Syrah. Ultimately they decided to graft over the vines to Cabernet Sauvignon with a tiny portion grafted over to Cabernet Franc, Merlot and Petit Verdot.
Their vineyard is called the Twin Palms Vineyard – for obvious reasons. Two stately palm trees grow on the eastern edge of their vineyard but the name has even more significance; Laurie is one of two identical twins and Tom's initial's are "TP". Their location is among some of Calistoga's most highly sought after vineyards – the historic Eisele Vineyard is a short walk away, Kenefick Ranch borders their property and Kelly Fleming Winery is located within eyesight of their home (as are stellar views of the Palisades to the east).
Besides producing premium grapes, the Napa Valley also often produces a significant amount of rocks. The former owner used to call this "rock vineyard" for all the rocks he would harvest from it's soils – that is not unusual in this part of Calistoga, we have seen the amount of rocks that the Eisele Vineyard produces.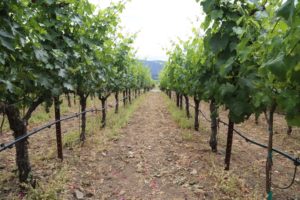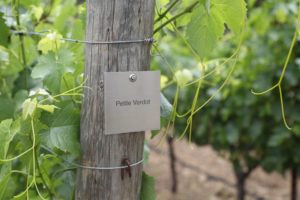 Tom and Laurie compare their vineyard to a musician – the same musician produces music every year but puts out different albums (equating to the different vintages).
After making home wine for a number of years, and realizing the quality of their vineyard, they both asked themselves, "wouldn't it be fun if we started making wine commercially" – they hope to keep their production small and keep this project fun. Their first commercial release is from 2014 – today they produce 90 to 95 cases of each wine. They are certainly one of Napa's smaller producers. Being small has it's own unique challenges – trying to find a custom crush facility up valley that will accommodate and keep such a small producer and the economies of scale when purchasing materials.
They were introduced to their consulting winemaker, Ignacio Blancas (long time winemaker at Calistoga based Summers Estate Winery) through their former vineyard manager Placido Garcia. Today Ignacio makes their wine (he calls this vineyard his 'test kitchen' due it's small size) and also oversees the management of their vines. He also introduced them to a vintner on Diamond Mountain where they purchase fruit for their Diamond Mountain Cabernet Sauvignon.
Tom and Laurie had no prior experience operating a small wine brand before to moving to the Napa Valley. The past few years have been a significant learning curve but one they have been very open to. As relative "newcomers" to the wine world, their graciousness, zest for life and eagerness to learn goes a long way in this business.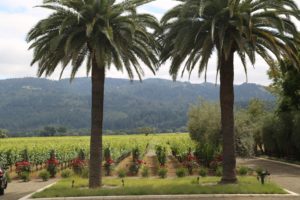 Rather then outsource certain parts of the business, Laurie decided to learn as much as she can. Today she handles their sales and marketing and compliance (not always easy with regulations often differing state by state) and created the concept design for their label.
The 2014 Twin Palms Vineyard is 85% Cabernet Sauvignon with 5% each of Cabernet Franc, Merlot and Petite Verdot. Shows notes of toasted cedar, sandalwood and berries on the bouquet. On the palate this wine is supple with a seamless quality running the length of the palate with both fruit, acidity and tannins. Presents flavors of red cherry and raspberry with lingering red fruit flavors complemented by soft polished tannins.
The 2014 Diamond Mountain is 100% varietal Cabernet Sauvignon – the wine is dark in the glass with aromas of cassis, dark cherry and as it opens further – hints of smoke and mocha. Slightly perfumy. Very balanced on the palate showing a complexity of flavors with mostly darker fruits. Offers decent acidity and earthy, noticeable (more on the front of the palate then on the finish) tannins.
Recognizing the fact they are a newer producer – despite making wine from their vineyard for a number of years already, they have priced their wines quite reasonably. Their wines are mostly sold direct – at the time of this review the only retail outlet in the Napa Valley that carries their wines is Calistoga Wine Stop in the town of Calistoga. For more information and to purchase wine, visit: www.poggiwines.com