Pink Girl Wines was founded by Tina Carpenter (first vintage dates from 2006). The focus of these wines is highly unusual for Napa – entirely on a rosé wine. Tina grew up around wine to some extent in Chicago – her father was in the restaurant and catering business. Tina met her husband, now Napa winemaker Chris Carpenter when both were living in Chicago. Chris was a bar tender and was introduced to wine through a number of wine reps who would visit. Ultimately he decided to study wine making, was accepted at UC Davis and both he and Tina moved to California.
The idea for Pink Girl Wines was born in part because Tina was surrounded by big red (often expensive) Napa wines in her home – many of which her husband had made. Tina has always been drawn to the color pink and decided she wanted to bottle a lighter styled wine – a wine that she would enjoy drinking without needing to think twice about opening a bottle. Not knowing what to call the wines one of her daughters chimed in with the perfect answer, Pink Girl.
We have noticed more and more wineries in the last 5 years are making a high-quality dry rosé – from a number of varietals…wines not made as an afterthought but with the mindset to create a premium wine of this style. Several vintners we have met with are either managing or sourcing fruit from vineyard blocks being managed and grown specifically to make a rosé. Pink Girl Wines was at the recent forefront of creating a premium Napa rosé.
In 2008 Tina met a partner who seemingly was destined to work with her on promoting the Pink Girl Wines. That was Martina (who also goes by Tina). Martina grew up in Indiana – and followed a passion for racing cars – even remembering her relaxing "music" to go to sleep with at night was a tape of vehicles roaring around a race track. She did not become a race car driver but rather followed her creativity and became a photographer for a racing team – covering a number of auto races.
Eventually she moved to Las Vegas and was introduced to wines from one of the race car drivers she knew. This driver started comparing wine to art which appealed to Martina. However sometimes the reality of wine making differs from the perceived dream of making wine. She moved from Las Vegas to the Napa Valley to learn more about wine making.
While bar tending at the Rutherford Grill she met wine maker Chris Carpenter (who also still selectively bar tends there). Once Chris found out she was interested in making wine he invited her to work a harvest. Martina showed up on day one wearing pink shoes – as soon as Chris saw this he said, "you need to meet my wife". Martina decided wine making wasn't her passion – soon she met Tina, showed her a photograph of her pink hair (from when she was living the Vegas lifestyle) and the two women immediately bonded.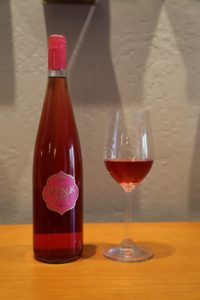 Pink is both lady's favorite color, they enjoy dry rosé wines and both share Midwestern roots. Also sharing similar names, they are often confused for each other.
Their earlier vintages were all a single vineyard Syrah sourced from Pope Valley. Unfortunately this property has since sold – 2012 was their last vintage from this particular vineyard. They are still looking for a good Syrah source from Napa but in the meantime have located Syrah in Mendocino County as well as a source for Gewürztraminer (also from Mendocino County).
The wines are not made by the French saignée method, rather they are pressed off after merely several hours of skin contact. The wine was all fermented in stainless steel tanks. The Syrah and Gewürztraminer were fermented separately and then blended. Tina and Martina along with their winemakers spent several months deciding on both the varietal and blend percentages for their 2013 vintage. Ultimately they arrived at a blend everyone liked – 50% Napa Syrah and 50% Gewürztraminer. Their wines have been made in Napa since day one. Production is usually under 400 cases.
Select Wines
The 2013 Pink Girl shows fresh aromatics of strawberry, raspberry and an appealing dried rose petal component (perfume driven) that becomes more pronounced as the wine breathes. This rose petal aroma brings me back to a smell I first experienced as a child – opening up my Grandmother's scented jewelry box. The bouquet is pretty. The palate shows a nice crispness tempered by delicious flavors including blueberry and strawberry. The finish is clean, crisp and lingers nicely with delicate fruit. Good acidity.
—
With Martina's background in visual arts and photography (a degree from The School of the Art Institute of Chicago) Tina trained her on the nuances of label design – now she works with Tina helping create labels for some of Napa's wineries for Carpenter Creative – a boutique label design firm that has created labels and materials for a number of Napa wineries including Stag's Leap Wine Cellars, Del Dotto Vineyards, Trinitas Cellars and also for Jayson Woodbridge, including his Cherry Pie and If You See Kay labels.
As expected and conveniently, Carpenter Creative has creatively designed all the packaging and materials for Pink Girl Wines – even down to the cork which is entirely pink! Earlier vintages contained hand applied real Swarovski crystals.
Pink Girl Wines has participated in a number of charity and wine events over the years including Wine Women & Shoes, the Napa Valley Film Festival, Live in the Vineyard and the Festival del Sole.
Martina spends significant time selling the wine to retail outlets herself – focusing on the San Francisco Bay Area. Their wines are selectively placed at area Whole Food Stores. For more information and to purchase this wine visit: www.pinkgirlwines.com
NOTE: sometimes they take a break for a year or more between vintages.