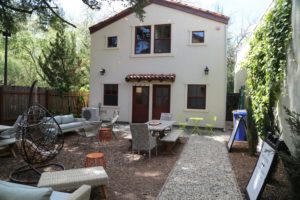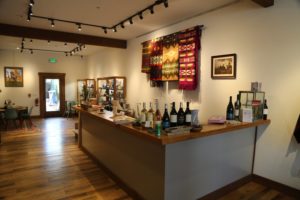 Picayune Cellars was founded in 2011 by Jennifer Roberts and Claire Weinkauf. Claire grew up in Auvergne France (about in the center of the country – a region known for its fabulous cheeses). She has plenty of international wine making experience. Earning a wine degree in Chile she moved back to France and worked a harvest in Saint-Émilion and the Côte du Rhône. She worked in both Chile and Argentina and met a winemaker who would play a prominent role in her wine career and who she considers a role model – Paul Hobbs. In 2006 he invited her to come to California; she then worked for him (Paul Hobbs Winery and Imports) in neighboring Sonoma County.
Four years later she branched out on her own and founded Claire de Lune Consulting, a consulting company that works mostly with Napa Valley based small premium brands and wineries advising with marketing, brand strategies and overall business development.
While at a party in 2011 a winemaker brought some shiners of Sauvignon Blanc. After tasting this wine Claire was intrigued. She understood he had one barrel of this wine – but in actuality he had almost 17 barrels of this wine. Claire describes chatting with her friend Jennifer Roberts via a Gmail Chat and asking her if she would be interested in partnering on purchasing this much Sauvignon Blanc. Jennifer soon agreed; this was the initial wine produced by Picayune Cellars.
After deciding to purchase the 1,000 gallons of Sauvignon Blanc – they realized they needed to bottle it soon. With Jennifer's contacts at Arnot Roberts (in Sonoma County) they decided to time their bottling of this wine with Arnot Roberts next scheduled bottling. This left very little time to decide on a name, and label – as they needed both in time for the bottling day.
They scrambled to come up with these important decisions – quickly deciding on a name and label in about 24 hours. The name Picayune has several meanings – it means "a little bit" in French and refers to a Spanish coin worth half the value of the Real. And this also ties in well with their affordable pricing.
They chose the symbol of the key to represent their négociant philosophy at the time – buying premium wine from a variety of sources in Napa and beyond. An "unlocking of secret wines" as Claire puts it based on agreements made with the vintners not to reveal the actual vineyard sources. And their philosophy from the beginning was to offer well made approachable and quality wines at an extremely affordable price point – preferring to have more people try their wines then fewer. While still playing a role as a négociant, in 2016 Claire purchased grapes rather then finished wine.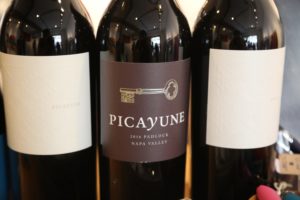 Over time both Claire and Jennifer realized that to grow Picayune Cellars they would need to invest more time in the business. Jointly they decided Claire would continue building the business on her own and she bought out Jennifer's share of the company in early 2016. In August 2016 Claire opened a cute little stand alone tasting room to the west of the Calistoga Depot building. At one point this tiny building was housed on what is now the Solage Resort property just south of Calistoga and was ultimately trucked over to it's current location. It has served a number of functions over the years including home to the Calistoga Chamber of Commerce and one of the local newspapers.
Ultimately realizing this location would also make a nice retail outlet – Claire offered a number of one-of-a-kind items for sale here. Similar to her philosophy of offering wines that she enjoys drinking – she offers products that she is already familiar with and enjoys collecting. Case in point are the Native American rugs/blankets for sale – some 100 years old, local honey and knives from France.
In April 2019 Picayane Cellars moved from its original location (the sign for the old location had two brief appearances in a very bad editing job on a walking scene in the movie Wine Country) to a larger space in downtown Calistoga (along Lincoln Ave). The new space (formerly the home of the Carmel Gallery) offers plenty of display areas for numerous international one-of-a-kind products including a variety of pretty purses made in Europe, earrings, various jewelry, hand bags, clothing and soaps. And a rarity along Lincoln Ave is a 'backyard' outdoor space where seated tastings are hosted weather permitting.
Creatively pairing both wine with various musical genres, Claire sometimes offers several Bluetooth enabled head sets where visitors can choose from a wide variety of music ranging from classical, to jazz to country. The Picayune wines can be paired with any of these musical genres – and from this experience Claire hopes visitors will make a deeper connection with her wines. She compares the emotions one experiences when listing to good music to the same as when enjoying a fine wine.
Select Wines
Claire offers wines that are fresh, vibrant and are balanced. She tries to avoid wines that have seen to much oak, are overly extracted or are to ripe when harvested.
The 2015 Picayane Cellars Sauvignon Blanc was sourced from both Lake and Napa Counties. The fruit from Napa had a bit more structure and Claire liked how this balanced out the Lake County fruit. The bouquet is aromatic with appealing aromas of pineapple intertwined with citrus blossom. There is a rounded richness mid palate balanced nicely with the acidity – mineral notes and flavors of melon (honeydew) show. Clean finish.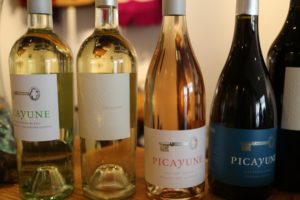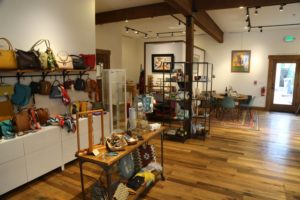 The 2014 Picayane Cellars Padlock Red Blend is a Merlot dominated wine the balance being carried by 21% Malbec and 6% Cabernet Sauvignon (100% fruit from the Napa Valley). Aromatically the fruit shows well with notes of raspberry, blackberry, plum and cassis along with a floral component (violets). There is a pleasing intensity mid palate. This wine is well balanced – it is juicy/mouth watering from the excellent acidity. The tannins are earthy – and form a seamless component to the finish rather then being a detracting element. Drinks very well young.
And in 2020, Claire imported her first Picayane Champagne from Aÿ, the hometown of the Lallier Champagne house. This Grand Cru Champagne Rosé was made from Chardonnay and Pinot Noir.
—
Locally you can find the wine at Press Restaurant in St. Helena and after a write-up highlighting select women winemakers in the Wall Street Journal – the French Laundry began carrying several of the wines.
Stop by for a relaxing visit and good hospitality. As Claire says, "wine is my way to welcome you into my 'home". Parking is available directly in front of the tasting room and shop – lining both sides of Lincoln Ave. For more information to to signup for one of their wine club offerings, visit: www.picayunecellars.com
Tasting Room + Mercantile

Original Location:
We keep these photographs for nostalgia purposes.