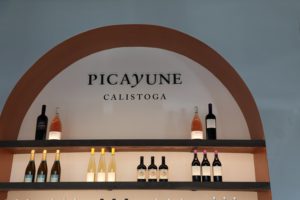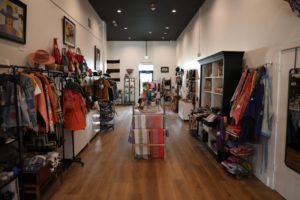 Picayune Cellars (pronounced as pee-ka-yun) was founded in 2011 by Jennifer Roberts and Claire Weinkauf. Claire grew up in Auvergne France, a region known for its fabulous cheeses, located roughly in the center of the country. She has plenty of international wine making experience. Earning a wine degree in Chile she moved back to France and worked a harvest in Saint-Émilion and the Côte du Rhône. She worked in both Chile and Argentina and met a winemaker who would play a prominent role in her wine career and who she considers a role model – Paul Hobbs. In 2006 he invited her to come to California; she then worked for him (Paul Hobbs Winery and Imports) in neighboring Sonoma County.
Four years later she branched out on her own and founded Claire de Lune Consulting, a consulting company that works mostly with Napa Valley based small premium brands and wineries advising with marketing, brand strategies and overall business development. Some of her clients are or have been: Matthiasson Wines, Anomaly Vineyards and Morlet Family Estate.
While at a party in 2011 a winemaker brought some shiners of Sauvignon Blanc. After tasting this wine Claire was intrigued. She understood he had one barrel of this wine – but in actuality he had almost 17 barrels of this wine. Claire describes chatting with her friend Jennifer Roberts via a Gmail Chat and asking her if she would be interested in partnering on purchasing this much Sauvignon Blanc. Jennifer soon agreed; this was the initial wine produced by Picayune Cellars.
After deciding to purchase the 1,000 gallons of Sauvignon Blanc – they realized they needed to bottle it soon. With Jennifer's contacts at Arnot Roberts (in Sonoma County) they decided to time their bottling of this wine with Arnot Roberts next scheduled bottling. This left very little time to decide on a name, and label – as they needed both in time for the bottling day.
They scrambled to come up with these important decisions – quickly deciding on a name and label in about 24 hours. The name Picayune has several meanings – it means "a little bit" in French and refers to a Spanish coin worth half the value of the Real. And this also ties in well with their affordable pricing.
They chose the symbol of the key to represent their négociant philosophy at the time – buying premium wine from a variety of sources in Napa Valley and beyond. An "unlocking of secret wines" as Claire puts it based on agreements made with the vintners not to reveal the actual vineyard sources. And their philosophy from the beginning was to offer well-made approachable and quality wines at an extremely affordable price point – preferring to have more people try their wines then fewer. While still playing a role as a négociant, in 2016 Claire purchased grapes rather than finished wine.
Over time both Claire and Jennifer realized that to grow Picayune Cellars they would need to invest more time in the business. Jointly they decided Claire would continue building the business on her own and she bought out Jennifer's share of the company in early 2016. In August 2016 Claire opened a cute little stand-alone tasting room to the west of the Calistoga Depot building. At one point this tiny building was housed on what is now the Solage Resort property just south of Calistoga and was ultimately trucked over to its current location. It has served a number of functions over the years including home to the Calistoga Chamber of Commerce and one of the local newspapers.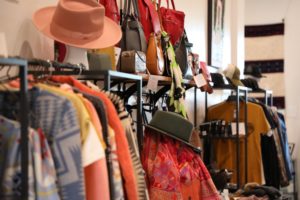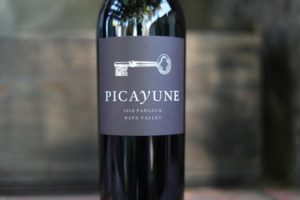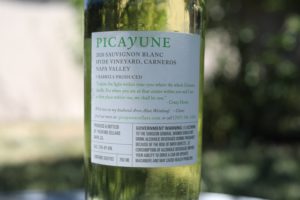 In April 2019 Picayune Cellars moved from its original location to a larger space in downtown Calistoga (along Lincoln Ave). This second location was formerly the home of the Carmel Gallery. The sign for the old location had two brief appearances in a very bad editing job on a walking scene in the movie Wine Country.
In early February 2023 Picayune Cellars moved again, this time just down the street (on the opposite side) to 1436 Lincoln Ave, the former site of Hotel D'Amici Ristorante and building formerly owned by the Pestoni family (Pestoni Winery, Rutherford). This building dates from the 1920s. In the 1950s this was home to Guy 'N Eddy's, advertised as Calistoga's finest Cocktail Lounge and having air conditioning. And in the 1960s it was home to Susie's Bar (still in business in Calistoga). This space was vacant from 2017 until Picayune Cellars took up occupancy. This new space is much more visible and larger than either of the two previous spaces; it features a small fenced in patio in the back of the building as well as a full kitchen. A limited number of pop-up dinners, each focusing on a particular cuisine, are offered (by reservation) throughout the summer.
Most stand-alone tasting rooms in Napa Valley focus on wine, but here there is both wine and numerous domestic and international one-of-a-kind products. During several visits over the years, we have seen a variety of purses made in Europe, earrings, various jewelry, fun and brightly colored socks, handbags, soaps, clothing, local honey and knives from France. Similar to her philosophy of offering wines that she enjoys drinking, Claire sells products that she is already familiar with and enjoys collecting. The Navajo inspired rugs/blankets catch one's eye almost as soon as entering the shop, including some 100 years old. With such a diversity of products, there really is something that will catch the attention of most anyone who visits the space.
Creatively pairing both wine with various musical genres, Claire used to offer several Bluetooth enabled headsets where visitors could choose from a wide variety of music ranging from classical, to jazz to country. The Picayune wines were then paired with any of these musical genres; from this experience the idea was that visitors would make a deeper connection with her wines. She compares the emotions one experiences when listing to good music to the same as when enjoying a fine wine.
Select Wines
Claire produces wines that are fresh, vibrant, inspired and balanced. She avoids crafting wines which have seen too much oak, are overly extracted or are too ripe when harvested. The Picayune bottlings are from both Napa Valley and sites in several neighboring counties including Sonoma.
The 2021 Picayune Cellars Albariño, Rusty Gate Farm Russian River Valley, Sonoma County is medium gold in color (the darker color comes from fermenting about 10% of this wine on the skins); the bouquet is immediately both floral and tropical in its generous aromas including notes of honeysuckle, honeycomb, nectarine, apricot, mango and ripe papaya. Those especially who are not familiar with this variety will find its nectarous aromatics irresistible. This wine's brightness from its lively acidity is immediately evident and runs the length of the palate. The palate offers flavors of lemon, grapefruit and mandarin. Lingers with a mouthwatering zest which invites another sip. We thought of pairing this with some fresh Thai seafood while enjoying a warm evening on a rooftop somewhere in Bangkok. Some of the Picayune wines offer introspective and philosophical quotes on the back label. This one reads: "A coeur vaillan, rien d'impossible" or in English, to a valiant heart, nothing is impossible". ~ Jacque s Coeur (a French merchant and government official who lived more than 500 years ago).
The 2020 Picayune Sauvignon Blanc Hyde Vineyard, Carneros Napa Valley is pale to medium yellow in color; this wine offers aromas of pine resin, freshly moved lawn, gooseberry (this smell reminds us exactly of squeezing and subsequently bursting wild thorny gooseberries in California's Sierra Nevada mountains in late summer) and very light notes of lemon zest and vanilla. The palate features a pleasing roundness from start to finish which is complemented by bright and tangy acidity. This wine offers flavors of various citrus along with some lingering mineral nuances. Very well balanced, nicely done! This wine was whole cluster pressed and fermented in neutral oak along with one stainless steel barrel. During its aging, battonage was conducted once a month. And this bottling features a quote from Crazy Horse, otherwise known as Čháŋ Óhaŋ, a Lakota war leader of the Oglala band in the mid to late 1800s, "I salute the light within your eyes where the whole universe dwells. For when you are at that center within you and I am at that place within me, we shall be one".
The 2015 Picayune Cellars Sauvignon Blanc was sourced from both Lake and Napa counties. The fruit from Napa Valley offers a bit more structure; Claire liked how this balanced out the Lake County fruit. The bouquet is aromatic with appealing aromas of pineapple intertwined with citrus blossom. There is a rounded richness mid palate balanced nicely with the acidity along with mineral notes and flavors of melon (honeydew) show. Features a clean and crisp finish.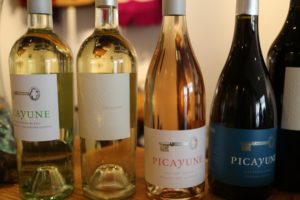 The 2018 Picayune Cellars Padlock Red Blend Napa Valley is 53% Cabernet Sauvignon, 34% Merlot and 13% Malbec. This wine is dark ruby in the glass with aromas that are dark, savory and meaty in nature including of bacon fat, sweaty baseball mitt, white pepper, old cedar wood and plum. As the wine continues to transform in the glass, it opens to some notes of mocha. This bottling offers plenty of life in its youth with both red and darker fruit flavors. The acidity shines brightly – especially on the finish. This wine is anchored by medium grained gravelly tannins which persist for some time. Finishes dark and finishes savory. This bottling was aged in French oak barrels for 15 months of which 20% was new oak.
The 2014 Picayune Cellars Padlock Red Blend is a Merlot dominated wine the balance being carried by 21% Malbec and 6% Cabernet Sauvignon (100% fruit from the Napa Valley). Aromatically the fruit shows well with notes of raspberry, blackberry, plum and cassis along with a floral component (violets). There is a pleasing intensity mid palate. This wine is well balanced – it is juicy/mouthwatering from the excellent acidity. The tannins are earthy – and form a seamless component to the finish rather than being a detracting element. Drinks very well young.
The 2019 Picayune Cellars Rive Gauche (translates to 'left bank') Red Wine, Napa Valley is 88% Cabernet Sauvignon and 12% Petit Verdot; it is dark ruby in color. Simply put the bouquet smells wonderful – it is a medley of fruit aromatics including red cherry and blackberry. And deeper in the aromatics are notes of dried herbs, sage, hints of mint and a black/green olive note. This wine is exceptionally well-balanced in its youth between fruit, structure and acidity; there are no harsh edges. The finish is persistent, juicy and is anchored by a darker grip of medium textured tannins. This wine has lots of years ahead of it. The quote on the back of this bottle is from Chief Seattle, "Humankind has not woven the web of life. We are but one thread within it. Whatever we do to the web, we do to ourselves. All things are bound together. All things connect."
And in 2020, Claire imported her first Picayune Champagne from Aÿ, the hometown of Lallier Champagne house. This Grand Cru Champagne rosé was made from Chardonnay and Pinot Noir and is sold on both the website and in the tasting room.
—
Locally one can sometimes find the wine at Press Restaurant in St. Helena and after a write-up highlighting select women winemakers in the Wall Street Journal, the French Laundry began carrying several of the wines.
Stop by for a relaxing visit and good hospitality. As Claire says, "wine is my way to welcome you into my home". Those who visit on Friday evenings may be treated to live music. A small space, outside and to the rear of the building is used for hosting tastings during good weather. A semi private room in the back of the space can be used or hosting private events and or lunches and dinners. Pull in curbside parking is available directly in front of the tasting room and on both sides of Lincoln Ave. And sometimes Picayune Cellars hosts a limited number of club members on barge or river trips in Europe.
Select library wines are available for sale on the website. For more information, to purchase wine or merchandise or to sign up for one of their Key Member wine club offerings (6 or 12 bottles annually), visit: www.picayunecellars.com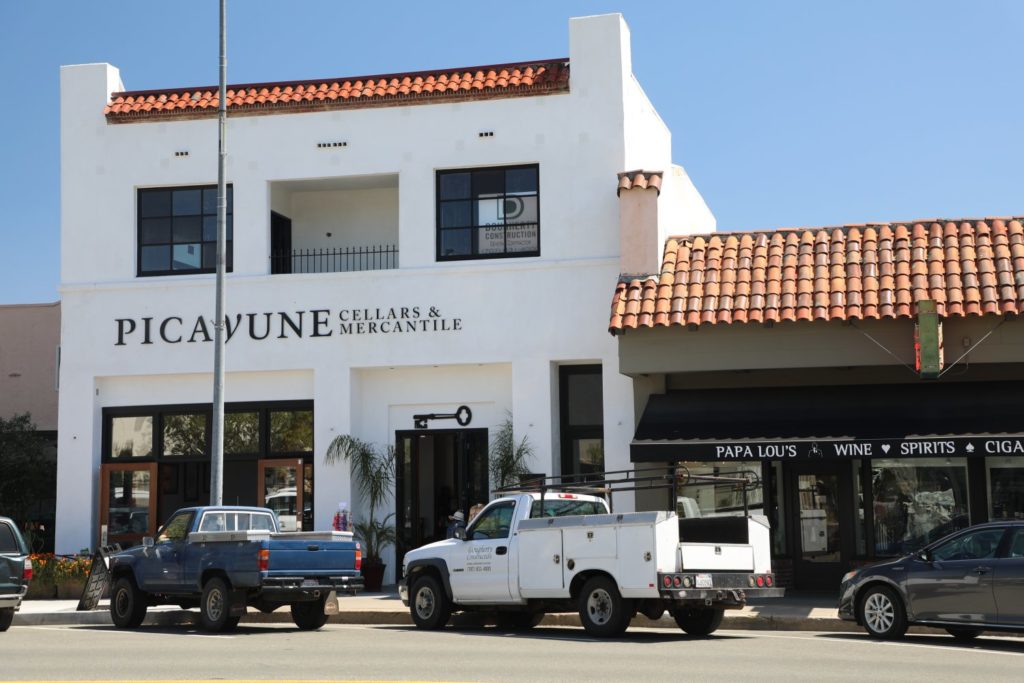 Current location, Picayune Cellars + Mercantile

Bottle Shots

First location:
We keep these photographs for historical reference.

Second Location, Tasting Room + Mercantile
We keep these photographs for historical reference.