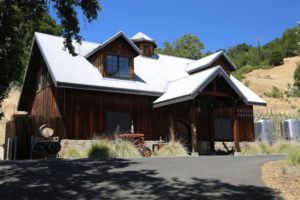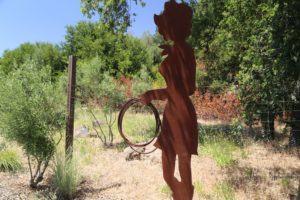 Phifer Pavitt Winery is owned by Suzanne Phifer Pavitt and her husband Shane Pavitt. Suzanne is originally from tiny Ringgold, Georgia where she grew up on a 15-acre farm. Both she and Shane have enjoyed wine for many years and before owning their current property, spent significant time on the west coast looking at various properties in "wine country" from Washington and Oregon to a number of regions in California. Finally in 1998 they discovered a beautiful almost entirely hillside piece of property near Calistoga and over a bottle of Araujo Estate (now Eisele Vineyard) wine made the decision to purchase this property (23 acres). This was ironic considering that the iconic Eisele Vineyard is extremely close to part of Phifer Pavitt's own property.
Their first vintage is from 2005; the flagship wine produced each year is always a premium Cabernet Sauvignon called "Date Night". In order to understand why this wine is named Date Night one must hear the story behind the name. What is Date Night? It is a night reserved for once a week where couples (married or not), take time to themselves away from other distractions whether at a restaurant, an evening in a library, a hike, or just time together somewhere out of their normal day to day lives. This wine is a tribute to Suzanne and Shane's "date nights" where some of their biggest decisions have been made including the decision to start this winery. Oh and with a name like this, the wine is very popular for Valentine Day gifts and other romantic occasions.
Since 2005 they have sourced some of their grapes from the Temple Family Vineyards in eastern Napa County in Pope Valley. Their wine is crafted from vineyards that are micro-managed and farmed organically. 2.5 acres of two clones of Cabernet Sauvignon were planted on the hillsides next to the winery in 2012. Rather than remove all oak trees in favor of the vineyard, the Pavitt's elected to keep some of the ancient oaks and simply plant the vines around them. This leads to variation in size of the vines based on more limited sun exposure under and next to the trees. The only wine that has ever been made from the property to date was a 2020 rosé of Cabernet Sauvignon. The Glass fire of 2020 burned a significant part of their property including causing major damage to their home and destroyed most of their vineyards. And many of the trees on the property were also killed; after the fire, more than 2,000 dead trees were removed. Fortunately, the winery was saved. Except for a very tiny block of original vines, the rest of their vineyard footprint was replanted in 2021.
Select Wines
The 2019 Phifer Pavitt Date Night Blanc de Noirs Sparkling Wine Sonoma County is 70% Chardonnay and 30% Pinot Noir. It is pale to medium salmon in color; the bouquet smells fresh, fun and fruity with aromas of raspberry, wild strawberries, bruised apple and biscuit. Zippy and zesty across the palate it offers flavors of green apple, ruby grapefruit and gooseberry. Its core is its fresh and lively acidity; it lingers with a mouthwatering finish. Easy drinking and balanced, this is a great palate cleanser after drinking intensely flavored and well-structured Napa Valley Cabernet Sauvignon. We would pair this with raw oysters or a yum talay (spicy Thai seafood salad) while enjoying the last rays of sunshine as the sun drops below the Gulf of Thailand. Pick any island in the region: our choice is Koh Tao. The first Phifer Pavitt sparkling wine produced was in 2013.
The Phifer Pavitt Sauvignon Blanc is always sourced from the Juliana Vineyards in Pope Valley; Suzanne enjoys drinking Sauvignon Blancs from the Loire Valley in France (Sancerre style) and their wine is somewhat styled after these bottlings. This wine always shows a brightness and varietal characteristics but never a green or grassiness sometimes associated with Sauvignon Blanc grown in cooler weather sites. Their first vintage of this wine was in 2011. The 2021 Phifer Pavitt Date Night Sauvignon Blanc, Napa Valley is pale to medium yellow in color; we immediately wrote floral to describe the bouquet. This polished wine offers beautiful aromas of honeysuckle, star jasmine and citrus blossom, along with pineapple, lemon zest and lemongrass. The palate offers a light rounded texture, but perhaps is not as creamy as some of the previous Phifer Pavitt bottlings we have tried. It is balanced nicely by its bright (but not tart) acidity. It offers juicy, lively and rich flavors of grapefruit, lime, lemongrass and some subtle stone fruits including of white peach. From personal experience, this wine pairs very nicely with a lightly grilled halibut.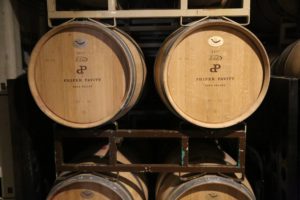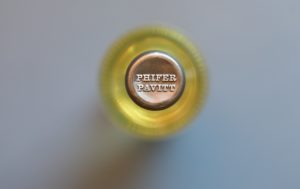 The 2017 Phifer Pavitt Date Night Sauvignon Blanc, Napa Valley is straw yellow in the glass with sweet aromatics including tropical floral notes (honeysuckle) pineapple and ripe peach. The sweetness of the aromatics continues onto the palate as a perceived sweetness. Texturally rich (a creamy quality), the wine delivers concentrated flavors including citrus and ripe red apple and a very long pleasing finish. Part of the richness and texture comes from when the wine was stirred weekly during its aging while on the lees (over a span of three months).
The 2018 Phifer Pavitt Date Night Cabernet Sauvignon is deep ruby in color; the bouquet offers pleasant aromas including of dark plum, blackberry, bittersweet chocolate, soy sauce, old cedar wood, mocha and a sweet tobacco spice. Luscious and mouth coating this wine offers plenty of flavor, including notes of dark chocolate, blackberry, and a lingering darker baking spice along with a light woodsy note. A crowd pleaser, this wine is seamless from the entry throughout the palate with ripe and supple tannins offering a smooth fruit-filled finish. This is a markedly different wine than the 2017 Date Night Cabernet Sauvignon despite being only a year younger and from the same vineyard source.
The 2017 Phifer Pavitt Date Night Cabernet Sauvignon is is 98% Cabernet Sauvignon and 2% Petit Verdot. The grapes for this bottling were harvested before the devastating Tubbs Fire started on October 8th. This wine is dark ruby in color; the aromas initially show some savory characteristic including of leather and dried herbs but as the wine evolves in the glass it opens up to more fruit. The aromas are sweetly fruited including of ripe blackberry, and more subtle notes of fig and dried fruits. The palate shows flavors of dark plum with a lingering note of dried tobacco leaf. This bottling shows its vintage characteristics well; it offers a much more noticeable texture than the 2018 vintage. The tannins are chewy, dusty, dry and persistent – not coarse but certainly very much felt. This wine has plenty of life ahead of it; it would be intriguing to try it in 10 and or 15 years post vintage.
The 2017 Phifer Pavitt Xroads Cabernet Sauvignon is harvested from the Mary Rocca and Eric Grigsby owned Grigsby Vineyard located near the intersection of Yountville Cross Road and the Silverado Trail. This wine is 100% varietal and was aged for 17 months in 75% new French oak. It is dark ruby with purplish tinges on the rim and is the definition of opaque; the aromatics are generous and expressive featuring a pleasing union between both fruit and barrel influences. It offers scents of very ripe blackberry (think summertime picking wild blackberries at the peak of their ripeness), boysenberry, dark figs and mulberry complemented with darker baking spices, bittersweet chocolate, sage, old cedar box and notes of espresso/mocha. The palate offers a noticeable intensity of flavor (primarily darker fruits and chocolate) complemented nicely with a juicy acidity. And the texture features gravelly, dry tannins lingering with savory notes of crushed pepper corn and dried tobacco leaf. For us, this wine triggers nostalgia; we immediately thought of pairing this wine with college days in San Luis Obispo, in the backyard of our friend's house, fall evenings with the fog rolling in, a tri-tip on the BBQ and the smell of meat on the grill in the cool air.
The 2005 Phifer Pavitt Cabernet Sauvignon is all about the fruit without being to fruit forward. It offers a delightful bouquet with seductive aromas including blackberry, dark chocolate and hints of sage. The entry is immediate and pronounced with delicious flavors of blackberry and black currant along with notes of toasted oak mid palate with just a hint of spice on the finish. This wine is very approachable at a young age and is extremely smooth from start to finish. The palate lingers for some time, anchored by ripe tannins which are in balance with the rest of the wine's profile. One sign of a great wine is its balance – even in its youth. This wine is perfectly integrated in aroma, flavor and structure.
An extremely limited production reserve Cabernet Sauvignon is only produced in years where a barrel or two stand out as being exceptional.
In 2018 the winery announced a partnership with The Bardstown Bourbon Company to create Phifer Pavitt Bourbon.
—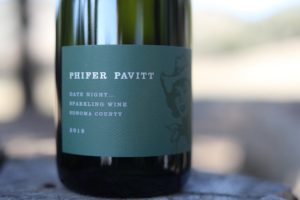 Ted Osborne is one of the most under-rated winemakers in Napa Valley. Suzanne and Shane met him for the first time at a soccer game in Calistoga. He is not a celebrity winemaker and doesn't pursue wine maker dinners, crave publicity and or seek the spotlight. Rather he prefers to let his work show for himself and his wine's certainly do that. He has plenty of international wine making experience with stints in Bordeaux, South Africa and Australia as well as previously working at Storybook Mountain, Piña Napa Valley and currently running his own label, Olabisi Wines (with a tasting room in downtown Calistoga). And Shane's father Dr. Gary Warburton is successful dentist, but later in life went to school at UC Davis and earned his degree in enology. He is the winemaker for the Phifer Pavitt Sauvignon Blanc.
Some of Phifer Pavitt's early success was based on utilizing the power of viral marketing on the web and riding the 'wave' created by wine bloggers and other online journalists. Their marketing philosophy is actually rather simple; if people enjoy their wine, they will tell others. This is a philosophy that has been very successful; much of their wine is now sold through personal referrals.
The winery is located directly next to the Silverado Trail just south of Calistoga. This building dates from 1907; it used to be located in Franz Valley (Sonoma County) but was dismantled and rebuilt on the Phifer Pavitt property. It also used to be painted an ugly yellow but when it was rebuilt the yellow was stripped off except for a small rectangular square located underneath the 'v' in the word Phifer Pavitt on the exterior (left so visitors can see what it used to look like). The first floor (originally the tasting room) now serves as their barrel storage; the crush pad is located just outside. The second floor was converted into the tasting room; it is spacious and offers a western feel, including sometimes a soundtrack which primarily features old country and western songs. And often visitors hear the numerous black, white and red flea flickers (woodpeckers) ratcheting their way into the side of the wooden barn. And these birds love storing acorns in between the wooden slats.
Many of the materials used in the construction and decoration of the winery had previous uses and have been creatively re-purposed. This includes the metal cages surrounding the outside lights; these were made from wire that held their olive trees in place when they were transported to the property. Baling wire found on the property is now used to cage some of the inside lighting, the wooden planks on the sides of the bench sofas were reclaimed from planter benches used at the nearby Solage Resort, wooden beams are from an old post office in Manhattan Beach, California and the barn's interior wood was recycled from wooden snow fencing from Wyoming. But perhaps the most intriguing material is the use of recycled blue jeans for the buildings' insulation.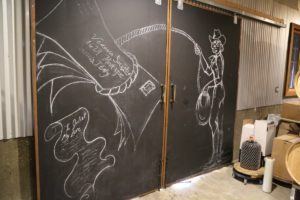 And one of the more unique tasting bar tables is located upstairs; it is a 2,000 pound piece of black walnut wood hanging from the ceiling mounted into the buildings' metal supports. Remarkably the table moves from side to side. Visitors tasting here later in the day, who are not privy to this table's structural prowess, after multiple winery stops might find themselves wondering about the level of their own inebriation.
Phifer Pavitt has received a number of positive press over the years; the inaugural 2005 vintage was voted as one of the Top 100 Wines of 2008 by the San Francisco Chronicle. They maintain a mailing list and have select distribution in Los Angeles and a nice following in Nashville. The wines are primarily sold direct to their members or online with little or no distribution. Locally one can sometimes find select vintages at ACME Wine Store in St. Helena or Solage Resort in Calistoga.
Spotlight on Ringgold, Georgia
Ringgold (the temptation is to add an 'h' in its spelling but do not do this) is located in northwest Georgia just south of the Tennessee state line about a 25-minute drive from downtown Chattanooga and about a 30-minute drive from Ruby Falls (a unique waterfall which is located 1,120 feet below the surface and is the tallest and country's deepest underground waterfall open to the public). Ringgold population: about 3,500. This is a town with both some charm and certainly some character. And Suzanne told us they really pull out all the stops for their 4th of July Parade. Visitors can start downtown by browsing through a number of local shops and then head over to check out the outside of the Ringgold Depot and the accompanying historical signage. Built in 1849 it was damaged during the Civil War and bullet holes can still be seen, even today. And other Civil War sites are located near town including Chickamauga.
Another not to miss place is Ringgold Feed & Seed – a collection of antiques located on a visually intriguing property; the core of this site is its visual character. And while not related at all in ownership, but sharing a similar name, for a number of years the Home Plate Cafe in Calistoga (closed in early 2020) operated simultaneously as the Home Plate Grill in Ringgold.
Old country music fans will be curious to discover that Ringgold served as marriage sites for several prominent musicians including Dolly Parton who wed in 1966 at the First Baptist Church and Tammy Wynette who married George Jones at the Ringgold County Courthouse.
Total annual production is usually around 1,000 cases. For more information or to join the Phifer Pavitt Verona Society (bottle quantity options vary depending on membership levels, each one appropriately titled, Romeo, Juliet or Romeo & Juliet), or be added to their wait list (for non-Verona society members), visit www.phiferpavittwine.com.