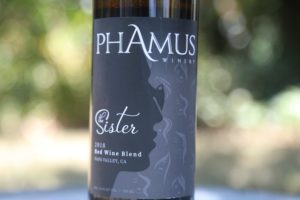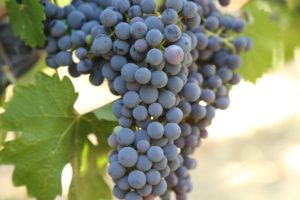 Phamus Wines was founded by Chris Klein and his wife Tandy with their first vintage in 2016. Chris was born in Napa and raised in St. Helena. His family has been involved for many years in the wine industry including an aunt, who worked for Grgich Hills. His parents founded Allora Vineyards, which is where Chris learned winemaking, especially from their winemaker at the time, Rudy Zuidema. While Chris oversees the winemaking for Phamus Wines, Rudy is his consulting winemaker.
Considering Rudy, a mentor, Chris even refers to his own career as a 'Rudyism" as he is now providing consulting services for several small Napa Valley based wine brands including Undiscovered, Squam Rock, Duo Vino and Middle Oak.
The name Phamus is an homage to Tandy whose maiden name was Pham. And adding 'us' is a nice play on the word famous. The image on each label is a profile outline of Tandy with smaller images that are profiles of Chris's sisters.
Select Wines
The 2018 Phamus Wines The Sister Red Blend is 25% Petite Sirah, 35% Cabernet Sauvignon and 30% Syrah. The wine is dark ruby in color offering bright fruit and some slight savory notes on the bouquet. Shows leather, darker cherry, ripe Santa Rosa plum, (thank you Luther Burbank) and as the wine opens and continues to evolve in the glass, aromas of cedar and hints of brown chocolate.
The supple texture is an appealing part of this wine with dusty, chalky and earthy tannins that linger softly. Some of these earth notes presumably are from the contribution of the Syrah to the blend. The tannins are finely balanced on the finish and are rounded with no sharp edges. Along with the finely textured tannins and brightness of red fruits, the finish also lingers with hints of dried tobacco leaf. The fruit for this wine was sourced entirely from Shadybrook Estate in Coombsville. Not a technical term, but we wish it were, this wine is a crowd pleaser.
Every year the Sister Red Blend is a tribute to family – specifically to sisters. Chris has two sisters, Cortney and Kelly (both work at Allora Vineyards) and his wife Tandy has five sisters.
Winemakers will often create blended wines long after harvest from barrel selections. Rather, the Sister Red Blend is made as a blend every year early on after harvest and is rooted in a wine created at Allora by Rudy. One year with a larger than normal harvest, Rudy ran out of tank space to keep three varieties separate from each other. So, he decided to put all three varieties into one tank. He kept it initially chilled with dry ice before starting the triple variety co-fermentation. Chris remembers being pleased with the results and approached Rudy about making a similar styled wine again.
The 2019 Phamus Wines Pioneer Cabernet Sauvignon was sourced from a vineyard in both St. Helena and in Rutherford. This wine is deep ruby in color with aromas of plum, iron, dried tobacco, and some floral notes including violets. Also hints of cedar, dark chocolate and black olive. Showcases a luxurious amount of ripe fruit on the bouquet but with no overripe tones. Shows fresh, ripe and vibrant fruit across the palate; it is very youthful. Lingers with both oak and grape tannins, firm but not course, and still slightly tight at the time of our tasting. Also reveals some darker spice notes on the finish. Each year this wine typically spends 18-24 months in a variety of coopers, all 100% French oak.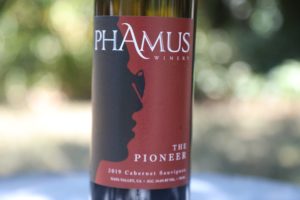 Chris chose the name Pioneer to reflect the evolvement of his own wine making career – after working at Allora under the tutelage of others, Pioneer was the first wine he produced under Phamus- following a new path if you will.
Chris also produces a Chardonnay with a highly intriguing name, The Traveler, made from Napa Valley Carneros grown grapes. The wine is not aged in oak, nor does it go through malolactic fermentation. This wine is aged in a rather unique fashion. Lees from the year's previous vintage are saved for 12 months and are added to the current vintage of aging wine.
The Conqueror is a 100% Pinot Noir styled lighter and more elegant rather than a riper showing. The inspiration for this wine first came from exposure to two different one-off styles of Pinot Noir made at Allora. One was a much riper style and well-extracted showing that they purchased from another winery and bottled under Allora, while the second, produced by Rudy was crafted as more traditional Burgundian style. This is the style the Chris enjoys and produces.
And his reserve Cabernet Sauvignon is called The Instructor – named in homage to Rudy and all his mentors in the wine world over the years.
—
In 2021 Chris introduced several beers, bottled under the Phamus brand. One winemaker asked him "why are you also producing beer", Chris's answer was simple, "because I love beer". He used to visit the Russian River Brewery and 3rd Street Aleworks in Santa Rosa and recalls growing up drinking a variety of beer. He produced his first beers at Devil's Canyon Brewing Company in San Francisco. Keeping the same nomenclature theme as with the wines, one of these beers was called The Promise (Double Dry Hopped West Coast IPA) and the other The Journey (Double Dry Hopped Hazy IPA). Phamus does not produce beers often but does offer the Phamily Beer Club, guaranteeing members access ahead of time to these extremely limited production offerings.
Chris's family has both Spanish and Irish heritage, while in Dublin taking a tour of Jameson Distillery Bow St., he noticed an Irish whiskey aging in a sherry barrel. It was this visual that connected his family heritage and was a personal inspiration to both his heritage and his love of spirits. He has plans to produce several spirits in the coming year.
One of the smaller producers in the Napa Valley, Phamus Wines typically produces between 150 to 200 cases each year. Each wine is produced in lots of only one or two barrels at a time. For more information or to become a member to access the wines, visit: www.phamuswines.com