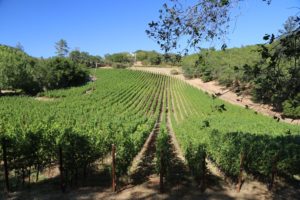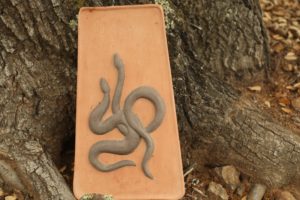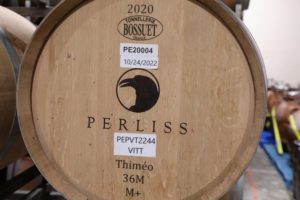 Perliss Estate Vineyards. For twenty-five years the Perliss Family has owned 13 acres in the far northern reaches of the Napa Valley. A few more miles north and you reach the Sonoma County line on your way to Knights Valley. For many years this was Proprietor Herbert Perliss's weekend retreat from the San Francisco Bay Area – a place to get away from the urban life for the quiet rural picturesque landscape located in this part of the valley. Herbert was eventually bitten by the wine bug and decided he would like to grow a small vineyard on the property. He interviewed a number of winemakers but ultimately settled on one of Napa's brightest and most well-respected winemakers – Aaron Pott.
This was an opportunity for Aaron to become involved in a wine project from the very beginning. He was instrumental in how the vineyard was planted; its layout, vine spacing as well as choosing the Cabernet Sauvignon clone (See Clone) which comprises 100% of the vines. The vineyard is laid out in two blocks – the tiny upper block which which grows in rocky volcanic soils and the lower block which flows down the hill into a loamier soil settling into a tiny bowl.
Calistoga has a reputation for being the warmest part of the Napa Valley and often it is – but this property north of town is surrounded by hills and Mt. St Helena to the north; the property has its own micro-climate. Often, the site is cooler than the city of Calistoga and in the afternoons a breeze is common which helps moderate the temperature.
Prior to being a vineyard, this was bare grass land which was convenient when they decided to plant vines (a minimal number of trees were removed). The vines were planted in 2008 and their first commercial release was from 2011.
This little 2.6-acre vineyard produces an exceptional wine with complexity, layers and loads of texture. The vineyard does not produce much as usually only several hundred cases are made each year. The quality of grapes are such that when they comes into the winery, the actual wine making is a fairly straight forward process.
Beginning in 2014 some of their estate wine was aged in clay amphora vessels manufactured in Tuscany by the Manetti family, owners of Manetti Gusmano & Figli furnace in Tuscany. The vessels are made at the family's own terracotta factory. One size of these vessels is equal to approximately 2.5 of the 60-gallon oak barrels and is more porous than oak barrels. The family has worked with clay for 8 generations and are responsible for providing the tiles in the restoration of the floor of the Duomo and the Botticelli room in the Uffizi Gallery (both located in Florence). Making these vessels is a lesson in patience combined with exacting knowledge passed down from generation to generation. Each vessel (they can be produced in different sizes) takes up to 4 months for one person to create by hand. Only a limited number of these are produced each year.
Aaron had never worked with these particular vessels before, but after trying them out on the Perliss wine he ordered several for his own wine program. Perliss continues to use these for their wines. And Aaron has embraced these and now uses them for his own wines and for other clients and has a sizable collection at the Black Lab at Blackbird Vineyards winery south of the city of Napa.
Herbert's son Anthony worked in the perfume industry for many years; lived in Paris but since moving back to the property has taken on the role of managing the day-to-day aspects of this small business. He compares the perfume industry to the wine industry, where the 'raw materials' in both industries are critical to the quality of the end product. And the role that terroir plays with with both grapes and flowers.
Master's in each respective field (winemaker and perfumer) all have the tricks and "toolboxes" to express their craft well, and often each has a variety of perspectives based on international experience, but Anthony has noticed that some of the best in their fields (both in wine making and with perfume) embrace a philosophy of 'simpler is often better'. And that is their own philosophy with wine making.
Select Wines
Whites
One of the most unique bottlings by a Napa Valley based producer is the Perliss SNAKESKIN, a skin contact Sémillon. The 2021 Perliss Estate SNAKESKIN was sourced from the Bavarian Lion Vineyard in Knights Valley in neighboring Sonoma County located to the north of Perliss Estate. The grapes for this bottling were fermented in Tuscan produced terra-cotta amphora. After being punched down, the resulting grapes, skins, seeds and stems were left to macerate for 2 months before the wine was pressed off. The resulting wine is medium amber in color. The bouquet offers aromas reminiscent of certain craft beers, juniper berry, young spruce tips, dried orange peel and a light yeasty character. Unlike most white wines which are destemmed and pressed off immediately prior to fermentation and offer little tannin presence, one can feel both the texture of tannins here as well as their light but lasting astringency. This wine sports flavors of dried apricot, dried orange peel and tea. It is only 12.4% alcohol.
A Bordeaux Blanc styled white wine was introduced to the program in 2016 and originally was a blend of Sémillon from a vineyard in Knights Valley and a Sauvignon Blanc from the Hudson Vineyard in Napa's Carneros region. Today this wine is 100% varietal Sémillon.
The 2020 Perliss Serpents is 100% varietal Semillon, also from the Bavarian Lion Vineyard in Knights Valley. This wine is medium to deep gold in color. The bouquet reveals aromas of white peach, honeydew melon, pear, lemon zest and citrus blossom. It offers flavors of apple, citrus including lime, passion fruit, tart guava, some minerality characteristics and lingering herbal notes. This very balanced bottling offers a light and gentle rounded texture. We called it a, "comfortable summer white wine". It finishes bright and lively. And its only 11% alcohol. This wine was fermented using indigenous yeast and was aged 18 months on its lees in both Tuscan terra-cotta amphora and neutral French oak barrels. A percentage of this wine was fermented on the skins.
Anthony has also personally made a limited production Vermouth from Semillon, sourcing a high-quality brandy from a distillery in Ukiah and adding a variety of herbs and botanicals for the aromatics.
Reds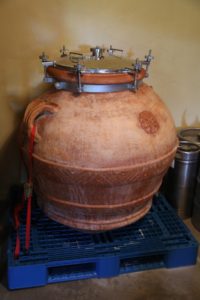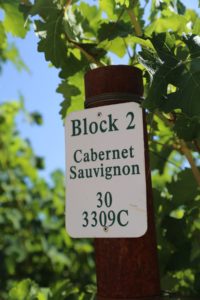 The 2019 Perliss Estate The Ravens is deep ruby and nearly opaque in the glass with an amaranthine rim. The bouquet is inviting and generous, offering aromas of dark licorice, blackberry, dark cherry and plum. The palate is complex and layered between both its fruit characteristics and its texture. It sports flavors of plum blackberry, and coffee bean. The tannins are gravelly, pixelated, chewy and grippy and dancing broadly across the palate with a noticeable dryness. Their grip outpaces the fruit considerably on the long finish. Enjoy with a well-marbled steak. This wine was aged for nearly two years in a combination of 80% French oak barrels and 20% Tuscan terra-cotta amphora. The color of the hand dipped wax on each bottle is a similar color to the bark of the manzanita trees growing on the Perliss property. And The Ravens features a different label each year, always hand-drawn by Anthony.
The 2016 Perliss Estate The Ravens is deep ruby and opaque; we tasted this wine 7 years post vintage and is an excellent example of their vineyard's aging potential. It shows as fresh and lively with years of life ahead of it with the proper cellaring. The bouquet is simultaneously elegant and darkly fruited with a diversity of scents. It offers aromatics of dark plum, black licorice, old cedar box, violets, rose petals, dust, tobacco spice, chocolate and cloves. A bright acidity is immediately noticeable supporting red fruited flavors of cherry and currant. The texture features grainy and long lasting tannins.
The 2012 Perliss Estate The Ravens Cabernet Sauvignon is dark in the glass; on the bouquet it showcases darker fruit aromas including boysenberry, blackberry and black fig – all framed delicately by a pleasing dustiness along with tinges of mocha powder. The palate is well-balanced showing notes of ripe blackberry and black chocolate. The finish is texturally beautiful and also balanced. It showcases chalky tannins with a delicate sediment component which are both well integrated in the finish. This texture and tannin grain have been hallmarks of all their vintages. As a result, this wine drinks wonderfully when it is young but also has the fruit and acid backbone to age. This wine was fermented using indigenous yeasts already on the fruit and bottled without fining or filtering. It was aged in new French oak for 20 months and then sat in bottle for nearly a year before being released.
The 2020 Perliss Estate Pearl of The Ravens is deep ruby in the glass; the bouquet focuses on the purity of the fruit and perhaps shows the vineyards fruit characteristics a bit more than their The Ravens bottling. Its scents include blackberry, boysenberry, chocolate, violets and a hint of fennel. The palate is equally as generous as the bouquet with flavors of blackberry and plum. This is clearly a texturally driven bottling featuring dense but rounded tannins, a note of dark pepper and a drying texture. Loaded with flavor. With an opposite aging percentage of vessels compared to The Ravens bottling, this wine was aged for 22 months in 80% amphora-aged Cabernet with 20% French oak barrels.
Another creative Perliss bottling is their Corvus Pacificum, a small infusion of Pacific Ocean water added to the Perliss Estate Cabernet Sauvignon.
And Anthony's sister, Tessa Perliss produces an annual rosé and a Zinfandel, bottled under the label Wingspan (also made by Aaron Pott). The 2017 Wingspan Rosé is 64% Old Vine Zinfandel, 30% Petite Sirah and 6% Cabernet Sauvignon. Tasted 4 years post vintage, the wine is noticeably dark salmon colored. It reveals light aromatics of strawberry, dried rose petal, and hints of grapefruit. On the palate shows clean and lightly textured from start to finish with some lingering notes of watermelon pith and red cherry. Not overly bright acidity – we wish we had tried this within a year of vintage date rather than 5 years post vintage date.
—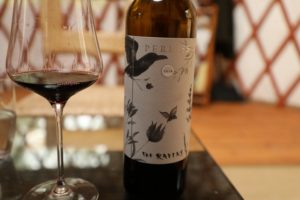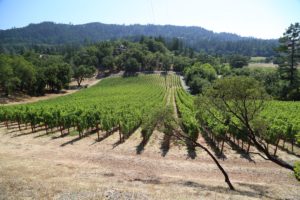 The symbol of the raven with a pearl in its mouth was carefully chosen by the family. The raven suggests the rawness of the landscape (as well as the ravens that flock near the vineyard) and the pearl represents the refinement of what can be crafted from the rugged landscape.
The wine is selectively found in restaurants in Napa, San Francisco and Los Angeles. Two local retail outlets carry the wine including Calistoga Wine Stop in Calistoga and V Cellars in Yountville. The wine is also selectively distributed in Florida, and they have plans to distribute to Texas and New York and internationally to Japan.
Perliss Estate offers three allocation membership levels including Hydra, Crater and Corvust. For a unique opportunity to try limited production premium wines from this boutique producer (who is still young and under the radar), join their mailing list here: www.perlissvineyards.com