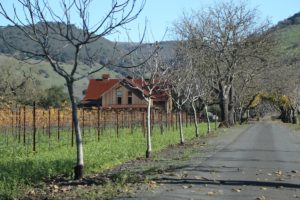 Perata Vineyards has a long history in the Napa Valley dating back to the mid 1940's when the grandparents of David Perata purchased land in what is now the Stags Leap district. The family used to own Pasta Prego on Main Street in downtown Napa. Today the Perata's own 45 vineyard acres in the Yountville appellation and sell a majority of their grapes to other area wineries. In the early 2000's they started holding some of the fruit back for themselves and released their first commercial vintage in 2003. We had a chance to walk much of their vineyards with David; their property lies just below the Silverado Trail, east of the town of Yountville.
The vineyards are separated into blocks based on clones or soil types and the soils do vary quite a bit from the fertile valley floor soils to cobble strewn old creek bed soils. Great attention to detail is given to the vines and the owner David Perata is also the vineyard manager. They have more recently built their own physical winery set among the vineyards. Perata employs long time Napa winemaker Gary Galleron as their winemaker. Gary has a long career working at stellar Napa wineries such as Chateau Montelena, Grace Family, Hartwell and Vineyard 29 among others.
Perata currently produces merely several hundred cases of each vintage, but they have the vineyard sources to increase this and now that their physical winery is built, look for production to increase. They were able to hold back their first release to allow an additional year of bottle aging which is of course very nice for the consumer. Their wines to date have been 100% Cabernet Sauvignon although they do have some nice older Zinfandel vines planted so perhaps one day we will see a wine from this varietal.
We tried their 2003 Yountville Estate 100% Cabernet Sauvignon (this is their first release). It is dark violet in color and you know this wine is layered as soon as you get a whiff of the aromas. Deep chocolate and cedar on the nose follow with great fruit flavors including plum and blackberry. The cedar creeps back in on the finish as well as some mild toasted oak. For 100% estate grown Napa Cabernet, this wine is priced very reasonably.
We also tasted their 2005 Cabernet Sauvignon from what they call the Frank's Vineyard (named after the grandfather) and is a combination of several Cabernet clones. This is a lighter version of their 2003 with lots of fruit in the aromas and on the palate with a finish that is very smooth and soft. Visit: www.peratavineyards.com
Note: this review has been identified as needing a *major* update. Possibly no longer producing, last vintage 2008.