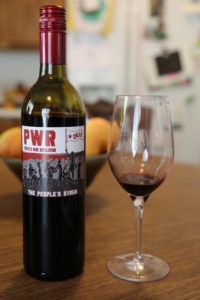 People's Wine Revolution (PWR) was founded with the 2009 vintage by husband-wife vintners Matt Reid and Marcy Webb (tragically Marcy passed away far too young in 2019). Matt grew up in Northern Virginia but fell in love with California during a trip out west while in college. Eventually he moved to San Francisco, did some work for the United States Environmental Protection Agency and also IT work for the city's health department. Finding neither of these jobs fulfilling he started to explore wine making. He made his first wine at his house in San Francisco.
He then decided to pursue wine making more seriously and enrolled in the UC Davis UC-Davis Viticulture & Enology M.S. program – completing his studies in 2003. Matt's first job in Napa was at Seavey Winery, he also helped make wine at Quixote Winery and oversaw the custom crush operations at Failla Vineyards. It was while working at Failla that he decided he wanted a more hands on role in wine making – the "creative control" as he puts it. It was then that he and Marcy decided to start PWR.
Matt has a flexible wine making day job at local Napa winery allowing him to spend as much time as needed working on his own wines. Marcy used to help with their wine making duties.
Whenever Matt would meet friends for dinner – they would try to impress him by bringing wines they thought would excite him prices they perhaps normally wouldn't spend on a bottle of wine. Matt admits that most of the time these wines were not so good. Matt wanted to create a well-made wine that anyone could enjoy at an affordable price point. This was the impetus for starting PWR. At the time of this review all his PWR wines are priced under $20. The economics of sourcing grapes entirely from Napa for wines at this price point is extremely challenging and is part of the reason why Matt and Marcy source fruit from outside of the county.
Their vineyard sources range from Sonoma, Mendocino County and Suisun Valley. Matt used to source from Lodi but says that spending two hours driving to these further vineyards for 10 minutes of sampling time was not worth the extended time in the card. Their vineyard sources today are usually within a more reasonable drive from their house in Calistoga. A number of his vineyard sources have been found based on word of mouth from their contacts in the industry.
Select Wines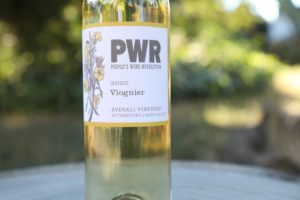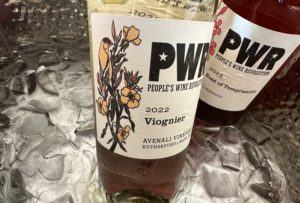 The 2020 PWR Viognier Avenali Vineyard, Rutherford (100% varietal) is pale to medium gold in color; shows aromas of Asian pear, green apple, kiwi and citrus blossom. Shows more floral notes as the bouquet breathes further including honeysuckle and jasmine. Soft in its textural feel, offers flavors of apple, lemon and lime (but not tart). Lingers with a richness of fruit and perhaps a very slight perceived sweetness (although the wine is dry). 12.6% alcohol. Pair with seafood in lighter style sauces.
The 2012 Massa Vineyard Syrah from Yountville was the last time they were able to source fruit from this particular vineyard. The vineyard is certified organic. This wine shows a dark berry component on the bouquet (primarily blackberry). This wine sports a fairly soft mouth feel, is somewhat juicy and slightly savory. The tannins are well defined but would not be considered robust or out of balance. Elements of dust and a spicy note show on the finish (hints of pepper). Like the wine making on their other PWR wines, this wine sees no new oak. The spices are from the fruit and the stems (50% whole cluster fermentation).
The wine making is fairly straight forward on this wine – a short cold soak followed by fermentation conducted in bins where they can foot tread / punch-down for additional extraction of color and flavor.
The only non-Napa wine we tasted was the 2014 Poor Ranch Zinfandel located east of tiny Hopland in Mendocino County. This vineyard was first planted in the 1880's, is entirely dry farmed and ranges in elevation from about 860 to 1800 feet. This is a cleaner more varietal focused Zinfandel then a number of Zinfandels we have tried. Balanced on the palate is shows flavors of plum with a lingering spiciness (white pepper) on the finish. Long lasting flavors with moderate well integrated tannins. Drinks well by itself. Very balanced.
A truly remarkable value (if you can get your hands on this), is a tiny production (usually only 25 cases) 100% varietal Cabernet Sauvignon from the western hills in Oakville above the To Kalon Vineyard. This wine is made for three parties, the vineyard owner, Matt and Marcy and a select group of consumers. It is sold under PWR and is called the Albatross. This is the most consistent vineyard source in PWR's portfolio – Matt has been making this wine every year since they started in 2009. This small steep vineyard grows only 435 vines. While sold under PWR it features a different label.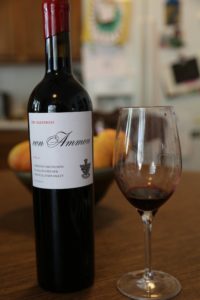 The 2014 People's Wine Revolution Cabernet Sauvignon is dark in the glass and shows a sweetness of vanilla initially on the bouquet which as the wine breathes turns to more of a chocolate note. Blackberry aromas lead to flavors of blackberry and plum along with other red berry flavors – and a noticeable cedar box spice that lingers on the finish along with fruit. Features a pleasing mouth feel with an inherent 'juicy' quality. The tannins are well-integrated and are not harsh. Very well-made wine.
This wine takes the name Albatross because the hillside site will only support a tiny vineyard despite being a fairly sizable property (most of the property is steep hillside that cannot legally be planted to vines).
—
Their unique label is loosely based on the painting by Eugène Delacroix, titled: Liberty Leading the People commemorating the French Revolution of 1830. Rather than the individuals carrying weapons as in the painting, all the individuals on their label carry tools for making wine. The wife of one of Matt's college roommates creatively designed this label.
Locally you can find their wine at select locations within Calistoga – it has been at Solbar at Solage Reort in the past. They have a limited amount of distribution in New York, New Jersey and Connecticut. For more information and to join their wine club, visit: www.pwrwines.com