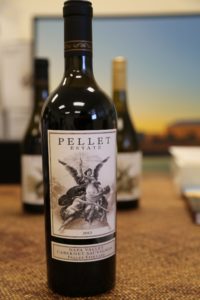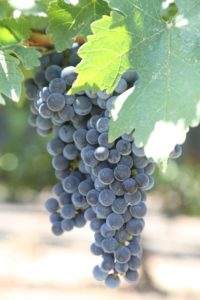 Pellet Estate has strong connections to some of Napa's earliest wine making heritage. Henry Pellet (the namesake of this winery) is historically recognized as being the second commercial winemaker in Napa Valley after Charles Krug. Mr. Pellet immigrated to the United States via St. Louis from Switzerland in the late 1850's. Then he migrated west and when he first arrived in the Napa Valley, he began working for John Patchett at the Bale Grist Mill (an old grinding mill, still standing – that was used by early settlers to grind wheat and other mill crops).
Henry Pellet was the first mayor of St. Helena but perhaps more historically significant are his contributions to the Napa Valley wine world in those days. He was hired by Napa Valley's first winery, Patchett Cellars in the city of Napa in 1860 to produce their wines until 1863. Leaving the city of Napa, Henry soon moved up to St. Helena and purchased 45 acres of rich valley floor land with deep soils created from thousands of years of runoff from the nearby Mayacamas Mountains. At the time this property was supporting a rich thicket of Manzanita bushes – Mr. Pellet cleared these and planted grapes on what he called his Manzanita Vineyard.
With the grape varieties brought back from Europe (more then 60 cuttings of various European grape varieties) Mr. Pellet started a small nursery on his neighbor's property – experimenting to see which varieties thrived in this climate. His neighbor was another pioneer in St. Helena's wine making heritage, Dr. Belden Crane. Pellet also planted grapes for Dr. Crane and in 1863 was hired as Crane's winemaker.
This vineyard location is surrounded by a rich viticulture history including the nearby Crane Vineyard, named in in honor of Dr. Crane and is currently managed by long time grower Andy Beckstoffer.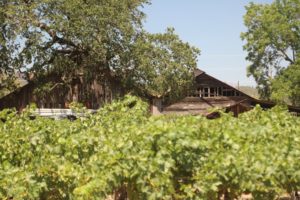 Pellet co-founded his own winery in St. Helena in 1866 called Pellet & Carver (his business partner was D.B. Carver). By the 1870s he had built a wooden winery bonded as the name, Pellet & Carver which remarkably has not yet been restored and although deteriorating quickly, still stands on Vallejo Street in St. Helena (one of a number of historic buildings that have been identified by Napa County as priority landmarks buildings to restore).
Pellet was also among a select group of vintners including Charles Krug who met informally in the late 1870's to determine how to improve quality of wines from St. Helena. They called themselves the St. Helena Viticultural Club. In 1880 they changed the name to the St. Helena Viticultural Society. This organization could be construed as the precursor to what is now known as Appellation St. Helena (which was founded some 125+ years after the St. Helena Viticultural Society disbanded). They were instrumental at the time in helping promote Napa Valley wine outside of the region in the 1880's and 1890's (as Appellation St. Helena does today). Henry Pellet died in 1912.
The property changed hands several times after Henry Pellet's ownership and was subdivided over the years. Fast forward many decades to 2005 when 5 acres of the original 40 was purchased by long time numismatics expert, Greg Krill and his wife Robin. His first order of business was to pull out the existing vineyard and replant according to modern practices of trellising, row orientation and vineyard management techniques.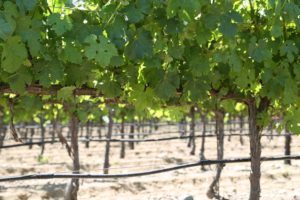 General Manager, Eric Risch is the 'face' of Pellet Estate – marketing the wine and pouring at various tastings. He is no stranger to this lifestyle. He grew up around food and wine – his father was a serious collector of French wines and enjoyed fine food. Eric recalls well-regarded chefs staying with them when growing up. He also remembers at age 12 his father brown bagging a number of French wines including First Growths and challenging his son to pick out the top wines in the lineup.
Tom Rinaldi, the founding winemaker at Duckhorn and longtime winemaker at Provenence/Hewitt is one of the nicest most personable winemakers you will meet in Napa. He has been working in the Napa Valley since the mid 1970's. He retired from Provenance in 2014 and understandably was enjoying a slower pace of life in "retirement" after a long career in the wine industry. Eric has known Tom for a number of years and coaxed him out of retirement in 2015 to become Pellet Estate's winemaker.
A significant amount of thought and design work went into their remarkable label. Based on Greg's unique insights into the numismatic world of the United States history of paper money he based the label on a one-time series of bills ($1, $2 and a $5 note printed in 1896). He chose the image on the $5 bill from this year titled "Electricity Presenting Light To The World" – both the year and the theme tie in well to what Henry Pellet and the vintners in St. Helena were doing at that time – promoting and presenting Napa wines.
If you run your finger over the label, you can actually feel the embossing work.
Interestingly enough, when sending the label into the TTB Eric received a call indicating it might not be accepted because of partial nudity. All Eric had to do was reference its use as an official Treasury note and it was then approved. This wasn't the first time the image was questioned – it drew the attention of those in Boston in 1896 and earned the ire of some as "questionable content" commonly referred to at the time as, "banned in Boston".
Their non estate wine comes from the premium Sunchase Vineyard in the "Petaluma Gap" in the hills just east the city of Petaluma in neighboring Sonoma County. This is a cool part of Sonoma County – simply drive this gap in the early morning or summer evening along the 101 freeway and chances are it will be foggy – where further to the north or south may be warmer and clear.
Select Wines
They source Chardonnay from this vineyard – making two distinctly different styled wines, their oaked and unoaked wine. Eric calls the unoaked Chardonnay his "driveway decision" wine. In 2013 workers delivered 1.5 tons Chardonnay above what the work-order called for. He had already purchased the exact number of barrels corresponding to the expected tonnage of Chardonnay. Not to waste good grapes, he and Greg made a quick decision to ferment and age these grapes in stainless steel.
The 2014 Unoaked Chardonnay sees no malolactic fermentation – was fermented using indigenous yeast and stirred quite regularly. It shows lighter yellow in the glass with bright aromatics including citrus blossom and lemon zest. The palate has a pleasing gentle feel to it – silky if you will with various tropical flavors including pineapple and mango – anchored by a slightly creamy finish.
Tom made his name with Merlot including for 20+ years at Duckhorn where he produced their first vintage of Three Palms Vineyard Merlot in 1978 – remembering he added 15% Cabernet Sauvignon to that particular wine from Beatty Ranch on Howell Mountain. Tom later produced excellent Merlot during his time as winemaker at Provenance Vineyards.
The 2018 Pellet Estate Merlot is blended with 10% Cabernet Sauvignon. Tom referred to Merlot as often needing "fellow actors" to beef up the wine, but this particular Merlot is already rich in stature. The wine is medium to dark ruby in the glass; shows dark aromatics including plum, some darker spice notes including cedar and dried herbs. Slightly savory. A very elegant bouquet. Offers an initial softness on the palate with plenty of primarily red fruit flavors including cherry and cranberry. The tannins are medium bodied, earthy and slightly dusty, lingering with a hint of cedar. This wine has 'zip' carried by its bright acidity. Very food friendly.
The 2013 Pellet Estate oaked Chardonnay is fermented slowly in individual barrels. Unlike the unoaked 2014 Chardonnay, this wine underwent a 6-month slow malolactic fermentation. The wine shows hues of gold color in the glass with a bouquet that is well layered including baking spice, a nutty component and pear. There is a sweetness of fruit early on the palate with rich flavors throughout. Balanced weight on the palate. Good food wine.
The first Pellet Estate wine was the 2010 Cabernet Sauvignon. This vintage (at the time of our tasting) smells younger than it is. The nose is lively and layered with blueberry, a dustiness, mocha/toffee and a sweet, candied cherry note. Red cherry and black currant show on the palate.
The 2011 Pellet Estate Cabernet Sauvignon was carefully sorted both in the vineyard and when it arrived at the winery. This was a challenging year as early rains during harvest were not helpful. It is a lighter style wine. It shows a unique nose, perhaps representative of this particular vintage. The bouquet shows various spices including black pepper, it is earthy – the wine drinks well now, is balanced and framed by smooth tannins.
The 2012 Pellet Estate Cabernet Sauvignon shows darker color in the glass compared to the previous vintage. The bouquet is generous; with darker fruits including sweet blackberry tinged by an earthy component, black pepper spice and cedar notes. This was an ideal vintage for the Napa Valley and this wine is certainly well endowed with flavor. Dark cherry and black cherry flavors – with sizable tannins anchor a long-lasting finish.
The 2013 Pellet Estate Cabernet Sauvignon shows a continuity on the bouquet that appears in previous vintages a mix between both gentle oak influences complementing the pretty fruit. This wine is young and is lively on the palate – bursting with flavor and mouthwatering acidity. The somewhat dry tannins will soften over time – but for now they linger along with higher toned fruit (red cherry, currant) on the finish.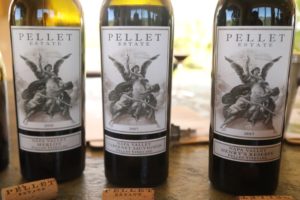 Eric takes a different approach then many wineries when it comes to creating the Pellet Estate Reserve Wine. There is no formula for making this wine. He approaches building this wine from the same perspective a chef would take. Each year he stands in front of all the barrels of wine from the estate; he compares this to standing in front of a refrigerator before deciding which ingredients to use in cooking – or perhaps in a garden before deciding what to pick. It is a similar approach to when his best friends are coming over for dinner and he is cooking; he wants to make a good impression and only use the finest ingredients.
He then pulls samples of wine from each barrel and then tastes every one – evaluating for different criteria; he places chalk marks to note the best barrels. Then he begins to make the initial blends and he and Tom evaluate each of these trial blends for their final blend. There is no formula and the percentages of the three estate varieties available change rather dramatically based on the vintage. Production is typically around 100 cases each year.
The resulting wine (2013 vintage), titled Henry's Reserve is pretty close to a robust Napa Cabernet Sauvignon as you will find in the valley – however, the majority of this wine is not made from that variety. The bouquet is elegant showing red fruit – plum notes and blueberry framed by a pretty vanilla and mocha aromas. The wine is big but balanced with a noticeable mid palate richness, concentration and density. This wine is rare (only one or two barrels are made each year) and this wine will certainly age for quite some time. And this is not a Cabernet Sauvignon based blend but rather Merlot dominates at 80% (only a quarter acre of this variety grows in their vineyard) complemented with 20% Cabernet Sauvignon.
The 2017 Pellet Estate, Henry's Reserve (76% Cabernet Sauvignon, 24% Merlot) is dark ruby in the glass; reveals aromas of plum and blackberry along with dried herbs, cedar, and dark chocolate. Well layered, both aromatically and on the palate. Shows flavors of red and dark cherry along with licorice. The well integrated tannins linger with both fruit and hints of cedar. This wine offers an intensity of fruit without an intensity of tannins; as a result, it is well balanced and drinks very nicely in its youth. There is plenty of aging potential on this beauty.
Mia Carta Napa Valley
Pellet Estate is part of a small collective of boutique Napa Valley based wineries represented at Mia Carta Wine Lounge in downtown Napa. This space is located at 1209 1st Street next to Rebel Vintners near the intersection of 1st and Coombs Streets. It had a soft opening to the public on May 22, 2021, and officially opened on June 17, 2021.
In addition to Pellet Estate, this space houses several premium boutique Napa Valley producers including Arthouse Wines, Earthshine, Essere Franco, Ilsley Vineyards, Marston Family, Rarecat and Redmon Wines. Sharon Harris, proprietor of Rarecat learned about the space early on, and then invited several of her friends to join including Redmon Wines and Ilsley Vineyards.
A significant amount of thought and effort went into the renovation of this space. A couple of items inside quickly catch one's eye including the Italian Piaggio "Ape del Vino" or in English, referred to as the Wine Bee. It was purchased in Italy, restored and then shipped over, however, unfortunately it was stuck for quite some time at the port of Galveston in Texas before it cleared customs and reached Napa Valley. It is fully functional and is operated by a two-stroke Vespa engine. The back opens up to reveal wine kegs with spigots on the side of the vehicle – making this ideal to take to various wine tasting events. And the 145 piece 'puzzle' of walnut wood built against the back wall is in the three-dimensional shape of a street grid of downtown Napa – complete with an outline of Napa River and a red marking to indicate Mia Carta's location on the map.
Recycled cork from cork manufacturer, Amorim Cork America lines the east wall of the space. If one casually glances at this wall, one will think it's one entire piece of cork, but each piece is a quarter offset, so the lines are hard to see between each of the pieces. With Norm's background as President & Co-founder of Calgary based ZeroSound Systems, his knowledge and expertise were used during the renovation of the interior space. Acoustic tiles are placed on top of the tin stamped metal ceilings – if one looks carefully one can almost see the tiny holes punched in each of these tin squares, which are part of the design to help mitigate noise. The bar and some of the tabletops are constructed from Richlite, a recycled paper/resin composite.
Visitors taste either inside or outside weather permitting (heat lamps are built into the outdoor overhang), choosing flights from any of the vintners or by the glass or by the bottle. This part of the building used to be recessed – set back more from First Street but during the renovation it was expanded, providing more interior space. And a private tasting room is located in the rear of the space.
For those into wine, it is easy to spend an afternoon in this part of downtown Napa – numerous tasting rooms are within several blocks of Mia Carta. For more details about this beautiful space and or to make a reservation, please visit: www.miacartanapa.com
The wine is available in select markets in the United States including Texas (a strong market for them) and on the East Coast. Locally you can find some of their wine a few minutes from where their estate vineyard grapes are grown – at Sunshine Market in St. Helena. For more information visit: www.pelletestate.com