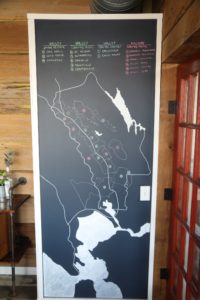 Peace Water Winery. Indiana native, Scott Burton has built a successful career in law, first as a corporate lawyer at the firm Barnes and Thornburg, which as he admits, involved too much travel. Later he began to invest in commercial real estate in the Indianapolis area including a 56,000 square foot space which would eventually become the home of Best Choice Fieldhouse – an athletic space for kids featuring a number of indoor basketball courts and a business that offered youth sports leagues and tournaments. He would expand this idea, franchising locations in Dallas and Chicago. He sold this business in 2013.
He and Laura's first trip to Napa Valley was in 2009; as it turns out, this trip would play a highly influential role in their lives. It was the first time that Scott began to become interested in wines, remembering the first winery they visited in the valley was Quintessa. When Scott began to think about potentially producing wine under his own label, his wife Laura encouraged him to return to Napa Valley and as he puts it, 'figure it out'. So, he did – he called Napa Wine Company and asked for the owner Andy Hoxey. Andy met with Scott and provided him with references for possible spaces he could use for making wine. One was Bin to Bottle, a custom crush winery south of the city of Napa. He soon met their Executive Director at the time, Gretchen Brakesman. She mentioned that her husband Brian was a winemaker and thought it would be useful for both men to meet.
So, they did; this was the start of a very important relationship. Scott hired Brian to be his winemaker – not only for his winemaking skills but also for his access to vineyards in both Napa Valley and surrounding counties. Brian made several wines in 2012 for Peace Water, but the first vintage commercially released under Peace Water was in 2013. The wines are produced at Summit Lake Vineyards on Howell Mountain; Peace Water Wines is also a bonded winery in Indiana.
The name Peace Water was carefully chosen to represent how random acts of kindness create a ripple effect with no end. And how wine brings people together, creates social ties and is often used as a conversation starter. Their logo represents this – a peace symbol depicting a rippling effect. And simply by being a Napa Valley winery in the middle of Indiana is a conversation starter. During our visits to the tasting rooms, several times we heard customers fondly discussing their trips to Napa Valley and even recalling specific winery properties visited.
TASTING ROOMS
The Burtons have created an unusual business model in that they have brought the Napa Valley to Indiana in the form of three strategically located tasting rooms. Each tasting room is in an area that appeals primarily to locals rather than tourists, although their downtown location sees a mix of both locals and tourists.
Peace Water Wines, Carmel
This was the first Peace Water Wines location, housed in central Carmel (pronounced like Car-mull, not like Carmel, California) in a 120+ year old building which used to house a pool hall and a cigar store. Scott and Laura own the building; prior to opening in 2015, they spent significant time renovating the interior. Scott recalls the metal interior roof was sagging and the interior needed major work. It was a family effort with his kids helping redo the flooring and Laura overseeing the interior design. The space offers plenty of seating including at the tasting bar, a semiprivate space towards the back of the tasting room and an outdoor patio area.
Peace Water Wines, Fishers
This is the newest of the three tasting rooms, having opened in 2020. It is located in a trendy shopping center on the first floor below several floors of apartments and within a short walk to top restaurants including Sangiovese Ristorante and two restaurants which are culinary partners of the tasting room, HC Tavern + Kitchen and 1933 Lounge by St. Elmo. Guests visiting the tasting room can query a QR code with their phones to order food from either of these two restaurants.
This lifestyle focused shopping center is anchored by a Hyatt Place and a Hyatt House.
Peace Water Wines, Indianapolis
Scott and Lauren's son Jordan identified this location and helped bring this tasting room online, opening it in 2017. It is located in a trendy part of town, within walking distance of downtown Indianapolis. It is located on the corner of North College Ave and East St. Clair Street on the first floor of a modern brick apartment complex and along the Indianapolis Culture urban hiking and biking trail. This route passes by gardens, public works of art, the downtown canal and other attractions; several Bikeshare stations are located along its path. This is also the edge of the Bottleworks District (within a short walk of the tasting room), whose motto is, 'fill every moment', in homage to an old Coca Cola bottling plant which has been converted into the 139 room Bottleworks Hotel. The Bottleworks District also features various entertainment options, retails shops and restaurants including the wonderful Mimi Blue, a meatball focused restaurant.
A unique feature of this tasting room is the cork wall – hundreds of corks line one of the walls, held in place by a wire mesh. Guests who purchase a bottle of wine are given a cork and they are encouraged to attempt to throw the cork behind the wire mesh, continuously building the height of the corks.
A common thread among all three tasting rooms is guests can bring in their own food and live music is typically held Thursday through Saturday. And the video monitors bring a slice of Napa Valley to each of the tasting rooms including drone footage of their source vineyards provided by Jordan. Each of the tasting rooms are inviting, comfortable, a bit Zen-like and creatively designed.
Select Wines
The 2020 Peace Water Wines Bliss Sauvignon Blanc is a blend of 80% Sauvignon Blanc and 20% Sémillon. The Sauvignon Blanc comes from a vineyard in Rutherford near Whitehall Lane. Pale to medium yellow in color, the initial aromatics include green apple, freshly mowed lawn and notes of brioche. Also shows aromas of lemon drop candy. The varietal characteristics show more on both the bouquet and the palate than the Sémillon. The palate offers flavors of pomelo, green apple and lemon/lime notes. A rounded texture complements the brightness from beginning to end. The finish is zesty and lively, but not tart.
The 2019 Peace Water Wines Carneros Pinot Noir was sourced from the Marvin Jack Vineyard on the Napa side of the appellation. This vineyard is owned by John and Donna Bonick, proprietors of Art House Wines. The wine is medium ruby in color; the bouquet is distinctive offering aromas of crème de menthe chocolate thin mints, raspberry, black currant and rhubarb. Also, a hint of dried tobacco leaf. The palate has plenty of depth and texture – this is not a lighter/elegant showing of this varietal. Offers cherry and berry fruits with a red cherry higher toned finish anchored by slightly gravelly tannins.
The 2018 Peace Water Wines Mellow Brick Road 100% varietal Merlot is from Materra Vineyard in the Oak Knoll District; the wine is medium to dark ruby in the glass. Initially the bouquet offers dusty and earthy aromatics along with dried tobacco leaf. Let the wine open; it evolves to show ripe blackberry in the glass along with brown chocolate, mocha, black licorice and a currant sweetness and brightness. This is an intensely flavored Merlot but without heavy structure. Shows a medium grip of darker tannins on the finish and lingers with notes of pepper and cedar. Features a savory finish.
The 2018 Peace Water Wines Zen Zinfandel is dark ruby; offers a fruit sweetness on the bouquet including ripe blackberry and dark licorice. Also shows notes of mocha and brown chocolate. The grapes were sourced from Summit Lake Vineyards. We noticed some distinct similarities on the palate between this wine and the current release Zinfandel from Summit Lake Vineyards. Offers dark fruit across the palate with plenty of savory characteristics to get excited about including dark spices, dusty and earthy tannins and notes of peppercorn and spicy plum skin anchoring the finish. The tannins show decent grip, are chewy and long lasting. Mouthwatering. Bring on the BBQ!
Nirvana is one of the more beautiful proprietary names for a Napa Valley Cabernet Sauvignon. The grapes for this wine are sourced from Summit Lake Vineyards on Howell Mountain. The 2018 Peace Water Wines Napa Valley Nirvana Cabernet Sauvignon is 100% varietal. The wine is dark ruby in the glass; immediately offers bright and lively fruit forward aromatics including of blackberry, dark cherry and ripe raspberry. There are also hints of cedar, mocha and a floral note, but these are more in the background of the aromatics. The bouquet is ripe but not jammy. One can almost taste the Howell Mountain soil on the palate; its texture is a beautiful component with dusty well-integrated tannins showing a medium grip. They are rounded and almost chalky, finer grained in their textural feel. Lingers with a hint of dried tobacco leaf. This wine is very approachable in its youth.
While Peace Water Wines focuses on Napa Valley grapes, they also produce wines from non-Napa Valley sources. One unique wine is the 21 Window California Red Blend – named in honor of Scott and Laura's 1966 21 window Volkswagen bus named Reggie which they acquired around 2011. The label on this wine changes each year, reflective of geographical locations their children live or have lived in, including San Francisco, Los Angeles and Portland.
After 6 years of continuously fielding questions about when they would produce a sweet wine, Peace Water Wines now offers a sweet wine simply labeled, "OK, FINE, here is a Sweet Wine from Peace Water Winery."
And as Scott pointed out, the top of all the wine bottles displays eight hands representing his children, displaying a peace sign (line drawings of each of his children's hands).
Charitable Causes
Giving back has been an important part of Peace Water Wines since the beginning. Each of Scott and Lauren's eight children (seven boys and one girl) choose a single charity; remarkably 50% of their net proceeds are equally divided among all eight charities. And 50% of the total tip pool from each tasting room is divided 8 ways with proceeds also donated to these charities. In addition, each tasting room offers a Giving Wall featuring buckets assigned to each of the 8 charities, and guests can donate additional amounts by putting cash into the buckets of their choice. These charities often are focused on medical, education and food needs; they do rotate over time.
Total production is around 4,200 cases, sold exclusively through their tasting rooms and website. Select events are hosted at their tasting rooms throughout the year including sometimes winemaker events (Brian will come out specially for these particular events). Peace Water Wines currently has no outside distribution but maintains a wine club named the Peace Posse. For more information and or to purchase wines, visit: www.peacewaterwinery.com
Bottleworks District, Indianapolis

Carmel, Indiana

Downtown Indianapolis, Indiana

Fishers, Indiana

Best Choice Fieldhouse, Fishers Indiana